If you want to achieve higher success in gaming, then it is ideal that you make proper arrangements in terms of comfort. No matter, one plays a game on the TV or a laptop, the chair on which you sit plays an important part. There are numerous chairs available in the market that made especially for gamers. However, finding the right option is a pretty difficult task due to solid options in the shop.
In this post, we will tell you about the top 10 best gaming chairs to buy in 2023 that created after extended research. Let's check out the list carefully & then decide which one to shop.
Best Gaming Chairs – A Complete Guide:
10. Vertagear Triigger 350 Gaming Chair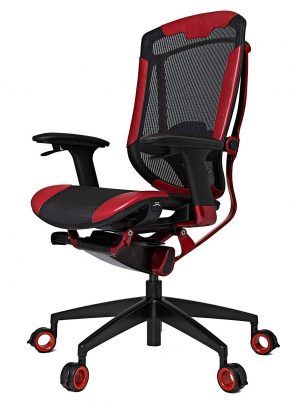 There is no better way to start the list other than the Triigger 350 that available in black/red and completely black construction. It comes with a dual spring hub made using steel alloy and silicone for better balancing. Some incredible features in this unit are backrest height, lower back support, and adjustable seat height.
The manufacturer has used calfskin leather for making sitting comfortable & better. The price maybe a little bit more, but the comfort offered is pretty incredible.
Pros
Extremely comfortable pillow seating
Made using high-quality silicon & manganese
Available in two different colors
A proper lower back support
Cons
Little bit awful customer service
9. DXRacer OH/RV001/NR Gaming Chair (best for support up to 200 pounds)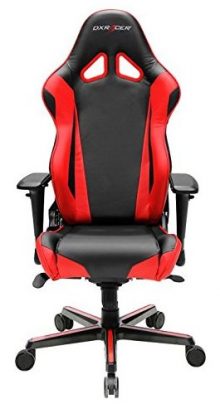 The next one in the list of best gaming chairs is this model from DXRacer that can accommodate effectively up to 200 pounds. There is a PU cover added on the unit for long-lasting longevity and performance. The manufacturer has added a pretty solid aluminum base for proper balancing.
It has a highly functional & comfortable design having comfortable padding and features. This chair is a perfect option that you can choose to have proper seating to enjoy gaming.
Pros
Highly reclining functioning
Reclining feature
Equipped with neck & lumbar support
Capable of supporting up to 200 pounds
Cons
Assembly needs little bit improvement
8. JL Comfurni Gaming Office Chair (best under $125)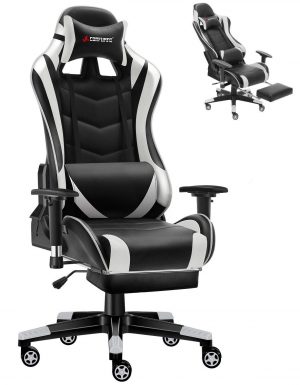 Available in four different colors, this unit comes with a retractable footrest and reclining functioning for proper convenience. It doesn't put too much pressure on the pocket at all. You can shop it in colors like black & white, grey, red, and blue. Both its armrests and height can be adjusted according to the requirement.
The assembly of this unit is quite easier and takes less than half an hour. There is a 12-month quality maintenance warranty along with free lifetime support offered by the company on this unit. Overall, we can say that it is a highly efficient unit to shop in the long run.
Pros
Provide multiple seat adjustability options
Backed by a 1-year maintenance
Quick & convenient to assemble
Reclining seating system
Cons
Complaints about missing parts in the unit
Armrest quality needs improvement
7. Devoko Ergonomic Gaming Chair (best leather gaming chair)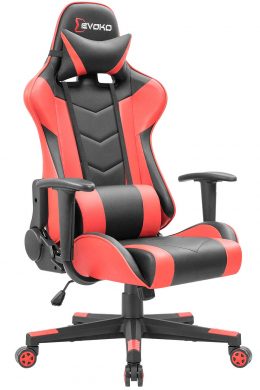 If you are looking for a high-quality leather gaming chair that doesn't compromise with the convenience, then invest money in this ergonomic model. It is available in three different colors like black red, grey, and black white. There is an easy lock tilt adjustment system added on the chair with a recline angle adjuster.
It is one of the best gaming chairs backed by a 30-day money-back guarantee and six months replacement warranty. The performance of the unit is quite satisfactory that doesn't cause too much pressure on the pocket.
Pros
Equipped with a 360-degree swivel rotation system
The solid capacity of 300 pounds
Available in three different colors
Protection to spinal & neck
Cons
Doesn't come with a set of instructions
6. Gtracing Gaming Chair (best with Bluetooth speakers)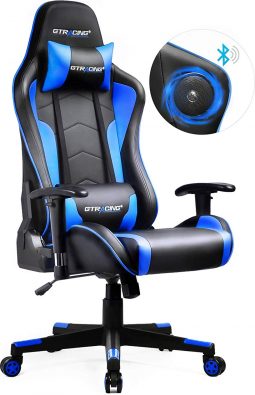 Are you one of those people who love having Bluetooth speakers in the chair? If yes, then shop this incredible model from Gtracing brand. It has a highly patented design that gets connected with PC and PC4 quite brilliantly. You can shop it in a variety of colors like blue, gray, pink, white, and red.
This musically gaming chair has two Bluetooth speakers that produce highly impressive sound. The total capacity of this gaming chair is nearly 300 pounds that is quite impressive.
Pros
Available in a great range of colors
Equipped with a solid set of Bluetooth speakers
Crafted in a pretty ergonomic construction
Made from high-quality leather
Cons
Quality control needs improvement
5. Fortnite Omega-Xi Gaming Chair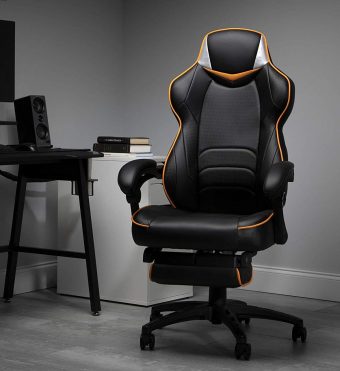 If you are looking to become a living legend in the gaming world, then there are very few options better than the Fortnite Omega-Xi. It is a racecar style gaming chair that offers both comforts as well as a luxury while playing games. There is a high back along with segmented padding on the unit for proper comfort.
Also, the company has added an in-built headrest that ensures you don't feel gaming load all day. You will get a limited lifetime warranty on the product for having complete peace of mind.
Pros
Available in two brilliant variants
Equipped with proper segmented padding
Solid capacity up to 275 pounds
Equipped with highly dynamic movement
Cons
Not ideal for too bulky people
4. AmazonBasics BIFMA Certified Gaming Office Chair (best for custom fitting)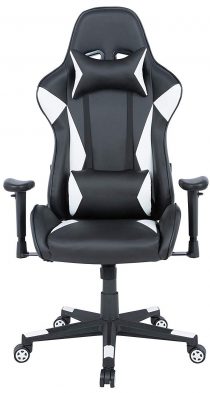 The product at the fourth position is manufactured from Amazon Basics that available in three different colors like white, blue, and red. It is a BIFMA certified product made from top-quality leather upholstery material. You can buy this unit for playing games with ultimate comfort.
Apart from gaming, this chair can work perfectly in office work as one can sit on it for extended hours. We are happy with the overall performance of this excellent unit and suggest the readers buy it without any worry.
Pros
Height & armrest adjustable ability
Manufactured using top-quality PU leather
Backed by a one-year limited warranty
Provide 360-degree swivel
Cons
The spring mechanism is very poor
3. X Rocker Pro Series H3 (best floor gaming chair)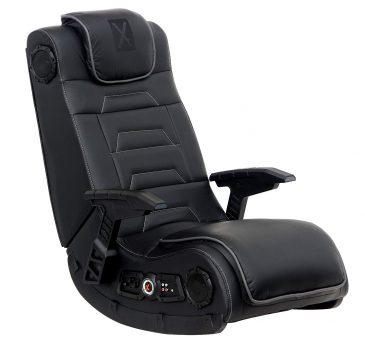 The X Rocker Pro Series H3 is one of the best gaming chairs for individuals who prefer to keep things on the ground. It is a floor video gaming chair that comes with a headrest and ergonomic back support feature. The company made the product using high-quality fabric that can last for much longer than the expectations of buyers.
There are proper arrangements made for the entertainment of the gamers as it comes with integrated four forward-facing speakers, ported power subwoofers, and force modulation technology. The buyers can enjoy full immersion in their games after buying this unit.
Pros
Equipped with a rumble seat for better convenience
Proper sound arrangements
Made using high-quality fabric
Provide a solid level of comfort
Cons
Non-existent customer service
2. OpenWheeler Advanced Racing Seat (runners up)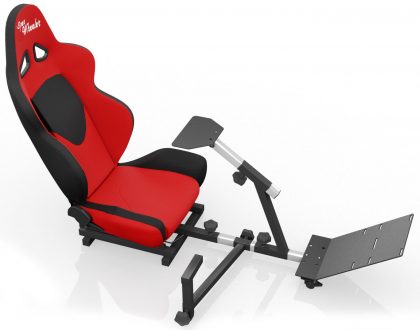 If you are one of those people who love driving, then there is no better option to find other than this OpenWheeler model. It comes with a highly advanced racing simulator seat with the arrangements of proper stability. The polyester paint work performed is also quite satisfactory.
Also, the color selection is very terrific as you can buy it in colors like red, blue, black, green, and orange. This chair comes with a total adjustment feature along with gear shifter that can be mounted either on the left or right-hand side.
Pros
Fully compatible with a variety of systems
Provide proper stability
Lightweight construction
Equipped with the gear shifter
Cons
Difficult to understand instructions
1. Merax Racing Chair (editor's choice)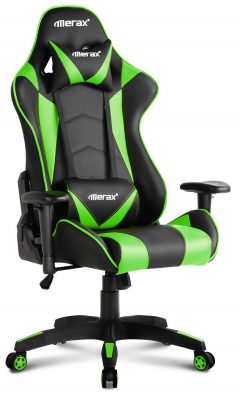 The product that deserves to top the list is this racing chair that available in four beautiful colors. It is a high-quality unit that offers the utmost comfort to gamers. A few of the major features in this chair are PU resistant leather, multi-functional build, two years warranty, and deep padding cushioning.
Other than that, there are proper arrangements for footrest and height so comfort won't be compromised at all. Also, the product is backed by a 2 pretty good year warranty.
Pros
Very superior level of comfort
Available in four beautiful colors
Crafted in excellent gaming chair construction
Backed by a 2-year warranty
Cons
Difficult to understand assembly instructions
How to choose the best gaming chair?
Keep a look at the following things while choosing the perfect gaming chair:
The chair should be capable of working with your gaming system adequately without causing any lag.
The gaming chair you are buying should fit perfectly in your space. It shouldn't create difficulty and cause any trouble at all.
The level of comfort is also an important factor that needs to be taken seriously while shopping for the gaming chair. It should have proper cushioning and arrangements for resting of the body while playing games.
There should only high-quality material used for the manufacturing of the chair you are going to buy so that it lasts for many years to come.
Conclusion
All these best gaming chairs are manufactured according to the most appropriate standards and capable of giving a terrific performance. If you have a query regarding any of them, then please write to us in the comment section.