We spend so much money on getting a powerful gaming computer with gaming console, mouse, keyboard, and headset. But we forget about investing in a proper gaming chair which will not only make the gaming experience super comfortable but also will not let your back to pain or your elbow to be soar. If you are a savage gamer and sit on your computer for hours, a gaming chair will literally save your life in the long run irrespective of your sitting postures. The following are top 10 best gaming chairs in 2019 that you must go through to buy the most comfortable, eye-catching, and advanced gaming chair.
List of Top Best Gaming Chairs Reviews
10. X Rocker 51396 Pro Series With 2.1 Wireless Audio System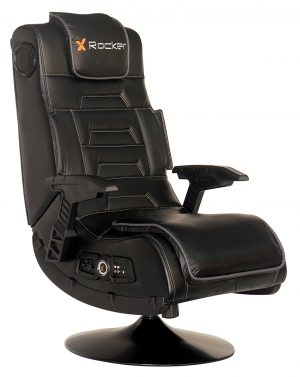 This is a super comfortable imported gaming chair with a multi-fabric setup. You can connect multiple chairs in a row to play group games. There are inbuilt 2.1 speakers near the headrest and a subwoofer to give the user the ultimate gaming experience. It has a wireless receiver for audio connectivity and you can use the chair for listening to music or watching movies as well. It is fully flexible and you can elevate, tilt, and swivel conveniently.
9. Ficmax Large Size Swivel Gaming Chair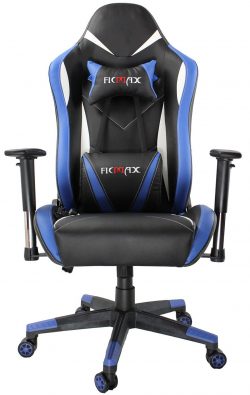 This is an ergonomically designed fully-adjustable gaming chair and it is an ideal chair for playing games for long hours as it has additional Lumbar massage support. There are USB massager, removable and adjustable lumbar pillow, wide back and large-size cushion to accommodate all types of human body structures. It is highly comfortable due to the thick sponge and the leather cover is extremely durable. It is a heavy duty gaming chair that can take around 300 pounds of weight comfortably. You can do 360 degrees swivel, 180 degrees of backward stretching. There is also a 30-day money back guarantee program along with the 1-year warranty. There are four different color options available.
8. ProHT Motor Racing Style Chair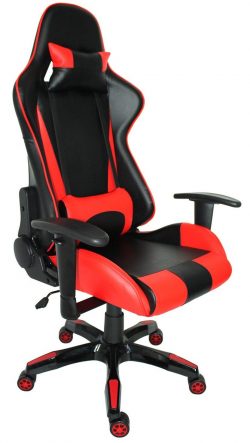 This is a butterfly-style gaming chair and it is available in multiple colors. You can do 90-180 degrees backrest stretching and hence, it can be used as a bed for a quick nap. The butterfly style ensures a comfortable experience for long hours and it is deeply cushioned. The headrest pillow is removable and it is covered with PVC leather. Its color does not fade away and it is extremely easy to clean. There is a soft pad on the armrest and it is fully adjustable as per the height and the posture. The chair comes with dual wheel casters for rough and heavy duty usage. You get better stability and it is 360-degree rotatable.
7. Giantex Gaming Chair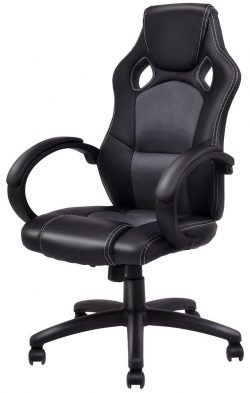 This is a classic gaming chair with a breathable mesh design. There is lumbar support and the padding is generous. It is completely waterproof and you can adjust it as per your requirement. It has 360 degrees swivel and the base is strong with 5 wheels that do not make any scratching on the floor. There is one touch height adjustment option and the comfort is equivalent to racing chairs. It can hold up to 264 pounds and the natural curves and paddings are a perfect fit for a better armrest. It looks quite eye-catching and has multiple color options.
6. X Rocker 5143601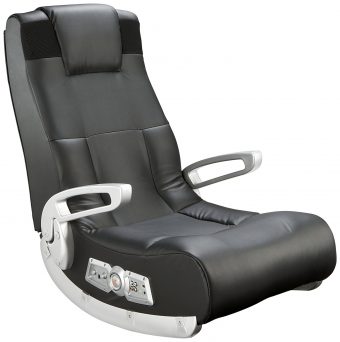 If you are going to play the video games on your TV or on the floor, this is a perfect gaming chair. It comes with a wireless audio system with two front-facing speakers and a subwoofer. There is also a point for the headphone jack and there are controls for adjusting volume, bass, and other parameters. The design is unique and ergonomic and you can connect your gaming console and even your home theater.
5. Devoko Ergonomic Gaming Chair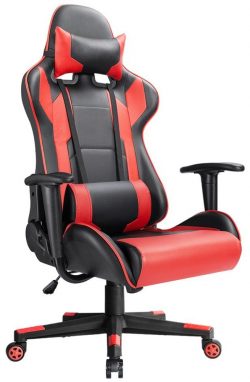 This premium quality gaming chair comes with curved high back and padded headrest and you can adjust the lumbar support comfortably. There is premium quality PU leather and you can do 360-degree swivel and the wheels won't leave scratches on the floor. You can tilt freely with a lock system and the reclining angle is good enough at 180 degrees for stretching and relaxing. It can sustain up to 300 pounds comfortably and there is 6-month replace policy.
4. BestOffice High Back Gaming Chair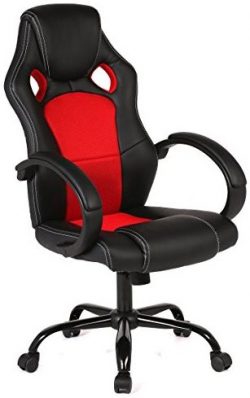 This is a classic gaming chair with butterfly style and there is breathable mesh. The headrest padding is comfortable and so are the armrests. The high-quality metal base makes it stable and the PU leather is waterproof. It is ideal for long working hours and the spinal column provides better support. Just like any standard gaming chair, it has 360 degrees swivel, 180 degrees reclining angles and other adjustable features.
3. Ficmax High Back Gaming Chair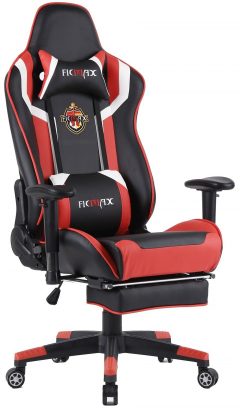 This is one of the highest selling and most comfortable gaming chair on the list. There is another gaming chair from Ficmax listed above with similar features. You get electric massager with it along with adjustable headrest and footrest, wider armrests and chair back. The leather material is of high-quality and the sponge is thicker for the ultimate comfort. The color does not fade away easily and it is fully flexible for heavy duty usage. The product comes with 12 months of warranty.
2. Essentials Racing Style Leather Gaming Chair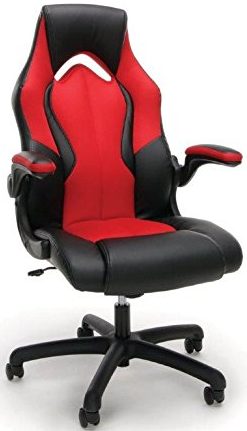 This gaming chair features under Amazon's Choice category which showcases its quality and reliability. It is an ideal computer gaming chair with a race car style for intense and long gaming sessions. The contoured design makes it comfortable and provides extra support for your back. You can adjust height, flip-up armrests, recline to 180 degrees and do a 360–degree turn. It can sustain 250 pounds of weight comfortably. The product has a limited lifetime warranty.
1. Homall Executive Swivel Leather Gaming Chair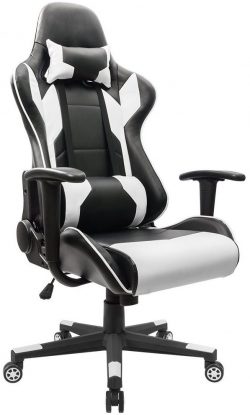 This is the bestseller in Video Game Chairs category. It is available in three different color options. The gaming chair has a body-hugging high back design which makes it super comfortable and you can do intense gaming sessions for hours without any pain or uneasiness. It can be fully reclined with a lock system and you can even take a nap on it like a bed. It can take up to 300 pounds of weight comfortably. The chair has a full steel frame for durability and stability. The headrest and lumbar support are very cozy and you can adjust the lumbar support freely.
You can buy any of these top 10 best gaming chairs in 20ce irrespec19 to have the most comfortable gaming experientive of how long you play games on a daily basis.