Going for a long adventure? Or need navigation details while going to office? Then your tablet is the solution. But it's pretty hard to keep your tablet or mobile stable in a moving car. So, you need to get some platform that will help to keep the tablet in a firm position. Hence, the tablet car mounts will meet all these characteristics. It will not only keep your tablets safe but also help you a lot throughout the journey.
So, what are the available choices in the market? Well, apart from having abundant options, you must only stick to the reviewed ones. Therefore, be wise to choose!
The Best Tablet Car Mounts to Buy in 2023
10. APPS2Car Tablet Car Mount Holder
This tablet car mount has been designed to be as compatible as possible with tablet models from various manufacturers. So, as long as you have a tablet that has a size of 11 inches or less, you are more than covered. It has a suction cup design that sticks to the inner side of your front windshield. As a matter of fact, it includes a long arm that extends out and is quite flexible for hassle-free use.
It can also fit in different phone models from the latest iPhone, to the latest flagship phone from Samsung.
Key features:
Lightweight but strong-arm of aluminum pipe extends as far as 13-inches.
A second suction cup at the dashboard makes the anchoring even stronger so that it can resist shocks.
Aluminum pipe arm has been rubberized to reduce vibration and prevent scratches.
9. OHLPRO Tablet Holder Car Vent Mount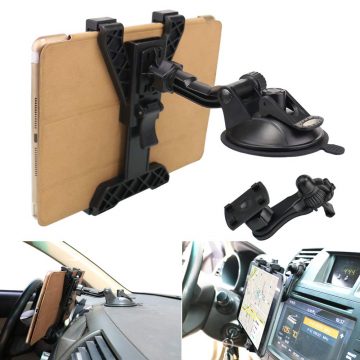 One of the greatest features of this car mount is the versatility that allows you to mount it in various ways on your car. You can mount it on the air vent of your car, on the windshield or on the dashboard. You can have the perfect viewing angle and installation that will serve your needs. The arm has a sturdy construction and is moved up to 190-degrees. So, both you and someone on the passenger seat can have an incredible view.
The mount is also rotated toll 360-degrees. So, if you quickly want to change from portrait to landscape mode, you can easily do so.
Key features:
Has a POM plastic construction which is durable and has high strength.
TPU suction cup will be effective even if your tablet is performing the intense task and getting warm.
It is certainly used for mounting phones as well.
8. APPS2Car Universal Car Mount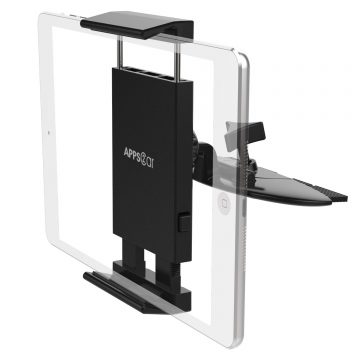 Another great car tablet car mounts from Apps2car that offers you high reliability and strength. It is a 2-in-1 holder which means that you don't have to buy a separate mount for your phone. The versatile design allows you to accommodate phones and tablets as long as they have a width within 11-inches. So iPads that are 10.2-inches and smaller, Zenpads from Asus, Galaxy Tabs from Samsung and a lot more would fit in without any problems.
Phones from the latest iPhone 11 Pro Max to Pixel phones and the Samsung Galaxy S10+ would have no problem and have a secure fit.
Key features:
It has a cable hole that allows you to charge your phone without taking it out of the mount.
Certainly perfect for large-screen devices.
Since it doesn't rely on dashboard or windshield mounting, you get a better view of the road.
7. SincereFly Car Windshield Tablet Mount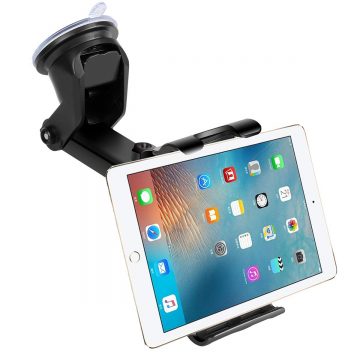 The suction cup on this tablet mount holder is really amazing and much stronger than most other manufacturers in the market. The adhesive is so strong that it would stick to most surfaces, be it your windshield or your dashboard and maintain a strong grip even through the bumpy journeys. Just wipe out any dust particles or dirt before you plant this on the surface of your choice.
You can also adjust the mount in 3 different ways. You can adjust its arm's length, rotate it 360-degrees and even change the orientation of your tablet.
Key features:
Can fit in tablets within the range of 7-inches to 10.5-inches, from iPad Pro to the Pixel C tablet.
Phones which have a size of 4.5-inches to 6.5-inches would fit in nicely.
The suction cup has a two-step lever that enhances the grip to a significant amount.
6. Arkon Car Floor Tablet Mount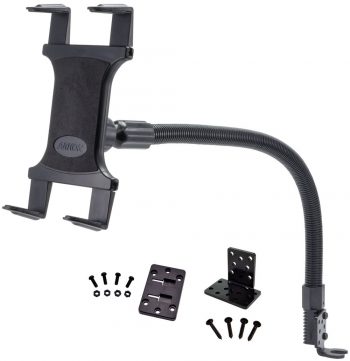 Arkon addresses a genuine problem that bugs most consumers. Most other manufacturers create mounts that attach to your windshield, dashboard or air vent. That creates a blockage in view, storage space and airflow. So, Arkon decided to create a tablet mount that attaches to the area that doesn't have much use. This mount is bolted to the passenger seat so that it doesn't hinder the driver or passenger in any way.
The gooseneck design is flexible and allows movement to a wide-angle. But the best thing about this mount is probably the industry-leading 2 year warranty period you get with this product.
Key features:
Gooseneck is 22-inches long and brings the tablet to an optimum position for use.
Can fit in small or large tablets up to 18.4-inches in screen size.
Comes with the hardware necessary for installation.
5. iKross Cup Mount Holder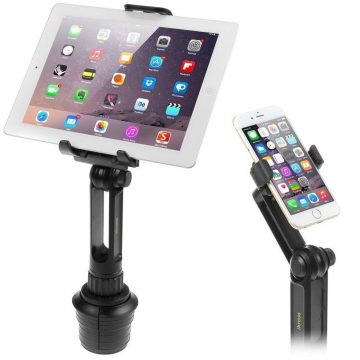 Don't block your vision by opting for a cheap tablet car mount that attaches itself to the windshield. Instead, this mount is effortlessly installed in the cup holders behind the gear. It doesn't block out your motion either and allows you smooth gear transmission as it used to be before installing this product.
The design also makes it compatible with cars, trucks and SUVs from multiple manufacturers and the solid build quality can last you for a really long time. If you buy a new car and want to transfer the mount, you can easily do so with the help of its expandable base.
Key features:
Has a ball joint that swivels in all direction and lets you change the orientation without having to unmount your tablet.
The product gives you a tablet view and uses with minimal vibration.
Doesn't require any tools or other hardware for installation or removal.
4. Cellet Cup Holder Tablet Mount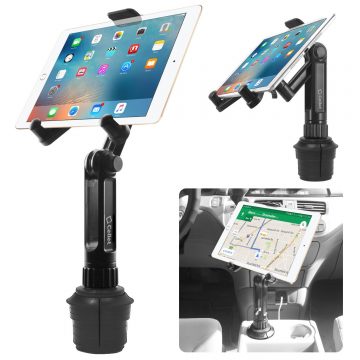 Installing a tablet mount holder in your car should be easy and hassle-free. Most manufacturers provide you with suction cups that have strong adhesive or air vent mounting systems. The first one can leave a mark or tear off the expensive leather on your dashboard, while the second one can block out airflow.
Cellet brings to you an affordable solution for getting rid of those problems by using one of the most unused space on your car, the cup holder. The mount has a base that can be adjusted without the use of tools or external hardware and fits into the cup holder of cars from major manufacturers. It doesn't matter if you own a mini or an SUV, having this cup holder means you get to mount and use your tablet without sacrificing virtually any amenities of your car.
Key features:
Fits inside cup holders that have a diameter of 2.86-inches to 3.47-inches.
When the extended arm has been erected to its maximum length, it stands 13.5-inches tall.
Grips are soft and smooth so that they don't scratch your expensive device.
3. iBOLT TabDock Bizmount Base Mount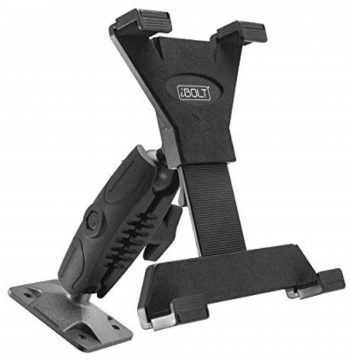 The best thing about this tablet holder is that you can install it not just inside your car, but on any flat surface without any issues. It has a heavy-duty build quality which is evident from its solid design premium craftsmanship. It makes contact with your tablet at four points instead of attaching to it magnetically, which may harm the device, or using adhesives.
The device is strong enough to endure the weight of even the heaviest tablets in the most stable position
Key features:
All kinds of tablet from Amazon's Kindle to the iPad would fit in as long as they are within the 10-inch mark.
Suitable for business use as well in commercial trucks.
It is adjusted in two ways for the best viewing angle.
2. DigitlMobile Tablet Mount for Car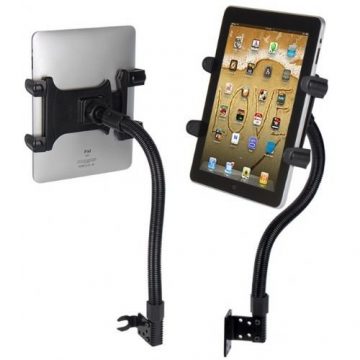 DigitlMobile presents to you an innovative tablet mount holder for your car that frees up space and doesn't become an obstacle in your vision or your driving experience. It is from high-quality aluminum that helps to make it light without any compromise in strength. Moreover, the aluminum construction also means complete immunity to rusting and high resistance to corrosion. As a result, makes it a long-lasting product.
It mounts to the seat bolt and extends from the floor within usable distance. Therefore, your dashboard is mess-free and your windshield doesn't need an alcoholic cleaning solution to wipe off the adhesive. Finally, it provides you with higher compatibility of tablets that most of the competition.
Key features:
Can accommodate tablets as long as they are larger than 7-inches and within the 15-inch limit.
Installation is quite easy and doesn't take a lot of your time.
Everything from the latest Samsung tablets to iPads and even the Surface Go from Microsoft will fit.
1.Macally 2-in-1 Holder Mount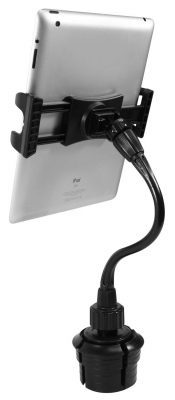 Macally has really made an amazing tablet car mount that has satisfied hundreds of customers with its innovative design. It has a 12-inch neck which is flexible and strong enough to even hold heavy and powerful tablet computers. The 12-inch arm gives you easy reach while the flexibility offers you an unlimited adjustment.
Moreover, installations are probably the easiest and don't require you to use any tools. Finally, it facilitates in full 360-degrees rotation for easy viewing.
Key features:
Cradle mount is rotated at various angles to adjust the tablet's orientation.
One can insert into any cup holder as long as it has a diameter within 2.5-inches to 4-inches.
It is even used for mounting phones.
For hassle-free navigation through the roads and listening to your favourite music, the tablet car mounts will never ditch you.