Yoga is all about the right movements and postures. Yoga done in a non-standard way may not bring you the benefits you might be hoping for. Just like the right kind of shoes are required for running, the right kind of yoga mat is required for performing proper yogic postures. An ideal mat must not be slippery neither it should be too sticky. The material should make the yoga performer more comfortable. So we will discuss with you some of the best yoga mats available in the market which will help in choosing the best yoga mat for you.
Best Yoga Mats in 2023 – Reviews
10. Liforme Yoga Mat
The Liforme yoga mat is developed from natural material and is recommended to the best of the beginners, intermediates or even the pro yogis. Liforme mats for yoga are good as they are made from high-quality recyclable material and are specially designed for all levels of yoga enthusiasts. The distinguishing feature of this yoga mat is the dimensions. This uniquely professional mat gives more space for the yoga to do their various postures instead of a cramped mat. Moreover, this feature is interestingly accompanied by an alignment system encrypted on the top to adjust conveniently to the respective posture you make. However, they provide a strong grip for your safety.
Features
Eco friendly.
Better grip.
Longer & Wider mat space
Alignment markings.
Stable and comfortable.
Comes with a bag and straps for easy carry.
9. Jade Fusion Yoga Mat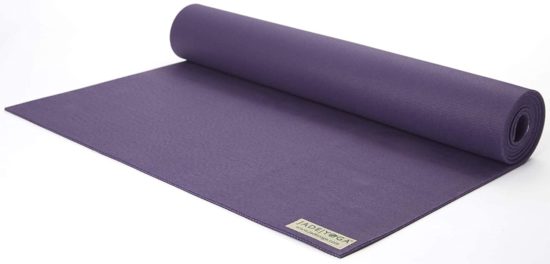 For a yoga mat that has to be put up against the highest bar, this could be one of the choices you may want to consider. This fine model offers a thicker cushion mat to make the users more comfortable in their yoga positions. These are long-lasting extra thick yoga mats that give a higher level of comfort to the user, displaying their high-quality standards to the loyal owners. They also stand out as they are made from the materials directly obtained from the trees and completely natural, giving a natural aura to the eco-friendly program. This model also extends an extra thickness to enhance your experience while performing various postures.
Features
Thicker and more comfortable.
Materials obtained from nature only.
A tree is planted for every single sale.
Better grip due to natural rubber.
Mats are Made in America.
8. Manduka Pro Yoga Mat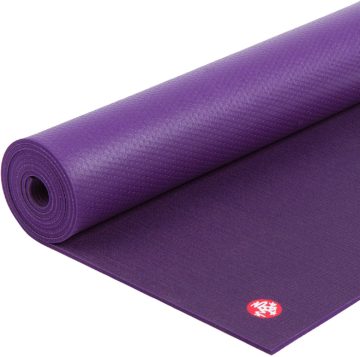 The Manduka Pro Yoga Mat is one of the most popular mats based on user recommendation praises. This mat is a multi-purpose surface and a high-quality mat with larger cushions which makes them adaptable to different kinds of floorings. They help in maintaining better hygiene as they do not absorb sweat and are thus bacteria resistant. They have an inbuilt anti-slip technology that allows them to grip the mat onto the floor, avoiding any injuries caused due to the gripless floor or such.
Features
Lifelong Warranty.
Made for all purposes.
Emission-free production.
Greater thickness for better comfort.
Bacteria resistant and hygienic.
Do not absorb sweat.
7. Hugger Mugger Para Rubber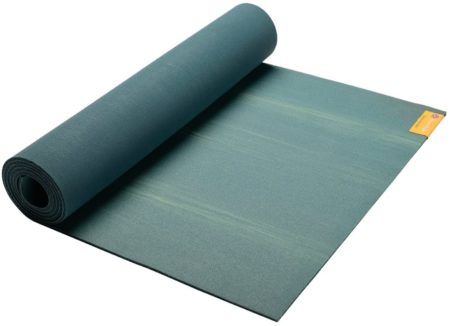 The Hugger Mugger Para Rubber Yoga Mat is a product introduced by the Hugger Mugger Fitness, so perhaps if you are the kind to trust such communities for enhancing your fitness, you might want to give this one a try. It comes with greater stability which makes it useful for making complex movements in various positions. Including that, It is built from natural rubber that makes it more durable and doesn't let one slip even while practicing the most challenging yoga poses.
Features
Anti-Slip on both sides.
Longer life as it is made from natural rubber.
Adequate Cushion of ¼
Environmental friendly.
6. Manduka eKo Yoga Mat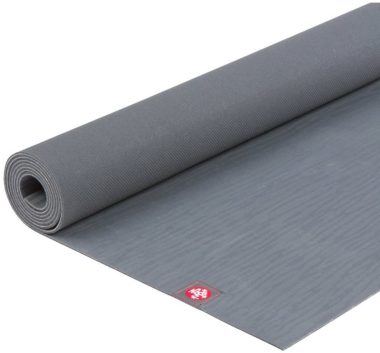 Manduka eKo Yoga Mat turns out to one of the finest yoga mats that the platform has looked forward to. Unlike other market competition, the special mat is made from rubber and is completely non-toxic. Its surface provides a great grip which does not let one slip. It is highly durable and comes with an open-air system which helps in providing greater cushion to joints. Hence when the quality is such, then the price can be a little hiked..but that shouldn't stop you from purchasing the product since making several little trips to local stores can be saved by an expenditure as such.
Features
Custom made by Yoga Gurus for Yoga Students.
Very long durability.
Made without the use of plastics or PVC.
Material used is from sustainable sources.
Provides a strong grip with the floor.
However the price is slightly on the higher side.
5. Tranquil Yogi Tranquility Cork Mat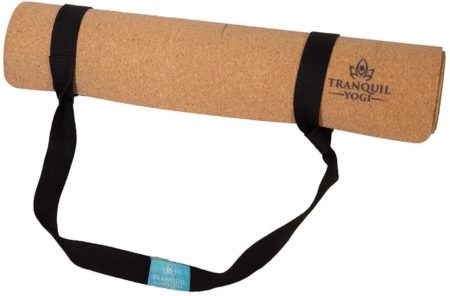 The tranquil Yogi Tranquility Cork Mat is perfect for daily users who don't want any effect from other toxic or rugged mats. It is an anti-bacterial mat with built-in alignment points which makes it one of the sought after choices for regular practitioners of yoga, and aids the ideal technique requires for an effective session. It has an excellent grip as the cork provides it with a stronger grip. Carrying the mat all rolled ap can be annoying, therefore the Tranquil Yogi Tranquility Cork Mat also offers you a mat strap that will help in the transition.
Features
Made out of natural rubber.
Better joint comfort.
Odour free and bacteria resistant
Different alignment points form.
Non slippery in nature.
Comes with a carrying strap.
4. BalanceFrom – Go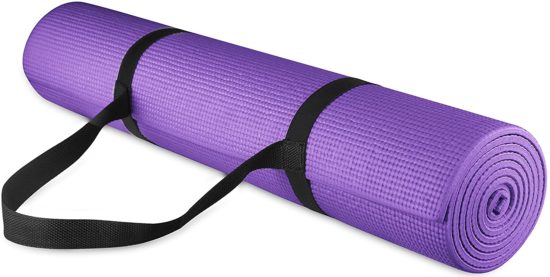 A Balance between environment and best quality is the BalanceFrom – GoYoga Mat.
They are low cost yet high-quality mats. They are made from the double-sided slip-resistant surfaces which helps in providing greater stability. Furthermore,  it does not absorb moisture and hence can be washed and dried easily for the ease of the users as well as protecting the durability of valuable investments.
Features
Low priced Yoga Mats.
Made from the double-sided slip-resistant surface.
Do not absorb moisture which makes them easy to clean.
Provided with a carrying strap making them portable.
Comes with a two-year warranty.
3. Gaiam Premium Print Yoga Mat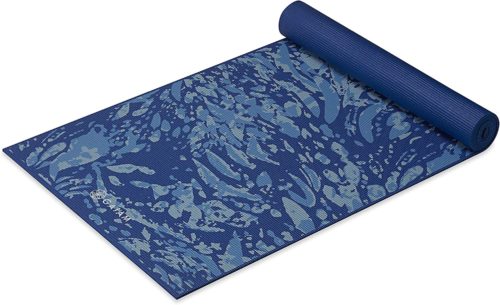 Well, here we go again…. another tie between the environmental aspect as well as standard hikes. They are very lightweight which makes them effortlessly portable especially if one plans to do yoga not only in their veranda but in a more peaceful or enlightening area like hill stations of fields. The textured surface helps in providing a better grip besides catering to one's taste of design. Additionally, an advantage of this product is its stylishness as well as effectiveness comparatively.
Features
Cost-effective Yoga Mats.
Light, long-lasting and thicker material.
Textured Surface and anti-slip material.
Made from  Toxic-Free Materials.
Available in more than 40 different print designs.
2. ProSource Fit Extra Thick Yoga Mat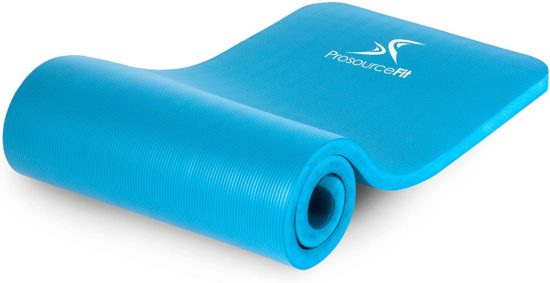 Owning a mat that hurts your joints and can even lead to discouragement is something we want to prevent. Bringing forth the extra thick yoga mat which will be the right choice for beginners and people with weak joints as it's thick grip will reduce pressure on joints. It can be cleaned by just wiping it with a wet cloth. It also comes with anti-slip technology like all the other common features and also includes a carry strap for the user's convenience.
Features
Low priced Yoga Mats.
Maximum comfort due to extra thick foam.
Water Resistant.
Anti-slip technology.
Carrying strap makes it portable.
1. CleverYoga Non-Slip Yoga Mat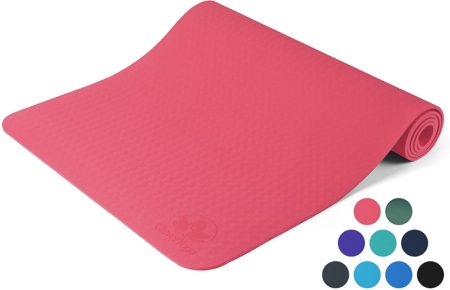 Yet again, if you are looking for a relaxing thick yoga mat, we suggest the CleverYoga Non-Slip Yoga Mat. These are non-toxic lightweight yoga mats, providing a spacious surface for the yogis who like to stretch a little beyond the normal, and hence need an apt dimension. They are made from high-density foam which provides a higher level of comfort and adding more value, is a lightweight model. The appreciated feature is the extra width for the specific postures.
Features
Moderately priced Yoga Mats
Made from extra-thick foam for greater comfort.
Wider yoga mats for more space.
Stable grip.
Long-lasting.
Easy to clean.
Conclusion
When coming to purchase a yoga mat, there is no one type for everyone. You have to research deep into what you practice, what level you attain, and accordingly, buy a mat. You don't need to scramble through many websites, if you know the regulations for your yoga mat, then referring to our guide, you can achieve a smart and non- regrettable conclusion. Since we offer to you only the 10 Best Yoga Mats In 2023.