A tent is a necessary equipment when you are planning to spend multiple nights in the midst of nature. If you are traveling alone, then a tent for a person is all you need. However, when it is a group traveling together, then no one will definitely want to spend their night all alone. Hence, a large tent is a product you need to set-up. The 10 person tents are specifically the solution you need to do research on. But who has the time to do such thorough research?
Well, we have got that covered for you. We have reviewed each product and prepared a fool-proof list of the top-rate 10 person tents. So, have a fun night every time you are on an adventure and spend nights talking with your friends in such a tent.
Best 10 Person Tents in 2023 Review
10. CORE 10 Person Straight Wall Cabin Tent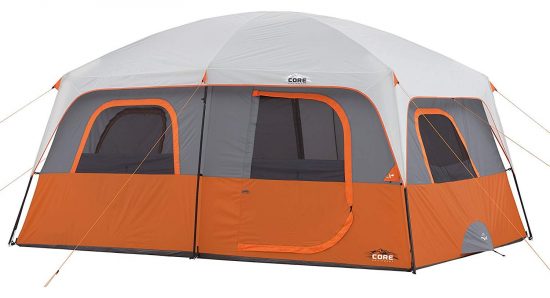 CORE makes some of the best tents in the market and has thousands of satisfied customers who have benefited greatly from their products. It has walls of high quality 68 Denier polyester that can stand the test of strong winds and rain. For complete 360 weather protection, you also get heat-sealed seams. As a result, prevents water from entering through small leaks that are sometimes present in stitching.
You also get a room divider which is indeed folded up and closed off when you need some privacy. With a floor size of 140 square feet, 10 people would easily have all the space they need for comfortable sleeping. For running electrical devices or lighting inside your tent, you can also safely guide in a power cord via the electrical access port. When not in use, you can also completely close the port
Key features:
Have vents on the perimeter that are adjusted to allow cool air from the ground.
Without the rainfly, you get a large mesh roof for great air ventilation.
Even the windows and doors have seals that prevent water from sneaking into your tent.
9. Timber Ridge Large Family Tent 10 Person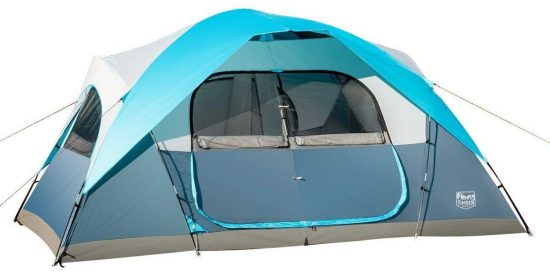 Unlike other manufacturers, Timber Ridge believes in their high-quality construction and that's the reason they have covered this tent with a 12 month warranty period. The inner tent fabric is 190T, PU coated polyester and provides enough room and floor space for 10 people.
You also get a pair of D-doors for easy entry and exit while steel stakes provide extra security. As a matter of fact, it even includes a divider to transform it into two different rooms.
Key features:
Mesh construction gear loft at the center for storing your gear.
A breathable product that will not make you feel suffocated.
Power cord port lets you bring in cables or wires connected to an external battery.
8. MOOSE OUTDOORS Inflatable Tent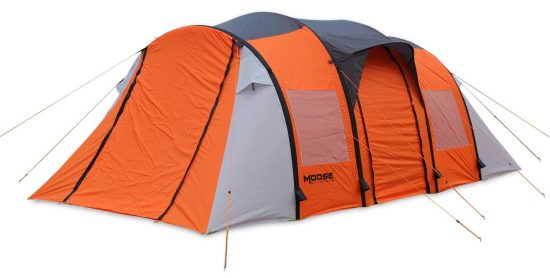 Moose Outdoors has brought to you a really unique tent that lets you set it up and collapse for packing within mere minutes. This tent is also resistant to both high and low temperatures and can block put 97 percent of UV rays. It can also stand up to 3000mm water column and has superior rip-stop technology. Therefore, saves it from getting damaged even after rough use.
However, it can resist both winds as well as water, even inflates in just about 3 minutes. Finally, it is a multipurpose product fulfilling all your travel goals.
Key features:
You can purchase this tent without any worries since it has a 1 year warranty period.
Can stand up to high strong wind force up to 33 mph.
Breathable material gives you excellent ventilation.
7. Coleman 2000028058 Tent Weathermaster 10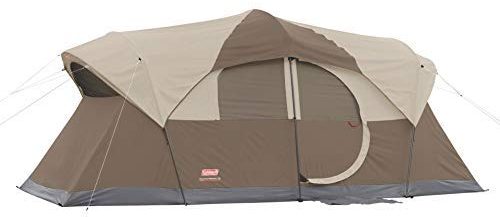 The Weathermaster lineup from Coleman never fails to impress and this one is really super spacious since it is designed for 10 people. In fact, the tent is so huge that you can fit in three queen-sized air beds without any issues inside the tent. Great for a small family and roomy enough for 10 people. Moreover, this tent from Coleman has a unique hinged door.
That means you can open or close the large door as you do at your home. No need for folding the fabric and putting yourself through the inconvenience. With other tents, rainfall means complete shutdown which can even create a stuffy atmosphere with everyone breathing inside a small space. Weathermaster fixes that with the angled windows. This design allows water to flow to the sides without entering your window. So, you can keep it open and watch nature in its glory.
Key features:
With a center height of 6 feet and 7-inches, you can even perform a small private standup show.
No need for needle holes with the welded floors, you are completely dry and comfy.
The frame has firm yet flexible fiberglass, while the floor is made from super thick 1000D PE material.
6. CORE Lighted 10 Person Cabin Tent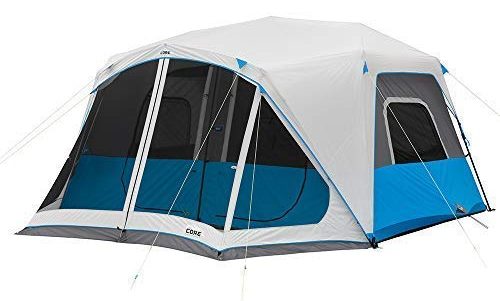 Core brings you one of the most sophisticated 10 person tents that doesn't just protect you from nature's elements but also has an inbuilt low power consuming LED lighting. You can control this light from the interior or from the outside. In fact, you get three different brightness settings.
At the lowest setting, you can get a runtime of up to 250 hours. Even though it has such an advanced feature you need just 2 minutes for setting up this tent. It is extremely spacious and you can certainly divide it into two different rooms.
Key features:
The oversized vent system is adjusted to your requirements.
Polyester construction assures longevity and safety.
Has a center height of 84 inches and comes with a durable rainfly.
5. Northwest Enterprises Large 10 Person Tent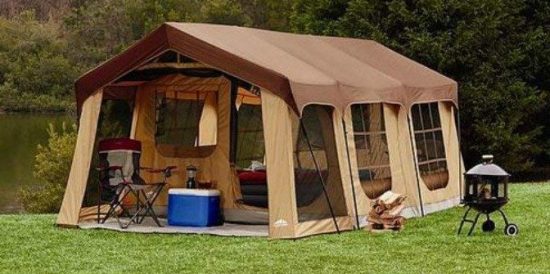 Northwest Enterprises brings to you a brilliant 10 person tent that is so large and spacious that you will feel right at home. It has a large room with a lot of room for even tall people to stand and walk around without any bumps. The rain fly comes with strong guy ropes that help to secure it firmly to the ground. Now, you also get big mesh windows that cover a significant portion of the walls.
You also get a front porch that lets just down on your lawn chair and enjoys some cold beverage with a buddy.
Key features:
The front and rear doors prevent the need to pass through hurdles for going in and out of the tent.
The floor is detached from the setup whenever needed.
The Interior space is divided into two rooms.
4. Ozark Trail Family Cabin Tent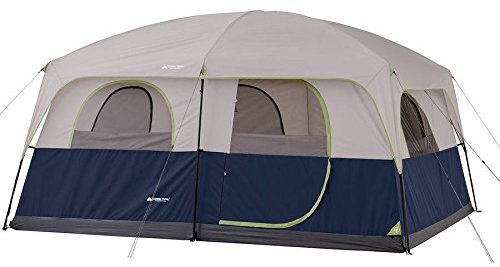 Ozark brings to you an incredible extra large tent that can host a big family comfortably. This spacious tent has no lack of floor space or roof height with its straight walls leaving more headroom. You can easily fit in two air mattresses of queen size and you will still have space to move around freely.
However, this is a great tent for your camping trips, cross country trail and more due to its easy and effortless setup. No need to carry large individual tents. Reduce packing weight and use extra space for other important gear.
With a divider, you can also split the tent into two rooms which can come in handy for various purposes, especially for some privacy. Since it is made from a 68D polyester fabric and coated with a water-resistant layer, you don't have to worry about the natural elements.
Key features:
Seams have been factory sealed thermally for leak protection.
Comes with a gear loft for storing your gear in a dry and protected space.
A total of 10 steel stakes lets you firmly secure the tent to the ground.
3. NTK Arizona GT 9 10 Person Sport Camping Tent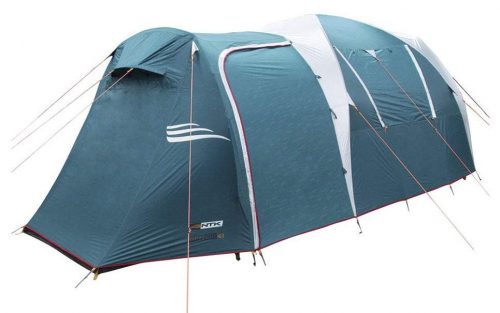 This tent comes with tent dividers so that you and the kids can both get your privacy. You get abundant space for air mattresses and up to 10 people with spare space for stretching out your hands.
It features 190T polyester fabric with a polyurethane coating for protection against water and even harmful UV rays. But the best part is its floor which has a silver coating on the inner layer and resists fungus
Key features:
Comes with a heavy-duty duffel bag for easy transportation.
Large mesh upper walls and sides to make it more breathable.
Poles have been color-coded for easy and effortless setup.
2. Ozark WMT922.2A 10-Person Vacation Tent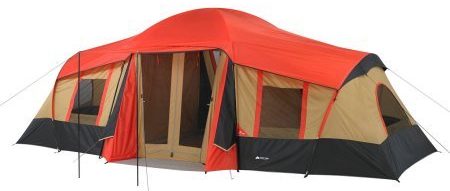 Ozark has created this tent with rich features that will keep you equipped with all you need for an unpredictable situation. It has one huge room and has a length of 20 feet with a width of 11 feet. 10 people will enjoy its roomy interiors and the partitions work great if you or anyone in the group needs some privacy.
The door has a unique design since it is also used as a shelter. As a result, lets you sit under it while being protected from the rain. It comes with an inbuilt mud mat for comfort and it can even easily accommodate 3 queen mattresses.
Key features:
Right beside the door, you get exterior zipper pockets that let you keep your shoes or gear away from the rain and bugs.
Dual screen zip doors to keep mosquitoes away.
1. Tahoe Gear Olympia 10-Person Camping Tent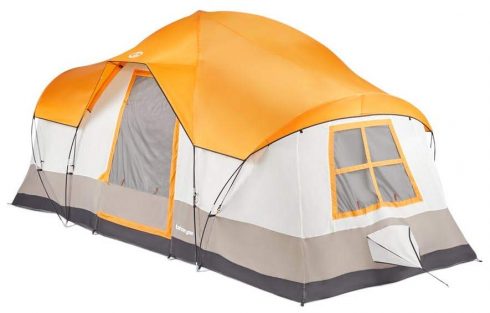 Tahoe Gear has made a fantastic tent that is spacious and has a strong structure to handle most weather conditions in tough terrain. It has a total of 5 poles among which two make a flexible cross to set up the main dome. A great problem with tents has always been mildew formation inside which really defeats the purpose of weather protection if you ultimately end up in a wet condition. So this tent has two large vents on each side directed towards the ground.
This helps to draw in cool air from the ground and direct it towards the upper mesh roof for superior cross ventilation. In fact, it doesn't allow moisture-laden air from getting trapped inside the tent, while also keeping your tent relatively cool even during summer. For enhanced structural integrity you also get steel stakes that are rust-resistant. You can use them to secure the four corners to the ground.
Key features:
Rainfly makes a protective canopy in front of your door to direct rain away to the sides.
The door has a zippered design for easy access and a velcro clasp as well.
Both the windows have a zip on each side with a velcro running along the middle portion.
Buying Guide For 10 Person Tents
Design:
You will find tents in different designs. Some of the common types of designs are cabin tent, dome tent, A-frame tent, instant tent, pop-up tent, and a tunnel tent. Getting the right one is a user preference, and you will have to see if it allows you to use it conveniently.
Setup:
Go for the one that allows you to set it conveniently. You need to go for the one that does not require any tools to set it up and can assemble quickly.
Materials:
Large tents are composed of different types of materials, and you will have to see if it allows you to use it for a long time. The different types of materials are polycotton and polyester. Go for the one that delivers exceptional performance and helps to protect from multiple elements. It has to be ideal for all types of weather conditions and prevent leakage.
Rainfly:
The one that comes with a rainfly will be an ideal consideration. It makes sure there will be exceptional performance and can be great when there is any precipitation.
Ventilation:
Always see if it comes with mesh windows that help to improve airflow. This is a vital consideration and helps to maintain the internal temperature. You can even use it during day time and experience nature beside you.
Vestibules:
If it includes vestibules and garages, then you can have a perfect spot for keeping the dirty gears. It makes sure that your items stay dry and well hidden.
Construction:
Go for the one that has lightweight construction so that you can take it anywhere you want. Apart from this, you can see if it comes with a convenient storage bag allowing you to have easy storage. It must offer you better comfort and let you stay dry.
Usage:
The large tent must meet your needs. You will have to know your usage and then make your purchase. Consider investing in the one that offers you maximum convenience. Look at the number of doors and see if it allows you to have easy access. Always see if it offers you many options and can be great for different situations.
Features:
You will have to see the overall design and go for one that is right for you. Look at the center height carefully so that you can have a comfortable experience. Some can also include convenient hooks and pockets where you can keep different items.
Even if there are some extra guests during your adventure trip, these 10 person tents will fit each and every one. Indeed a flexible option for traveling needs.