Want to keep your kids engaged in something interesting? Or do you love solving the intriguing puzzles? Well, there is no reason to stop yourself from exploring the fun. You surely have heard about puzzles but for the new generation, you have the 3D puzzles.
An interesting game that any individual will have fun playing, these puzzles are going to bond you as a family as well. Coming in various shapes and concepts, you will love it. Get more options and explore more, the buy 3D puzzles online to get more options. Be sure of the type of puzzle you want and get ready for a competitive game.
The Best 3D Puzzles in 2023
10. Ravensburger Eiffel Tower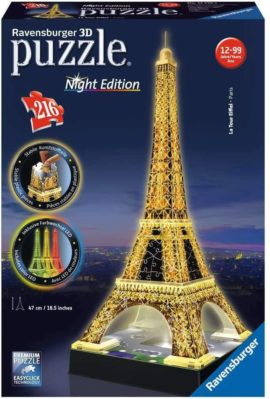 Ravensburger is well known for creating a line of successful 3D puzzles, and this is one of their best products. This night edition product can introduce you to a great new hobby. With as many as 216 minute pieces, the item looks nothing short of the real Eiffel Tower when it is complete.
To make the pieces stick to each other securely, the product has an Easy Click Technology, which interlocks the pieces precisely. One unique feature of the product is that it comes with LED lights which can be used to illuminate the product. Having the Easy Click Technology, your child would love constructing it.
Key Features: 
The product has tough plastic as the material. Thus, the final result is a durable one.
Not only do you get LED lights, but they are available in 3 different variants for you to alter between.
It comes with plastic trimmings for attaining perfection in construction.
9. ROBOTIME 3D Puzzle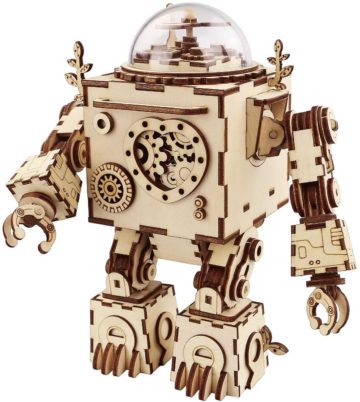 With the various interesting features, this product is bound to catch your attention. The product does not only look like a robot when the puzzle is complete but will provide you with music to listen to. This robot is actually a music box named Orpheus.
It creates music that fills you up with inspiration called 'Cycle of Happiness'. To provide you with quality material, the product has laser-cut plywood. Besides, to help you smooth out the wood to your preference, the product also offers a tiny square sheet of sandpaper.
Key Features:
It is suited to be an amazing gift for any occasion, whether for adults or children.
The robot will seem alive, with the arms and legs being able to move through the gears on the product.
Indeed designed to have the heart light up through LED, making it even more realistic.
8. WREBBIT 3D Hogwarts Great Wall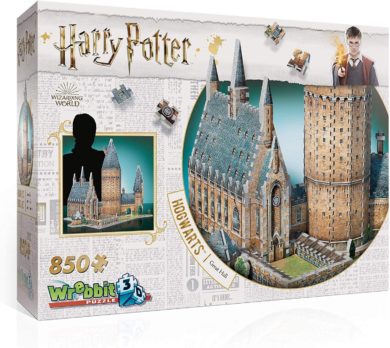 WREBBIT has a long line of different Harry Potter themed 3D puzzles, and this one will not fail to meet your expectations. Making this with your child will make their imagination come to life. Besides, the product keeps the environment in mind as well. The packaging has been made eco friendly using recycled cardboard.
Plus, the pieces of the puzzle have a foam layer which is one-fourth inch in thickness. This not only provides sturdiness to the whole structure but makes the model look even more realistic. If you are completely new to 3D puzzles, no need to panic. The product comes with detailed instructions about the assembly of the pieces.
Key Features: 
One great factor of the product is that it requires no glue during assembly of the parts. This makes the operation completely hassle-free.
It is an ambitious project, containing a massive 850 puzzle pieces, to keep you occupied with something fulfilling.
Meticulously made in Canada for providing the best quality results.
7. CubicFun Neuschwanstein Castle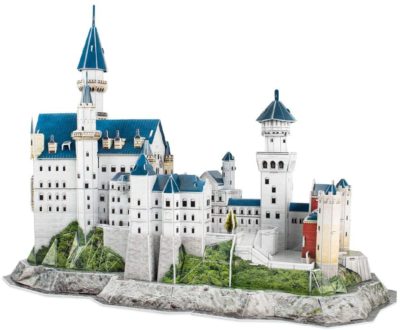 CubicFun is known for producing 3D puzzles with various interesting themes. Moreover, the assembly of this product is absolutely mess-free. Next, the product requires no glue, or scissors in order to fit the pieces together. The structure will have two different looks, one in the day and one in the night.
This is because the castle is lit up with LED lights. The product even comes with descriptions of the history of the castle, to make the assembly even more thrilling. Because the product has paper and EPS foam as the two primary materials, you do not have to worry about any sharp edges injuring you or your child.
Key Features: 
As an added bonus, the product helps you to get some stereopsis training done while you play.
Since the product is a mind teaser, this can be a terrific way to relieve your off your stress.
Any child of 8 years or above can take around 4 hours to complete it
6. WREBBIT 3D Game Of Thrones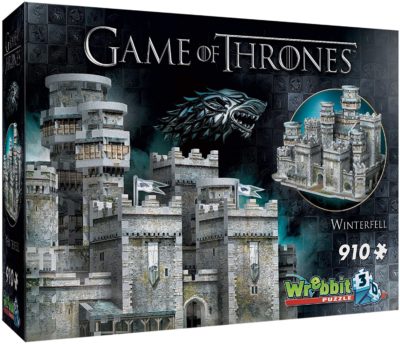 For all the Game of Thrones fans, get ready to have your very own kingdom. Another fabulous creation by WREBBIT, this product has been modeled on the ancestral home of House Stark, Winterfell. The greatest privilege of this set is, you do not have to rumble with glue to make the pieces stay together.
Once the product is completely assembled, the structure is stunning enough to be displayed in your living room as an art piece. In order to make the pieces fit each other perfectly with no fear of breaking apart, this item has a foam backing on each piece. These are just 3D puzzles, it comes in beautiful shapes and colors. So, the whole product will give you a 3D set-up.
Key Features:
With a massive 910 pieces to bring together, you can spend your idle time doing something fun and stimulating.
It is ideal for any child of or above 14 years.
Since the assembly booklet is equipped with descriptions in various languages, you are sure to find one you understand.
5. ROKR Marble Run Model Kit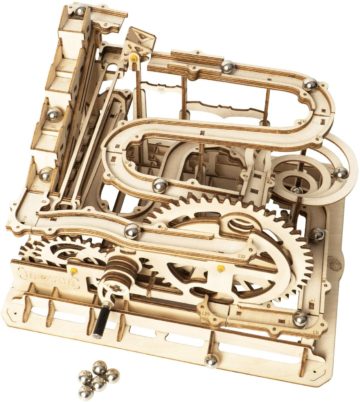 If you are looking for a good activity to do as a family, this can be a great choice. This product is not only a stagnant product after assembly, but it is also a game in itself. Little balls are made to wind down through the structure.
The steel balls required for the little show, are provided with the product itself. Being steel, you do not have to worry about any rusting either. The vintage charm is combined with the modern laser cut wood pieces, which increases the durability of the product.
Key Features: 
Requiring 4 to 5 hours for a complete assembly, this product will be great to pass your time.
Even with so many interesting structures as funnel rail and stairlift, you require no tools to assemble this product.
This is very much the chief attraction in your living room to impress your guests.
4. Amy & Benton 3D Puzzle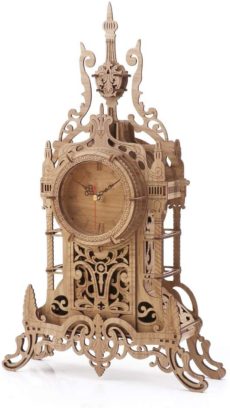 This is not only a fun puzzle, but this can be used as a fully functioning clock. The product is a clock, is wall mountable for easy display. Doing it with your children will improve their hands-on ability as well. Moreover, this elegant clock has legs that help it to stand on its own without any support as well.
Besides, this product offers great exercise to bond better with your children through some activity. The pieces have smooth edges, so you do not have to be wary of any sharp edges on the wooden pieces. Finally, the product uses HDF material. As a result, it will give your puzzle set-up a strong format.
Key Features: 
The installation is fairly simple since no tools or glue are necessary for the assembly.
You do not have to worry about any loud ticking disrupting your sleep. This clock works silently.
You will be glad to know, the product is completely eco friendly, and has no harmful materials.
3. Melissa & Doug 3-D Puzzle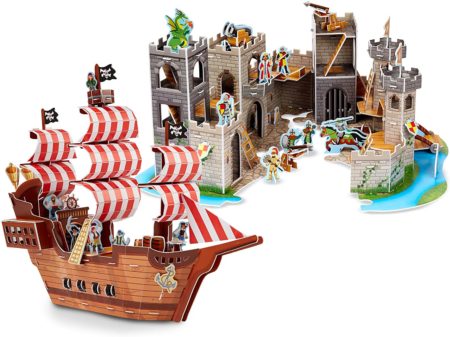 Designed in the fashion of a Medieval Pirate ship, this can sail your child to fantasy land, and be a great recreational activity to work their brain. Furthermore, the product comes with various goodies to make the game even more fun. Accessories like a treasure chest and rowboat are added to the product.
On top of that, the product also has play figures like the parrot on the ship. Besides, if it is too complicated for your child, it may not be as entertaining. Thus, it comes with clear and simple instructions. If your child is of 6 or above, they will find full interest in setting it up.
Key Features: 
The product has number-coded puzzle pieces which makes the assembly much easier to understand.
This can make a great birthday or Christmas gift for your child.
With a massive set of 100 pieces, your child can stay occupied for hours, and taste the sense of accomplishment.
2. Ravensburger Empire State Building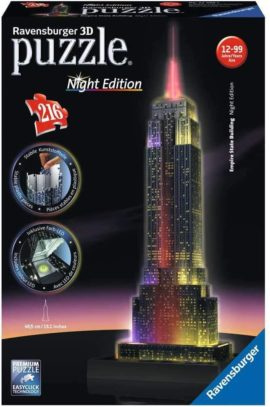 This is another masterpiece by Ravensburger. This Empire State Building upon completion can be an eye-catching decorative piece in your house. To make it even more interesting, the product allows 5 different LEDs you can use to light up the product, which gives the night edition product a new look.
Further, the lights are flexible to be illuminated with different colors together, or a single color at one time. The product makes sure to use premium quality material which is resistant from getting bent, and thus, remains as good as new for a long time. With Easyclick Technology, the pieces fit together snugly without needing the trouble of glue.
Key Features: 
You can teach your child about the history and architecture of the building while bringing this structure together.
It will have a 3D appearance once it is set-up.
Each of these 216 pieces is done with construction and will fit perfectly.
1. CubicFun Taj Mahal Puzzle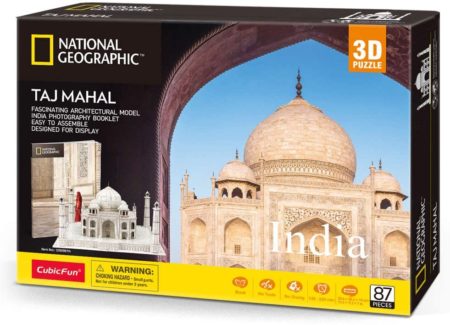 If you will like your children to learn a little more about geography while playing, this will be a great way to do it. Structured to be a realistic miniature of the Taj Mahal, the product comes with a National Geographic booklet. Therefore, makes learning even more fun, by telling a lot just through pictures.
Besides, both adults and children can derive joy from this puzzle alike. With the 87 piece set, you can spend a good 2 to 4 hours as a family, building something together to flaunt to your guests. The pieces on this puzzle all have a foam board. Thus, the pieces have a better shape which makes the model look even more realistic.
Key Features: 
One good thing about this product is that the product requires no tools to be assembled, so it is much less messy.
An interesting fact about this is that is ideal for kids as well as adults.
So, indulge in a playful time and feel the eagerness until it is solved. The 3D puzzles for kids and adults will help you spend beautiful family time together.