A smartwatch for kids isn't just for time-telling. It includes additional features such as a 2-way calling, GPS, messaging, fitness tracker, and much more. There are many varieties of options available in the market. But not all will be suitable for your kids. We have taken the time to research and bring you a list of the top 10 best smartwatches for kids in 2023.
List of Best Smartwatches for Kids in 2023
10. Kurio Watch for Kids 2.0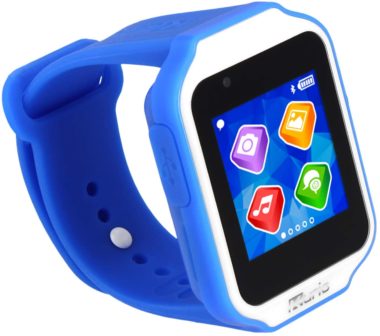 Here is a beautiful, smartwatch that includes apps and games which can be connected for two-player competitions with other smartwatches. You can connect with devices using Bluetooth. It features a built-in camera for taking selfies and recording videos.
Additionally, it has a built-in music player with a 256 MB internal memory which can save a few of your favorite tracks. It comes with regular features such as calendar, calculator, stopwatch, alarm, and activity tracker.
It is durable and coated with scratch-resistant material. Moreover, it also features an emergency app that allows kids to contact their parents in case of an emergency.
Pros
Emergency app
Music player
Bluetooth connectivity
Video recording and camera
Games and apps
9. Garmin Vivofit Rewards Smartwatch
Garmin makes amazing fitness smartwatches, and this isn't an exception. It features a movie-themed fitness and activity tracker that makes fitness for your kids more fun. For instance, you can only progress to the next level in a game after achieving daily activity and fitness goals.
You can schedule chores by sending an alert to your kid's smartphone from your app that shows them which chores they should do.
You can monitor whether your kid is exercising or not through the app. The watch encourages friendly competitions which make exercise fun.
Pros
Reminder alarms and alerts
Personal Parental Assistant
Fully waterproof
Battery life is 1 year
8. VTech Kidizoom Black Teens Smartwatch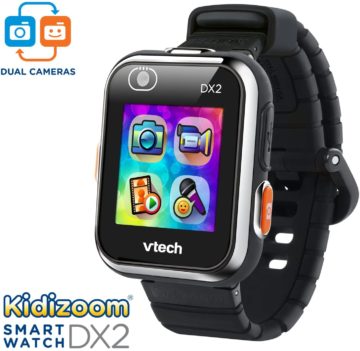 Understanding that children just want to have fun, VTech aims to deliver exactly that with their smartwatch. While you'll not find 2-way communication or GPS tracking functions, this smartwatch is majorly a mini gaming gadget, with educational interaction and activities to keep kids busy. From checking the time to AR capabilities (augmented reality) and motion sensor for games, parents will like its built-in learning extras. Its dual cameras allow kids to take selfies or record videos, which is a sure hit at elementary school.
However, if you aim to monitor your kid or have an instant chat about who'll be picking them up after school, this watch is not designed to meet such needs.
Pros
Dual cameras for video and pictures
Design is easy to use
Affordable
Games galore
7. Fitbit Ace 2 Kids Smartwatch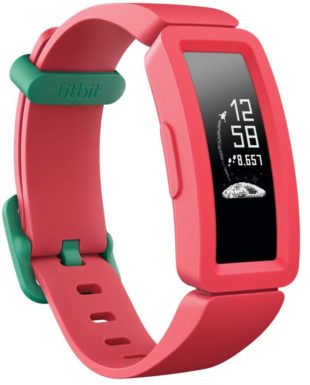 Smartwatches are known to perform several functions, but few are designed to function excellently at a particular thing. Fitbit has been able to manufacture fitness trackers for kids and modeled them on these same popular wearable gadgets.
The Fitbit Ace also does everything you'll expect in terms of fitness tracking, from monitoring your sleep patterns to counting your steps. It helps in tailoring messages and as well uses competition for kids' encouragement, plus syncing to Fitbit accounts of family members and other Android and iOS devices. Sturdy and shower-proof, the Fitbit Ace is one of the most durable smartwatches for little ones who need to get moving.
Pros
Durable and waterproof design
Sleep monitoring
Efficient fitness tracking
Syncs to family Fitbit accounts and smartphones
6. Enow Smart Watch For Kids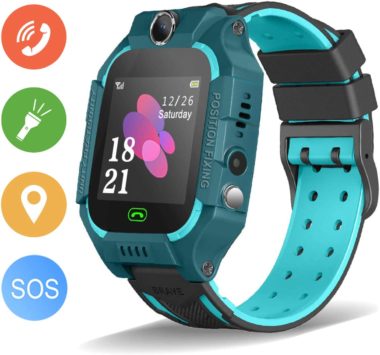 For parents who care about the safety of their kids, the Enow smartwatch for kids comes with several safety options. It features LBS tracking, which helps in tracking your kid's location. It also has an emergency button which pops up a security alarm on a mobile phone. With this, your child can request for help in case of an emergency.
Its built-in camera can be used to take videos and photos. You'll use a mobile app (on Android & iOS) to see your kid's images on your smartphone. This feature is very useful in monitoring your kid's surroundings. By plugging in a SIM card, the device can function as a mobile phone. It offers messaging and 2-way calling. It also features a built-in game which increases your kid's mathematics sense.
The smartwatch also features a flashlight and a voice recorder. These two functions can enhance the productivity of your children. Lastly, it features a classroom Mode, a time you can set during which the smartwatch blocks all other applications except the time and SOS functions.
Pros
Affordable
Classroom schedule
Emergency alarm
Can be remotely controlled
5. TickTalk 3 Water Resistant (IP67) SmartWatch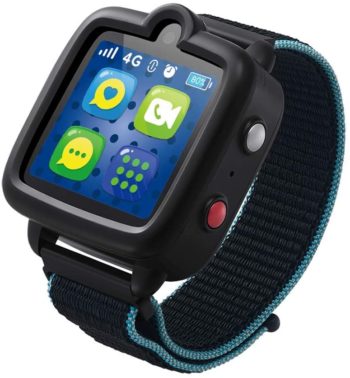 With several unique features, TickTalk 3 is another great smartwatch brand. You can make video calls to your kid anywhere and anytime. The smartwatch allows a SIM card which you can get from your preferred internet provider. You can also use your house's WiFi connection.
The smartwatch also features a 2-way messaging connection. The messaging app also includes other elements, such as text, photos, voice notes, Emoji, etc. The device has an efficient GPS locator which is fifty percent faster than the previous model. The locator allows you to monitor the movement of your kid.
The smartwatch comes with a waterproof certification (IP67) that allows you kids to enjoy their time instead of bothering about getting it wet. It can easily tolerate rainwater splashes or even accidental drops in a pool. Also on this smartwatch is an emergency system that your kid can press in a way, and get connected to 911. This feature comes handy in case your kid needs urgent help. Overall, TickTalk 3 is a full package of safety and productivity for your kids.
Pros
SOS button for emergency
GPS locator
Water certification (IP67)
Video calling
Waterproof
4. SZBXD Waterproof, Dual-mode SmartWatch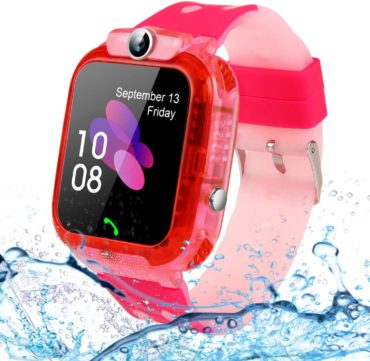 The SZBXD Smartwatch is a perfect spying machine. With a voice transmitter that allows you to hear the voice of your child or what they are doing, without them knowing.
The smartwatch features Dual-mode positioning, which allows you to monitor your kid's real-time position. It's an advanced feature which doubles the security, and many top-quality smartwatches don't have this function. It also features an SOS button which your kid can press for three seconds if they get into trouble. Immediately, it will call an emergency number stored on the device.
To prevent water from spoiling your kid's adventure, the watch is completely waterproof. Your little one can wear it even during a water sport, provided they don't press any button while underwater.
Also, SZBXD features 2-way calling and a GPS tracker for monitoring the movement of your child.
Pros
Easy to use
Waterproof
Voice transmitter
GPS tracker
3. Octopus V2 Icon Based Kids Smartwatch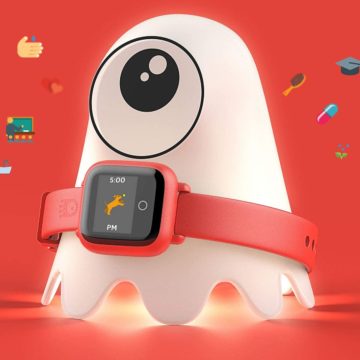 The Octopus V2 Kids Smartwatch is an excellent upgrade of the previous Octopus version. It features a fitness tracker which tracks your kid's physical activities.
It displays over 3000 icons for different tasks which is pretty cool for young ones and those who aren't able to read. Different tasks can be set up by simply choosing a preferred timing, description and icon. The smartwatch features a three-axis gyroscope and three-axis accelerometer which displays every fitness data. It doesn't use any mobile network or GPS. This can either be an advantage or a disadvantage, depending on what you want in a smartwatch.
It comes with a unique octopus styled charger; a stand on which you need to dock your smartwatch to charge it. Most children love the way this smartwatch is charged.
Pros
Symbolic reminder
Decent battery
Motion sensor
2. Pebble 2 Kids Smartwatch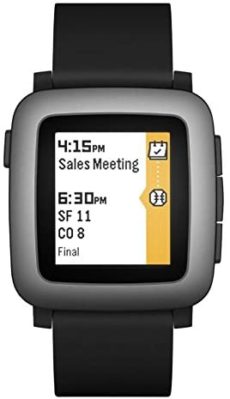 This is one of the best smartwatches for teenagers on our list. Although expensive, the Pebble 2 smartwatch features a heart rate monitor (built-in) which measures the calories, heart rate, counts the footsteps, and even the sleep pattern of your teen. You can find every feature of a fitness tracker on this device. The smartwatch features a voice dictation mechanism which uses a microphone that is built-in to as well save voice notes. Over 10,000 apps are available for the device ranging from games, productivity, to health.
There are numerous things you can do with this watch. The smartwatch has a seven-day battery life, which implies a worry-free week of adventures. It also features an LED always-on display that doesn't drain much power. The smartwatch is completely waterproof and can remain in the water for up to 40 minutes.
Pros
Over 10,000 apps available
Fitness tracker
Battery life up to 7 days
Waterproof
LED display
1. Amazfit IP68 Water Resistant Smartwatch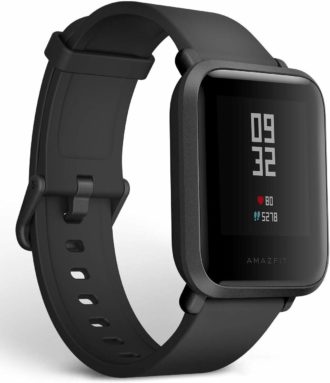 This watch comes in different personalization and color options. Majorly designed for teenagers, the Huami Amazfit smartphone can be used all day. There's no need to pull it off often, as you'll get a 30-day battery life after a 30-min recharge. Isn't this incredible?
The smartwatch features a built-in GPS and heart rate monitor that both work together to create an excellent fitness and location tracking system. The distance traveled, quality of sleep, steps taken, and even calories burned can be measured. Also, sports mode can be turned on to gain more insights. Knowing that teens use various social media apps, phone apps, and emails, the smartwatch has a 1-way notification system which alerts you of all notifications.
Also, the smartwatch features a sleep counter, weather reports, and organizing apps such as the calendar, calculator, etc. For an extra satisfaction level, the smartwatch has a leading waterproof rating (IP68). The watch can stay in water for up to 30 min in 1 ½ meters in depth.
Pros
Smart notifications
IP68 certified
GPS
Excellent battery life
Waterproof
Buyers Guide – Smartwatches for Kids
Making the right choice of a smartwatch for kids can be tough, as different smartwatches perform different tasks. Before buying a smartwatch for your kid, consider the following factors that will help you choose a suitable one for your little one.
This is one of the greatest features of a smartwatch. You ought to know where your kid is and what he's doing. This feature allows you to monitor his activities and ensure he's safe. There are different types; GPS, LBS, etc. GPS delivers real-time tracking, which is accurate.
This is an essential security feature, which pops-up a security alarm on your app whenever your child presses the SOS button. If you're worried about your child's security/safety, consider a smartwatch that has an SOS button.
Fitness Monitor
If your child loves going outdoors or is a lover of sports, then you should get him a smartwatch that has a fitness monitor. It tells the distance he's traveled, the number of calories burned, quality of sleep, and so on.
A smartwatch camera can be used to shoot selfies, record videos, and take amazing photos. This built-in camera is a great alternative to the smartphone. With this, your child doesn't have to carry a smartphone around and yet enjoy a great time with his smartwatch.
You should consider choosing a smartwatch that has games if that's what your child likes. You can go for one that has plenty of games, so your kid doesn't get bored while playing with the device.
This feature is very subjective. It depends on the kid's activity, whether he'll need a waterproof device or not. If he loves getting water splashes and playing water-sports a lot, then you should consider a fully waterproofed watch. By doing this, you will be preserving the watch for an extended period.
Before purchasing a smartwatch, check its battery life. Charging frequently can be hectic, and you do not want to purchase a smartwatch that would require frequent charging to function for a full day. Buy a smartwatch that would last a least a day before charging.
Conclusion
Not all smartwatches are suitable for your kids. With this article, we hope you now have an idea of the best smartwatch you should purchase. Happy Buying!