Keeping a baby memory book has never gone out of fashion. Even in this digitally advanced world, memory books are sold like hotcakes all across the world. For all the parents, babies are always special and they always desire to record each special moment for their kids. These moments give utter joy and satisfaction when glanced in future because it would immediately bring back to mind those sweet memories of the past. Presently, there are different types of baby memory books available in the market, which will help you record each milestone your baby attains during the initial years of life. The finest baby memory book is the one that comes with cute design, eye-catching color and long-lasting durability, and have lots of space for placing the baby photos. Let's take a look at the top 10 best baby memory books in 2023:
List of Top Baby Memory Books Review
10. Cuddls Baby Memory Book with Stickers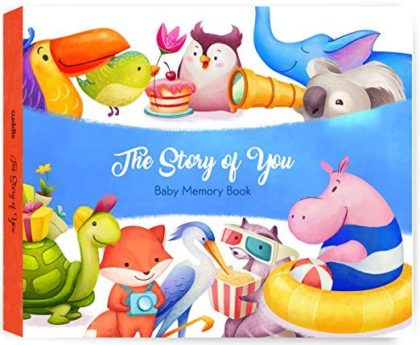 If you are looking for a baby memory book with many pages and stickers, go for this one. The book encompasses the initial five 5 years of the baby's lives and all this is done in style. The most treasured moments of the life of your little one will remain recorded for years to come. This memory book is a perfect combination of creativity and artistic finesse.
Features:
It comes with 52 pages and a keepsake envelope to record every small accomplishment of the baby.
Instead of the usual pink or blue theme, it comes with pages filled with fascinating unisex illustrations. This makes it perfect for boys and girls.
You get 12 monthly baby stickers for onesies along with the purchase.
9. Tiny Angel Baby Memory Book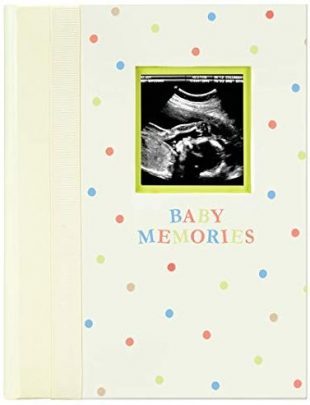 The baby memory book from Tiny Angel comes with standard size photo boxes for flexibility. There are birthday pages till the age of five and extra pages for images, comments, etc. There is hardly any moment of your little one's life that can't be recorded. It makes an ideal gift for new parents.
Features:
This book is full of vibrant colors and appealing illustrations.
It can be used as a gift for a baby shower as well as for new parents or grandparents.
There are two envelopes provided on the back cover and they can be utilized as memento pockets to keep items like a baby tooth, hair, hospital bands, etc.
8. C.R. Gibson First 5 Years Memory Book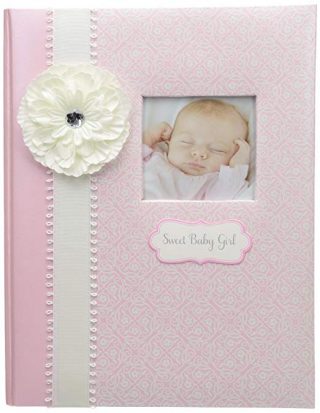 This beautifully designed memory book will safeguard the memories of your baby for a long time to come. Recognized as a decorative memory book for recording milestones and memories, this product is perfect for the first five years of the baby. Go in for this cute memory book right now as it is ideal for your special kid.
Features:
Different pages are available that include handprints, footprints, hospital bracelet, the newspaper announcement, birth announcement, homecoming, adventures in parenting, etc.
An attractive square is designated on the top side of the book where you can place the image of your baby.
The book's colors are cute and soft with a floral design.
7. Petite Pro Baby Book For Boys and Girls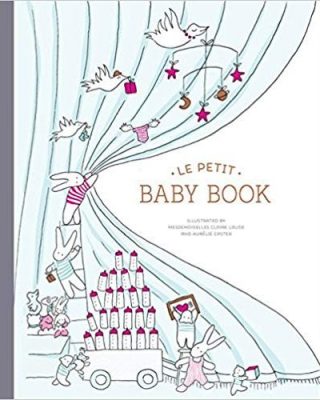 Parents can record all the firsts their baby has gone through because this memory book comes with milestone pages for each month. You think of a moment and this book has a page for it. You can document every activity right from their early childhood to kindergarten days to the age of three.
Features:
The book has 48 pages filled with picture slots of convenient size.
It comes with a beautiful box.
The delightful watercolor artwork is used in its making.
6. RubyRoo Baby Memory Book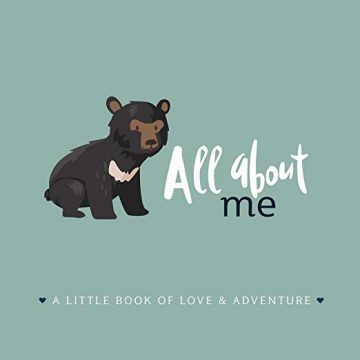 Now get images from your social media accounts and smartphones and transform it into a precious family heirloom. Parents can now capture their baby's memories in an easy and fantastic way with this baby memory book. You will surely fall for the distinctive design of the pages meant for your baby's milestones.
Features:
The book comes with 56 pages book, filled with contemporary design.
Its key features include Instagram-friendly four-sided image frames.
New parents are properly guided over the first year with listed birthday pages and crucial milestones as well as outings.
There is space for personal stories as well.
5. Lucy Darling Little Artist Memory Book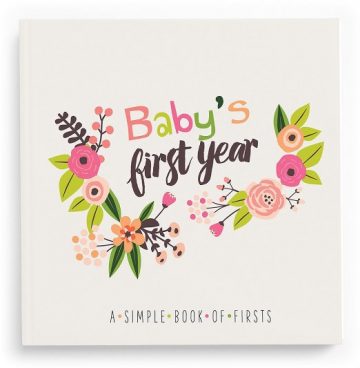 Recognized as a baby memory book of floral type, you can remember the initial years of your kid every time you open it. It can even serve as a scrapbook. This simple yet elegant memory book will be a treasure of your child's fun-filled moments. Excited? Well, go for it right now and surprise your near and dear ones with how you care for your kid.
Features:
The baby memory book is designed artfully with magnificently written words as well as introductory sentences.
Pages are pre-organized; therefore, there is not much effort from your end.
It comes with eleven blank pages to let you write freely at the end
The book is manufactured with Eco-friendly soy-based ink.
4. Normson's First and Five Year Scrapbook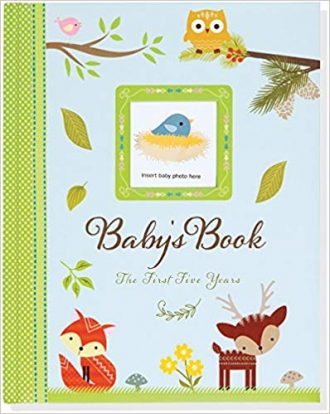 Now enjoy glancing at reminiscences of key milestones, holidays, birthday pages every month through this baby memory book. It has many Instagram-friendly photo square frames for the purpose of flexibility. You can keep a close track of your child's first five years by arranging his milestones systematically.
Features:
It comes with acid-free pages that last longer.
Your baby's initial five years are encompassed beautifully in this all-in-one baby memory book.
It comes with a large storage capacity of 92 photos.
3. The Amazing Story Of Me Baby Memory Book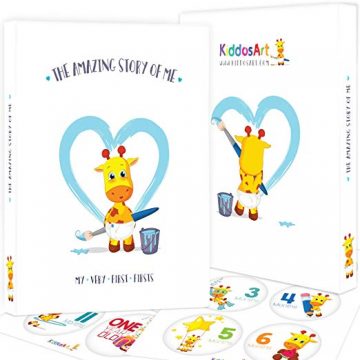 The baby memory books by KiddosArt are designed with great love, care and fun for recording the baby's beautiful memories. You can transform your baby's activities into colorful stories. This is a must-buy memory book considering the fund of memories, milestones and treasured moments it will capture for you to relish.
Features:
Every picture's size is mentioned directly on the photo frame in every page of the book.
You only need to cut and paste your pictures and then begin creating your beautiful baby memory book.
Total 72 printed pages are available for recording colorful and fun stories.
2. Lovely Sprouts Baby Memory Book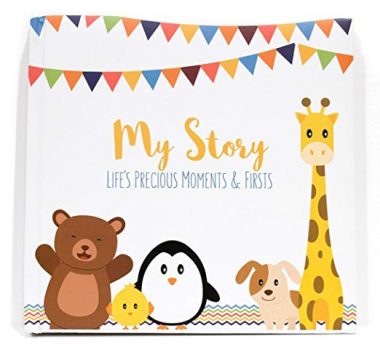 Lovely Sprouts's baby memory books are just perfect for celebrating your baby's initial years of life, announcing your pregnancy, or merely rejuvenating the time of togetherness. You can keep a record of your baby's growth from an infant and toddler to a five-year-old school-going kid. If you have someone in your acquaintance who is expecting a baby, you can gift this elegant baby memory book to them. Indeed, a worth buying product as your special child requires special treatment.
Features:
More than 80 photo boxes are included to capture every beautiful and precious memory.
There is a separate page to capture the baby's hand and footprints.
It comes with a well-designed keepsake envelope which allows you to keep some of your valuable items.
1. Pearhead Chevron Baby Book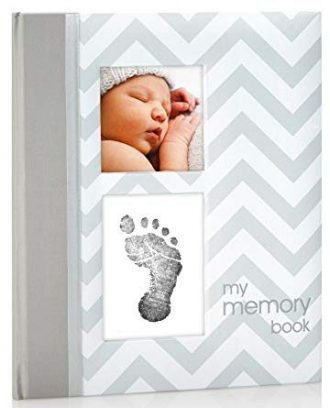 The contemporary chevron style baby book comes with 50 fill-in pages intended to offer a straightforward guideline to prepare a memento memory book. Its appealing aspect is the chevron pattern being added on the front side, giving the book a cool touch. This stylish memory book is meant for cherishing your baby's initial years with all important moments and milestones duly registered. Equipped with high-quality pages designed for capturing your kid's progress, this fantastic memory book is available at an affordable price tag.
Features:
Adequate space is available to accommodate photos throughout the journal of daddy, mommy, the family, baby's sonogram, mom while pregnant, baby shower, baby's first image, etc.
You can effortlessly make your baby's precious print with the help of its clean-touch ink pad.
There is no concern about baby's piggies touching the ink.
Concluding Note:
The baby memory books discussed above feature colorful and well-designed pages with sections to record as well as document the firsts of your baby. In the future, someday, you would sit calmly with your kid and smile by glancing at the sweet memories saved in the baby memory book. The above-discussed baby memory books are the best available in the market. Choose one which captures your attention and which you find the most suitable one for your needs.