Going out in a group for camping, hiking and other adventurous activities is a common thing among teenagers and even adults. It is better to stay in one tent than to spread out if you are going to a group. You will stay safe and you can spend quality time planning and discussing in one place. Moreover, you have to carry less baggage. The following article contains the top 10 best 4 person tents in 2023 that you can consider buying.
List of Top Best 4 Person Tents Review
10. ALPHA CAMP 4-Person Camping Tent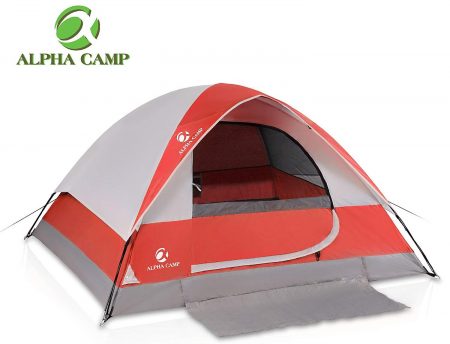 The camping tent is waterproof and the seams are perfectly sealed. It does not matter what the water pressure is, the tent will survive in all conditions. The fiberglass poles make it stable during high wind flow conditions. It weighs around 8.6 pounds and it is highly spacious for 4 adults. The material is durable as it is made up of polyester taffeta fabric with PU coating. Moreover, it protects from UV rays and there is a gap between the top cover and the body to keep the interior temperature comfortable and not let rainwater seep in.
9. CORE 4-Person Instant Dome Tent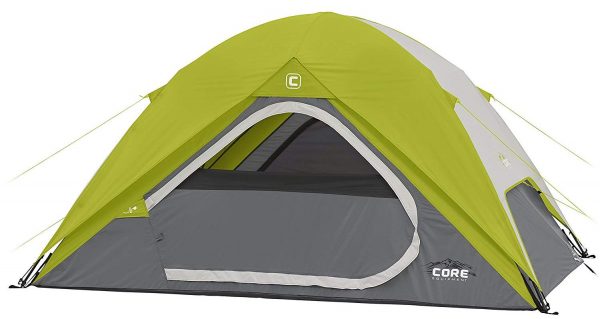 This 4-person tent is made up of 100% polyester and therefore, it is all-weather resistant. The best part is that the setup is instant and it can fit in queen air mattress comfortably. The ground vent is adjustable and the maximum height is 54 inches. In the interior, you will find a gear loft for lantern hook and there are pockets to keep things organized. Apart from that, it includes a rain fly, tent stakes, and a carry bag. Besides, the color of the tent is quite eye-catching and it comes with the pre-assembled frame.
8. ALPS Mountaineering Meramac 4-Person Tent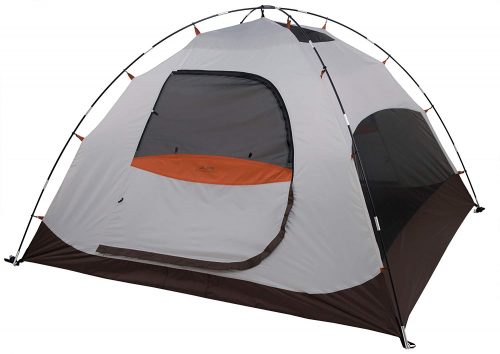 The product has a polyester taffeta construction. It is easy to assemble and it is a free-standing tent with the two-pole design. Moreover, the shock-corded fiberglass poles are highly stable. It is water resistant and protected from UV rays. The doors have extra protection and it comes with storage pockets to keep everything organized perfectly. There is a window vent to do star gazing conveniently. The center height is higher than most with 60 inches which are always welcoming.
7. ALPS Mountaineering Taurus 4-Person Tent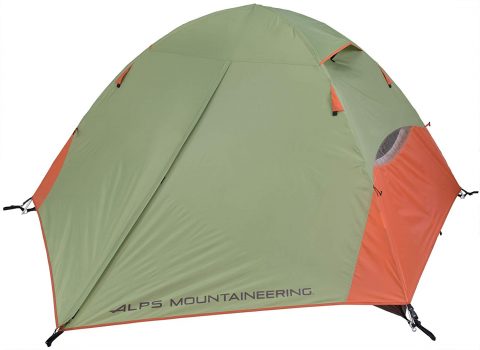 This is another 4-person tent from the same brand as previous but the product is an improved one. It has the same construction with two fiberglass poles. It is also easy to assemble and water resistant. The color will not fade as it is UV protected. However, you can extend the space by adding two vestibules. With the mesh roof, there are two entryways and the zippered window for better ventilation. All the items required for comfortable start starting from mesh storage pockets to the poly-taffeta floor, everything is available.
6. ALPS Mountaineering Lynx 4-Person Tent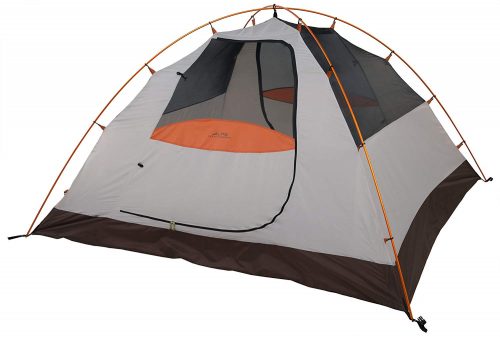 The Lynx series tents from ALPS have no assembly frustration. It is a free-standing two-pole design tent that you can set up instantly. Moreover, the polyester material is water resistant and hence, you can use it in rainy as well as winter season. Moreover, you can increase the storage space with two vestibules. The package contains storage pockets, gear loft, stakes, doorways and guy ropes. It is one of the bestselling 4-person tents and it is super lightweight.
5. Kelty Grand Mesa Tent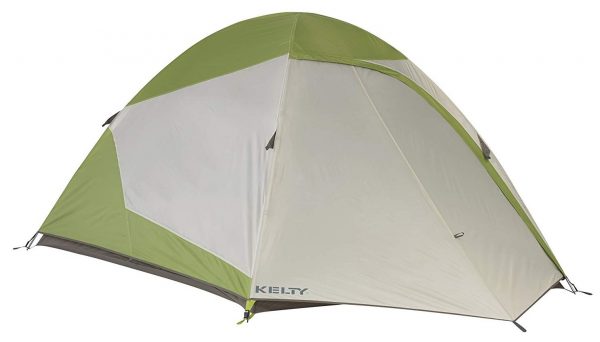 This is an excellent value for money tent and it is suitable for all the three seasons. The tent has solid construction to sustain all weather conditions and it is highly functional. The freestanding design lets the user move the tent easily. The package includes stakes and stuff sack for more stability. Moreover, the clip construction is easier than feeding poles. You can roll it up easily and use the carry bag for storage and transport.
4. Coleman 4-Person Pop-Up Tent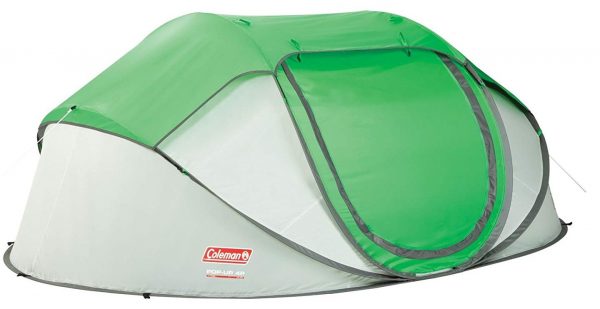 Coleman is the most popular brand in the tent industry. This tent comes pre-assembled for the most part and it would take less than 10 seconds to set it up completely. The taped floor seams keep the base dry all the time. It has multi-position rainfly set up to provide complete protection and ventilation. You can fold it flat for easy storage and carrying. There are two storage pockets available to keep things organized.
3. Coleman Evanston Screened Tent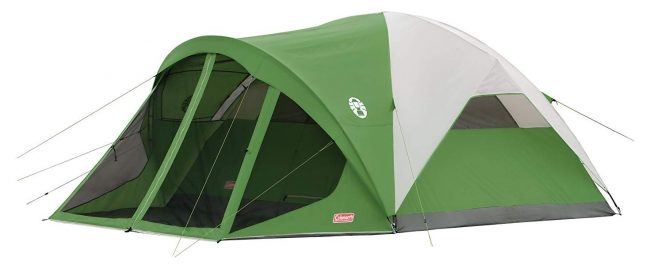 This is the most spacious 4-person tent and if there is a requirement, you can fit in 6 persons in it. It is capable of having 2 queen size air beds and the best part is that there are separate screen rooms. Moreover, there is a lounging system that is bug-free. The patented weather-protected welded floor and inverted seams keep the interior dry. The dimensions are 10 x 9 feet and the maximum height is 5 foot 8 inches. However, the setup will take some time.
2. Coleman Instant Cabin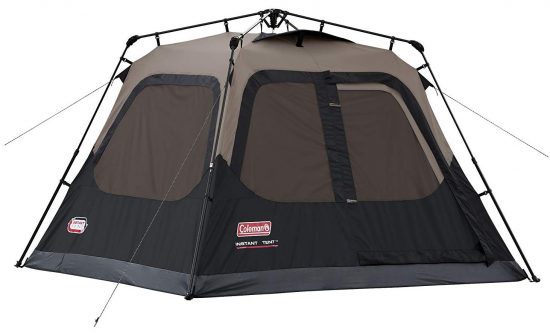 The product comes with pre-attached poles for easy setup and it is one of the most secured tents for all weather conditions. The setup can be completed within 60 seconds. There is an integrated rainfly with vent for a better ventilation system. The doors and floors are well-protected with welded floors and inverted seams. Besides, the design is very attractive and you will never feel claustrophobic. It can block 90% of sunlight and it is very convenient for easy storage.
1. Coleman Sundome 4-Person Tent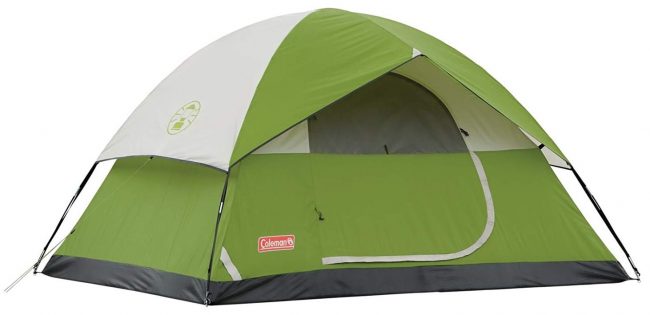 This 4-person tent is available in three colors. The dome-shaped tent is very spacious and you can set it up within 10 minutes. The patented welded floors and inverted seams keep the interior dry. Moreover, the air ventilation system is the best. It is the bestselling product in the 4-person tent category and it features under Amazon's Choice. Additionally, you will find large windows and ground vents. This reduces temperature buildup and it prevents 90% sunlight from coming in.
Conclusion
All the above-mentioned tents are highly spacious for accommodating four people. The material is perfect for protection against all weather conditions. Moreover, they protect against UV rays and the air ventilation is great for not choking and feeling claustrophobic. But you should go through the description of each tent to understand their specialties and by whichever fulfills your requirements perfectly.