Whether it is a soccer ball, basketball or volleyball, most of us own one or the other. They not only help you to spend countless enjoyable moments with your friends but also allow you to exercise your body. However, you need to inflate them on a regular basis to maintain their structural integrity and toughness. In order to inflate your ball, you need to own a ball pump. Be it automatic or manual, a ball pump provides the necessary air pressure to the ball using the pneumonic method to inflate it. Plus, these devices are easy to use and come in very handy.
Nevertheless, you need to be very careful about its build, portability, and weight while buying one. To help you out, we present the buying guide of ball pumps available in the market today.
List of Best Ball Pumps Review
10. Syolee Inflating Ball Pump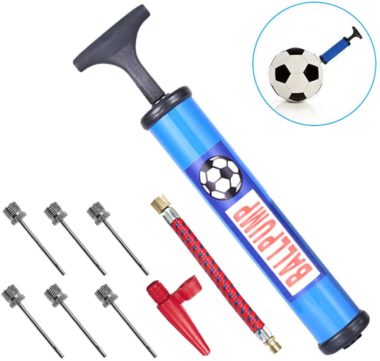 Certainly, a great product, to begin with, this pump guarantees you about quality and performance. The best thing about this pump is that it requires no expertise to operate this. All you will have to do is to connect the pump with the ball using the hose as well as the needles and press the top handle to inflate it. Having a size of 10-inches, it has a very convenient size which makes it fairly easy to use and carry around.
Also, it provides an adapter, six needles of varying sizes and an air hose. Thus, you can use the needles according to the inlet of the ball to pump it without any trouble.
Key features:
The ball pump makes use of high-quality plastic whereas the air hose is of premium rubber. However, the needles are of stainless steel. Hence, the product is not only durable but lightweight too.
You can easily use this product to inflate soccer balls, volleyballs, basketballs, rugby balls, balloons and other similar items.
If this pump at any point fails to impress you, you can obviously ask the manufacturer to get a complete refund or replacement.
9. Spalding Ball Pump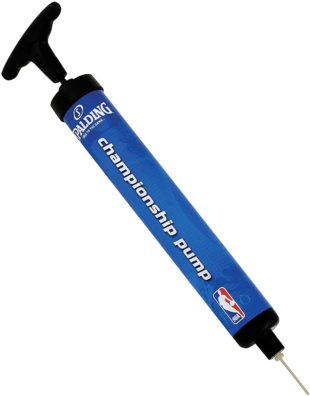 When it comes to manufacturing pumps, Spalding is indeed a notable name. Backed by Spalding's guarantee, you can use this ball pump for a myriad of purposes. Whether you need to inflate your basketball, soccer ball or volleyball, you will be able to inflate whatever you want without any issue. Next, this pump also comes with a special toy adapter. Of course, you can use the adapter to inflate toys and balloons without any issue.
Furthermore, high-quality plastic construction provides the pump with excellent durability while limiting its weight to only 4.8 ounces.
Key features:
Indeed, the ball pump offers a high-quality stainless steel needle that you can use to connect the pump directly to the balls to inflate them.
The ball pump also features a barrel size of just 12-inches. Hence, it is very convenient to carry and store.
It also comes with a special plastic bag which relieves you of all the worries about storing.
8. Adidas Ball Pump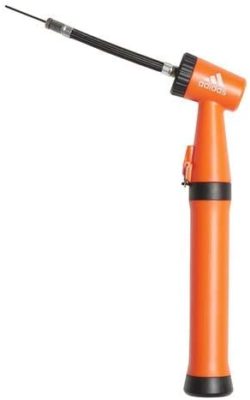 Adidas is undoubtedly one of the most well-known manufacturers of sports products and accessories across the globe. So, with this ball pump, you will never have to worry about the quality at all. Very easy to use, it easily inflates the ball by mimicking the upstroke and downstroke motion.
However, this pump comes with a single needle which fits all types of the ball without any issue. Thus, it makes your job of inflating the balls very easy.
Key features:
It certainly boasts the best quality polypropylene construction. Thus, it is highly durable as well as impact resistant.
This special construction allows it to be completely lightweight weighing only 6.2 ounces. So, you will never have to worry about portability ever.
Plus, it also provides you with additional air hose for further making the inflation process convenient.
7. Champion Sports EP1500 Electric Pump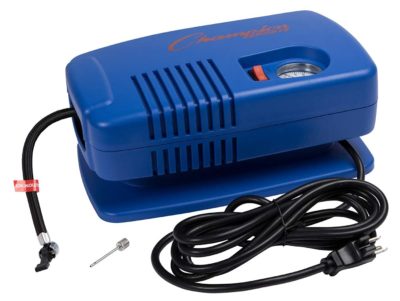 Completely electrical, this pump allows you to inflate any ball at an incredible speed. The best thing about this product is the fact that it comes with a three-prong electrical cord and a pressure gauge. With special RLB wiring, this ball pump is completely safe to use. Moreover, the pressure gauge allows you to measure the air pressure inside the ball to perfectly understand when it has been ideally inflated.
Furthermore, the power cord that it comes with has a length of 8 ft which further makes your job much easier. You can extend a lot to easily accomplish the task.
Key features:
Of course, it can deliver up to 125 PSI of air pressure with absolute ease. Therefore, it can easily inflate a dozen of balls within an hour.
It makes use of the special diaphragm compressor of 1/4 HP power. As a result, it promises you about quiet yet efficient performance.
Plus, it comes with an air hose which as well as universal needle. Thus, it can easily work with all kinds of balls.
6. Nike Essential Ball Pump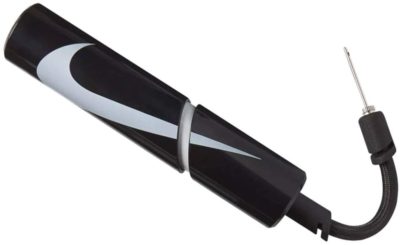 Nike is also a well-recognized name in the sports industry. So, this pump indeed comes with its brand assurance. This ball pumps obviously boasts a compact design. Thus, it can easily fit inside your sports bag easily and you can carry it anywhere without any problem. Plus, it is very easy to use with the to and fro action. Thus, you will never have any trouble inflating any kind of sports ball.
As a matter of fact, the pump also offers a special air hose along with a stainless steel needle. The needle has a universal design can fit any ball with ease. So, it further makes the inflation process very easy.
Key features:
Though it has a compact design, this pump is very powerful. It compresses the air efficiently and inflates any ball with incredible speed.
With the famous swoosh logo; it has a very eye-catching design.
The pump has a high-quality plastic construction which makes it highly durable and lightweight too.
5. Spalding DUAL ACTION BALL PUMP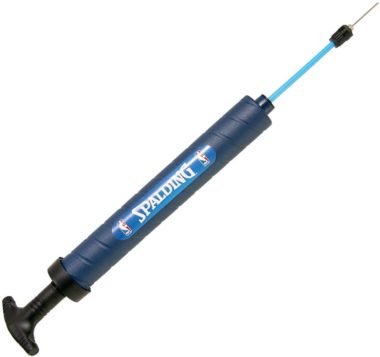 Here is another great product from Spalding that you can opt for. Having a construction from special quality plastic, this product promises you about its durability completely. Furthermore, this ball pump is completely lightweight to weighing only 5.6 ounces. Thus, you will never have to worry about the portability and storage ever again.
Moreover, it comes with Spalding's warranty. Therefore, if you ever face any problem or feel unsatisfied by the product, you can always get a replacement or your money back without any trouble.
Key features:
Of course, it comes with a special inbuilt hose as well as a metal needle. So, it works perfectly with all kinds of sports balls.
Plus, the 12-inches barrel size makes sure that it creates powerful compression and speeds up the inflation process.
You also get a toy adapter that you can use to inflate toys as well as balloons with ease.
4. LIOOBO Ball Pump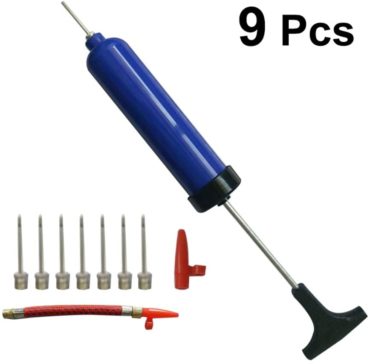 If you are looking for excellent quality pumps then this one must obviously be on your watch list. With a barrel size of 8 inches, it surely creates powerful compression that accounts for fast inflation of the balls. This product comes with seven special metal needles and a detachable air tube. As a result, it allows you to inflate all kinds of sports balls of various sizes apart from toys and balloons.
Due to its compact design, the pump only weighs 2.72 ounces. Thus, it offers unparalleled portability. Plus, you can pack it and store it at any corner.
Key features:
Of course, it offers an excellent removable needle protector. This prevents the needles from damage while transporting.
The aluminum alloy, as well as plastic construction, provides the pump with sturdiness and durability.
Also, it can easily fit in any bag. So, you will never face any trouble in carrying it around.
3. NIKE Dual Action Ball Pump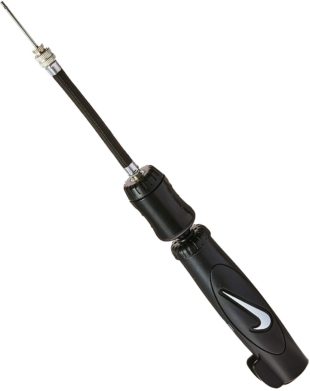 Another great product from the house of Nike, this one sure packs a punch. Having a very compact design, this product only measures 6 inches. Even though it is very small in size, it provides powerful compression which accounts for high-speed inflation of all kind of sports balls. Not only a sports ball but you can also use this pump to inflate your bike tires with ease.
Given that, it comes with a stainless steel needle that fits the inlet of any sports ball. Thereby making your job much easier.
Key features:
The extension hose comes in really handy while inflating the bike tires.
Having a complete plastic body, it is highly durable and assures you about the longevity completely.
This pump weighs only 1.6 ounces which makes it easily portable.
2. Intex Double Quick III S Hand Pump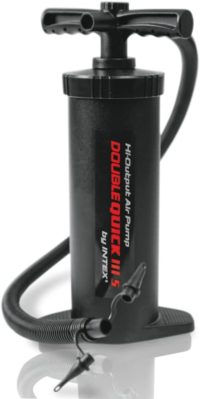 This ball pump is one of the most powerful ones you find in the market. It does not only allow you to inflate the balls but you can also use it to inflate air beds as well as large inflatable items easily. Even though this ball pump is highly powerful, it only weighs 1.9 pounds. Thus, it becomes very easy to carry it with you anywhere you want.
However, this pump features an all-plastic construction. So, it provides the product with a compact size without compromising with its durability and performance.
Key features:
Of course, this pump makes use of three needles that are interconnected with a special hose. Thus, it can easily inflate as well as deflate any ball or other inflatable items.
It has a special double-action design. Therefore, it can easily inflate your balls during up as well as downstrokes.
With a barrel size of 14.5-inches, this hand pump packs incredible power and can inflate your balls within a short span of time.
1. Franklin Sports Ball Pump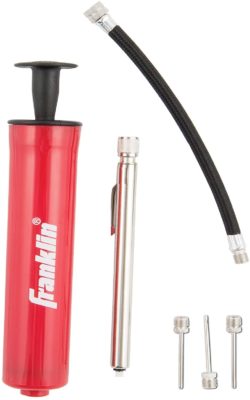 Sitting at the top of the list, this one from Franklin Sports is easily the best one that you can find in today's market. The best thing about this pump that it comes complete kit that you will need to maintain any kind of sports ball. Of course, this pump has a special barrel size of 7.5 inches. Despite its compact size, it packs a lot of power and it can easily inflate your ball within a minute.
Next, the product comes in a special carrying case which makes sure that you keep all the items properly organized while delivering complete ease of portability. Works on to and fro action, it makes sure that you can easily inflate your balls and other inflatable items without tiring yourself.
Key features:
Indeed, the ball pump comes with three different metal needs. You can use these needles as per the inlet of different balls and other items to inflate them with ease.
Besides, it also provides you with a special pressure gauge which allows it to measure the PSI. So, the gauge prevents you from over-inflating and damaging the balls.
Even if your ball keeps deflating in the middle of the match, use the best ball pump to keep the game going. These pumps are just of professional level and fully capable of dealing with large loads in emergency situations.