Everybody wants to keep their valuables safe and secure from thieves and burglars. The best way to do so at home is obviously with the security safe. If you are looking for a security safe then you must know that there is nothing better than a biometric safe. As the name suggests, these safes make use of your fingerprint to unlock along with a passcode or key. So, even if the burglar cracks your passcode, they will still not be able to access the safe. Moreover, the incredible build of these safes makes them virtually indestructible.
Want to bring one home? Give a read to our reviews of the top 10 biometric safes and choose the best one. Your belongings will be in safe custody and you can have a peaceful sleep.
What's the purpose of a biometric safe?
The real question is why do you still do not have a biometric safe? At our home, office, or almost anywhere, a thing like a biometric safe is absolutely necessary. Having a safe of any kind is essential because there are so many important and expensive things that we cannot afford to lose. For people who keep handguns or pistols, where else will you want to keep them? You do not want your kids to play with that at any point in life. Talking about a biometric safe, the primary benefit is, it is a lot more secure. Almost impossible to pry open or break-in, a good biometric safe works with fingerprints only. Even if thieves crack the passcode you have kept, they cannot really do anything about the fingerprint.
Best Biometric Safes in 2023 Review
10. Viking Security Safe VS-25BL Biometric Safe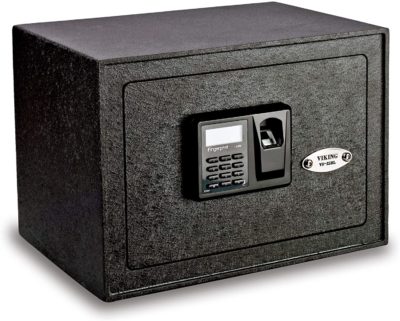 Measuring at 10-inches X 14-inches X10-inches, you can operate this using your fingerprint only. The upgraded 500DPI optical sensory even comes along with a motorized 20mm deadbolt locking mechanism. Hence, delivers a premium level of security always. You will get a four-prong back-up cross key, in case your fingerprint is not working. Seamless laser cut design enhances the overall safety of the safe.
You will be able to scan and save up to 32 fingerprints so that only the people you want can use it. There is also an option of 1 pin code.
Key features:
On the inside, the entire safe is carpeted to keep the things scratch-free and safe and there is a LED light as well for added benefits.
When the door is left open, there is a warning beep that reminds you.
The design is pry-resistant and two 20mm solid steel locking bars are used for securing the lock.
9. Barska Biometric Safe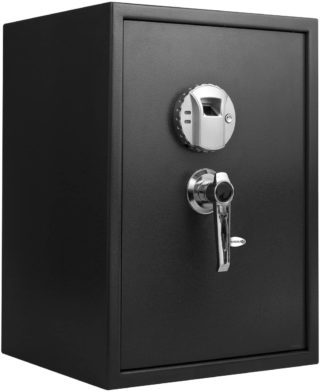 The quality of make of your safe is quintessential to ensure total safety and security always. If you are looking into biometric safes, there are many options but this one is a smart choice to make. It gives you the option of choosing up to 120 fingerprints for added convenience. In addition to that, the fingerprint functions fast and you will get access in just about 2 seconds.
People use biometric safes for different purposes and some use it to store handguns away from kids at home. On this, you will get a construction that's fortified with steel for maximum strength and durability. The design eliminates any risks of tampering, lock picking, or prying.
Key features:
On the inside, you will get a good capacity of 1.45 cubic feet so that you can store all you need to.
State-of-the-art biometrics has been used for security and the safe can be mounted almost anywhere you wish.
Has a hidden keyhole with keys or plugs so that in need you can even have manual access.
8. Tigerking Biometric Safe
Fingerprint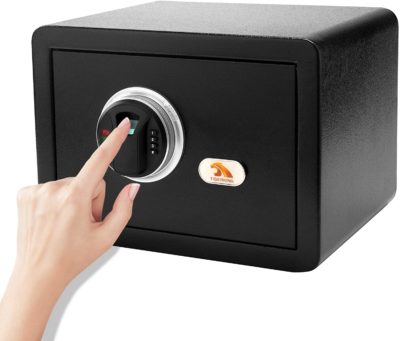 A high-end and well-designed biometric safe is always a better option to safeguard your important items. This one has been designed by Tigerking and gets all the latest features alongside a very premium design. Hence, delivers the best kind of performance always. Every single safe undergoes multiple tests so that you have a fingerprint recognition system that's fast and effective.
In terms of the construction, the safe is using double thickness tempered steel. Durable and reinforced, the safe weighs 24.2 pounds in total and is safe from theft of all kinds. With the help of two active locking pins combined with a tamper-resistant concealed hinge design, you can be sure nobody can break into the safe.
Key features:
Along with the fingerprint, you will get 3 keypads that give you the option of 3-8 unique passcodes.
In total, you can have a maximum of 32 fingerprints on this biometric safe.
Has a collapsible shelf on the inside and the interior measures 13.5-inches X 10.6-inches X 9.5-inches. Thus, you can easily store all that you need.
7. TIGERKING Security Safe Box, Biometric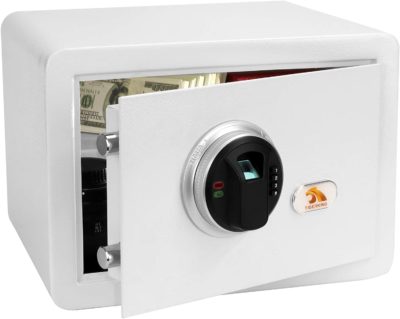 Looking into this top-rated and stylish biometric safe, you will understand how well-built and secure this is. The seamless laser cut casing looks premium and never fails to deliver the right kind of safety always. Next, it has tamper-proof recessed hinges and two 20mm live locking bolts along with a hardened steel base.
Owing to the use of advanced optical sensor technology, even when you place the fingers improperly, it still works. Moreover, you can have 32 different fingerprints to operate and use the safe. In total, this safe weighs 24.2 pounds and never compromises on safety in any way.
Key features:
The interior dimensions are 13.5-inches X 10.6-inches X 9.5-inches and have a collapsible interior partition.
Comes with a passcode, fingerprint and key, there are 3 keypads so that you can make your own combination of a passcode.
You can easily attach it to the floor or wall because the base and rear have predrilled holes.
6. Viking Security Safe VS-50BLX Large Biometric Safe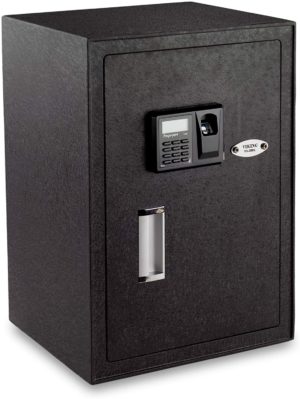 Not just a biometric safe, this multipurpose safe works as an amazing place to safe-keep your guns, handguns or ammunition. In case you do not use them, you can use this big sized safe for many other purposes. It measures 20-inches X 14-inches X 12-inches so that you can keep all that you need and take them out only when you want. The upgraded 500 DPI optical sensor along with motorized 20mm deadbolt mechanism never falls short on the security factor.
Furthermore, it has 2 pry-resistant insertion slots for added safety and the 5mm door is practically unbreakable. You will appreciate the seamless laser cut finish of the safe. And when needed, you can look for the four-prong backup cross key as well.
Key features:
You can either choose to use 1 pin code or up to 32 fingerprints so that the safe can be accessed by multiple people.
The entire interior is carpeted along with built-in LED lights. Plus, it has 3 fully adjustable shelves for maximum flexibility and convenience.
You will get a warning beep when you forget to close the door and the door is secured by two 20mm solid steel locking bars.
5. Eylar Large Quick Access Biometric Fingerprint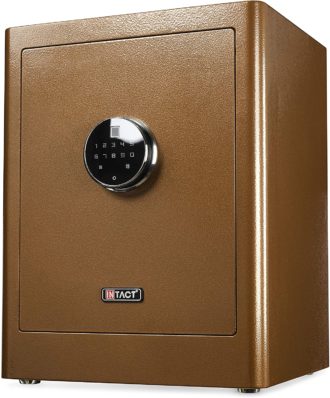 This is on the bigger biometric safes and will make your life more secure and safer. With a spacious interior of 17.5-inches X 13.5-inches X 9.2-inches, this safe weighs about 42 pounds. Plus, it is quite well-built for the best kind of protection from theft.
Having the latest Nex-Gen biometric fingerprint scanning and a full keypad with touch access, this one is for modern times. Also, it has an alarm system that is capable of detecting tampers, failed fingerprint and wrong key codes. Having something like this at your home or office means you can keep everything in a safe and sound manner.
Key features:
Anti-pry door folds along with a solid steel construction never allow any kind of wrongdoings.
Laser-cut back up keys, external power pack, mounting hardware, and lifetime warranty is included in the package.
Uses 4 AA batteries and can run for about 2 years before needing a replacement.
4. Barska AX11224 Biometric Fingerprint Home Safe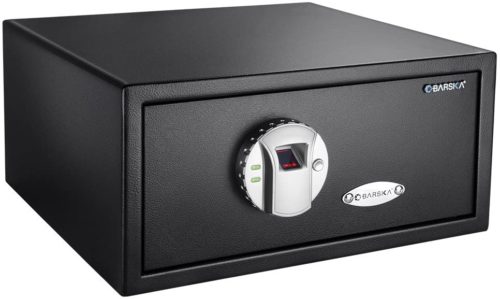 If you are looking for a top-rated and trustworthy piece of biometric safe, you cannot go wrong with this option from Barska. One of the promising safes in the market, this one has been approved by DOJ for safe usage. In total this can read as many as 120 fingerprints and the entire setup process is easy and effortless.
Featuring an optional silent mode, if you wish to operate the safe without anyone's notice, you can do it here. Made of durable steel the quality is unparalleled and the safe measures 12.7 kg in total.
Key features:
Now, a couple of built-in pry-resistant steel deadbolts have been used for enhancing the overall security of the safe.
Has predrilled holes so that you can anchor or mount the safe anywhere you wish.
Tamper-resistant edges ensure complete assurance and safety in all situations.
3. SECUSTAR Biometric Bigger Steel Security Safe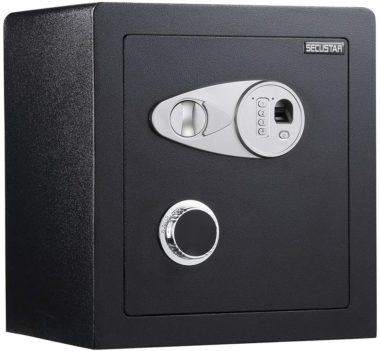 People keep all different kinds of items inside their safe in order to make that those stay safe and away from any sorts of risks. To make sure you can keep almost anything safely, this safe has an interior full of carpeting. From handguns to your diamonds, this can keep them all. With the help of the silent mode on the safe, if you wish to operate it without letting anyone know, you can do that.
Suited both for domestic and commercial purposes, the high-class design makes it even workable in hotels and luxury establishments.
Key features:
Large optical sensor works super-fast and can store up to 30 different fingerprints.
Comes with an external battery box and backup keys. Hence, even if your fingerprint fails to work, you can still open it.
Uses removable shelves so that you never have any issues organizing everything properly.
2. Viking Security Safe VS-20BLX Mini Biometric Safe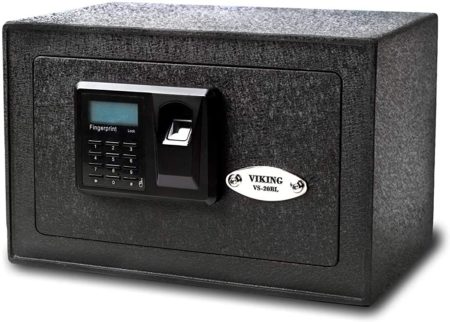 Viking security is a name that you can totally depend on. The fingerprint unlocking is extremely fast and hassle-free and it can keep up to 32 different fingerprints for your convenience. Owing to the use of an upgraded 500 DPI optical sensor along with a motorized 20mm deadbolt locking mechanism, this is extremely dependable. As a result, it is totally free of the dangers of theft.
The seamless laser cut finish not only looks incredible but improves the pry-resistant factor. Last but not the least, there is a warning beep door that tells you when you keep the door open/unlocked.
Key features:
The entire interior is carpeted so that you can store your jewelry without any risks of scratches or damages.
The removable shelf and built-in LED lights make it very easy to use and organize the safe properly.
You can turn the sound on/off as per your needs and make sure there are no compromises with the safety.
1. Intergreat Biometric Fingerprint Security Safe Box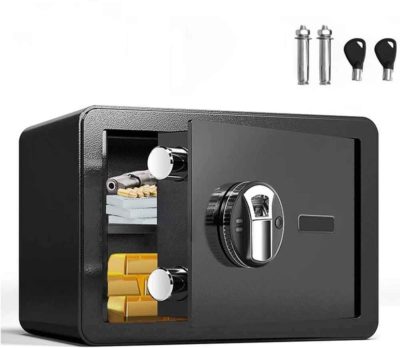 Extremely high-quality construction to ensure top-notch safety of all the belongings you keep, this keeps security tight. This gets somewhat like a one-piece reinforced design with double thickness security. You can totally depend on the tempered steel frame construction that uses 0.8-inches diameter live bolts. It is quite impossible for anyone to break into safe and compromise security.
The latest and reliable FPC fingerprint technology not only is very dependable but works rapidly fast. One-touch and one turn, you will get access to everything you have kept inside.
Key features:
The removable inner shelf comes in really handy if you have any larger items to keep inside.
It comes with finishing with 100 um Electrostatic phosphorus-free epoxy insulation. So, it is not only corrosion and rust-resistant but also eco-friendly in nature.
You will always have a back-up plan as you will get 2 keys and an emergency battery box.
How to pick a good biometric safe?
When it comes to safes, you know the quality matters and you cannot compromise with it. It is your safe after all; you want to keep the important stuff. The safe you are getting should be of high-end durable metal. Steel safes are probably the strongest and secure options. You should also understand the importance of finish. Perfectly seamless construction is always harder to break. Along with your fingerprint, if there is a passcode feature, it will deliver double security.
Which features make a biometric safe purchase-worthy?
If you are on the lookout for important features and design, the first thing you need to look for is how fast the biometrics function. You do not want the scanner to respond slowly when you are in a hurry or emergency. The faster it is, the more convenient it will be. Back up plan is important so look for the options the designers have included incase your fingerprint doesn't work. If your safe is spacious with the added benefits of the high-quality interior, lights, and removable shelves, organizing and keeping everything would be easier.
Safekeeping of your prized possession is extremely important and there is nothing safer than a high-quality biometric safe. These are the most secure means of keeping anything you wish and nobody will ever be able to jeopardize it.
Final Verdict
Nothing will go missing once you own such a secured lock system. The biometric safe locker is going to keep away chances of theft and you can assure safe-keeping of your belongings.