There is no doubt that helmet is one of the most necessary gears that one should wear while riding on the bike. However, communication becomes difficult and dangerous on the phone on the road while driving. So, what can be the best solution for this situation? In our opinion, buying a Bluetooth motorcycle helmet is the ideal choice to make. It not only improves the safety of the riders but also allows users to make communication in a better way.
In this post, we will talk about the top 10 best Bluetooth motorcycle helmets in 2023. Check out each one carefully and buy one that suits you perfectly.
List of Top Best Bluetooth Motorcycle Helmets Review
10. HJC Bluetooth Sports Bike Motorcycle Helmet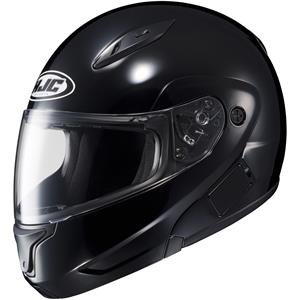 This helmet made for the individual who wants a high-quality Bluetooth integrated helmet but doesn't want to compromise with the design perspective. There is an advanced polycarbonate composite shell used for creating this helmet to make sure proper protection to the head.
It is available in two sizes, small and large allowing the buyer to shop one as per their convenience. Also, the bioceramic anti-bacterial Nylex ensure complete comfort even if you wear it for a long time.
9. TORC T14B Bluetooth Integrated Mako Nuke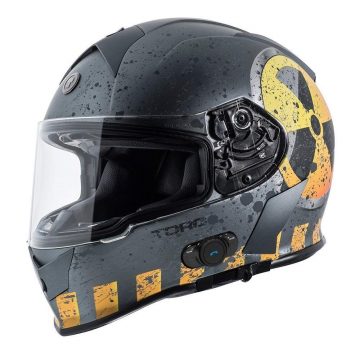 The TORC T14B is a highly protective gear that ensures head stay harmless if accidents happen. There is the very high-quality material used in the interior of this helmet. It is available in many different sizes that start from small and ends up at XX-large.
Its shell has an integrated Bluetooth making sure you don't have any connectivity issues. Both ECE and DOT certify this helmet.
8. FreedConn Visors Full Face Helmet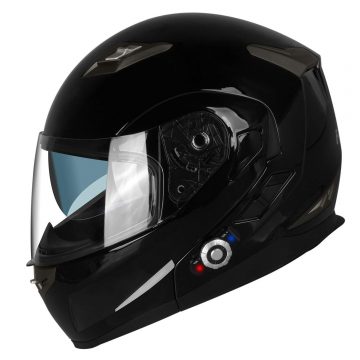 This product manufactured by the FreedConn is one of the best Bluetooth motorcycle helmets due to its better usability and features. It is available in many different sizes and colors giving some choice to the buyers. You can make a constant communication with two partners up to a distance of 500 m with its integrated Bluetooth system.
This helmet manufactured following superior engineering technology offering an advanced ventilation system. It has a one-button control feature that gives access to features like FM, intercom, etc.
7. HJC CL-MAXBT II Bluetooth Modular Motorcycle Helmet
If you want a complete Bluetooth integrated helmet, then this one can be a straight pick. It has manufactured using different technology by the HJC brand who has put special focus on the comfort level of the rider. It has a high-quality face shield offering proper protection from the UV rays.
The integrated Bluetooth technology enhances the experience of providing quality communication ability while riding. Together with advanced channeling ventilation system, this helmet is certainly one of the best one in this list.
6. O'Neal Commander Bluetooth Helmet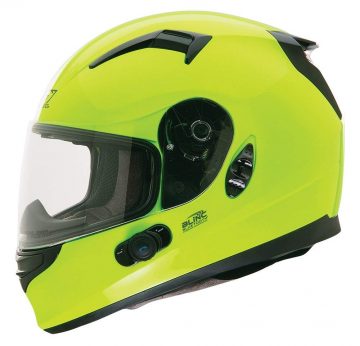 It is an amazing street bike helmet manufactured by the O'Neal brand having integrated Bluetooth. There is a patented Bluetooth transmitter that known for the responsiveness and intuitively. The looks of this helmet are very stylish ensuring that it looks attractive on the face.
The FCC approves this helmet, and its Bluetooth technology offers a talk time of 10 hours and 130 hours standby. Also, it is fully resistant against the scratches and fog.
5. Hawk H-500 Flat Back Bluetooth Full Face Helmet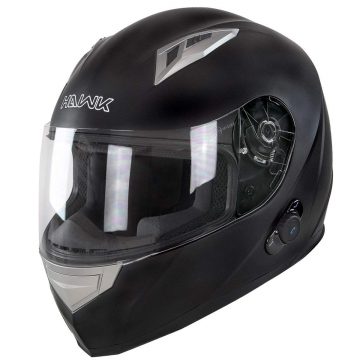 If you want to buy a high-quality Bluetooth helmet at an affordable price, then you can buy the Hawk H-500. It has a flow-through ventilation system that ensures riders don't feel hot while driving. Also, it is very easy to put on and off this helmet due to its quick release chin strap.
There are approximately 8 hours of talk time offered by its Bluetooth transmitter. That's not all, making a connection to the phone is very easy and doesn't take much time.
4. IV2 Helmet + Bluetooth Combo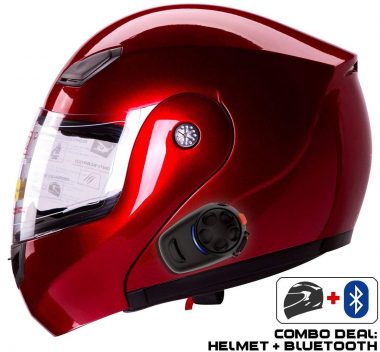 This helmet is a perfect example of how to integrate the Bluetooth technology in a modular helmet. It is a nice-looking helmet manufactured by an IV2 brand that comes with a variety of exciting features like a one-hand flip-up system and one button action.
Also, the company has added hands-free calling for the riders along with liberty to pair up with four other drivers conveniently.
3. Origine O528B Pilota Helmet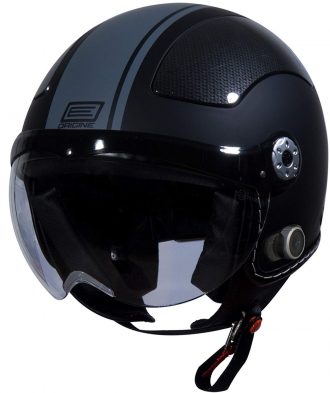 Available in a great variety of colors, this helmet model is perfect for the individual who loves the basic look. It manufactured according to the standards set by the Federal Motor Vehicle Safety Standard and offer complete protection to the head.
This Italian designed Euro style helmet has BLINC 3.0 Bluetooth technology that offers excellent communication experience. Also, it equips with a bubble-style flip face shield having locking screws.
2. Bilt Techno 2.0 Sena Bluetooth Modular Helmet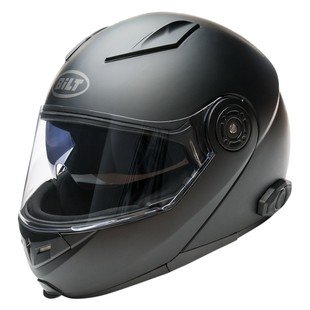 This second-last product in this list is the amazing Bilt Techno 2.0 having dual visor set-up that ensure the face stay protected. The company has used injection molded polycarbonate shell for making this helmet. Also, there is a chin-mounted ventilation system so that the air gets passed thoroughly.
Furthermore, it has top-notch built-in Bluetooth function for streaming the music and let you take calls conveniently. There is no need for any setup this system.
1. ILM Bluetooth Integrated Modular Motorcycle Helmet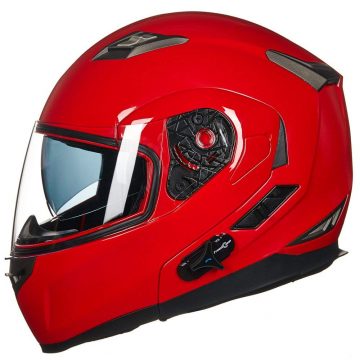 This helmet is a high-quality option that allows you to flip up the visor or showing off the complete face during the driving. It is available in a great variety of colors along with many modular features. There is one touch control feature for performing various phone functions.
It has built-in Bluetooth having 110 hours of standby and 8 hours of talk time power. Furthermore, the high-quality voice offered by the noise suppression technology that comes with this product.
Conclusion
It is important to wear a high-quality helmet while riding on the road. Having one of the products mentioned in this list of best Bluetooth motorcycle helmets will not offer protection, but also make the communication easier. If you have any other choice in mind, then please tell us in the comment section.