Whether you plan to practice boxing as an occasional sport or plan to train regularly, you need the best boxing gloves. You need to make sure your hands are protected, and your shots secure when you are on the ring, about to engage your sparring partner or when you are banging on the bag to take out the overflow of energy.
All boxing gloves are not the same. There are those for training, combat, for amateurs, hobbyists, and real professionals. To help you find which pair to buy, we decided to handpick 10 of the best boxing gloves this 2023, followed by a buyer's guide.
List of Best Boxing Gloves Review
10. Adidas Speed ​​50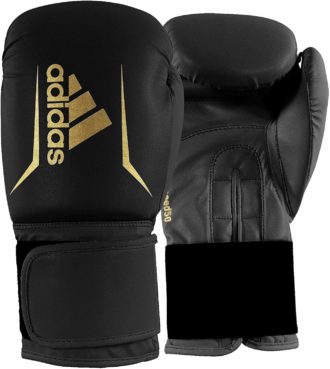 It's completely unnecessary to present the Adidas brand. Isn't it? Like Nike, it is an internationally known company for the quality of its products, whether for sports equipment or just for everyday wear. These Adidas Speed ​​50 boxing gloves are part of the cream of the crop as far as boxing gloves for training are concerned.
For good shock absorption, the equipment manufacturer has opted for a high compression preformed foam inside the Adidas Speed ​​50 boxing gloves. In other words, you will be able to hit during your sparring or on bags without fearing for your fingers. A hook and loop fastening system stabilize the hands inside.
The Adidas Speed ​​50 boxing gloves are made of resistant synthetic leather, with a classic look which is really nice to see, and the 3 bands of the brand reinforce this feeling.
Pros 
Offers good shock absorption
Gives stability
Made by a renowned brand
Cons 
Made of synthetic leather
9. Ringhorns Charger Gloves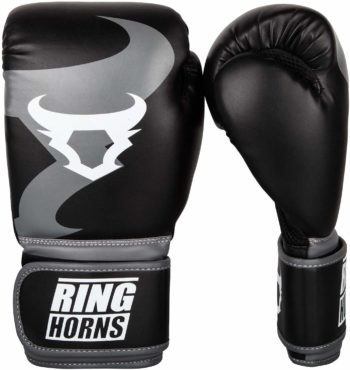 In 9th place in our ranking of the best boxing gloves, we have the Ringhorns Charger. RingHorns is a new brand of equipment for combat sports, but its popularity is growing. Its products are sold at affordable prices and are aimed mainly at the general public.
The Ringhorns Charger boxing gloves have a multi-layer system of foam inside to allow good absorption of impacts. You will notice that the cuffs are larger than those of many other gloves. And this is done to better protect the hands of the user. The construction of the gloves also makes it possible to properly maintain the thumbs to avoid the risk of injury. A wide quality velcro keeps the gloves in place.
The Ringhorns Charger boxing gloves are made from a flexible but resistant polyurethane. They will, therefore, not wear out quickly. RingHorns offers its gloves in several sizes. Different colors such as Black, Red, and Black Yellow Fluo are available.
Pros 
Absorbs impact, preventing injury
Made of resistant polyurethane
Very affordable
Cons
8. Venum Contender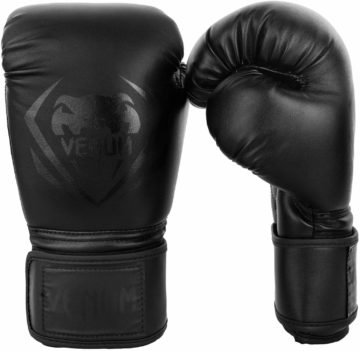 With Venum Contender boxing gloves, you can prepare to strike your opponent decisively and make them bite the dust. Sparrings, Punch Bags, and Bear Paws, this is where you can go wild!
Like most training boxing gloves, the Venum Contenders have triple-density padding foam that is used to absorb shocks when you kick or block. So, your fingers are safer. The designer wanted to give its gloves a curved shape, and the goal of such a design is to allow good technique while reducing the risk of injury.
The Venum Contender boxing gloves have been designed using premium synthetic leather. It's not pure leather, but you can be sure your gloves will last a long time.
Pros 
Multi-density foam absorbs shock
Very durable
Available in 13 different colors
Cons
More suitable for casual boxers
7. Venum Challenger 2.0
Still Venum! This brand is definitely omnipresent when it comes to Boxing equipment, and the Venum Challenger 2.0 is another powerful creation of the firm. Made in Thailand, this magnificent pair of boxing gloves is a safe choice for your sparring sessions or if you just want to let off steam against a bag.
Venum Challenger 2.0 boxing gloves have triple density foam inside, which allows better shock absorption when hitting or blocking.
A device is also provided to keep the thumb attached to limit the possible risks of injury. If you've ever had pain in this place, you know how useful this device can be.
The Venum Challenger 2.0 boxing gloves are made of PU leather, but the finish is excellent for a high-end look.
Pros 
Made by an amazing brand
High-end look
Triple-density foam for comfort
Protects the thumbs from injury
Cons
Padding and stitching may come off after a while.
6. Everlast Pro Style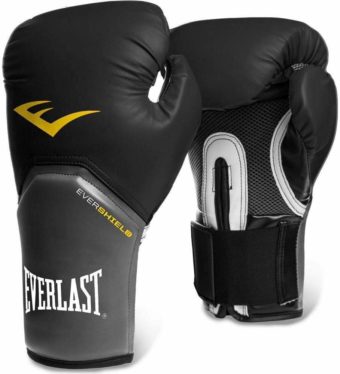 The Everlast Pro Styles boxing gloves are for beginners, but the respect for the quality of the firm is high. Each glove has full padding at the front and back to support the wrist. This promotes technique, and the internal composition keeps the thumb in the right position to form the fist. This device helps prevent injury. Besides, the Everlast Pro Style boxing gloves have Evercool mesh ventilation panels that fight against excessive sweating of the hands. They also benefit from an EverFresh antimicrobial treatment which helps prevent odors.
Of course, these cheap Everlast Pro Style boxing gloves are not made of real leather (it's synthetic leather), but for the price, they will undoubtedly be of use to you until you decide to switch to another boxing level.
Pros 
Great for beginners and training
Well-padded against injuries
Comes at a fair price
Cons 
5. Venum Challenger 3.0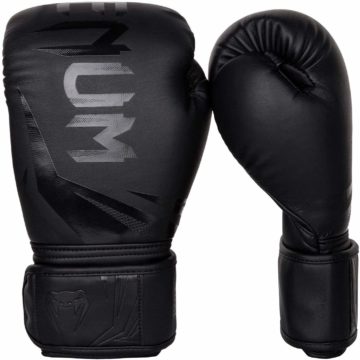 We often never say 2 without 3, and if you liked the Venum Challenger 2.0 boxing gloves, chances are you will like the Venum Challenger 3.0 more. The manufacturer announces that the Venum Challenger 3.0 boxing gloves are 2 times more resistant than the 2.0. This means that you can let go more. Because the "version 2.0" is already well appreciated by consumers for its resistance, this is excellent news. Like the 2.0, the 3.0 has a triple layer of interior foam for good shock absorption. The insert is made of neoprene, which allows less moisture to be stored and provides better thermal regulation.
Like the Venum Challenger 2.0, the Venum Challenger 3.0 boxing gloves are not made of genuine leather, but you can be sure they will last a long time.
Pros 
For combats and training
Great shock absorption
Long-lasting
Cons
Not made of genuine leather
4. Blok-It boxing gloves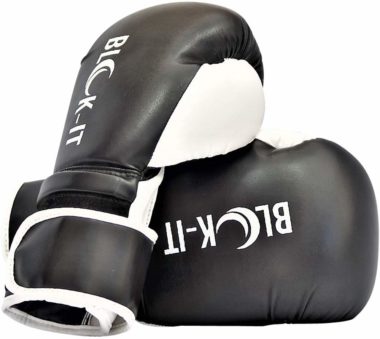 This little-known brand deserves a little talk about it. Indeed, the quality of manufacture of these Blok-it is rather astonishing. It features synthetic leather that is quite thick and of good quality. It should withstand the test of time and hours of punch bags without much problem.
The double seams seem robust. The design is fairly classic; the shape rather rounded with a fairly large thumb, well attached to the rest of the hand. The foam inside is very thick but quite compact. The glove is therefore quite hard, but it easily absorbs all shocks, even the most violent.
Pros 
For men and women
Comes at a cheap price
Holes give ventilation
Protects the hands well
Cons
You may find it too compact and hard
3. Leone 1947 Boxing Gloves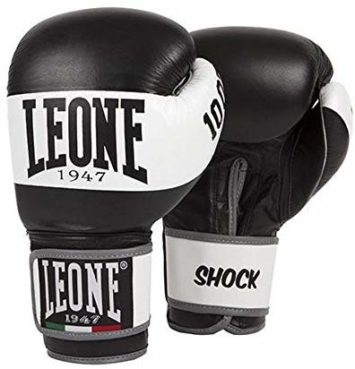 The Leone 1947 boxing gloves were designed to appeal to all boxers, whether they are simple amateurs or downright professionals! Made of 100% high-quality buffalo leather, they offer unique resistance for maximum longevity. They are also equipped with long Velcro closure for effective support; high-density foam padding perfectly distributed for damping and dispersion of the shock wave, and a ventilation system at palm to fight sweat. In combat or training sessions, in Thai boxing or full-contact, these are gloves made never to spoil the pleasure!
Difficult not to like the Leone 1947 boxing gloves, this Shock version is a best seller of the brand, and when you wear them, you quickly understand why! The design is successful in every detail, and we appreciate absolutely everything, whether the quality of the leather used for the design, the retro aesthetic look or even the padding which has 10% gel to protect from the smallest micro-traumas. They are comfortable to wear, and even more pleasant when it comes to training!
Pros 
Beautiful retro look
Excellently padded
Suitable for training and fights
Very resistant boxing gloves
Cons
2. Venum Elite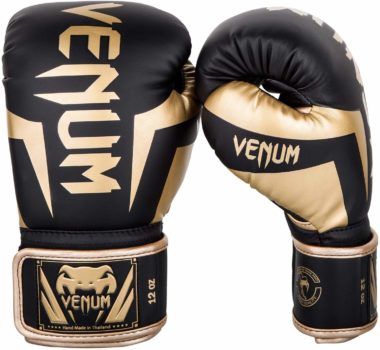 Venom once again on the menu with the pair of Venum Elite boxing gloves. The Venum Elite boxing gloves are completely handmade gloves. Designed in Thailand, they are perfect for training. You can hit punching bags or during your sparrings without worrying too much about your fingers thanks to the triple-density foam placed inside. In addition, the design of the gloves combined with the ventilation device allows air to circulate freely inside your gloves and thus prevents the storage of sweat.
The Venum Elite boxing gloves are designed in semi leather, and it is a guarantee of durability, even if it is not genuine leather. Your gloves will not tear easily. Finally, these gloves are available in a wide variety of sizes and colors.
Pros 
Very durable
Totally handmade gloves
High-density foam provides enough cushioning
Cons
More recommended for training and beginners
1. Cleto Reyes Professional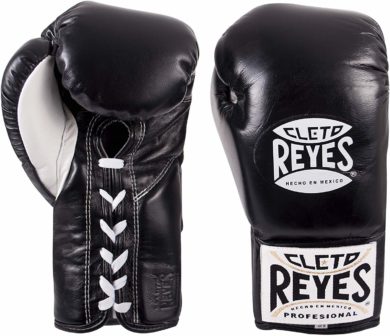 Here's one of the best high-end boxing glove pair. These gloves present know-how that one can expect from an official product, Cleto Reyes, who, remember, was the favorite glove brand of the legendary Mohammed Ali! This model is also worn by popular boxers such as Filipino, Manny Pacquiao.
It is above all a pair intended for professionals practicing in a competition, taking part in training or regular and intensive fights. In terms of design, they are made of goat leather with a lining of the same material. This keeps the hands dry and comfortable during long training sessions.
They have an exceptional lifespan, probably beating all of the competition in this comparison. The Reyes brand uses excellent authentic leather, and it smells good, unlike the smells that synthetic materials generally cause. Note that other sizes and colors are available.
While they may sometimes be uncomfortable due to insufficient padding, they also hurt the opponent more. So keep that in mind. In the end, here is a piece of extremely efficient boxing equipment that is recognized by the greatest boxers in the industry! Its use is intended more for professionals in the field.
Pros
Made of goat leather
Better felt impact
Worn by famous boxers
Cons
Can hurt the opponent as there aren't enough paddings
A bit expensive
Buyer's Guide
Boxing gloves are essential equipment for boxers. Between protection and efficiency, it is difficult to choose the ideal model as there are many. We have therefore developed a buying guide to allow you to equip yourself in the best conditions:
How to Choose the Best Boxing Gloves
The type of glove
The bag gloves are designed to protect your hands and their joints. The combat gloves work you out and also protect your partner. They are large and padded. The training ones are versatile and ideal for beginners. The Pro gloves are intended for competition with reduced padding for more impactful strikes. Finally, Muay Thai and Kick Boxing gloves are comparable to traditional training gloves, with the flexibility necessary to be able to use the hands.
For occasional use (just once or twice a week), it is possible to start with an entry-level glove made of polyurethane. For more regular use (two to three times a week), it is preferable to opt for a medium-range boxing glove. Finally, if you plan to use it intensively for competitions, you will have to start on a high-end glove with authentic leather of better quality.
The unit of measurement is expressed in Oz. The higher it is, the thicker the padding, and the better the protection. The size matching grid generally ranges from 8 Oz (226 g) to 16 Oz (453 g). The smallest sizes will have to choose small sizes (8 to 10 Oz), the medium sizes rather of 12 Oz and the big sizes of 14 or 16 Oz.
The closure system
In the past, all the gloves were lace-up. Over time, however, more and more people wanted to train themselves, which marked the appearance of velcro gloves. Beginners are advised to opt for the latter rather than laces, especially if you have to put them on alone.
This equipment is generally made of leather or vinyl (imitation leather). Leather is very clearly of better quality and is, therefore, more durable than vinyl because it is very resistant to tears, scratches and various impacts. Still, it is, logically, more expensive to buy. There are, of course, several types of leather, but cow leather and goat leather are certainly the best that can be found.
The mesh is often equipped with a technology that prevents perspiration and keeps your hands dry. However, they are not all effective, and if there are flaws, it is necessary to look at the drying time of the gloves. Wearing boxing bands under gloves is useful for absorbing moisture, for comfort and durability.
Conclusion
We have selected 10 pairs of gloves that are particularly suitable for beginners, intermediate and professional boxers, kickboxers and Muay Thai practitioners, either for training or real fights/competitions. Their foam paddings provide optimal protection for your hands (while ventilating them enough). The quality of their finishes gives them a longer lifespan! The type, needs, materials and special features that aid ventilation is some of the criteria that should determine your choice.
Finally, if it fits into your budget, we recommend the Cleto Reyes Professional Boxing Gloves. Less padded, the impacts are better felt and their construction in goat leather offers an undeniable quality.