For every coffee-based delicacy, you need the finest cocoa powders available throughout the marketplace. It must taste as per your preference and ooze the same flavor. However, the textures and consistency depend on the manufacturing process of the brands. In short, it differs from brand to brand. In order to have a better understanding of all the variations that can hugely make a difference, study the given review. All the exclusive features make these listed products special in its own way.
So, before rushing to buy anything, compare to see which suits you the best and will do justice to your taste bud.
The Best Cocoa Powders – A Complete Guide:
10. Healthworks Cacao Powder
Healthworks brings to you premium quality cocoa powder which is derived from the harvest that is grown in natural organic farms of healthy and nutritious soil in Peru. The cocoa beans are harvested by hand. As a matter of fact, the premium quality can add magic to the flavor of any dessert. The beans are milled carefully so that they are turned into fine powder form while retaining their flavour and aroma.
It has the intense flavor of chocolate that would impress both seasoned chefs and home cooks. If you are on a keto diet or embrace the vegan lifestyle, then this cocoa powder is great for you.
Key features:
The cocoa seeds used for growing the plant don't come from GMO labs.
Doesn't contain any sugar and is rich in zinc, calcium and those detoxifying antioxidants.
Grants you an energy boost that can help you achieve greater productivity.
9. Kiva Raw Organic Cacao Powder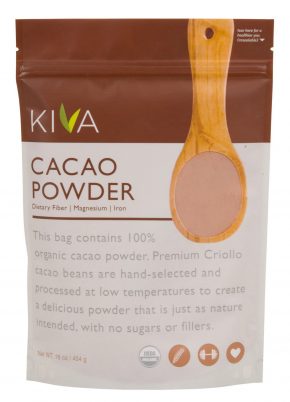 Kiva presents to you organic and natural cacao powder at an affordable price. It is not just good for your health, but also great for the environment. Instead of relying on lab-grown GMO seeds, Kiva sources their premium Criollo cacao seeds from the South American country of Ecuador.
These seeds are grown without the use of chemical components that harm the soil as well as the human body. They go through minimal processing at a low temperature. As a result, you can get all the natural flavor and nutrients that are otherwise lost in heavy and quick processing.
Key features:
You can replenish daily doses of zinc, magnesium and other useful minerals by adding this powder in your diet.
You can blend it into a smoothie, add it in deserts or use it for making hot chocolate.
Contains antioxidants and essential amino acids.
8. SUPERWELL Organic Cacao Powder
Superwell was created to deliver you superfoods that enhance the natural healing power of your body. Therefore, it lets you rely on nature's bounty instead of chemicals and drugs. Now, when you buy their product you know you are contributing to a greater cause. It contributes 1 percent of their profits go towards the populations that are less fortunate and at-risk throughout the globe.
With a nominal price, you get around 15 ounces of premium cocoa powder. Hence, it can last you for a long time and bring you genuine health benefits.
Key features:
Comes with a free e-book that has over 37 recipes and gets you started in your healthy dietary journey.
Has been certified by the USDA for being 100 percent organic.
The dense powder is obtained after natural fermentation and Dutch roasting the cacao seeds.
7.  HERSHEY'S Baking Cocoa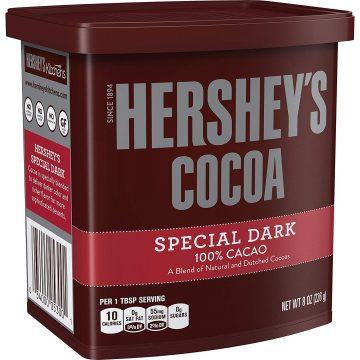 Hershey's has been a part of everyone's childhood for generations. It has been delivering rich, flavourful chocolates and other forms of desserts that are like by both kids and adults. This cocoa from the brand lets you recreate that Hershey's magic in your own kitchen and add the intense chocolate flavourful to your baked desserts.
It is certainly made completely from cacao without any chemical additives. You can use it for yourself or as a great gift for your friends and family. Brownies, cookies and cakes would never be the same and leave your guests craving from more with the Hershey's baking cocoa inside them.
Key features:
Has certification from OU-Kosher and is suitable for a gluten-free diet.
Comes in a pack of 6 with each can have 8 ounces of premium cocoa.
Doesn't contain any saturated fat, cholesterol or sugar.
6. 365 Everyday Value Organic Cocoa Powder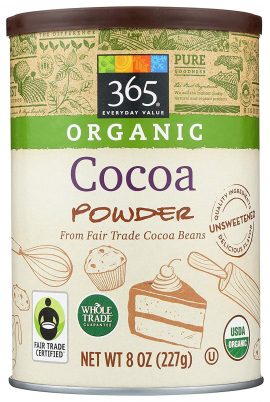 The 365 Everyday Value cocoa powder has been brought to you by Whole Foods Market and has the same reliability that you would expect from any Whole Foods product. Organic ingredients are the key factor that leads to the success of Whole Foods and sets them apart.
This 8-ounce pack of cocoa powder is also made from cocoa beans. As a matter of fact, it has been obtained from organic farms without the use of harmful products and GMO seeds. This powder is rich in dietary fiber and contains around 2 grams of it, which takes around 8 percent of the whole pack. You don't need to worry about saturated fats or sugar messing up your appetite and diet since this contains none.
Key features:
Has been certified for being Kosher, vegan-friendly and organic.
Has been Fair Trade certified, so you know the producers are also well taken care of.
Adds excellent, rich chocolate flavor to your dishes.
5. Navitas Organics Cacao Powder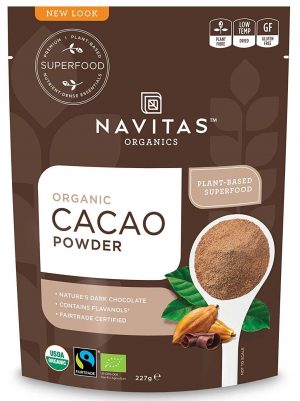 Navitas always strives to deliver some of the best superfoods that are dense with nutrients and are great for the body. They are also certified by B Corps, which means that they follow strict standards of accountability, transparency and social performance. So, whenever you buy a Navitas product you are supporting mother Earth. Cacao is not just tasty and has a delicious profile, but also known for its nutritional benefits.
Ancient cultures and civilizations like the Mayans regularly had it in their diet. Your cellular function is highly boosted with cacao powder since it has magnesium, a vital mineral that serves the purpose. Navitas also uses cold-pressed processing which is gentles and doesn't make the cacao beans lose their nutrients and beneficial properties to intense processing. With the cacao powder from Navitas, you would be able to enjoy chocolate without worrying about health risks.
Key features:
Since the cacao powder is made without any animal cruelty, it is vegan-friendly and doesn't have gluten.
Beans are sourced from family farms located in the fertile lands of Peru.
Received prestigious certified from Kosher and is fully organic.
4. Anthony's Organic Cocoa Powder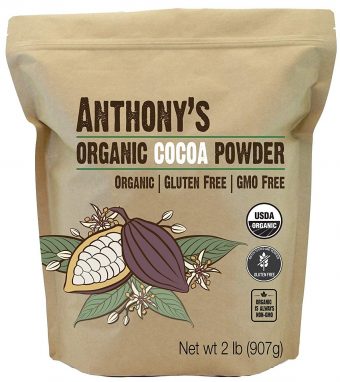 Anthony's cocoa powder wouldn't just satisfy your craving for desserts but also bring you great health benefits. The beans used for making this cocoa powder don't come from labs or parts of the world where cocoa doesn't grow with its full potential. They come directly from the farms of South America, the birthplace of cocoa. Hence, are made in a way to prevent loss of nutrients. You will be able to enjoy delicious and rich dark chocolate desserts while also getting all the nutrients for your body.
You don't need to worry about pesticides and other types of chemicals getting into your diet either. This powder has been made from cocoa beans that are organically grown with nature's blessings. Instead of chemical-laden cocoa alternatives, you can now get the original aroma and flavor of dark chocolate from the cakes, cookies and other delicacies that are baked in your kitchen.
Key features:
Anthony's Goods like to deliver authentic cocoa powder to you without any nutrients loss, so they don't process it heavily with alkali.
This one pack contains 2 pounds of cocoa powder that will last you for over 180 servings.
Has high content in dietary fiber.
3. Eternae By Nature Organic Cacao Powder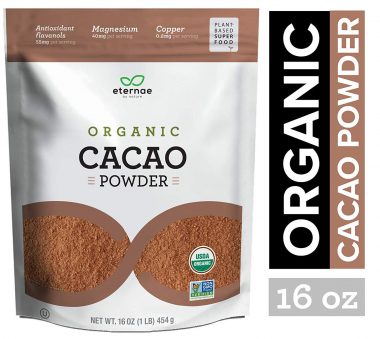 Eternae has brought to you cacao powder that is used by anyone for a healthier, tasty and nutrient-rich diet. While others like to claim a lot of things, Eternae is always several steps ahead. Its cacao powder is certified by the USDA for being organically sourced, Kosher and also fir for a gluten-free diet.
Your shakes, oatmeals and yoghurts will never be boring again with the addition of this cacao powder. It is indeed a plant-based superfood and as a matter of fact, it's even vegan.
Key features:
With each serving of this powder, you get 0.2 mg of copper, 40 mg of magnesium and 55 mg of antioxidants that are great for detoxification.
It is available in two sizes, 16 ounces and 32 ounces
2. Ghirardelli Chocolate Unsweetened Cocoa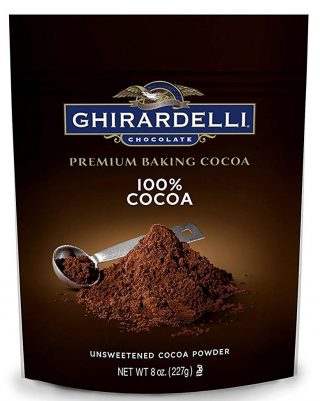 Ghirardelli always makes some of the best and intense chocolate flavors that are world-renowned and has won plenty of awards. Now you can achieve that same brilliance in your kitchen and surprise both friends and family by adding their cocoa powder in your baked dishes.
Made from the best cocoa beans sourced from all around the globe for a rich mix that is blended into a fine powder for adding to your desserts. It doesn't have any artificial or added sugar either. It indeed has a velvety texture and the slow melting process makes it delicious.
Key features:
Obtain the true essence of roasted dark cocoa beans since the powder is achieved from a non-alkalised processing method.
Its a resealable pouch for a secured fit.
The 8-ounce pack can last you for about 38 servings
1.Zen Spirit Cacao Powder Organic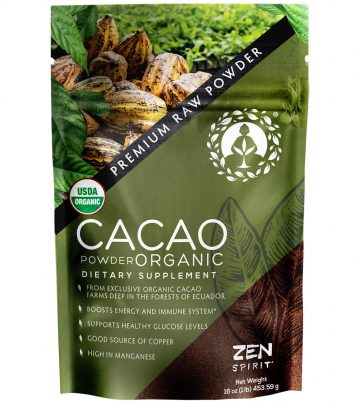 This one pound pouch of cocoa powder has so many nutrients and benefits that it can easily claim the title of being one of the best superfoods in the market. The powder inside is made from the best cacao beans that have been handpicked in the tropical forests of Ecuador. You get the raw and authentic flavor of chocolate without losing any nutrients to processing.
Furthermore, it is natural and totally vegan certified which makes it a great choice for all the vegans. For a healthier lifestyle, you can blindly trust on it.
Key features:
Has a fino aroma and mildly bitter flavor that is common with dark chocolate.
It has antioxidants that can reinforce your immune system and helps you to maintain a healthy heart.
It will increase your energy as well as suppress your appetite.
Pick the best from the finest selection of cocoa powder and enjoy any delicacy without any regret. Taste the luscious flavor and make it in your own way.