While the summers are just around the corner, it is certainly time to give your caffeine addiction a new dimension. Cold brewing on a cold brew coffee maker is what prevailed in Japan for so long and now the rest of the world is slowly learning its advantages. First and foremost, cold brewing your coffee means you are getting rid of the bitterness and acidity and rewarding yourself a smooth drink to enjoy. It is different from just adding ice to a regular coffee and it is certainly a superior replacement to iced teas if you fancy caffeine in your regime.
The cold brew coffee also gives you the flexibility to experiment with different cocktails and mocktails and tantalize your taste buds in a different sphere. It is extremely easy to make, hardly requires any power and delivers a smooth taste every single time. So, you have decided to gift yourself a cold brew coffee maker but you cannot decide on the right product? Here is the article that will guide you and help you choose the best cold brew coffee makers in the market, narrowed down carefully keeping all the needed details in mind.
List of Top Best Cold Brew Coffee Makers Reviews
10. Zell Cold Brew Coffee Maker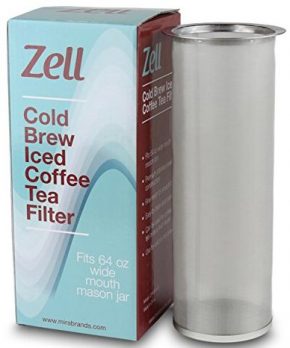 The big and durable filter having a mesh filter that is made out of heavy-duty stainless steel is a notable feature of this cold brewed. It prepares a strong coffee concentrate and extracts out the acidity amazingly well. The construction of the brewer and the good quality materials make it safe for a dishwasher as well. All you need to do is leave the filter in a jar for the night and obtain a smooth, fresh and cold coffee in the morning.
Pros:
Can fit the one-quart jar.
The stainless steel mesh filter does not allow grounds to enter the coffee.
All the components of this coffee maker are dishwasher safe and extremely easy to clean.
Multifunctional as it can brew both hot and drinks.
Cons:
The bottom seems to detach from the body with prolonged use.
9. Coffee panda Cold Brew Coffee Maker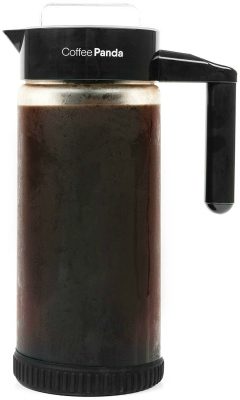 Gone are the days when you need to compromise on the acidity and bitterness just to enjoy a higher content of caffeine in your coffee. The Coffee Panda Cold Brewer works like a wonder in providing an exceptionally less acidic and smoother cold coffee every time. It has an extra large capacity of 44oz and also comes with a recipe book. It further has a non-slip base that is removable and BPA free. Plus, it is easy to clean.
Pros:
Made of borosilicate glass, it has an extra large capacity and you will not notice any rust formation in the stainless steel filters.
Smart design to sit well inside a refrigerator.
No spills because of a non-slip base for additional grip which is BPA free.
One can also brew fruit infused.
Cons:
Does not fit the refrigerator well.
8. Filtron Cold Water Coffee Concentrate Brewer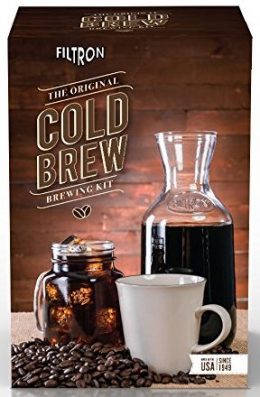 Cold brewed coffee tastes finer and smoother but satisfies your craving for rich caffeine content without the harshness of the acidity. The Filtron cold brewer is a popular product that has been trusted by a lot of customers and can be used for both hot and cold brewing. Moreover, you can keep it for around two weeks as the concentrate lasts long without any worries and the package includes all the needed things like a coffee bowl, measuring cup, water bowl, filter pad, rubber stopper, ground guard etc.
Pros:
Smart design makes it less messy to use.
You can clean it without spending many efforts.
Includes everything from coffee and tea infusion.
Brew's large quantity of coffee as it is a 1.5-litre brewer.
Cons:
Lacks locking mechanism on the handle and hence it keeps falling.
7. Coffee Gator Cold Brew Coffee and Tea Maker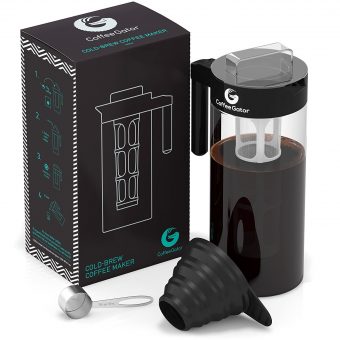 If you are on a lookout for a premium looking model that also has top-notch functionality, the Coffee Gator is a suited option for you. Preserve all the goodness of coffee and also the naturally sweet taste of cold brewing in the Coffee Gator. It comes with reusable filters, collapsible funnel and measuring scoop so you can save yourself from spilling and keep the perfect ratio of coffee to water. Built of borosilicate glass which is 100% BPA free, the brewed coffee promises to stay fresh for many days.
Pros:
You can obtain the natural sweetness of the coffee and get less acidic coffee.
Fits all types of refrigerators.
Freshly brewed coffees can be stored for weeks.
Helps to keep the process clean and clutter free.
Cons:
The coffee may not be very strong and sometimes watery.
6. Yama Glass 6-8 Cup Cold Drip Maker Curved Brown Wood Frame

Being uniquely designed it adds contemporary beauty to your house, the Yama Glass Cold Brewer is something that you can flaunt in your home with pride. The top-notch functionality is eye-catching as it has a permanent ceramic filter, can brew both tea and coffee plus rewards you with a taste totally different from the rest. Furthermore, it uses a slow water dripping method so that you have control over the brewing process.
Pros:
Premium attractive design.
Control over the strength of the brewing process.
Can contain around 32 oz. and has a ceramic filter mechanism which is permanent.
You can use it for making iced tea.
Cons:
Heavily priced.
Restricts portability and mobility.
5. gosh! DRIPO Cold Brew Portable Barista Iced Coffee Maker

A design that can travel with you, the lightweight Dripo coffee maker is the ideal model that understands the need for portability and mobility. Moreover, you can as well transform it into a coffee mug on your camping trips. Have yourself a smooth, acid-free coffee in less than a few hours and enjoy it whenever and wherever you please. The Dutch or Japanese way of slow dripping makes it all worthy.
Pros:
Easy to set-up design and can be cleaned in few minutes.
It is lightweight, portable and it can be used as a coffee mug.
Facilitates fast brewing as it takes just 1.5 – 2.5 hours.
Obtain natural flavors and excellent quality of the coffee.
Cons:
Ice clogs up the path of dripping.
A small quantity of 10 oz.
4. Simple Life Cycle Mason Jar Cold Brew Coffee Maker & Iced Tea Maker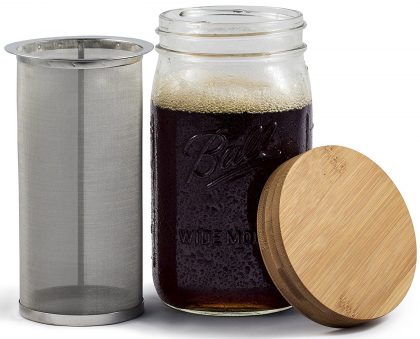 If the quality of the materials is what you are cross-checking, this Coffee Maker does not deal with plastic and hence is devoid of any harmful BPA or harmful chemicals. Plus, it fits a quart or half gallon Mason jar with ease. Besides producing coffee that contains less acid, it can prepare all your favorites teas as well like chai tea, green tea or nut milk. The presence of a bamboo lid adds a good touch to the appealing look.
Pros:
Made of long-lasting glass, the absence of plastic makes it safe from chemicals.
Have a versatile unit which makes it suitable for making tea and also acts as a fruit infuser.
Being dishwasher safe, it can be cleaned easily.
Cons:
The bamboo lid may get cracked.
3. OXO Good Grips Cold Brew Coffee Maker (32 ounces) with 10 Paper Filters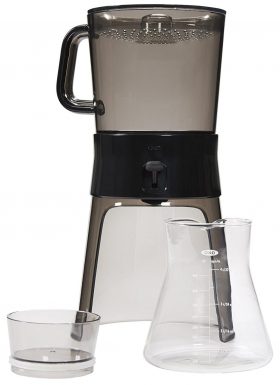 When you want your coffee to be perfect in taste, you ought to have a look at the Oxo Coffee Maker. The use of innovative and interesting tools like the patented Perforated Rainmaker allows you to have a perfect cup by evenly distributing water over the grounds and making it completely saturated. Furthermore, it has simple brew release switch that enables you the control over the filtration process. With ultra-fine mesh that is made of stainless steel, everything becomes easy.
Pros:
Rainmaker extraction for a finer taste.
Small and space saving design for every home.
Reusable stainless steel filter and it is built of borosilicate glass.
It can be dissembled easily for cleaning.
Comes with measurement markings and stopper for allowing you to have fresh coffee.
Cons:
2. County Line Kitchen Cold Brew Coffee Maker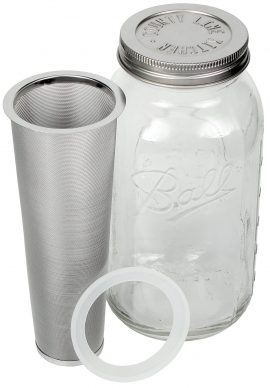 A Mason jar style coffee maker that can brew premium quality latte, the County Line Kitchen's Cold Brewer is a fascinating model for everyday use. Simple to use and prepares the amazing taste effortlessly overnight. The heavy-duty, high-quality and superfine mesh filter is made out of stainless steel will last a lifetime and prevent any grounds from entering your coffee. The absence of BPA and plastics is aimed at making a perfect cup every time. Prepare tea or other infusions in this versatile brewer with ease.
Pros:
Ultra-fine mesh for perfect filtration.
Cleaning it up is simple as it is dishwasher safe.
The presence of soda lime glass prevents the entry of harmful chemicals in your drink.
Also a great infuser as well as ideal for making cold tea brews.
Cons:
Washing the filter is really tough.
1. Toddy Cold Brew System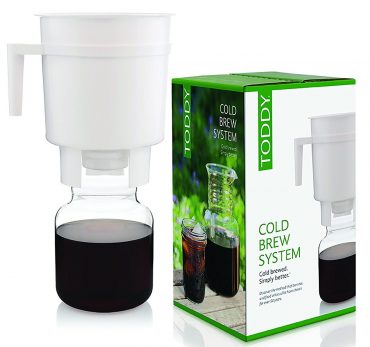 You fancy a cup of coffee that is made out of a smooth concentrate and extremely less acidic without compromising on the caffeine levels or taste. The Toddy Cold Brew system does this job fantastically well at the comfort of your home. No wonder this has gained the trust and likeness of coffee lovers over the years. Moreover, the concentrate produced can last up to two weeks without any change in flavor. It can also make hot infusions and different types of tea. The brewer uses coffee beans for brewing the outstanding coffee and without any need for power.
Pros:
Extremely user-friendly design and no electricity is required.
Easy Cleaning Process.
Presence of reusable filters for good filtration.
Keeps the flavor intact for as long as 2 weeks.
Ideal for both hot as well as cold brews.
Cons:
Made of plastic and hence, it can get cracked.
The rubber Stopper leaks.
If you are desperately in need of a cold coffee brew, then these brews will definitely be your best companion. With further ado, get any of these to your home.