Repairs can be expensive that is why your handyman needs a drill press. He can save you money by making the repairs himself. One of the top 10 best drill presses in 2023 would make an excellent gift to your handyman.
Help him get the work done around the house instead of paying for expensive repairs. If you are not sure which is the best drill press to purchase, simply keep reading. Our review will give you the information you need.
List of Top Best Drill Presses Reviews
10. WEN 8 in. 5-Speed Drill Press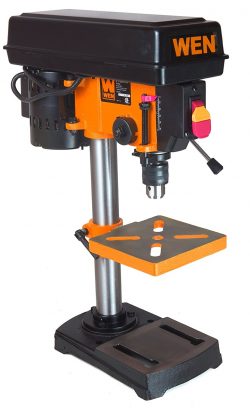 This 5-speed drill press is powered by a 1/3 hp motor and comes with a 6 1/2 x 6 ½-inch adjustable work surface. The ½-inch chuck has its own storage slot, so you know where it is at all times.
The locking feature allows you to drill many holes at the same depth. The whole unit measures 7.5 x 22.9 x 11 inches.
What we liked:
What we did not like:
Noisy
8" throw may be too small
9. WEN 12-Inch Variable Speed Drill Press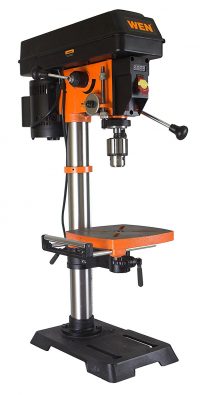 You get a 2/3 hp motor with this 13.5 x 36.6 x 16.8-inch drill press. The speeds range between 580-3200 RPMS and you work off a 9 ½" x 9 ½" adjustable table. The table also adjusts to up to 45 degrees either way.
You also get a 5/8-inch chuck and tools to help assemble the drill press.
What we liked:
What we didn't like:
No spindle lock
Spring-loaded chuck key
8. SKIL 10-Inch Drill Press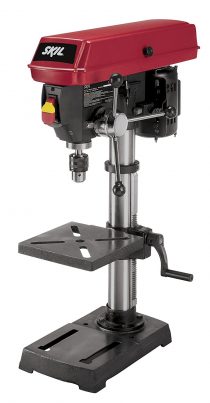 You get a laser control measurement feature that provides accuracy for your drilling. Measuring only 21.8 x 15.2 x 9.8 inches, this drill press provides 5 speeds, ½-in. chuck, and an adjustable table. The table will adjust to 45 degrees left or right side.
Also, you get an adjustable depth lock for repeat drilling.
What we liked:
What we didn't like:
Some battery powered options
Not for heavy-duty work
7. Craftsman 10 in Bench Drill Press w/ Laser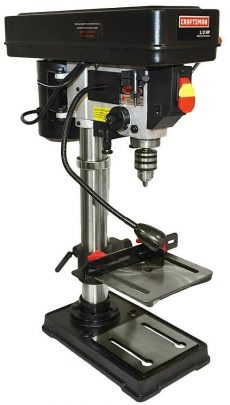 Craftsman is a name you can trust. Their drill press uses a 6-amp motor to power its 5 speeds. Rack and pinion technology make adjusting the table easier. Plus, a steel fence to help you keep your materials lined up right.
The unit measures 13 x 8 x 27 inches and has the depth lock feature for accurate repeat drilling.
What we liked:
Steel fence
Rack & pinion technology
What we did not like:
Cover hard to open
Pulley has a few problems
6. Genesis 10″ 5-Speed 4.1 Amp Drill Press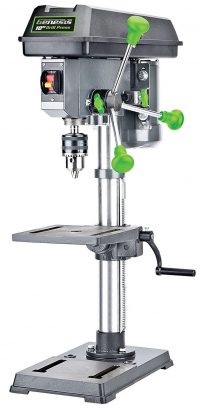 You won't miss the bright green handles on this 4.1-amp drill press. 5 speeds & 360-degree table rotation, with 45-degree angle adjustment help, make this a good drill press. An added feature is the work light. You can see what you are working on.
A 5/8 chuck keeps your drill bits locked into place. It measures 23.2 x 16.9 x 10.4 inches.
What we liked:
Work light
360-degree table rotation
What we didn't like:
Small belt adjustment system
No chuck key holder
5. Delta 18-900L 18-Inch Laser Drill Press

At 59 x 30.5 x 13 inches, this drill press is a floor model. Its 18-inch throw is accompanied by 16 speeds and extra-large adjustable, 3-way tilt, work table. The ¾ hp motor is belt driven and has an LED light feature to light up the work area.
This drill press is also backed by a 5-year warranty.
What we liked:
16 speeds
3-way tilt work table
What we didn't like:
Drive spindle issues
Poor customer service
4. Shop Fox 13-Inch Bench-Top Drill Press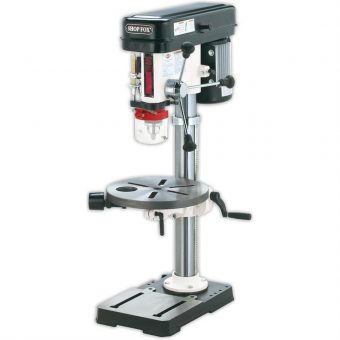 The unique feature of this drill press is that it comes with a 3-piece spindle sander. You can smooth out your project with ease. Then the 23 x 14 x 38-inch drill press is powered by a 3/4hp motor and has 12 speeds.
A dust collection unit for the sander is also included in this package.
What we liked:
Sander feature
Built-in dust collection
What we didn't like:
Hard to find sander replacement parts
Weak depth stop
3. JET 15-Inch 3/4-Horsepower Floor Model Drill Press

Another floor model stands 31 x 13 x 63 inches. But it comes with 16 speeds and a ¾ hp motor. The motor works with ball bearings for durability. As usual, the work table is adjustable. And tilts up to 45 degrees.
One drawback is that there is no laser guidance system.
What we liked:
44-pound table capacity
16 speeds
What we didn't like:
2. Powermatic Drill Press

The fence keeps everything aligned on the adjustable table while you operate the various speeds. The ¾ hp motor powers the 250-3000 RPM speeds. The one drawback on this 58 x 26 x 15-inch unit is that there is no reversible feature. The drill bits only spin one way.
What we liked:
Digital readout
6" quill travel
What we didn't like:
No reverse mode
Some adjustments needed
1. Dremel Rotary Drill Press

It may be small, but this 6 x 6 x 12-inch unit can drill straight or at an angle. The base can be attached to your workbench for greater stability. Plus, a built-in storage unit keeps your drill bits handy.
What we like:
The small size
Built-in drill it storage
What we do not like:
Some quality control issues
Difficult 90-degree adjustment
Some Final Words
Getting your handyman one of the top 10 best drill press in 2023 is a smart move. He will be happy to work on repairs or his own hobby. These drill presses have been upgraded and most bring top features with them.
Those features will make your handyman's job a lot easier and less time-consuming. That means he will have more time for you.
You now have the information you need to make a good decision. We only point you in the right direction. It is up to you to do the rest.