Not only is it healthy for you but it tastes great as well. It also tastes better when you extract it yourself. Today, we are going to review the top ten honey extractors for 2023. All you need is the top honey extractor, so you can enjoy your own honey.
List of Top Best Honey Extractors Reviews
10. Goplus Large 2 Frame Stainless Steel Honey Extractor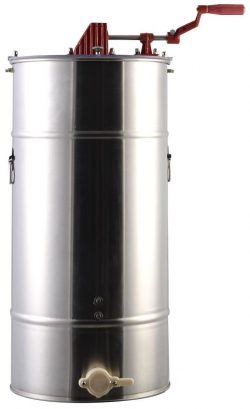 This stainless-steel frame is durable and comes with two lids to keep any debris on the outside where it belongs. This unit stands 15.7″(D) ×30.3″(H) and can extract up to 5 gallons of honey at a time.
It is a tangential extractor and the bee frames have one side facing out. Its only drawback is that there is no way to anchor it. The bottom is flat and sits on the ground as you extract the honey.
9. Vivo Manual Crank Bee Honey Extractor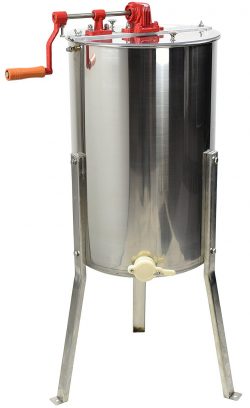 This stainless-steel honey extractor will handle all sizes of bee frames. From small to medium to large, its 24 x 15-inch drum size handles them all. This unit has a see-through plexiglass lid, so you can see what you are doing.
The honey gate is approx. 15 ¼ inches from the floor. The inside of the drum is conical shaped and brings the honey to the 2-inch outlet. The two handles and lightweight make carrying this honey extractor easy.
8. Honey Keeper Pro 2 Frame Stainless Steel Honey Extractor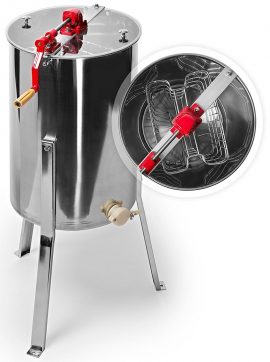 Another honey extractor that is made of stainless steel and stands 42 inches high by 23 inches wide. It is made of deep, medium or shallow bee frames. Anchoring is not a problem as the legs can be bolted to the floor.
The Honey Extractors legs are also removable for table-top use. A 5-gallon bucket can fit comfortably underneath when you are ready to drain the honey. Easy to assemble and the steel gears and sealed bearings make spinning less difficult.
7. FoodKing Honey Extractor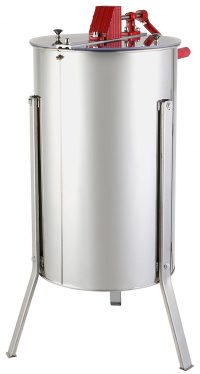 Standing 24 x 15 inches, this stainless-steel honey extractor works with 3 frames, 2 clear lids, and a wood handle crank. The basket is rounded to avoid any breakage of the honeycombs. Then, the two clear lids allow you to keep an eye on what is happening inside.
The manufacturer enclosed the gears to make sure they were not clogged up by honey. These Honey Extractors also added a raised bottom bearing to help avoid the running honey. Including the stand, the total height is 34 inches.
6. Best Choice Products Stainless Steel Honey Extractor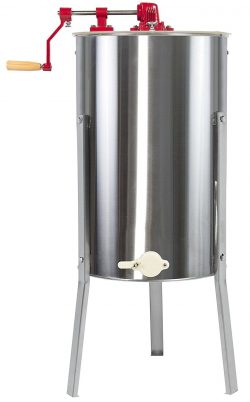 The metal crank turns the inside baskets with ease and can handle 2 frames at the same time. Its stainless-steel frame weighs only 21 pounds and stands 16 x 16 x 38 inches. This unit also comes with a clear and double-sided lid.
Easy to assemble and also easy to clean. This low maintenance honey extractor is perfect for the beginner beekeeper. One word of caution. The legs may be a little short to handle a 5-gallon bucket.
5. OrangeA Honey Extractor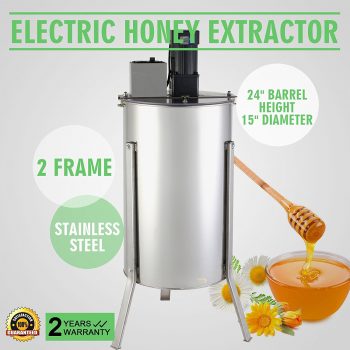 The unique feature of this honey extractor is that it is not manually operated. It is electrically powered using the standard 110-volt system. It also has the standard 2 frame capacity on a 24 by 15-inch stainless-steel construction.
This honey extractor uses a high precision bearing in its 1.1-amp motor moves at 1300 rpm and has variable speeds. The inside of the drum is conical in shape and sends the honey quickly down to the 2-inch outlet.
4. Hardin Professional Manual Honey Extractor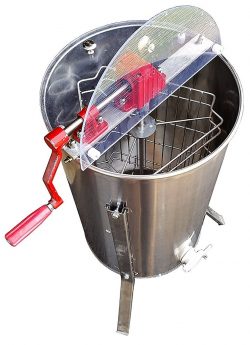 Made of 16-gauge stainless steel this honey extractor comes with a lifetime warranty. It has an optional leg/stand feature included. It also has steel gears and sealed bearings. Plus, These Honey Extractors has a clear plexiglass lid for keeping an eye on the process.
Its 15 x 45 x 24 inches handle 3 frames of honeycomb whether they are deep, medium or shallow frames. A little warm water and soap will clean this unit right up.
3. Ridgeyard Manual Stainless Steel Bee Honey Extractor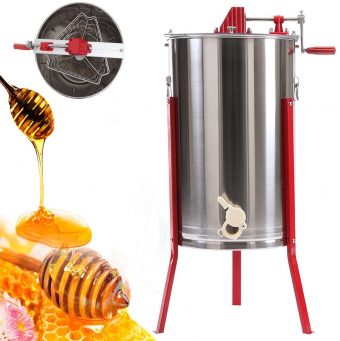 The food grade metal construction is designed to help this honey extractor last a lifetime. The approx. 34-inch by 14 3/4- inch dimensions help this extractor handle 3 frames at a time.
With the conically shaped interior, extracting the honey from the extractor is not a difficult chore. ThisHoney Extractors is some assembly required. But just the legs and the handle. Everything else is ready to go. Plus, it has 2 handles for easy carrying. It is not too heavy at 38.5 pounds.
2. Goodland Bee Supply 2 Frame Honey Extractor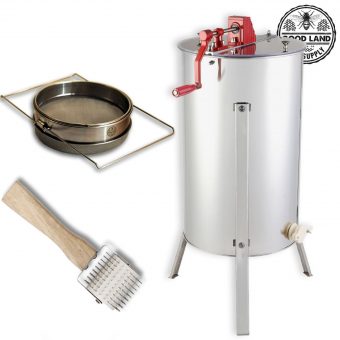 This unit does come with some extras. When you purchase this honey extractor not only do you get top quality stainless-steel construction, 2 frames with micron mesh and tangential design. You also get a honey double sieve and decapping roller.
At 34.3 x 16.7 x 13.7 inches, this extractor will empty into a 5-gallon bucket. This unit also comes with the usually sealed bearings, steel gears, and leg stand. It also handles deep, medium and shallow frames.
1. Forkwin Honey Extractor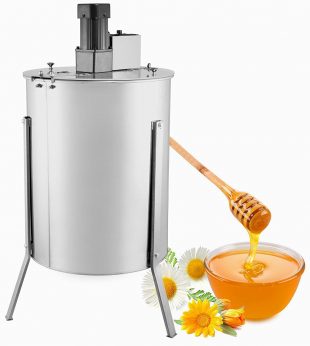 Another electric honey extractor, this unit will handle up to 4 frames with ease. Its 120w power is strong enough to handle any honeycomb you throw at it. That is because of its precision bearing and high rpm.
The barrel stands at 24 inches high and is 20 inches in diameter, made from food grade stainless steel. It is made to last a lifetime and is great for those beginning extracting honey or those with long time experience.
Some final words
Extracting honey is big business and you need a great honey extractor to be competitive. Manual or electric, it doesn't matter. These are the top honey extractors for 2023 and they will keep you competitive.
Ultimately the choice is yours. Do your homework before you buy. Make sure you get the honey extractor that is right for your operation. A good honey extractor will last you for many years if you treat it right. Here is to good honey extracting in 2023 and beyond.