Few machines in our lives are as simple and as useful as a wheelbarrow. Carved out of the most straightforward technique, best wheelbarrows ensure that the bulky items that we cannot usually carry with our bare hands can be carried easily.
Further, the utter simple design ensures that anyone can use the wheelbarrow without requiring any expertise that limits the use of a machine. Below, we have come up with the list of most efficient wheelbarrows and utility carts that can simplify your work and save a lot of time.
Best  Wheelbarrows to Buy in 2023
10. Polar Trailer Spoked Wheels Solid Rubber Tires Utility Cart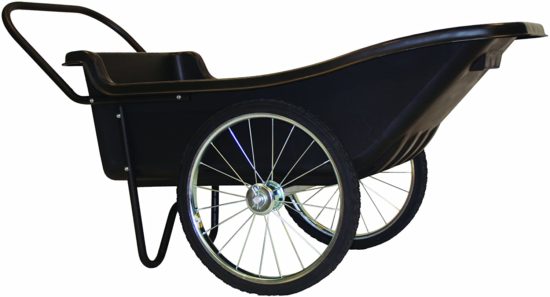 This heavy-duty utility cart has the load capacity of up to 400 pounds along with two 20-inch spoked wheels. Moreover, the rubber tires and ball bearing hubs ensure that you do not have to do the hard work.
Above all, the engineering of this polar trailer utility is such that it offers the durable cart for lugging anything from dirt, firewood leaves to grass clippings, hunting gear, and so on. You get a heavy-duty polyethylene tub that is durable even when used for long years. Moreover, the balanced axle ensures the lugging being an easy job.
Key Features
Two 20 inch spoked wheels and solid rubber tires ensure smooth operation
The load capacity of 400 pounds is enough for heavy-duty operations as well
Tires are made of solid rubber, therefore, removing the challenge of getting flat
9. Worx Flat Free Tires Innovative Tool Tray Aerocart cum Wheelbarrow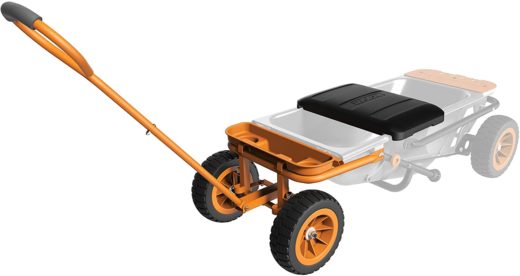 You get the flexibility of Aerocart and wheelbarrow with this wagon from WORX. One of the best features of this product is its easy convertibility into the wheelbarrow from the aero cart. Moreover, the seat ensures more comfort and can also be used as a resting place for some time in between the work.
Further, the tires are flat-free, taking away you're the stress of deflating. Moreover, you get the innovative features such as tool tray with cup holders. Comfortable to hold at least 10-12 shovels of dirt without any spillage issue, this flat free tire wheelbarrow is all you need for easy management.
Key Features
Aerotray can be converted easily into wheelbarrow expanding the scope of tasks
The seat provides as a comfortable sitting option and a resting spot making it one of the best wheelbarrows
Tires are made of flat-free rubber, therefore, reducing the stress
Tool tray with cup holders ensures innovating and additional utility
8. Best Choice Padded Handlebar Inflatable Wheelbarrow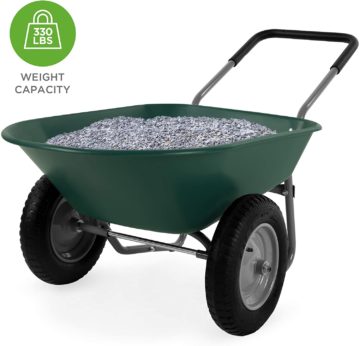 This multipurpose wheelbarrow is a perfect option with an option to hold up to 5 cubic feet of mulch, gravel, soil, and so on. Further, the 2-wheel design with inflatable 13-inch rubber makes sure that the cart moves smoothly over any terrain. The handlebar, on the other hand, is thick and padded, making it easier for you to move the wheelbarrow.
Above all, the heavy-duty steel frame ensures that there is no rusting of the body, and durability is intact. Spacious design and heavy-duty build of the cart is something that makes this cart from Best choice one of the best wheelbarrows.
Key Features
Durable and heavy-duty steel frame keeps the cart rust free and appropriate for long term use
Compact built of the cart ensures more storage and without any risk of spillage
Two-wheel control of the cart with two 13-inch rubber wheels is apt for any type of terrain
7. Garden Star Rust Proof Polypropylene Marathon Yard Rover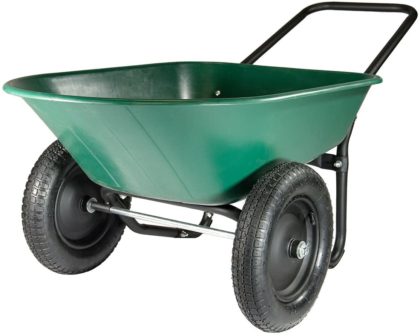 If you are looking for a yard rover that is low maintenance, high quality, and easy to balance, then this wheelbarrow from Garden Star is your perfect choice. The yard rover is not just easy to lift but also maneuver and balance, therefore suitable for farm, lawn, garden, etc.
Further, the yard rover is made of tough polypropylene plastic, making it sturdy, impact-resistant, and free from rust even in the long run. The capacity of these wheelbarrows is enough to hold a large amount of mulch, dust, etc. Moreover, storing the yard rover after usage is easy, as you can either hang it vertically or store away in a convenient place.
Key Features
Air-filled tires ensure even distribution of weight and perfect balance
The yard rover is easy to use as well as a store with vertical hanging option
Sturdy polypropylene plastic body makes the yard rover rust-free and durable
6. Rubbermaid Water Resistant Tire Commercial Big Wheel Cart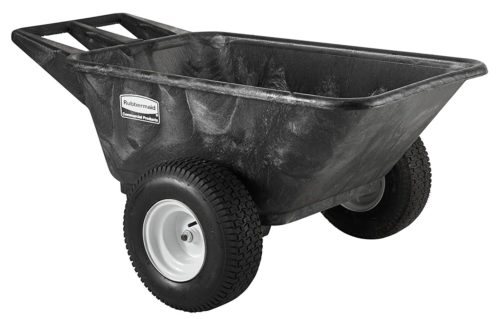 This wheelbarrow from Rubbermaid is a commercial-grade option for those who want a heavy-duty vessel.  Since this commercial-grade is made of high-density polyethylene, there is little or no risk of cracking or any sort of leakage. Moreover, the big wheel design of the cart helps in keeping the wheel cart moving.
Since the wheel diameter is 20 inches, the wheelbarrow can run on all types of terrain and does not absorb water.
Key Features
Commercial-grade, heavy-duty material makes the wheelbarrow last for long term
Wide tires are suitable for all type of terrain
Good capacity and leakage proof built for storing more
5. Marathon Industries Air-filled Wheels Loop Handle Yard Rover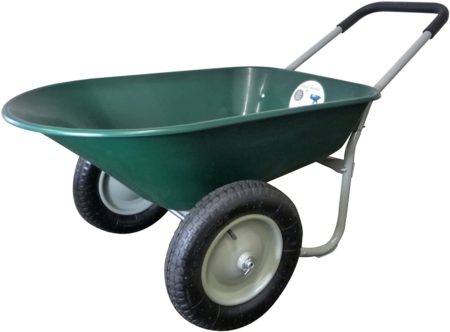 One of the Best Wheelbarrows this yard rover from Marathon is lightweight and has an ergonomic design making it easier to lift and balance. Moreover, it is easier for maneuvering and ease of moving it on any terrain.
You can freely move it around the lawn of your house and other common projects in the locality. Moreover, the wide tray ensures that you can haul various types of material such as debris, rocks, topsoil, mulch, and so on.
Further, the air-filled and flat-free tire and wheel ensure that the yard rover is perfect for lawn and garden equipment for both personal and commercial use. The universal fit and exact match options are the best fit for all the applications.
Key Feature
Air-filled wheels make the yard rover easy to lift and move smoothly from one place to another
The plastic of which the rover is made is rustproof and wide enough for residential use
The lightweight and easy to assemble features also make the yard rover easy to use
4. Bosmere Solid Wheel Tire Folding Garage Storage Wheelbarrow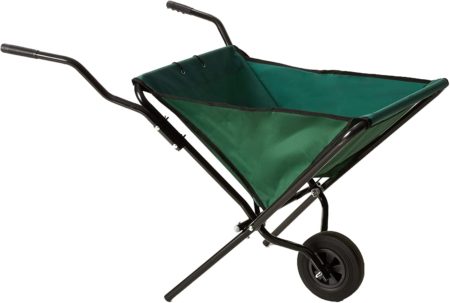 The powder-coated metal frame and reliable wheel-tire are two of the most robust features of this wheelbarrow. Moreover, the polyester bag is foldable, which makes the wheelbarrow easier to fold and store after the work is done. Three storage pouches on the back are there to ensure that you can store all your small tools in there.
Further, the sturdy and long-lasting foldable material gives you the flexibility to use it and then put it away quickly in a shed or garage.
Key Features
The wheelbarrow is foldable making it easier to use and then put it safely in the garage or any shade
Three storage pouches at the back are best used for storing the small tools required
Wheel tire is stable and deflation resistant making it suitable for any terrain
3. Gorilla Padded 2 – in-1 Heavy-Duty Handle Yard Dump Cart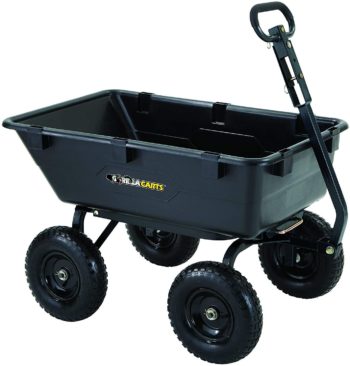 The advanced technology laced dump cart is easy to assemble and makes it smooth to use on any terrain. Moreover, the heavy-duty yard dump cart comes with a patented quick-release dumping technology taking less time to load and unload. Furthermore, the 4-wheel design of the cart helps in balancing the cart and keeping it easier to move it through any terrain.
Further, the convertible 2-in-1 handle makes it easier for the user to swap between pulling the cart by hand or towing it behind a lawn tractor.
Key Features
Updated frame design and patented quick-release dumping makes it the yard dump cart easy to use
With the redesigned frame, it is easier to assemble without taking much time
The balanced 4-wheel design makes the cart more comfortable to use both as a dump cart and wheelbarrow alternatively
2. WORX 8-in-1 Turbo Lift Plant Mover Strap Wheelbarrow/Yard Cart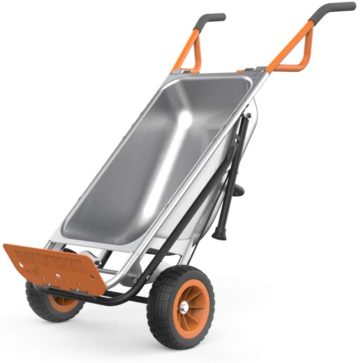 On buying this multipurpose Wheelbarrow, you get a bag holder, plant mover strap, rock mover mesh, one cylinder holder, and prefab kit. Further, the easy to assemble option of this yard cart makes it easier for the customer to use smoothly.
All you need is just load the cart and lean, and the rest of the work is done by the wheels that are positioned in the exact place for a perfect balance. To convert between the two modes, all you need is to slide the flap to the side and down.
Key Features
The wheelbarrow has a total of 8 configurations that the user can adjust accordingly
Can be used for moving the large boxes, furniture, and other heavy-duty appliances
The turbo lift design helps in smoothly moving the heavy things around
1. Gorilla Steel Frame Patented Dumping Wheelbarrow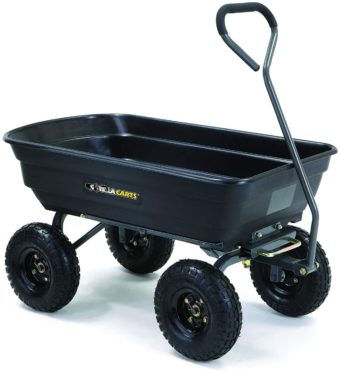 This super-efficient wheelbarrow comes with the patented dumping technology, which makes it easier for onload and offloads functions. Moreover, the quick to assemble design also saves a lot of time and ensures easy maneuvering.
The 4-wheel design guarantees the right balance on every terrain even when the dump cart is in full capacity.
Key Features
Patented dumping feature that ensures quick offloading
The redesigned frame is both comfortable and efficient to move around with
Easy to assemble and convenient storage after usage
Just like any other technology, wheelbarrows have also evolved in terms of feature upgrades and functionality. However, for necessary use, best wheelbarrows are still those that can be operated with the minimum effort and give maximum results.
We hope that our carefully crafted list of wheelbarrows guide helps you in making a more informed decision.