One of the luxuries that we regularly enjoy in modern times is the air conditioner. This useful appliance is great in turning hot and damp spaces into cool comfortable spaces. If you have a large room with high ceilings, you'll discover that your regular air conditioner might not adequately meet your needs. This is where a dual hose portable air conditioner comes in. These appliances are more energy-efficient while delivering more cooling performance. In this post, we will see the 10 best dual hose portable air conditioners that you can buy right now. We have also provided a buying guide that can assist you in making the right choice.
List of the best Dual Hose Portable Air Conditioners
10. Ivation 12000 BTU Portable Dual Hose Air Conditioner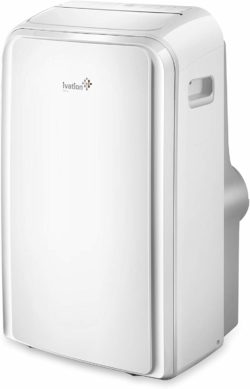 This offering is an impressive option that is excellent for rooms that measure up to 450 square feet or less. It is a dual hose unit that is quite friendly to the environment.
We discovered that it works quite well with a pair of hoses and helps to balance the air pressure in the room. It is a highly versatile option that comes with an impressive number of operation modes.
At first glance, it looks very appealing, and we feel it will even look better with time. Installation is easy and straightforward. As it is remote controlled, you can set the features easily.
Pros
Quiet
Easy to use
Auto-restart when out of power
Cons
9. Toyotomi TAD-T40LW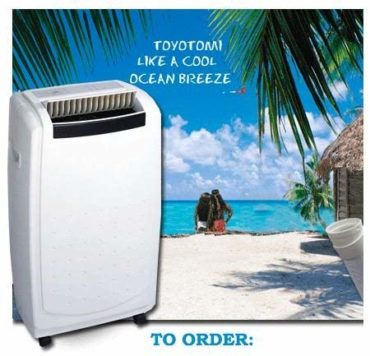 This unit is a popular option that many users love. It is a portable unit that can be moved around the house easily. As a 14,000 BTU machine, it has enough power to cool a big room and leave you feeling very comfortable. You will discover that this unit comes with a self-evaporating function that ensures that you don't have to drain every time.
A timer is a nice feature that improves usability. As a three fan-speed air conditioner, it cools a hot room very quickly.
Pros
Easy to move and install
Affordable
Efficient and quick cooling
Cons
Dehumidify mode requires frequent draining
8. Ideal-Air Air Conditioner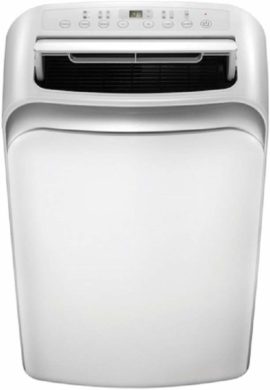 This unit is a versatile option that comes with several features that make it an excellent choice for anyone looking to cool a space quickly and efficiently.
It comes with a pair of hoses; one for condenser intake and the other for hot air discharge. Additionally, it has an auto-restart feature.
We love the slinger-up removal system that jettisons the use of an external drainage system. The 3 fan-speed motor ensures that the room is cooled in a short time. It also offers remote control which makes it so much easier to operate.
Pros
Doesn't require draining
Quiet performance
Condensation easily evaporates
Cons
Initially difficult to use
7. Avallon APAC120S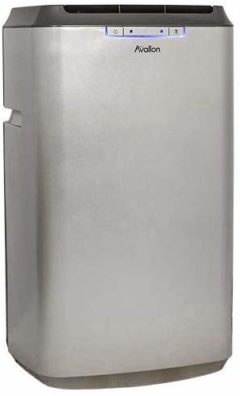 One of the most convenient and effective dual hose air conditioners on the market, this air conditioner comes with several lovely features that ensure a cool time whenever it is on. It is a highly portable unit that can work even in large rooms and in hot conditions. In the cooler months, the small size means that you can store it away easily without plenty of fuss.
Despite the small portable size, this air conditioner is a powerful unit that can make a hot room cold quickly! It can effectively cool rooms to about 25 degrees cooler than the outside temperature.
Due to the mister function, you don't have to remove water constantly. The unit comes with settings and modes that allow it automates most of the processes.
Overall, this is an excellent portable air conditioner. While the instruction manual might be a tad difficult to comprehend, we are still sure that you will have a good time using it.
Pros
It doesn't require draining
It automatically cycles through its various modes
Remote controlled
Cons
Loud
The instruction manual is somewhat difficult to follow
6. EdgeStar AP12000HS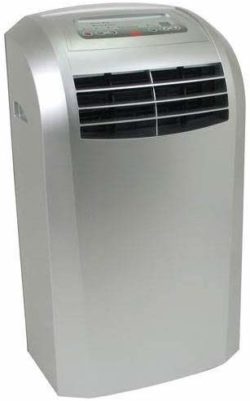 This option is a unit that is guaranteed to make your life better. It is a powerful unit; more powerful than several of the options we have reviewed. It comes with the ability to cool more than a single room at a time. We observed that when set up between two rooms, it can cool the two simultaneously.
Hence, place it in the home, trailer, workshop, or your vacation home as the heat approaches and rest assured that it will deliver excellent cooling.
We love the versatility of this option too. Due to its design, it can dehumidify the air, and it can even double as a space heater in the cold months. There is almost nothing that this particular unit can't do for you.
The only downside we observed is that the venting tube is rather short; hence you will have to place it near a window or a door.
Pros
Quiet performance
Easy to install
Highly versatile
Convenient display
Durable
Cons
5. Whynter ARC-12SD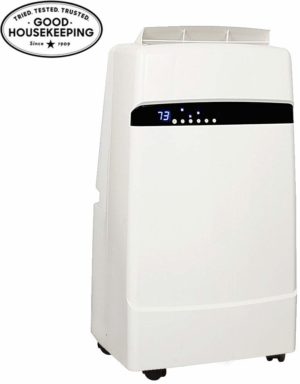 Next up is another product from Whynter. Whynter steadily produces some of the best quality air conditioners on the market, and it is not surprising that it has more than one product in this lineup. The ARC-12SD is an efficient air conditioner that will blow your mind with its performance and generally impressive efficiency. We discovered that it cools your surroundings so well. It can reduce the inside temperature by twenty degrees. Hence, as summer approaches in all its hot glory, this unit is just what you need to keep cool.
It comes with several nice features that make it a good choice. For instance, it comes with a delay timer that you can set to turn on and off whenever you desire. It also comes with a useful evaporation function that ensures you don't have to drain the water frequently.
Overall, we are very impressed by temperature reduction and convenience.
Pros
Compact build
Quiet compressor
Nice aesthetics
Can be used as a dehumidifier
Cons
4. Whynter 11,000 BTU Air Conditioner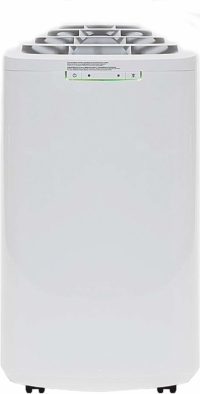 Yet another product from Whynter makes this list of the best dual hose air conditioners. This time, the unit is one of the most compact and portable air conditioners you will find. Despite the relatively small size, it delivers a truly nice performance. It is an 11,000 BTU dual hose portable air conditioner that you can fit into small spaces with ease.
It is an excellent device that is approved by several licensed contractors. Hence, you can rest assured that you will have one of the best units in your home if you buy this unit.
Due to its small size, you will find it quite easy to move around the home until you figure out the best place to put it. In terms of efficiency, it is a very efficient unit that uses a little amount of power. In fact, it can run on generator power when such situations arise.
It comes with an autocycle that gives decent cooling without making plenty of noise.
Pros
Easy to set up
Cools fairly quickly
Remote controlled
Cons
Poorly designed drain plugs
3. Haier 14000 Btu 115V Dual Hose Portable AC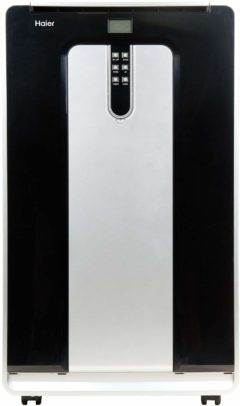 If you are looking for a small option to cool a small room, then we believe that you will love this unit. It is an excellent unit that although portable, delivers impressive cooling power. It is a 14.000 BTU unit that comes with caster wheels to move it around. Also, very easy to operate as it comes with an electronic control panel and a timer.
In cases of the electric outage, the restart program comes in very handy as it helps to restart the unit. It can be used in three separate modes.
Pros
Quick cooling
Affordable
LED screen programmer
Cons
Somewhat difficult to install
2. Whynter ARC-143MX Dual Hose Portable Air Conditioner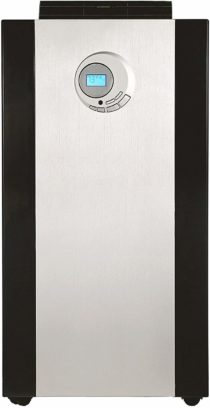 This air conditioner from Whynter is one of the best options on the market. This tough unit comes with the ability to cool different spaces. We observed that it is highly effective even in rooms that have high ceilings which an ordinary air conditioner might not effectively cool. It can cool a space of up to 800 square feet till its temperature lies thirty degrees below the temperature outside.
We observed that it comes with an evaporator that is highly efficient and that ensures you don't have to fret about emptying the drain.
It comes with controls that are easy to use. Set and installation are fairly straightforward. Despite the size, we observe that it isn't too difficult to move around.
Overall, this 14,000 BTU unit will cool almost any space it is efficiently. It is designed for commercial applications and will fit right at home in server rooms, wiring closets or data centers. It does not just cool the air, but it also doubles as a dehumidifier. Additionally, it comes with an airflow filter that removes dust, pet hair, and other substances from the air.
Pros
Easy to install
Easy to move around
Energy efficient
Quiet performance
Cons
It requires plenty of space
Display might be too bright in low-lit rooms
1. Whynter ARC-14S 14,000 BTU Dual Hose Portable Air Conditioner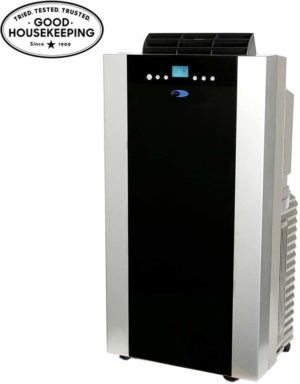 The last, but definitely not the least, on this roundup is this wonderful dual hose air conditioner from Whynter. It is our number one choice and is an excellent unit that delivers excellent performance that is better than anything you've ever experienced.
It comes with three operational modes: fan, air conditioner, and dehumidifier. Moreover, it is very easy to operate, and you can choose the model that suits you. It also comes with a 24-hour timer that lets you set when you want the unit to work.
Although it is a multi-functional unit, it doesn't use plenty of power to operate.
We found the controls to be really easy to use. We also love this unit because of the carbon air filter that removes impurities in the air. You can use it at all times of the year since it also comes with a heating option.
Pros
Quiet
Easy to set up
Tubes are from high-quality materials
Effective draining system
Cons
The exhaust tube heats up easily
Buying Guide
The roundup above contains ten of the best dual hose portable air conditioners in 2023. There are certain parameters to consider before making a buying choice, and in this section, we will review some of these important features.
If you do not have plenty of space to spare in your room, then size is an important consideration. You should choose an option that doesn't take up the whole space, but that still delivers excellent cooling.
The dual hose air conditioner is meant to cool your home better than the typical one hose air conditioner will. Therefore, you should ensure that you choose an option that will carry out this cooling very effectively. This factor becomes even more important when you are planning on cooling a relatively large area.
Fortunately for you, most of the best options on the market, including all the products we have reviewed above are very energy efficient. To ensure that the unit won't add a significant amount to your energy bill, check out its ERR (Energy Efficiency Rating). That way, you will be able to choose a model that uses a small amount of energy.
Dual hose air conditioners are usually more difficult to set up than the single-hose models. However, if you choose a high-quality model, you should find it fairly easy to set up.
It is very important that the unit you have chosen can be used with ease. The best options often come with digital controls which are far easier to control than other types of controls.
Conclusion
When buying the best dual hose air conditioners in 2023, ensure that you consider the features that we have highlighted above. Choose from any of the products that we have reviewed as long as it will meet your needs and rest assured of excellent performance.