When you see a group of guys together then something must have brought them together. It's either to have a drink, watch soccer, or play good games. However, a game of dart is one way to have fun while chilling with your guys. The best deal is, you don't need to go out to play the game, it can be done within the comfort of your home with your guys who have come to chill with you.
An electronic dartboard game is trending in 2023 and it is far better than the type that used to be in vogue. They have various game options and are more interactive and interesting to play, it can also be played with kids. It comes with multiplayer ability and if you're playing for the win, it keeps records of your score digitally. Hence, if you are playing the dart game for fun or for social sake, there's always an electronic dartboard that fits your budget and needs.
Basically, while trying to purchase an electronic dartboard, you might have a little challenge determining which is best in the market, we'll that's why this article is available, we have listed out 10 best dartboards just for you.
Best Electronic Dart Boards to Buy in 2023
10. Arachnid Cricket Pro Tournament Dartboard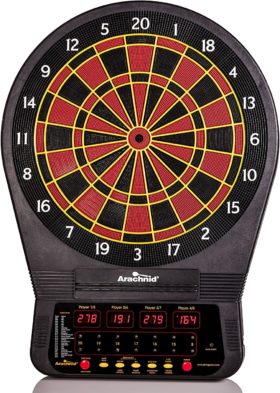 Electronic dartboard comes in different shapes and sizes and every one of them has their unique features. The Arachnid cricket pro isn't left out, it is of high-quality and very amazing when you want to practice with it. It can withstand heavy throws yet it won't get damaged. It is a board that accommodates multi-players and can be used to play tournaments as it is able to display at most, the scores of four players. It is one of the best electronic dartboards that comes with 24 various games with about 132 variations. The Arachnid pro is actually a little bit on the high side, but with the many games it comes with, it is worth every penny spent on it.
Features
The Arachnid cricket pro tournament is a regulation size of about 15.5 inch
Its a dartboard of 24 games and 132 variations
It can accommodate about 8 players and has two various sets of tricolor cricket led that makes the board colorful.
It comes with a segment that is nylon tough which helps to improve the player's ability and durability of the board.
9. Win.max electronic dartboard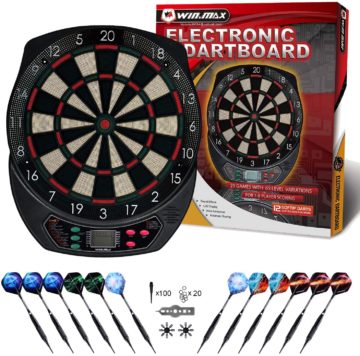 The Win.Max electronic dartboard is pocket friendly and has similar features with the Arachnid cricket pro. Although it comes with a limited number of games and can only be played by four people. With its 21 different games, you get to pick any game of your choice using the LCD. The LCD also displays scores with ease ao you can comfortably check who is winning or losing. It comes with easy to use buttons that can be used in switching to automatic scoring or it's voice announcer feature that makes the game more exciting.
Features
It comes with a bright LCD display that helps in keeping the scores as you play.
It's automatic scoring or voice announcer makes the game more interesting.
Its barrel is well crafted and with an easy to grip texture.
It comes with 21 games and 65 variations for you to enjoy. 
8. Franklin Sports F6000 Electronic Dartboard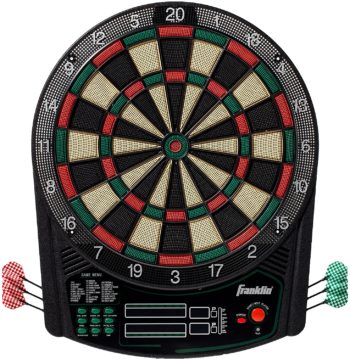 The Franklin Sports F6000 is the next best electronic dartboard on the list. Although it is budget-friendly, it comes with lots of exciting games for you to enjoy. It is suitable for adults and kids with it's soft to darts that makes it safer for children to play with. With the Franklin sports, you have no issue mounting your board because it comes with all the necessary accessories you will be needing to mount it. It also comes with in-built storage where all your darts can be put away safely while not in use.
Features
It comes with a total of 28 games and about 100 variations that make it suitable for either playing for fun or playing the game in a competition.
It comes with a LED display feature that enables you to keep track of your score.
It comes with 6 darts to play with and an extra 6 for replacement.
It is easy to use as you only need to plug it in and start playing. 
7. Viper Neptune Electronic Dartboard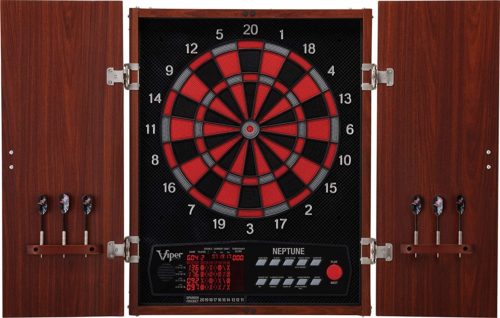 This list won't be complete without the mention of the beautiful viper Neptune electronic dartboard. You can mount this in your living room and it will look like a lovely piece of art you just purchased. Asides from it being beautiful, it is durable and designed with a 15.5″ regulation-sized target face with a very bright LCD that displays your scores clearly. With this product, you can never go wrong as your darts do not bounce off easily and its target face helps in catching any missed darts and prevents it from destroying your wall.
Features
It comes with a total of 57 games and 307 variations and it can take about eight players, the bottom line is, you can never run out of options.
Its spider is ultra-thin which ensures that bounce outs are reduced.
It comes with a bright LCD that ensures your scores statistics are crystal clear
It comes with an in-built cabinet where you can safely store your darts.
It comes with a one year warranty. 
6. Bullshooter Cricket Maxx 1.0 Electronic Dartboard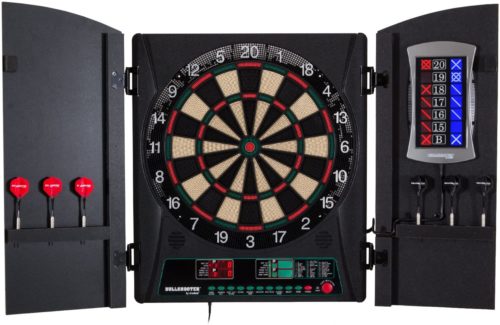 The Bullshooter cricket Maxx 1.0 is also one of the best electronic cardboard for your dart games, it comes with a cabinet which makes closing it and keeping the darts safe while not in use possible. The cabinet doors come in a stylish format and ensure missed throws doesn't hit your wall. You can play with about eight players and also play solo, in case you want to practice on your own.
Features
It comes with buttons that make it easy to use.
It comes with a total of 34 games and 183 variations, which means you have lots of options to choose from.
It also comes with an LCD that displays the scoreboard clearly. 
5. Fat Cat Electronx Electronic Dartboard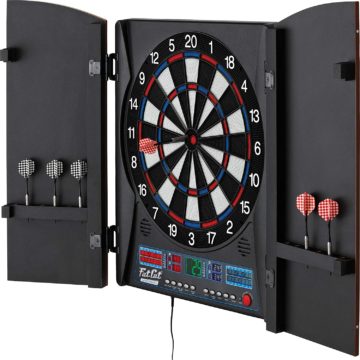 The Fat Cat electronic dartboard has lovely designs and features which makes it one of the best dartboards in the market. Although it is electronic, it has that traditional dartboard look which makes it unique. It comes with a dual LCD screen that gives you a nice feeling while playing your game and its buttons make the dartboard easy to use as you can manually adjust the scores and also switch games to any game of your choice. If you're a beginner, the Fat Cat is good for you because it comes with different skill levels so you can choose the level that makes you comfortable.
Features
It is very durable and can last for years without getting damaged.
It comes with an option of 38 games and about 167 scoring options.
It accommodates up to 8 players and it has about five skill levels.
It comes with a control panel that is easy to read
It comes with a game manual, six darts, and another six extra darts. 
4. Viper ION Electronic Dartboard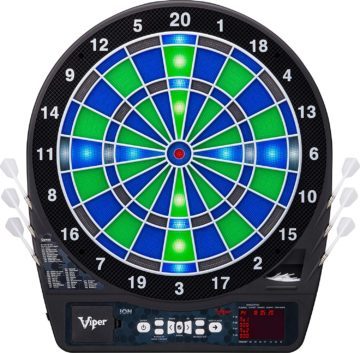 Here's another Viper electronic dartboard, this time it comes in another dimension. The Viper ion comes with LED lights that are extra bright and shine all through each segment to make your gameplay more interesting. The viper ion is very durable and can withstand even the roughest throw. Have fun with your family at night while playing your dart game as it accommodates up to eight players thereby living nobody behind.
Features
Comes with about 48 game options and 315 variations.
Comes with six starter darts, and extra six darts for replacements
Its target face is made out of tough nylon which makes it durable.
It comes with a game manual that gives you the opportunity to explore other gaming options. 
3. Arachnid Cricket Pro 900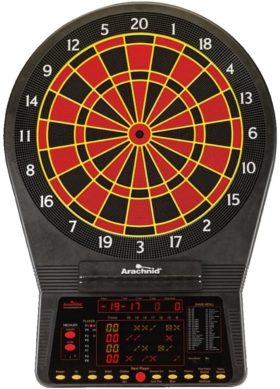 Everyone has a reason for buying a dartboard, it could be for personal use or for business. Whichever reason you have for purchasing a dartboard, Arachnid Cricket pro 900 is your go-to dartboard anytime. No matter how rough you get to use it, it is durable enough to withstand it and it will definitely last for years. This dartboard comes with a voice that applauds you when you throw the right shot and also announces your score, hence, you only need to play and allow the voice to announce who is winning.
Features
It is a regulation-sized 15.5″ target face board
It includes 48 games
Comes with a prompt voice that announces scores and the next player
It is durable and comes with a tough nylon segment. 
2. Gran Board 2 Bluetooth Electronic Dartboard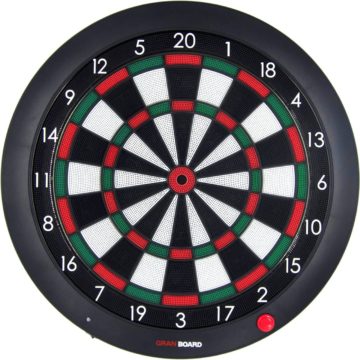 The Gran Board is one with unique features as it is not only an electronic board but also has Bluetooth features. Its special feature makes it unique and classy. With the blue tooth feature, you can download the app on your phone and use the Bluetooth feature to connect your phone to the board while you play, that way your scores will be stored on the app.
Features
You can use either android or IOS with the app.
It's Bluetooth feature makes it unique.
Your scores are saved on a large database
1. Arachnid Cricket Pro 800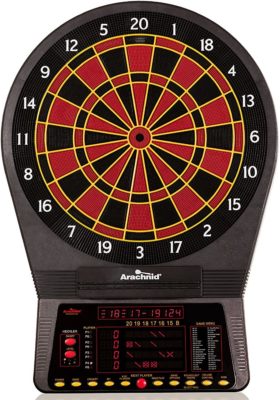 The Arachnid cricket pro 800 is suitable for both beginners and experts in the game. Here is another Arachnid product that comes with a feature that allows you to monitor your throws so you can know if you're getting better at shooting your shots or not. It also has a three-level heckler feature that keeps you motivated by applauding excellent throws and when not in use, it automatically goes into sleep mode.
Features
It comes with a three-level heckler that keeps you motivated when playing.
Its segments are made from tough nylon which makes it durable.
It has a total of 39 games and 179 variations.
It could be played among eight people
It comes with a bright LCD that displays four scores at the same time.
Making a decision to purchase a dartboard might not be an easy one since there are lots of options available in the market. However, above is a compilation of the best dartboards in the market and they come with various prices. Hence, you can make a selection of that which suits your budget and enjoy your dartboard game with your family and friends from the comfort of your home.