Playing with darts is a favorite indoor game for many. There are various types of dartboards available in the market like magnetic ones, plywood ones and much more. But the most effective one is the electronic dart board. If you are playing with your friends, keeping the score is a headache. With electronic dart boards, the score is recorded automatically and displayed on the LCD screen. The following is the list of the top 10 best electronic dart boards in 2020 that you should consider buying.
List of Top Best Electronic Dart Boards Review
10. Hathaway Magnum Electronic Soft Tip Dartboard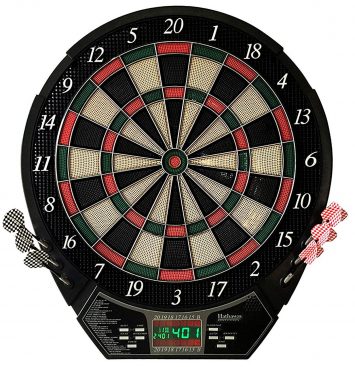 This is a lightweight electronic dartboard which is also very portable. This has concave segment holes which will give less bounce-out. This is perfect for your home to practice your skills. You can run it either with 4 AA batteries or with electricity. This will reflect the scoring in the LED display and everything is done electronically. With a capacity of 20 games, the dartboard can be used by eight players and has 90 different options. The push button control displays accurate scores and you will be also getting two sets of tip darts.
9. WIN.MAX Electronic Soft Tip Dartboard Set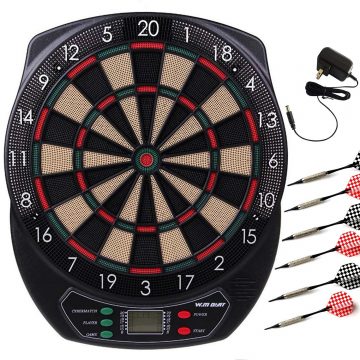 In this electronic dartboard, there are 21 exciting games with many variations. This has a bright LCD display and can accommodate up to 8 players. A single LCD display will reflect all your scores and allow you to play with any interruption. There will be fewer bounce outs with its ultra-thin spider. Your score will be displayed automatically and there will also be a voice announcement. With this, you will be getting six soft tip darts as well as a game manual for free. There is also a wide catch ring which will protect your wall from the missed darts.
8. Fat Cat Mercury Electronic Soft Tip Dartboard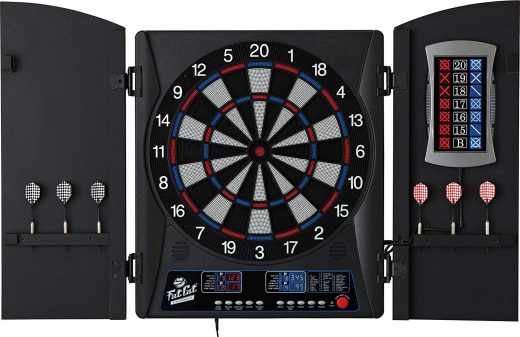 With an ability to accommodate eight players at a time, this dartboard has got different scoring options. This has 34 games and is perfect for your family. The ultra-thin spider will help in preventing bounce outs and there are also concave segment holes. There is a front LCD display with a large scoreboard inside the door. This has also got a sturdy ABS cabinet where you can store your darts. With this, you will be getting six darts, six spare tips, mounting hardware, and a power adapter.
7. Fat Cat Electronx Dartboard with Cabinet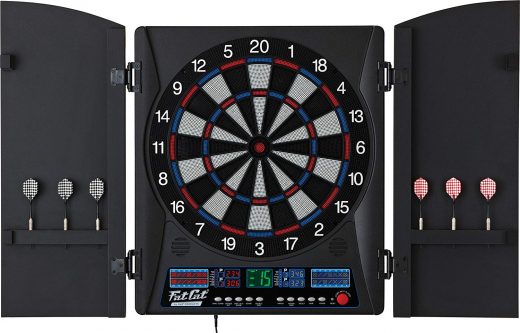 With this electronic dartboard, you will be able to play many games and get different scoring options. You can easily store this as it comes in an ABS cabinet which is very sturdy. Inside the cabinet, you will also be able to store the darts. Here you will be able to set your skill levels and is perfect for up to eight players. The control panel is very easy to read and there are also concave segment holes along with ultra-thin spider. The LCD panel is very large and will give electronic results.
6. Viper Neptune Electronic Soft Tip Dartboard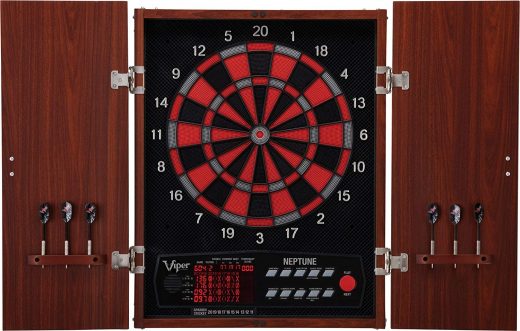 This is another amazing electronic dart board which has a target face of 15.5 inches. This has got strong nylon segments and will maximize your score with the ultra-thin spider. This comes in a cabinet design and you will be able to store darts on both the doors. This has 57 games along with 307 options and can accommodate up to 16 players. The LCD display is very bright and will eliminate the task of maintaining manual score. There are stylish color schemes and you will also be getting other accessories with this.
5. Arachnid Cricket Pro Standing Electronic Dartboard

This one comes in an arcade-style cabinet design and is perfect for up to eight people. The electronic dartboard has got extra storage space as the free-standing cabinet is 7 foot in length. It also looks very attractive in black color and has 24 games along with 132 options. In this, you can also play five cricket games and has an amazing LED display. The target area is 15.5 inches and it is also very easy to assemble. This is perfect for your family and is perfect to improve your skills.
4. Arachnid Cricket Pro Tournament Electronic Dartboard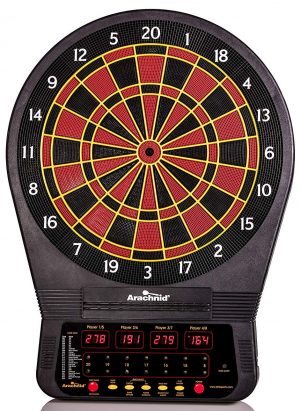 This is a high-quality electronic dartboard which has a target area of 15.5 inches and the age range is from 2 to 4 years. It has 24 games along with 132 variations and includes five cricket games. This is also very durable and the nylon tough segment makes it playable. It can accommodate eight players and the score will be displayed in the LED screen. This has micro-thin segment dividers which will reduce the chances of bounce-outs. This has highly responsive sensors and will give you unmatched accuracy.
3. Viper Electronic Soft Tip Dartboard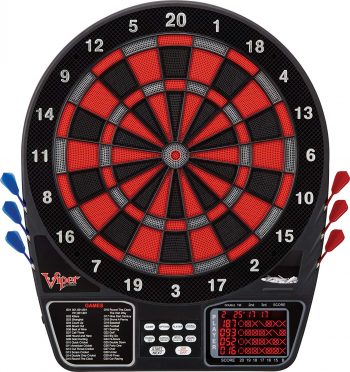 Viper is one of the most reputed brands in the dashboard industry and therefore, we have covered multiple products of it. This has the standard 15.5 inches size and the resin construction s of tournament quality. The surface is ultra-thin for reducing the bounce outs and there are 43 games possible with 240 options. The best part is that 16 players can play at a time with it in a competitive friendly match. The LCD screen is bright and keeps the count of the score for each team. It is quite stylish and there are 6 soft tip darts available in the package.
2. Arachnid Electronic Dartboard with NylonTough Segments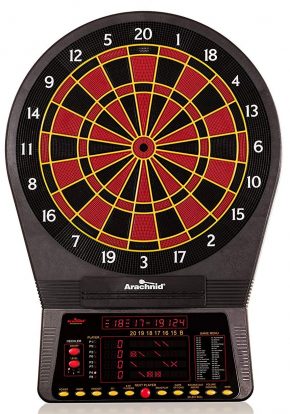 This is a tournament-quality electronic dart board and the size is 15.5 inches which are a standard one. There are 39 games possible with 179 variations and therefore, you will never get bored. The NylonTough segments enhance the durability and playability and the thin segment reduces the bounce out and at a time, 8 players can play. The LED screen displays the scores and the stats and the sensors are highly responsive.
1. Viper Thin Spider Electronic Soft Tip Dartboard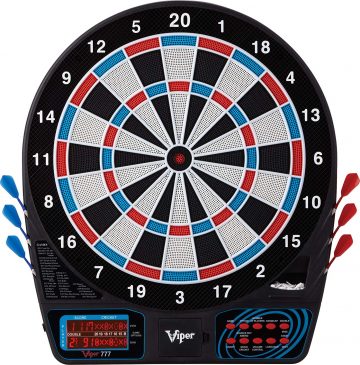 This electronic dartboard is of the size 15.5 inches and the quality of the resin is suitable for a professional tournament. The surface is highly durable and it is effective in eliminating the bounce outs. Besides, it offers a bilingual voice option for English and Spanish and there are 43 different games available with 320 options. You can play along with 7 different players. The catch ring offers protection for the wall. There is a bright LCD screen to show scoring and statistics.
Conclusion
If you want to play something competitive with your friends indoors, the dartboard is the best choice. It will increase your concentration and aim and with electronic dart boards, you can play as many as 8 to 16 players together in different teams. The bounce rate is low and the playing surface is standard in all the above-listed best electronic dart boards. Most of them come with darts so that you can start enjoying the game instantly.