Makeup has become an essential part of the modern era. With the immense popularity of makeup bloggers, every individual has started to feel the importance of makeup in daily life. And eye makeup has occupied a special place as it provides us with a fresh and lovely look. So, which eyeshadow palette one must have? The choice and taste in colors vary from person to person but in the market today, the makeup companies have created eyeshadow palettes for satisfying every sort of individual.
One must check on the texture, the longevity feature, smooth application, and many other factors before reaching the final decision. So to make your 2023 full of colors, we have listed down the top 10 eyeshadow palettes of 2023:
List of Top Best Eyeshadow Palettes Reviews
10. BYS Berries Eyeshadow Palette Tin with Mirror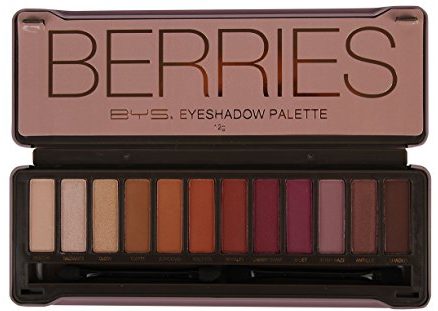 Pop your beautiful eyes by adding some color to it, the BYS Berries Eyeshadow Palette is going to make you party ready. The twelve highly-pigmented matte, as well as metallic shades, can be mixed and matched to create the desired look. Being skin friendly, the eyeshadows have an all-day coverage and do not fade away in easily. Further, these are easy to apply.
Pros:
Extremely safe as it is skin friendly.
All-day coverage, hence, the eyeshadows do not fade away in a few seconds.
Easy application.
The palette has twelve metallic and matte colors.
Highly-pigmented eyeshadows.
Cons:
You might experience a lot of fall-outs.
Sometimes patchy and the color may not remain the same all day long.
9. Maybelline The 24K Nudes Eyeshadow Palette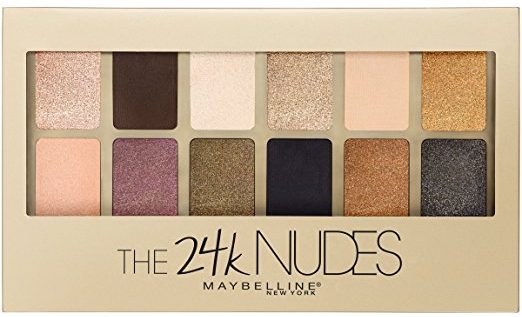 Maybelline has always been a popular name in the makeup industry. This 24K Nudes eyeshadow palette is an extension of the Nudes series and mainly features the shimmering gold undertones. The twelve shades palette comes with a dual-ended applicator. You can obtain as many as thirteen looks by using this palette.
Pros:
Perfect for creating undisputed golden smokey eyes.
One can accomplish thirteen eyeshadow looks by utilizing the duo, quad and also the trio color combinations.
Has a dual-ended applicator for applying eyeshadows.
Lasts up to 12-hours.
Cons:
The pigmentation is not that good.
May have to reapply it several times to keep the look intact.
8. SHANY Eyeshadow Palette, Boutique, 40 Color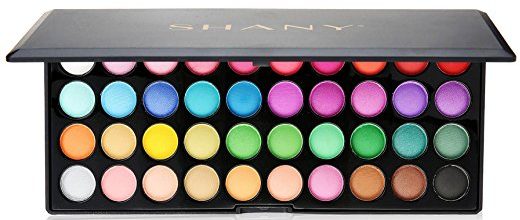 This Shany palette features the bold colors that one likes to play with. Have forty different vibrant colors, it is appropriate to bring out your dramatic side. These eyeshadows are highly-pigmented and also smudge proof. Further, it has a smooth finish and trusted by popular professionals.
Pros:
Have forty highly-pigmented colors.
Trusted for being smudge resistant and having a smooth finish.
These are verified and proud member of PETA. Thus, these eyeshadows are cruelty-free.
Used by professionals for obtaining bold and dramatic looks.
Cons:
All eyeshadows are shimmer and have no matte color.
Not perfect for daily use.
7. Maybelline New York The Blushed Nudes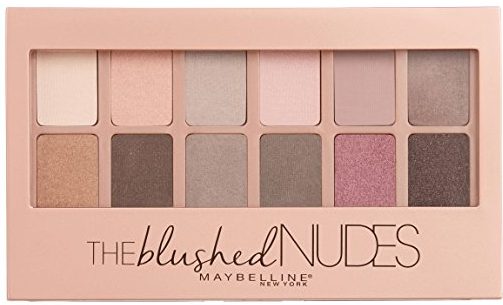 Another palette from Maybelline, this eyeshadow palette focuses on blushed nudes that will be your go-to colors. It has twelve colors that are on the soft sides. These blushed hues provide radiance and give a natural look. Moreover, it comes with a dual-ended applicator for better results.
Pros:
Have twelve blushed nude colors for creating daily natural looks.
It has a dual-ended applicator that allows you to execute your looks.
Appropriate for beginners as it comes with a guide.
Cons:
Pigmentation is minimal.
Does not last long enough.
6. Maybelline The Nudes Eyeshadow Palette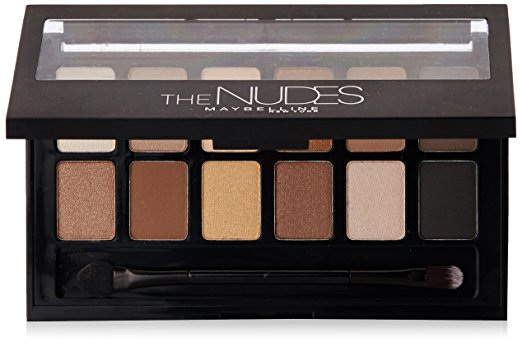 Maybelline has been pretty successful with its nude series and this palette is a specimen of its wonderful creation. For every party and night looks, the twelve pan palette helps you to fulfill your makeup desires and you can execute thirteen or more great eye looks. It can be worn separately or you can combine it for obtaining different results.
Pros:
It has twelve rich colors for creating Smokey and bold looks for every woman.
Thirteen eyeshadow looks can be executed by referring to the quad, duo or trio color combinations.
It includes an applicator that has dual ends.
Cons:
Does not last all day long.
5. Lamora Au Naturel Best Pro Eyeshadow Palette Makeup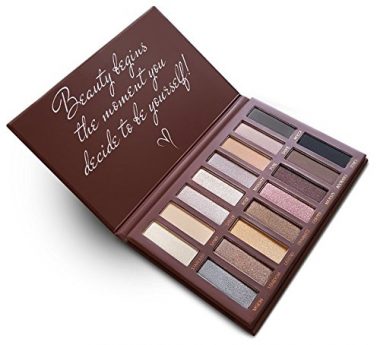 The earthy hues of this palette will impress everyone. It has sixteen pigmented and long-lasting colors that are ultra-micronized. Suitable for every occasion, it has a combination of satin, matte, metallic as well as shimmering colors which allows you to create both natural and dramatic looks. Moreover, these are extremely easy to apply.
Pros:
Ultra-micronized and use a highly-pigmented formula to create the palette of sixteen eyeshadows.
It has a combination of metallic, satin, shimmering and matte eyeshadows.
From natural to lustrous bold looks, the palette is made for any and every occasion.
Blends beautifully and lasts long.
Easy application.
Cons:
The eyeshadows fall-out and get crumbled.
Does not include an applicator.
4. Coastal Scents Revealed Eye Shadow Palette (PL-036)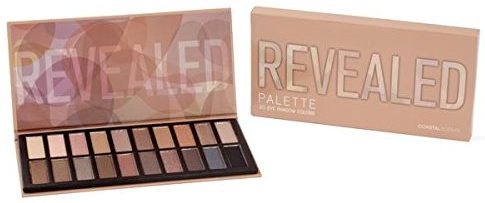 The combination of twenty gorgeous metallic and nude colors is going to make you a glamorous diva. On-the-go application, you can expect minimum fallout as Coastal Scents uses a trustworthy formula. Plus, the texture is super smooth and the high-pigmentation is what every woman looks for in palette.
Pros:
It includes twenty amazing metallic and nude shades for creating varied looks.
Assures minimal fallout and hence, it is durable enough.
You can obtain a perfect finish with its smooth texture.
Highly-pigmented and hence, your work will be done in a few masterstrokes.
Cons:
3. L.A. Girl Beauty Brick Eyeshadow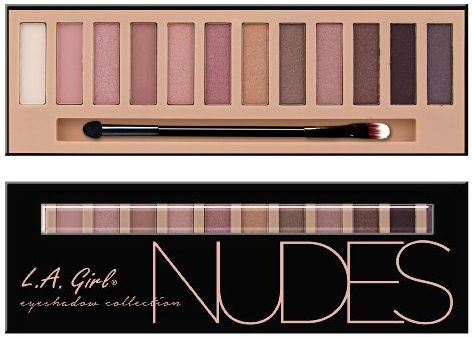 L.A. Girls has already won the hearts of its users with its wonderful products and the Beauty Brick Eyeshadow Palette is no exception. Be it the dimensional shimmers or the finest and smoothest mattes, the major pigments of these eyeshadows will make any woman go 'wow'. For both daily life and party times, this palette proves to be one's ultimate savior. And the magnetic case also has a mirror as well as a double-ended brush.
Pros:
The palette has twelve nudes, dimensional shimmers, and smooth mattes.
Appropriate for both daytime and night-time looks.
Major pigmentations and thus will stay for the longest hours.
Have a double-ended brush and also a mirror.
Cons:
You might notice crease after a few hours.
2. SHANY Makeup Artists Must Have Pro
Shany has been very generous while creating this outstanding palette. Get ninety-six medium sized runway shades for bringing out your inner makeup artist. Be it hot neons or gorgeous mattes, Shany has included bold as well as most used colors for making this the dream palette of every lady. Known for being extremely pigmented, the colors won't fade away easily as they are smudge proof.
Pros:
A huge number of shades available. One can obtain ninety-six colors on buying this palette.
Have bold colors and also colors that one prefers for daily use. Hence, perfect for parties, runways and also daily use.
Highly pigmented and absolutely smudge resistant.
Cruelty-free as Shany is a member of PETA.
Inbuilt mirror and has an applicator.
Cons:
The bold colors are not for everyday use and most people do not prefer such vibrant hues.
1.Best Pro Eyeshadow Palette Makeup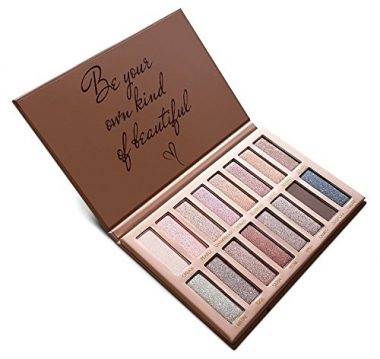 For all the vegan people out there, this eyeshadow palette is exclusively made for you. The sixteen natural shades are totally vegan and the palette has the satin, shimmering, metallic and matte hues. The pigmented eyeshadows are waterproof and also has long staying capability. Plus, it blends beautifully. Make good use of it during daytime or night-time, the results will be exquisite.
Pros:
The palette has sixteen vegan nudes.
Premium quality as the eyeshadows is ultra-micronized.
Waterproof, pigmented and stays intact for the longest hours.
Blends perfectly.
Cons:
The eyeshadows might start to fall apart.
It's time to bring out the inner diva and flaunt your beauty. Get any of these eyeshadow palettes for your personal or professional use and let the eyes do all the talking.