If you are planning to visit a beach or water body in your holidays, you should get a floating water mat. There is no point in staying on the banks or the beach when you can float on the water and enjoy the water. Depending on the number of people going with you, you can buy a floating water mat of appropriate ate size. Most of them can be connected with similar mats so that you can accommodate multiple family members together. Check out the top 10 best floating water mats in 2023 below.
List of Top Best Floating Water Mats Review
10. Floatation iQ Personal Floating Oasis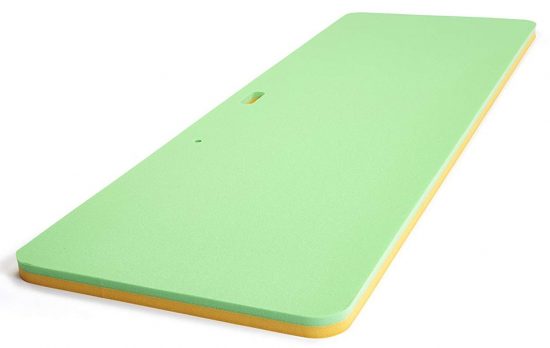 This floating water mat is extremely sturdy, and you can enjoy it with your friends with full stability. The mat measures 75 x 25 inches, and there are safety sheets available along with grommet. The material is tear-resistant, and there is no chance of puncture. It comes with multi-layered polyethylene foam. The product is safe, and it is non-toxic. You can also easily clean it with soap and water instantly.
9. FloatDaddy Foam Lake Swim Mat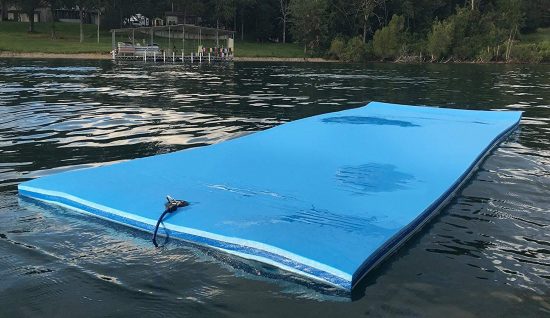 This floating water mat has three layers of high-density foam, and it is heat-laminated and highly durable. The color of the mat does not fade as it has UV ray resistant. There are reinforced polyethylene layers, and it adds to the stability and durability. The D-rings available for mounting are also rust-resistant. There is also a bungee cord available with carabiner clip.
8. Aquaglide Floating Water Mat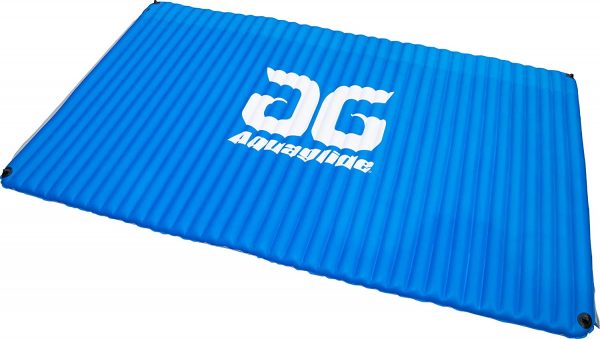 This is a versatile floating water mat, and it is inflatable. This means you can deflate it and store it as well as transport it easily. The inflating and deflating are also easy, and the lounge is extremely stable. As a matter of fact, you can walk on it with stability. Moreover, you can connect it to another lounge of the same product and hang out with family members altogether. The material of the mat is heavy-duty PVC.
7. WOW Water Walkway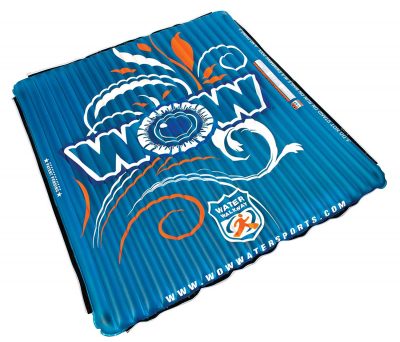 This is one of the best floating water mats available, and it is because of its innovative zipper system. You can connect as many mats as you want and there are grommets available both sides along with 6 feet rope. You can walk across it comfortably as it is not bouncy and it has heavy-duty PVC construction. It is suitable for 3 adults, and you can deflate it and fit in the car trunk. The design is also quite eye-catching.
6. Rosso Water Floating Fortress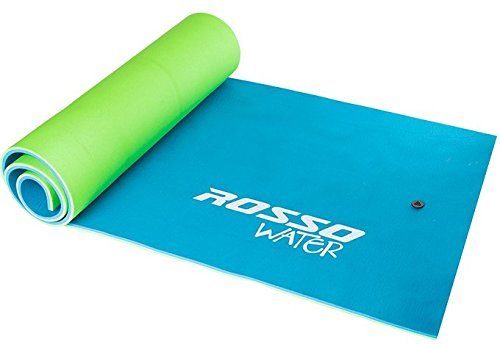 This is an 18-feet floating water mat, and it has high-grade closed-cell foam. You can use it on all water bodies like rivers, oceans, and pools. It can support up to 1200 pounds and therefore, it is suitable for 6-8 adults. The product is extremely strong and highly durable. It does not fade in the sun, and it is also tear-resistant. You can roll the mat and carry it with you easily. The product comes with Velcro storage straps, and there is also a bungee tether.
5. WOW Floating Water Walkway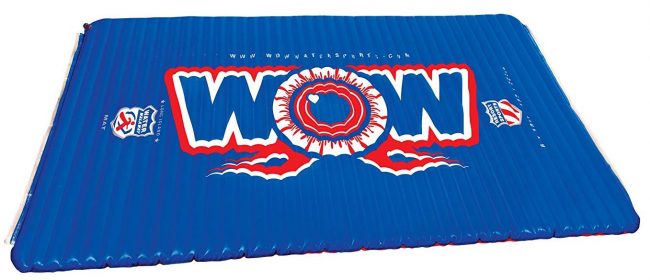 This product features under Amazon's Choice for the floating mat category. The size of the mat is 10 x 6 feet, and it is suitable for 6 people at maximum. There are various colors available. It also comes with a zipper system for connecting mats of different sizes. You can also walk across the mat with full stability, and there are grommets available on both sides. The material is heavy-duty PVC available, and there are vertical beams available for support to stand on.
4. Goplus Floating Water Pad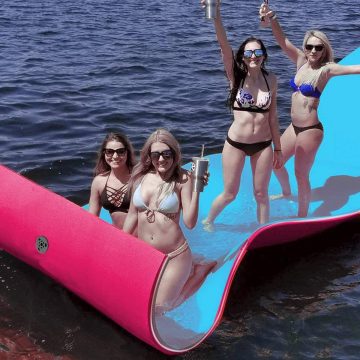 This is a relatively new product, and it is receiving great reviews. The product size is 18 x 6 feet which is a standard size. You can also opt for small sizes depending on your requirements. It is eco-friendly, and it is also odorless and non-bouncy. Moreover, it does not decompose and does not allow bacterial growth. You can roll it up easily for convenient storage and transport. It is made up of heavy-duty polyethylene foam and therefore, the buoyancy is optimal. Besides, it does not absorb water, and there is no question of cracking.
3. Rubber Dockie Floating Mat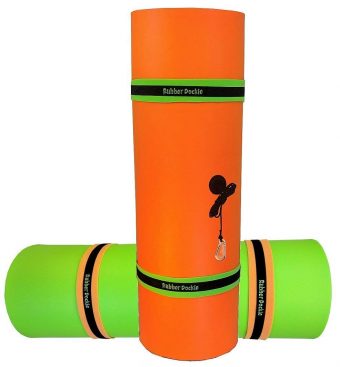 It is the best floating water mat, and it is highly durable. The mat provides the best safety feature, and the size of the mat is 18 x 6 feet. The mat has bright color for better visibility from a distance if you are in a crowded place. The product is also tear-proof, and the material is of high-quality. There is also a 12-foot elastic Bungee tether available to anchor the mat to the dock. Moreover, there are hook storage straps available with metal buckles. The company also provides one year warranty. It is also scratch and slip resistant.
2. Intex Giant Inflatable Floating Mat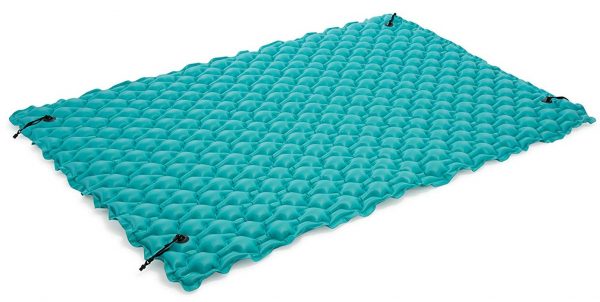 It is a very large mat, and the size is 114 x 84 inches. The design is tailor-made for ultimate comfort, and the stability is extremely good. The surface lets you keep enough water to keep the surface cool. There are connectors available so that you can connect multiple water mats from Intex and make it perfect for a large family. Besides, it also folds quite small for easy storage.
1. Flotation IQ Floating Oasis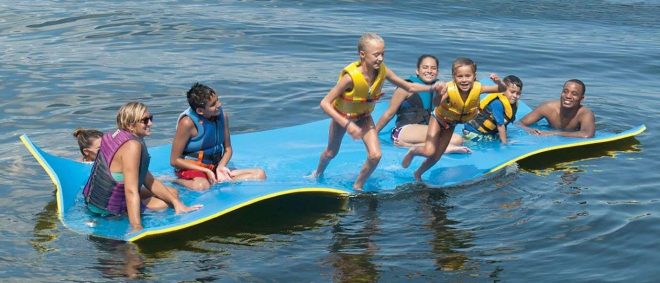 This is an extremely thick mat with a size of 15×6 feet. It has a dual-layer, and it is made up of heavy-duty polyolefin foam. The product is tear-resistant, and it is very strong. Therefore, it is highly stable, and there is a dual metal D-ring tethering system available on both sides. Moreover, there is a 10-foot bungee anchor rope provided. The mat can support as much as 1500 pounds, and it distributes the weight evenly for stability. There are also two nylon straps available for easy storing and transporting.
Conclusion
Carrying a floating water mat is very convenient as you can roll them up like a yoga mat and put it in the car trunk. You can just relax on the mat, walk across with stability, have your food and spend fun time with your family. You can also anchor the mats with boats or something stable on the banks for safety. Moreover, they are extremely comfortable to sit on or lie down. The materials are tear-resistant, and surfaces are non-slip.