Floor chairs have gained immense popularity lately for the benefits that they offer. While in some cultures, the customs called for people to sit on the floor, the trend is becoming more popular eventually. The practice of sitting on the floor chairs is said to have improved the flexibility and mobility of an individual.
There are specific types of postures when sitting on the floor that is known as active sitting positions. Postures like kneeling and squatting are known to have a positive effect on the muscles and therefore help in maintaining muscle health. With so many health benefits and comfort that your knees get when you sit on the floor chairs, the increasing popularity is no wonder.
Let us now guide you through the Best Floor Chairs with Back Support and which one you should go for.
Best Floor Chairs with Back Support in 2023
10. Nnewvante Foldable Mediation Floor Recliners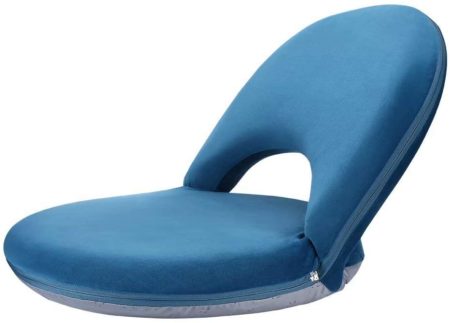 This floor recliner comes with adjustable back support and is suitable for both adults and kids. Moreover, these reclines are multipurpose and can be used both indoors and outdoors. Easy to carry, you can take these floor recliners outdoors also to make sitting more comfortable.
The chair is made of amazingly comfortable fabric and material with a waterproof base and steel frame covered in blue crystal velvet cover. The 180-degree foldable option of this recliner makes it easy to store in the trunks. Further, the seat cover is removable for effective and easy cleaning.
Pros
Foldable at 180 degree
Easy to carry outdoor or store in a trunk
The velvet cover is detachable and washable
Five adjustable angles for the back support
Cons
Available in just one color
9. Waytrim Meditation Floor Sofa Chair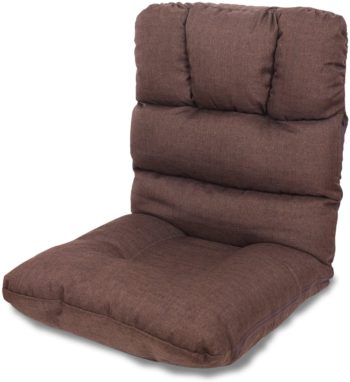 Get a chair that suits everyone's needs when it comes to proper back support with a Waytrim floor chair. Since the chair is foldable, it becomes easy to carry and store it anywhere and use it when required. Apart from the support being adjustable in five ways, the chair is covered with comfortable and breathable cotton and linen fabric. The soft recycled cotton padding provides a cushioned and comfortable seating experience.
Above all, the sofa cover is zippered and, therefore, could be removed easily for washing. Use this chair as an additional sitting option when there are guests, video games, meditation, reading, or simply having a cup of coffee while sitting on it in your balcony.
Pros
Comfortable cotton and linen fabric is comfortable
Easy to clean, the cover can be washed separately
The lightweight and foldable chair can be carried and stored
Back support can be adjusted in five angles
Cons
The high-end cover might require more maintenance
8. Stansport Backrest Polyester Fabric Floor Chair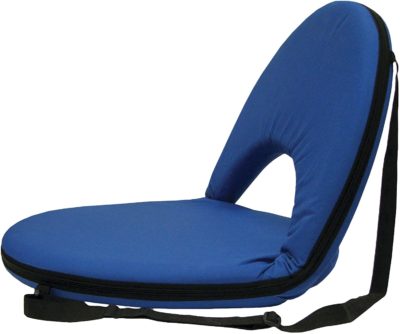 This foldable floor chair can be taken anywhere, like camping and other outdoor locations for comfortable seating. The padded seat and backrest are accessible and can be adjusted in 5 different postures. You can change the postures depending on the activity like reading, playing games and so on.
Above that, the handy strap attached to the chair can be used to carry the folded chair on the shoulders while walking. The polyester fabric makes the chair easy to clean and also extends the durability to several years compared to the other fabrics.
Pros
Steel frame backrest for comfortable resting
Padded backrest with five different adjustable angles for good posture
The polyester fabric covering is easy to clean
The chair can be carried on the shoulder with the help of a strap
The chair can be entirely folded for storage or travel purpose
Cons
The strap of the chair should be more strong
7. Malu Fully Adjustable Leather Accents Floor Chair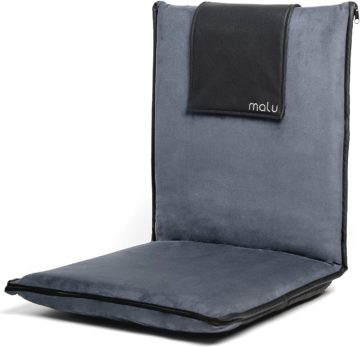 With six different backrest adjusting positions and 180-degree motion, this chair from Malu is one of the bests out there. Carry the chair comfortably with the help of a strap wherever you go for ease and sitting. Luxury vegan leather finish and extra comfort foam promote comfortable sitting and keep the posture right both indoor and outdoor.
With the pack, you also get the custom meditation e-book helpful in making you learn the useful tips for a more productive session. Further to ensure the best service and satisfaction, the manufacturers provide express moneyback guarantees and warranty subjected to specific terms and conditions.
Pros
Back support is sturdy preventing slouching
The chair comes with a strap for easy carrying
A fully foldable option increases usability even outdoors
The grey cover of the chair can be removed entirely and washed separately for the best results
Cons
Nylon bottom might not be the first choice of some
6. BackJack Support Floor Chair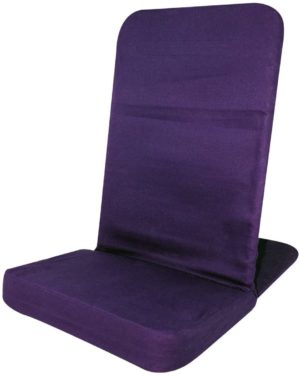 The unique design of this floor chair from BackJack takes away the uncomfortable seating option, both indoor and outdoor. The back support and lumbar support features of the floor chair ensure that you do not have to slouch or suffer from back pain ever again, even in the outdoors. The cotton seat, on the other hand, is soft, giving the utmost comfort while sitting.
Further, the unique design of the chair lets you switch from reclining to sitting by just switching from a vertical position to a horizontal one. This ergonomic and all-purpose chair is compact and foldable, making it an apt choice for anywhere.
Pros
Gives proper back and lumbar support indoor and outdoor
Cotton seating is skin-friendly and can be washed separately
The back support of the chair can be adjusted in two angles
Inner steel frame keeps the back-support sturdy irrespective of the weight
Cons
Back support can be adjusted in just two angles
5. Best Choice 14 Adjustable Positions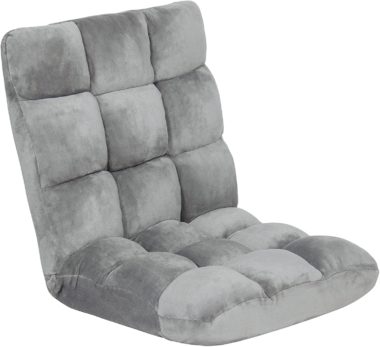 The chair not only looks comfortable but is also an extraordinarily cozy and relaxing cut out of chopped memory foam blend, the top-notch fabric for utmost luxury. Moreover, with 14 different position adjustment options, you can use this chair for any activity from meditation to reading and even playing games.
Apart from being amazingly comfortable, the chair can also be put anywhere like a living room, drawing room, or even balcony for cozy sitting. The chair is simple to fold and can be cleaned easily with a vacuum cleaner.
Pros
Chopped memory foam provides comfortable seating
Back support can be angled in 14 different positions
All-purpose chair for various activities both outdoor and indoor
Foldable and can be used as a seating option in both indoors and outdoors set up
Cons
Available in just one color
4. Sundale Outdoor Floor Chair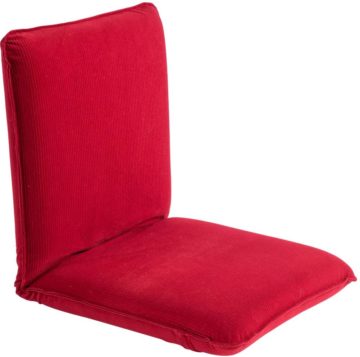 Addressing your outdoor leisure sitting requirements, Sundale Outdoor has come up with this amazingly comfortable chair with adjustable back support. You can adjust the back support of this chair in five comfortable angles from fully reclined to an upright position. Moreover, the interior metal locking mechanism is very sturdy, making it easier for the chair to hold the position.
Apart from being comfortable to sit, the durable soft brushed polyester cover can be removed entirely to clean. The chair is fully foldable, making it easier to carry even when traveling and sit comfortably anywhere.
Pros
The Interior metal locking mechanism is sturdy
Brushed polyester is zippered and removable for comfortable washing
The backrest can be adjusted in five different positions suitable for everyone
The chair is easy to carry and storage from the fully reclined position to flat
Cons
Excessive usage might slightly change the shape of the recliner for some time
3. bonVivo Semi-Foldable Universal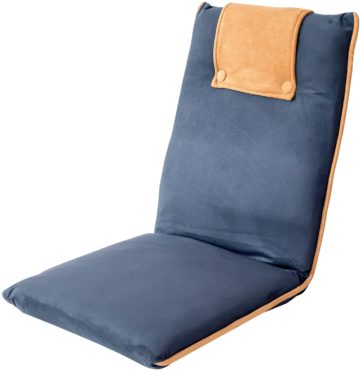 The Easy II floor chair by bonVIVO is a comfortable option for both indoor and outdoor seating and can be adjusted up to an angle of 180 degrees. Since the backrest is adjustable, it helps in resolving the lousy posture issues. Moreover, the padding mix, along with PE and PU foam, guarantees maximum lying and sitting comfort.
The chair is available in three different colors, and the fabric used can be easily cleaned with a damp sponge. The small footprint also ensures that the chair can be adjusted even if there is a small place to sit.
Pros
Combination of upholstery filling, PE foam and PU foam for maximum comfort
The fabric of the chair is easy to clean with just a damp sponge
Back support can be adjusted in five different angles making sitting comfortably
This lounge chair is available in three different shades to select from and comes with a small footprint
Cons
Chair might need a slightly bigger space to be stored
2. Giantex High-Quality Iron Wire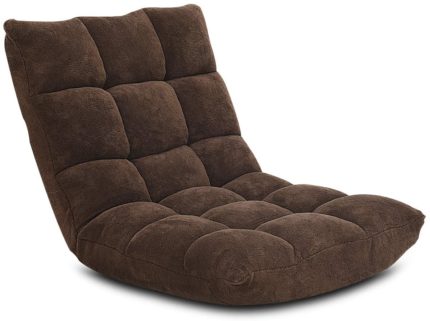 Adjustable backrest and breathable flannel, padded material that goes into making the cushioned sitting for the very comfy sleeper bed. Further, the ergonomic design of the chair helps in correcting the posture and relieving back pain and neck pressure. With 18 lattice surfaces and a simple one-color design, this chair complements any indoor décor.
Further, the high-quality iron wire connecting procedure ensures a sturdier and more durable chair. You do not require any assembling for this chair, and since the chair is foldable, it can be carried easily anywhere.
Pros
High-quality surface with thick padded material
The backrest is adjustable in different angles
The high-quality iron wire connecting procedure for more durability
Elegant design and easy to carry chair can be used in both indoor and outdoor seating
Cons
Some might need extra cushioning
1. Birdrock Home Fully Assembled Easy Storage Floor Chair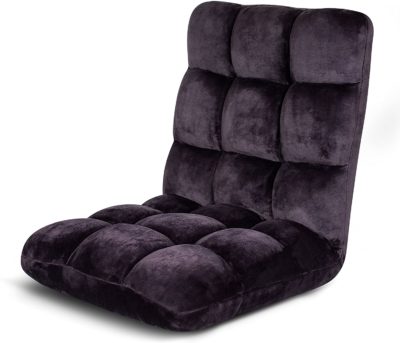 This adjustable chair from BirdRock is made from 14-position memory foam, making it a very comfortable seating option. The backrest can be angled in different ways, making it a perfect option for both adults and kids.
Moreover, the chair is foldable and, therefore, can be carried anywhere for sitting and even storing when not in use. This posture correcting and all-purpose sitting chair is the ultimate option for both adults and kids.
Pros
The backrest of the chair is adjustable in 14 different
This chair is foldable and can be carried comfortably
High quality chopped memory foam seating
Cons
The user does not have any color choice
What Factors To Consider Before Buying Best Floor Chairs With Back Support
Sitting Comfort
When it comes to the sitting options, floor chairs are no different from other furniture. Make sure that the seat is made of comfortable material and does not wear out in the short term. The material of which the chair is made should be seen in line with the frequency of the usage and the weight.
Back Support
While there are all types of fancy designs available when it comes to the chair but he ergonomic design should be the priority. Make sure that the backrest of the chair is adjustable from different angles, making it a multipurpose chair. Moreover, proper lumbar support is paramount to negate the chances of soar back or neck in the future.
Comfort of Cleaning
Depending on your preferences and the resources that you have, choose the floor chair that is easy to clean. Moreover, the cover of the chairs should be removable and washable separately. If not, then make sure that the cover is made of such fabric that is easy to clean with a sponge or damp cloth.
Easy to Carry and Store
Most of the floor chairs would be foldable and come with a strap attached, making them easy to carry and store in a trunk, bag or carry on the shoulder while walking outdoor. Go for such foldable chairs that are easy to carry even while traveling and can be stored easily when not in use.
Conclusion
Best Floor Chairs With Back Support ensures that sitting in the correct posture is never again a challenge for you. These chairs are comfortable for all sorts of activities, from reading to playing games and so on. There are different types of chairs with various features, price ranges, and so on. You should buy the one which fits your needs and is also within your budget. We hope that you find the one-floor chair from our detailed list that suits all your needs.