Looking for a foldable desk that is portable? The folding desk gets folded easily to the tabletop. It is very convenient to carry and comfortable to use. When going for an outing or a picnic, you just need to fold it and wrap it around. Foldable desks are made up of lightweight material. The material used for making is plastic, metal, or wood. A variety of desks are available which differ in configuration, size, and designs.
The Best Foldable Desk is available in different ranges and lets you adjust even in less space. Below is the detail of the top 10 best foldable desks that you can choose from. It is the best way out of your confusion. Have a look at each one of them and go through the pros and cons.
Best Foldable Desks in 2023 Reviews
10. Tangkula Folding No Assembly Foldable Desk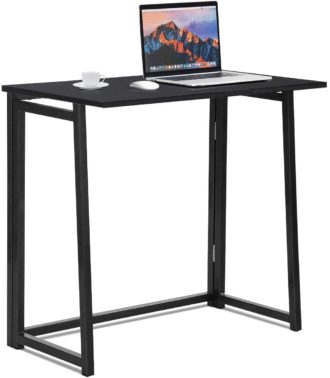 Tangkula desk is best suited for small space. Its foldable design allows you to utilize your space from the corners. The material used is MDF Board and metal, which provides you with long-term benefits.
You can use it for various purposes. Due to its metal frame construction, it can handle significant weight. The black color gives it a more exquisite look making it best for any décor. If you spill any liquid by chance, there's no need to worry. It has a wear-resistant surface and is waterproof.
Pros   
The thickness of 0.6 inch
The high-quality metal used for immense durability
Compact size
Waterproof
Installation is effortless
Cons
The legs of the desk don't get locked when opened
The material used makes it a bit heavy to carry
9. 4NM Folding Desk Workstation for Small Places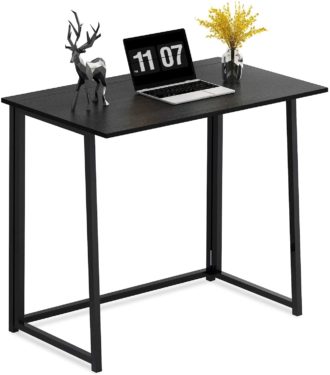 For small and compact places, 4NM offers you a foldable desk made of the sturdy metal frame. It can be easily folded or unfolded in a few seconds. Whether it's a workplace, bedroom, living room, office, etc. you can put it anywhere and make the best use of it.
Just adding to its features, the legs made of a 2.0 cm thickness iron pipe. Also, the particleboard of 1.5 cm E1 makes it environment-friendly. It covers minimal space. Antirust metal hinges are attached for smooth operation. It can handle a weight of up to 30 lbs. 4NM presents ideal furniture for your home or workplace.
Pros
Covers minimal space
After-sales service is extraordinary
Modern structure
High quality and environment-friendly material used
Cons
No color option available
8. NEED Home Office Foldable Desk 47 inches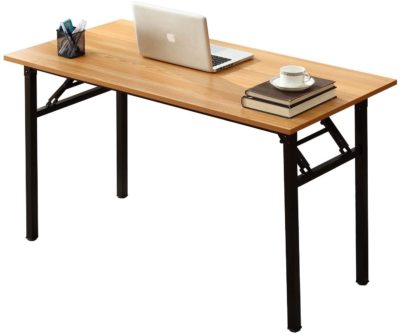 They provide you foldable desk with variations in sizes and also in a variety of colors. Waterproof and anti-scratch material makes it highly durable. It can be made stable even on uneven floors with its adjustable leg design.
Like all foldable desks, this desk is used for multipurpose tasks. NEED uses E1 standard particle wood with a high gloss finish, which is environment friendly—the frame material made of powder-coated metal, which enhances its stability and durability. A unique coating process is used to prevent the surface from scratches.
Pros
Easy to wipe and clean the panel material
Leg pads can be adjusted for 1-2 cm
To fold the desk up, it contains a double spring design
Footpad made of resin material to prevent slipping
Epoxy coating on the desk legs
Cons 
7. Mr. Ironstone Gaming Desk 45.3" W x 29" D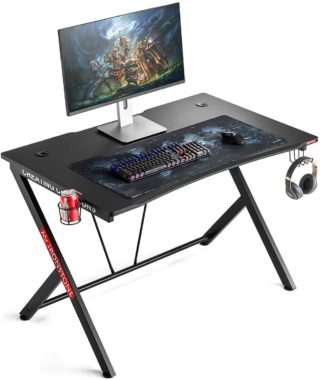 The ironstone gaming foldable desk specially designed for gaming purposes. It offers you massive space for your gaming monitors, keyboards and gears, etc. Just adding on to this, a cup holder is attached to the table. The headphone hook is at the side of the table to help you give a better gaming experience.
As clear from the name, the Ironstone desk is made of high-quality MDF PVC laminated top with sturdy metal legs making it long-lasting to use. No worry about wobbling on an uneven floor as the desk has adjustable leg pads. Cleaning is made accessible due to its laminated surface. Within the package, there is also a detailed instruction booklet to help you to install the desk.
Pros
Weight capacity- 110 lbs
Special "R" design legs
Elegant and modern look
2 cable management holes available
Thicker steel used in construction
Cons
No color option available
6. Office Star Resin Multipurpose Rectangle Table
Six feet rectangle table designed with carrying handle and lock. It is available in grey color. The rectangular table can be used both for indoor and outdoor purposes. You can carry it comfortably as if you carry a suitcase. Honeycomb design makes it different from other desks. It can hold the weight up to 300 pounds, which is hugely significant to use as a multipurpose table.
Office Star uses resin material, which is a molded plastic. This plastic is molded to end up with waterproof and scratch-free material. Unlike others, it is made of non-marring foot caps to keep your floor free from scratches.
Pros
Flat storage
Steel tube framing
Easily portable
Non-marring foot caps prevent scratches on the floor
Strong and durable
Cons
5. Lifetime 80251 Adjustable Folding Desk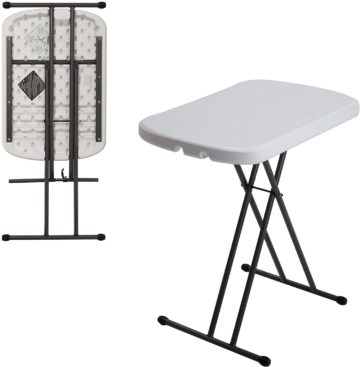 Lifetime products are famous worldwide. The adjustable 26-inch table has excellent features. Its look is very stylish. Two-color options are available for you- white and almond. It is rectangular. The material used is powder-coated steel, which is UV protected as well as stain-resistant.
Polyethylene of high density is used within to give you benefit for the long term. This desk gets adjusted to different heights. Foot caps allow you to carry the table anywhere without disturbing your peace of mind. The edges of the table are molded to prevent your walls from scratching.
Pros
Adjustable height of up to 24", 26" or 28."
Resistant and impact design
The surface of the desk is made of high-density polyethylene
Designed for stability
Cons
Can't handle the hefty weight
4. Iceberg 65491 IndestrucTable Folding Table
High-density polyethylene used to construct the table. It is a robust folding table. It has a great feature of adjustable height up to 22", 25" or 28". Lightweight, easy to transport, easy to store, dent, and scratch-resistant is some of its great features. The weight holding capacity is 200 pounds.
Sturdy and steel tube legs can be folded to recessed channels to optimize the full space. Legs are charcoal powder color. Iceberg used polyethylene to make tables dent and scratch resistant and also easy to clean. It has a rectangle shape of 30 x 20 dimensions.
Pros
Different color options available
Adjustable height
The material used is highly durable
Contemporary design
Lightweight
Cons
3. Origami Folding Computer Desk For Multipurpose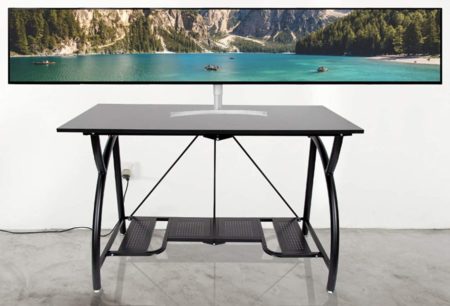 Origami presents you with a folding computer desk for your home or office. It is a space-saving design within which you can fit your dual monitors and laptop. A removable tabletop adds to its feature for lightweight moving. It folds into a flat surface. No requirement for tools to install and assemble the table.
This table is designed keeping in mind the daily usage. It acts as a perfect companion. Just to prevent corrosion, it is made of powder-coated steel. All items inside the box are sturdy, mobile, and well-assembled to do easy work for you to install the table. Steel frame and wood top make origami desk long-lasting and chip resistant.
Pros
Well furnished and elegant design
Multiple color options available
Can refold in less than 10 minutes
Contains integrated shelves
Handle weight up to 100 lbs
Cons   
Weight capacity is a bit small
2. Cosco 14678BLK1 Deluxe 6 foot x 30-inch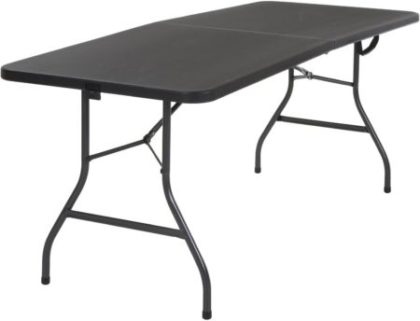 This table desk is comfortable to handle. Its secure lock feature keeps the table locked when transporting. Two sizes are available of this table that is- 6 feet and 8 feet. 25.5 pounds is the weight of this table. It is rectangular in shape and center foldable.
Cosco deluxe table is best for family gatherings, parties, and events. The HDPE material withstands all seasons, making it waterproof and long-lasting. Non-marring leg tips ensure that your floor remains scratch-free.
Pros
Size option available
Color option available
Different material option available to choose from
Easy to transport and fold
Gets easily wiped
Cons
The material used is plastic
Does not fit in a small space
1. Coavas Writing Foldable Computer Desk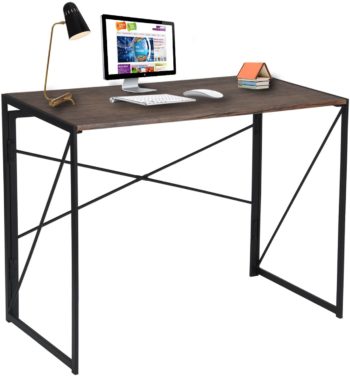 The shining feature of this foldable desk is you don't have to assemble it. The color option is grained brown. Metal is used as material to make it for long-term use. It can be the best gift choice to gift to your loved ones. The design is made simple, as well as stylish.
The desk size is L*W*H= 39.4*19.7*28.3 inches. It can bear a maximum weight of 200 lbs. The feature that enhances its quality is it can handle the high temperature of your hot drinks. It hardly takes few minutes to install it. You can use it as a computer desk, gaming desk, learning table, picnic table, etc.
Pros
Removable top for easy transporting
Easy installation
Impact design
The high-quality material used which is waterproof
Cons
The look is not up to the extent
Factors to Consider Before Buying the Foldable Desks
The following are some of the points that you should consider before buying the adjustable desks.
Size
Size is the most basic and vital factor to look around when buying a desk. You should confirm whether the space available at your home or office matches the size of the table. It also depends on your usage.
Shape
When buying a table, rectangular shapes are the most preferred ones. They fit easily in all the spaces. For the circular and square tables, it gets a bit tough to adjust. But for a social gathering where one interacts with the other, circular tables are best.
Material
The material used to make the table can be plastic, metal, wooden, etc. The material of the table decides the durability of the table. To enjoy long-term use, make sure you choose a suitable material that is stain resistant, scratch-free, and can handle high temperature and heavyweight.
Weight Load
When buying the foldable desk, check if it has the weight capacity required by you. It should be strong enough to handle heavyweights to give you a long-term benefit.
Safety
Look for the safety mechanism when choosing the table. Make sure it has a locking leg scheme. When the table is opened, it should lock itself otherwise during the task it would bump from the center and collapse your work.
Transportability
The foldable desk must be easy to fold and transport to any of the desired locations. It should not be heavy to lift when going for an outing. The design must not be complex to assemble. If the table has a carrying handle, it would be elementary for you to carry the desk.
Other Functions
You can also lookout for a modern and stylish desk that has side spaces to keep your belongings. Keep in mind the price range too. List the required features and find an affordable price for yourself.
Conclusion
The above article includes the top 10 best foldable desks with different features. All desks vary in size, color, weight capacity, etc. Various companies provide top models of folding desks. List down the features you require and choose accordingly. In case of any query, you can comment below.
I hope the desks mentioned above will help you to choose the best for you.