Your keys are one of the most important things you carry with you wherever you go. They are always present in your pockets along with your wallet and phone. Unlike the wallet and phone, your keys usually only come in handy when you want to use them: opening your mailbox, starting your vehicle, opening your doors, and similar stuff. While you could throw them into your pocket, the resultant jumble might be uncomfortable. And while hooking them to your belt loop is effective, it isn't secure and usually causes noise. The key organizer is an elegant solution to the problem of handling your keys. In this post, we will consider ten of the best key organizers of 2023.
List of the Best Key Organizers Review
10. KeyBar Everyday Carry Compact Key Holder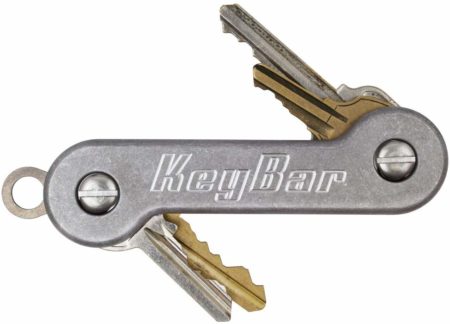 This key organizer is an awesome choice that comes with several useful features to make it one of the best options on the market right now. It is primarily made from aluminum, but it features a titanium clip. This composition ensures that it is very durable and will stand the test of time.
It comes with the ability to accommodate a dozen keys at a time or other accessories that you might wish to use it in carrying. To enhance versatility, it features Rubber O-rings and washers that let you add keys in a jiffy.
It comes in several other models, for example, copper and titanium, which means that there is something for everyone.
Pros
Durable construction
Accommodates up to 12 keys
Comes in different models
Cons
Quite expensive
Relatively heavy
9. Fan Key Aluminium Organizer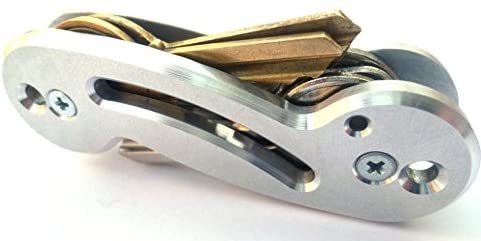 This organizer comes with a special frame design that is different from most of the other options found on the market.
It comes with attachments like a USB, bottle opener, and even screwdriver which come in handy. A lightweight option, it comes with the ability to hold a whopping 30 keys. Made of polished aluminum, it is quite durable as well and is a unique option.
Pros
Unique design
Aluminum material
Versatile holder
Cons
The keys aren't covered properly
8. KeySmart Classic Key Organizer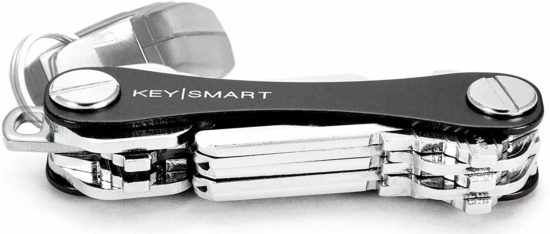 Up next is a widely popular option that helps to keep your keys organized and reduces clutter. The KeySmart key organizer comes in a classic finish that we are quite sure will appeal to many prospective buyers. It is a compact piece that despite its impressive appearance comes as a lightweight option. It fits right into your pockets and eliminates noise and clatter.
Using this organizer is very straightforward. It comes pre-assembled and doesn't need any tools to set up. Just fix in your keys and you are good to go. It can easily accommodate up to 8 keys, and if you want to extend the number up to 14, you can use the expansion pack found in the package.
Furthermore, the organizer comes in several materials and colors so you can find that which suits your style.
Pro
Nice design
Durable construction
Comes in different colors and materials
Cons
Somewhat hard to add keys
Pricey
7. CARBOCAGE KeyCage Key Organizer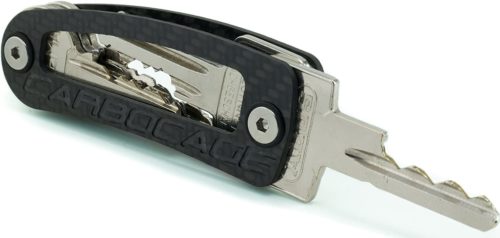 This excellent key organizer is made from full carbon fiber and CNC machined from Germany. The method of construction and the material of construction results in a key organizer that is not only durable but also lightweight.
We love the design which is quite simple, but still classy. Additionally, the skeletal and asymmetrical design results in an organizer that ensures that you can easily identify individual keys.
Use this organizer to hold up to 14 keys with ease and say goodbye to losing your keys are struggling to find the right key in the dark.
Pros
Sturdy and quality materials of construction
No sharp edges
Includes all necessary parts in the packaging
Cons
Doesn't allow quick access to keys
Might be hard to set up
6. KeySmart Rugged Key Organizer

KeySmart makes some of the best EDC products on the market, and the fact that another KeySmart key organizer appears on this list is a testament to the high quality of the company's products.
The Rugged key organizer, as the name implies, is a key organizer designed to withstand the daily rigors of use. It features a thick build that lets you fit up to 14 keys on the organizer. It comes with innovative features as well which makes it more versatile. For example, this organizer comes with a removable pocket clip that lets you put it within easy reach.  It also comes with a key ring that can serve as a bottle opener.
Pros
Versatile tool
Durable and rugged
Can fit up to 14 keys
Cons
5. OrbitKey 2.0 Key Organizer

The OrbitKey 2.0 is an upgraded version of the OrbitKey and it comes with several improved features that make it an even better option than its predecessor. It comes made from stainless steel which makes it both durable and lightweight.
To attach your car keys, you will find that the organizer comes with a D-ring attachment.
It doesn't hold as many keys as some other options on this list, as it holds 'just' 8 keys, but it makes up for this by coming in a classy and very attractive design. It also comes with attachments like a USB flash drive, multi tool, and opener.
Pros
Looks great
Durable construction
Comes with useful attachments
Cons
4. Aladin Leather Pocket Key Organizer Case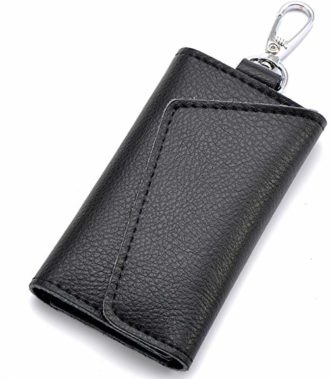 Are you looking for comfort and class in a key organizer? If yes, then you will love this option. Made of leather, this organizer feels supple and looks great. You can choose from a variety of colors to suit your style.
With its snap closure design, you can rest assured that your keys will remain safe throughout the day.
Pros
Durable
Lovely leather
Comes in different colors
Cons
3. Key Klip Key Organizer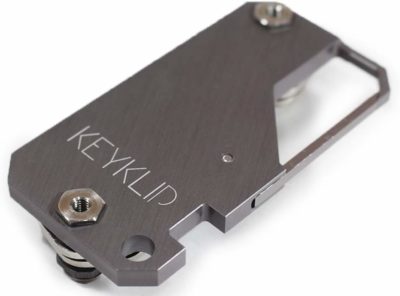 This model serves as an excellent foil for folks that lose their keys often. It is not only a key organizer, but it also comes with a carabiner clip to ensure that all keys are in one place at all times. Using this attachment, you can clip the keys to the belt loop with great ease.
It weighs very little, which is great since it can hold up to a dozen keys. Additionally, if you still need more space to hold more keys, you can use the extension set provided in the package. Keys are easy to identify and use with this organizer.
Pros
Compact and slip
Comes with a carabiner clip
Smooth key movement
Cons
The clip isn't very durable
2. Northwall Smart Key Organizer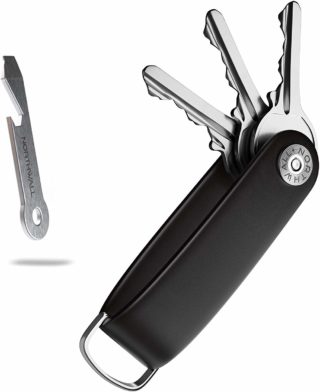 With a smart compact design, this organizer easily fits the pockets without causing any issues. It might feature leather parts, but overall, it is one of the most durable options we have reviewed.
It is made of 100% genuine Italian leather that gets better with age. As it is made of leather and not all-metal, it is lighter in weight than pure steel options. This tool features a trio of bolts that allow you to hold different keys simultaneously. It can easily accommodate up to ten keys together.
Pros
Durable leather and steel material
Classy and stylish look
Compact
Cons
Attachments are low quality
1. Clips Smart Compact Key Organizer Holder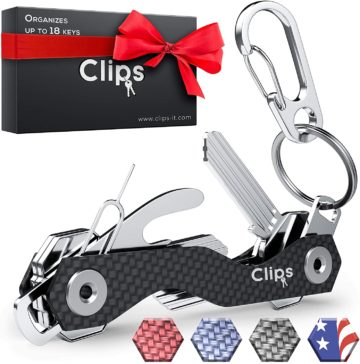 Our top choice is the Clips Smart key organizer. It is a truly excellent organizer that comes with one of the strongest bodies we found while coming in a truly lightweight body.
It sports a practical design that allows you to fit several keys in your pocket without causing a jumble. If you are tired of the jingling sound associated with metals, then you will likely love this model. It features anti-loosening washers that help hold up to 18 keys. It also comes with attachments like a SIM tray ejector bottle opener, and carabiner.
Pros
Lightweight
Carbon fiber construction
Portable
Nice design
Cons
Buying Guide
In this section, we will consider some of the essential features that will help you in selecting a key organizer.
Key organizers come in different forms and some are easier to set up than others. The best key organizers, such as those we reviewed above, are easy to assemble and reassemble whenever required.
One main reason to have a key organizer is that they are more comfortable to carry around. Therefore, you should ensure that your key organizer comes in a design that makes it easy to carry around without the keys poking your skin.
If you are concerned about aesthetics, then you should closely consider how your key organizer looks. It should feel great to hold and be pleasant to look at.
As with many other products on the market, key organizers come in a wide range of prices. You should have a budget and choose the best within the budget. It should be noted that an expensive option isn't necessarily the best-looking option. Hence, look for that which appeals to you and that will meet your requirements.
Conclusion
Key organizers are great in helping you to move around with your pockets well organized. Choose any of the products in this best key organizers review and rest assured that it will serve you well.