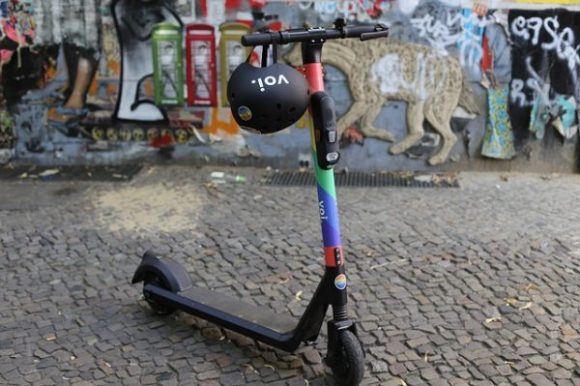 The craze of owning a scooter is never gone. We like the speed, the design, the adrenaline running inside our body whenever riding on a scooter. However, not all scooters are designed for adults. If you take a ride on a kid's scooter, then the only thing you will do is to hurt yourself and break it. Therefore, you get a kick scooter for adults that functions in the same way. Plus, it is definitely capable of bearing an adult's weight.
So, how can you know that the chosen product is safe or not? Well, the review on kick scooters for adults misses no point that is of great importance.
List of Best Kick Scooters for Adults Review
10. Swagtron K8 Titan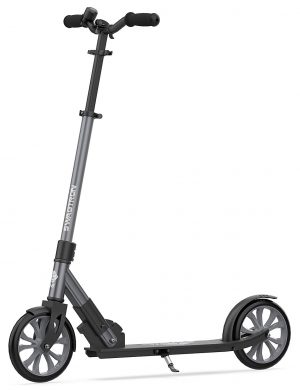 When kids can have fun why not adults? Well, Swagtron brings to you an ideal kick scooter with a support-weight of 220-pounds that is sleek and equally trustworthy! As a matter of fact, it is designed to suit both long rides as well as some bumpy and uneven courses as well.
Its extra 200-mm wheels are an added bonus to ensure that you have a proper grip on your bike. Finally, the grips have a soft foam construction and the height is adjustable. And the emergency bell for grabbing attention in emergency cases.
Key Features:
The K-8Titan is known for its sharp performance even on uneven territories.
Comes with a flexible frame along with ABEC-9 bearings for its wheels.
Ergonomic handles carved out of EVA material.
Has won trust as well as certification of ASTM F2264 safety standards.
9. Razor A3 Kick Scooter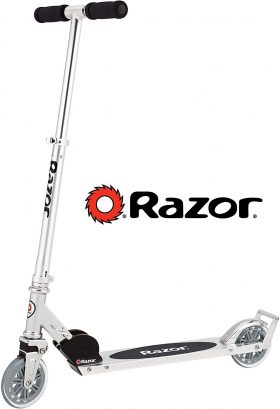 Razor is a scooter brand that is not only known to one and all but also wished upon by everyone. Besides the available shades, this scooter is carved out of aluminum of aircraft-grade.
Also, weighing at just 7.25 lbs, this is a classic design that can hold up to143-pounds. Its springless shock-absorbing system is just what you need while riding.
Key Features:
Backed by rear-fender brakes that are not only for an emergency but also for general use.
Comes with urethane wheels which have inline styling (125 mm) and a wheelie bar format.
Is folded as per requirement for easing the storage process.
8. HUDORA Folding Kick Scooter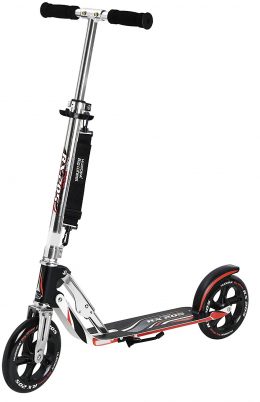 While making kick scooters for its consumers, HUDORA always makes it a point to use the best quality aluminum. Touted to be one of the lightest scooters in the market, this is known for its strength and durability with the unique rust-free quality attached to it.
So, with the utmost guarantee for this scooter provided by the company, you have a gem of a product as your own.
Key Features:
Comes with a new-folding style easing the storage process that fits in a car as well as under the table!
Handles embedded with sponge pads for comforting grip and reduction in vibration levels.
Its elastic wear resistance, as well as PU wheels (roll diameter – 205 mm), are its USP.
7. Fuzion Cityglide Kick Scooter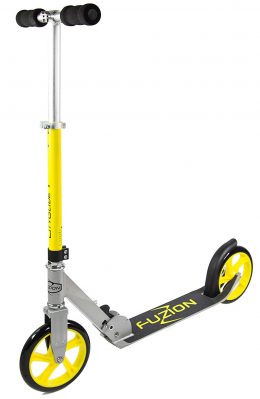 If you are on the heavier side, your kick scooter requires a strong girth as well as brakes that are sturdy. Hence comes this city-glide scooter from Fuzion that matches up to every standard set by your demands.
With high handles, oversized wheels and aluminum of the aircraft-grade, this kick scooter calls for a must-choice. Above all, it features PU wheels (200 mm) with rated bearings of the ABEC-9 standard. Therefore, smooth functioning is guaranteed.
Key Features:
Combination of both rear and hand brakes allowing safe stoppage.
Its strength comes from the alloy core with a shoulder strap enhancing portability.
Has a 30-day Money Back Guarantee and 6-month Manufacturing Warranty.
6. Mongoose Expo Kick Scooter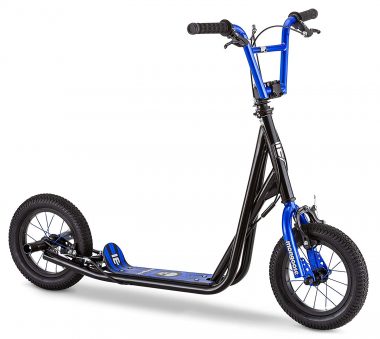 How about giving your scooty a run on the sidewalks? Well, Mongoose Expo kick scooter just lets you explore that wild side of you that you didn't get a chance to explore!
With safety and smooth running being its forte, this scooter is integrated with advanced technology and helps to match your style and safety measures. Lastly, it is known for its air-inflated wheels with a 12-inch capacity suitable for every terrain.
Key Features:
Handbrakes are of the BMX style alloy to ensure safe immediate stoppage.
Backed by dual power of freestyle brake rotor of BMX form and axle pegs.
5. Razor Spark Kick Scooter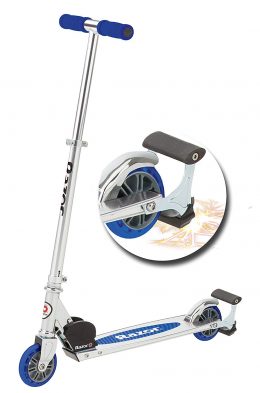 Its adjustable handlebars are its prime aspect ensuring that this scooter is a winner amongst its counterparts. Designed with a sparking mechanism, this scooter has an effective foot control to ensure your safety to the utmost level.
Furthermore, the fender brake at the rear and urethane wheels that are light in nature contributes to the smooth rides.
Key Features:
The deck and T-tube are carved out of aluminum that is aircraft-grade.
Under the deck come LED lights for enhancing the glitz and safety focus.
The 6.7 pounds weight isn't that heavy at all.
4. Micro Kickboard Kick Scooter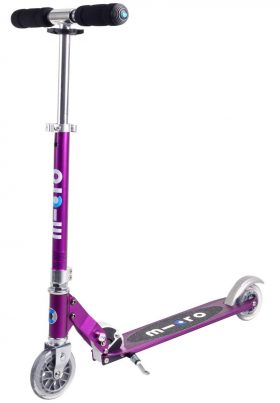 Appealing – stylish – high quality – thy name is Micro Kickboard! With a solid girth as a base, this is Swiss-designed and has replaceable parts to add up. Available in a multitude of hues, this is built to last tough conditions.
However, the specialty of this product is that kids of 8 till adult, everyone can enjoy this ride.  Plus, the double button folding pattern is an exclusive feature of this brand.
Key Features:
Solid modular construction ensuring minimal rattling during long distances.
Wheels made of polyurethane enhancing the ride.
Maximum weight capacity of 220 lbs is pretty comfortable.
3. WeSkate Kick Scooter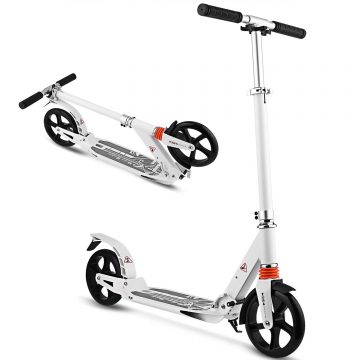 From another rocking brand of scooters comes this amazing bike with shock absorbers enhancing your ride in the best manner. WeSkate brings forth this kick scooter which has rear fender brakes that enhances its safety measures. The dual shock absorptions courtesy to the rear and the front suspension doesn't let you feel any severe jerks.
So, whether it is black or a white one with suspension, this is one of the best scooters that you can get!
Key Features:
Allows triple-height formats with a weight capacity of 220 lbs.
Easy to fold with a mudguard to protect in uneven territories.
Wheels made of durable PU material with an inline format (200 mm).
2. Razor Pro RDS Dirt Scooter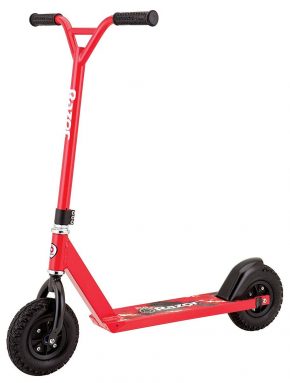 Another one from the house of the famed Razor, this RDS dirt scooter is known for its rigidity and stability. Also, moving far away from the pavement, this one shaded in black and red is perfect in terms of easy maintenance.
Backed with a tubular steel fork of the BMX style with additional triple-decker headtube clamp, you would use it for years. Clearly, with a full deck and fender brake at the rear, this is a scooter to check out.
Key Features:
Pneumatic tires (200 mm) come with rough treading strategy.
Rubber grip with grip tape to enhance the holding capacity.
Aluminum carving of aircraft grading with Y-style handlebar.
1.Razor A4 Kick Scooter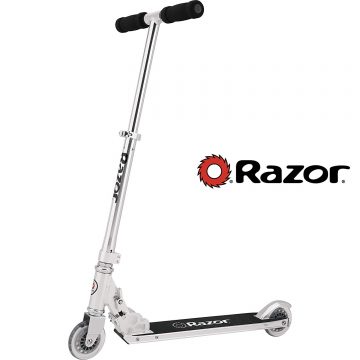 As critics and consumers both agree that Razor surpasses every expectation, its newly introduced A4 kick scooter is a true paradigm of the same. Light in terms of weight in spite of the aluminum aircraft-grade, this scooter is the perfect combination of durability and strength.
Finally, the urethane wheels (98 mm) backed by high-speed bearings of the ABEC-5 category allows you to ride it at extreme speeds.
Key Features:
Foam handles being extra thick with a grip tape of the complete deck.
Backed with rear mechanism and folding mechanism.
Even if you aren't a child anymore, this doesn't mean that you can't have fun. The kick scooters for adults will bring out the inner child in you.