Boxing and punching might look dangerous to be practiced by kids, but on rethinking, it becomes evident that such activities are indeed necessary for keeping kids healthy and fit. Practicing to punch on a punching bag not only keeps children active but also helps them relieve stress rather than being frustrated or anxious. But, it is most certainly without any doubt that kids cannot use an adult's punching bag in any way as it could injure them severely. Children's punching bags generally come attached to a weighted base where the bag bounces back once the kid punches it.
Some other punching bags mimic the design of an adult's bag, but instead of a weighted base, it comes attached to plastic pillars. If you are planning to buy a punching bag for your kid, which could help him/her burn away excess calories and improve overall physical health, given below are reviews of the top 10 best kids punching bags in 2023.
Best Kids Punching Bags to Buy in 2023
10. Atlasonix Ninja Boxing Bag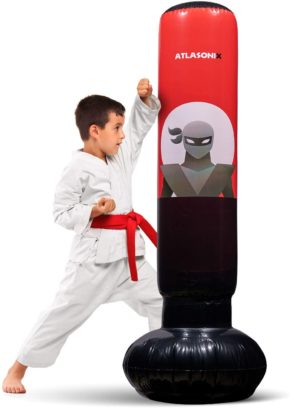 Enjoy practicing karate, Taekwondo, and punching using this Ninja bop bag that is suitable for indoor and outdoor use. Don't worry about excess screen time anymore as this boxing box keeps children above 3-years engaged with ample fun and exercising time.
The base must be filled with water/sand, and the top must be filled with air to start using the bag without any harm on your hands/feet.
Key Features
The bop box is 5 ft tall suitable for all, children as well as adults
The bag could be deflated and stored inside saving space when not in use
Great way to work out for both adults and kids without building frustration or boredom
60-day money-back assurance if you are not satisfied with the product
High-quality durable material that prevents any leakage
9. CRRD Inflatable Boxing Bag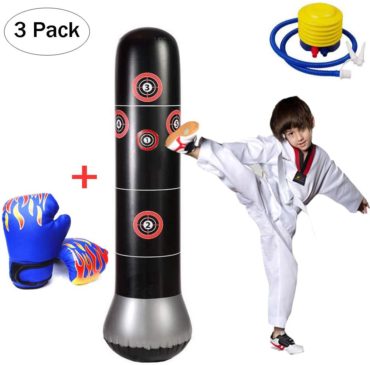 Allow your child's energy to flow naturally without limiting it by using the CRRD boxing bag made of durable PVC plastic that assures no breakage or leakage even when used regularly. The product comes as a whole set, including a pair of kids punching gloves, one inflatable punching bag, and a one-foot pump. It's a delight to buy the bag as it could be used by the entire family where every member can release his/her frustration by punching the bag and even reap health benefits as it is a great workout.
Key Features
The base of the bag could be filled with water or sand for increased stability. Sand is recommended as it helps the bag swings back quickly when used by older children
Durable and easy to use
Attractive and colorful bag with resilient and comfortable gloves
8. ImpiriLux Inflatable Punching Bag with Sword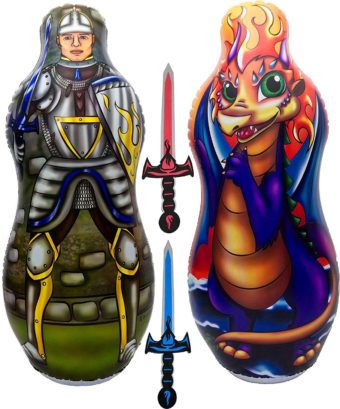 Ignite your child's creativity and imagination by purchasing the ImpiriLux punching bag that has exciting graphic designs and color combinations on either side. Two swords come as free accessories with this bop bag, which helps two kids play together and have fun. The company follows the highest safety standards manufacturing the bag from a safe, non-toxic PVC material that complies with ASTM toy safety requirements.
Key Features
The inflatable bag stands 48 inches tall suitable for both young and old children.
Made of a lightweight and soft material the punching bag is the perfect choice to help your kids practice martial arts or play imaginative games
The bottom of the bag must be filled with water or sand, and the top must be filled with air
Every bag is rigorously tested and quality-assured
7. RDX Kick Boxing Punching Bag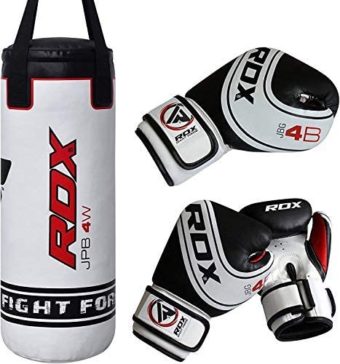 Whoa! Here is a kickboxing bag that mimics an adult punching bag in all aspects. It is made of non-tear Maya hide leather; the company assures that the product is waterproof and used both indoors and outdoors. Don't worry about putting the bag in its place every time after you punch as it comes with a hanging chain, and the shredded textile filling made of high-quality material can withstand any amount of punch without getting deflated.
Ensure that your little MMA fighter is well-protected by using the kid-sized gloves that accompany the product.
Key Features
Junior punching gloves made of Maya leather promise resilience and durability
The punching bag comes with reinforced stitching and is 2ft high. It has a 3ft steel chain and premium-grade hanging straps that have excellent holding strength
Top zip closure enables maximum fill potential
6. Luniquz Hanging Boxing Bag

Promote more active playtime for your kids and encourage them to play with their friends by buying the Luniquz boxing bag that never gets deflated, unlike the punching bags. Teach your kids self-defense and build strength as the bag can withstand up to a maximum load of 20 lbs. Fill the bag with sawdust, sponge, foam, dry sand, or beans to add weight. Luniquz promise durability as all their products are manufactured with multiple layers to resist impact.
Key Features
The bag comes in two different sizes (20 lbs or 35 lbs) suitable for kids of varying age groups (up to 12 or 16 years)
The product comes with a metal chain that helps to hang the bag that's provided with intact metal rings.
Conveniently fill the bag with the help of the zip closure at the top that could be opened and close easily
Durable and robust as the bag is made of Oxford fabric that can withstand more significant impact
5. Whoobli Adjustable Kids Punching Bag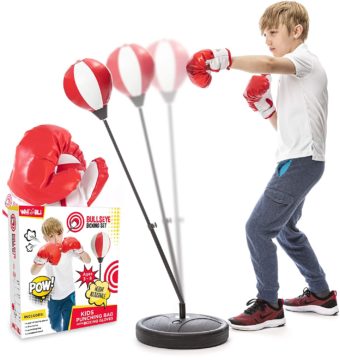 Give the real boxing feel to your kids by presenting them with the Whoobli punching back that comes with a pair of boxing gloves along with the whole boxing set. The punching bag is bright red and white standing, true to the American boxing colors, and is made of PU leather that's durable and strong. The kit also includes a sturdy stand, an air pump to inflate the bag, and an explanatory instruction manual for easy setup.
Key Features
Whoobli is the only company that offers a 30-day return policy on its punching bag
Adjustable height between 34 and 44 inches
The base on which the bag sits is sturdy and also comes with a handle for carrying it around easily
Made of non-toxic, PU leather that's kid-safe
The punching bag can withstand any amount of punches that are diverted toward it helping your kid exert energy, improve hand-eye coordination, learn self-defense and have fun-fill
4. BOZO Punching Bag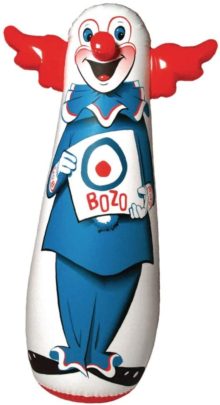 Make your kid redirect his/her immense energy towards the Bozo punching bag that looks funny and innovative. The bag features a 3D nose, bright red 3D hair, and a bop zone that comes back into position with the help of the sand-filled base, which helps set the bag bounce back into place.
The product is made of durable vinyl and measures 46 inches, which is quite significant.
Key Features
The punching bag is a reproduction of the Original BOZO bag from the 1960s
The punching bag could be inflated easily with any standard air pump
Good for travel as the bag deflates easily
The squeaky noise erupting from the 3D noise would be a delight to your kid's ears
3. Tech Tools Fun Punching Bag for Kids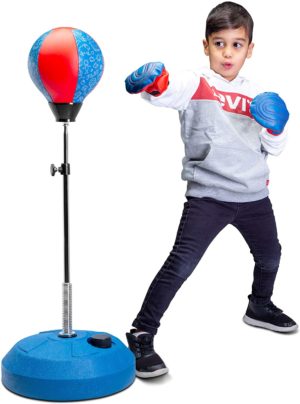 Suitable for kids aged between 4 and 12 years old, the Tech Tools punching bag is the ideal choice as the stand provided here is height adjustable (from 31 to 42 inches). Tall or short, adjust the stand, inflate the balloon and start punching it. The product comes as a full set that contains a durable base, spring-loaded adjustable shaft, comfortable boxing gloves that fit right on your kid's hand, and even an inflation pump that helps you inflate the punching bag in the shape of a balloon.
Inside or outside, on the grass or a hard surface, set the well-padded punching bag anywhere you like as the heavy-duty base stands upright despite breeze or sun when it is filled with 15lbs of water or stands.
Key Features
The bag is made of high-quality material, the right design and construction to help you kids develop eye-hand coordination, provide a great workout experience and also loads of entertainment
Heigh adjustable stand makes it suitable for tall or short kids aged 4-12 years old
Durable and strong
A strong but durable spring at the base of the shaft helps the punching bag to spring back into position every time after use
Occupies minimal space making it an ideal gifting option
2. ImpiriLux Double-sided Punching Bag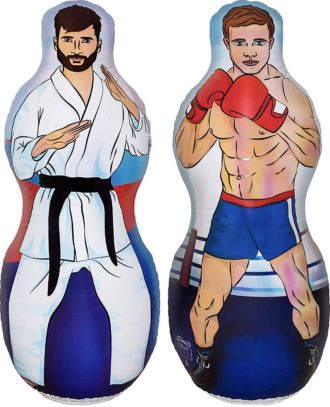 Help your child master the art of karate or martial arts with the help of the ImpiriLux life-size punching bag. The bag is 5 feet tall and comes with two-sided figure imprints-on one side is a karate warrior, and on the other side is a boxer. Your kid can practice karate with the karate warrior facing him/her and turn on the other side to exercise his/her boxing techniques. The punching bag is big enough and sturdy to support punches or even adolescents or adults.
Key Features
The bag is designed with excellence and manufactured only with high-quality thick vinyl fabric and welded precisely to produce a durable punching bag that's safest for kids even around 4-years old
All the bags are tested by 3rd party labs and every single product is tested with a 12-hour inflation test for any damages
100% refund guaranteed if you are unsatisfied with the product
Bottom of the bag must be filled with water/sand, and the top should be filled with air to keep the bag stable
1. Ringside Boxing Training Set
Gift your kid the goodness of health and strength by presenting him/her with the Ringside kids boxing set that includes all that you need to reap the benefits of fitness. The set is suitable for kids aged between 2 and 5 years, be it a boy or a girl. The manufacturer has taken the utmost care to design the punching set with the Ringside logo, just like that of an adult's fitness equipment that comes with the fitness company's logo engraved in it. This child-friendly boxing set has all that you require.
Key Features
The product is available in a variety of colors
An excellent gifting choice for the young ones in the house suitable for both genders
The boxing set includes a pair of gloves, a headgear with an elastic chin strap that helps to protect the child's head from any injury risk and a 2-pound punching bag that's quite heavy
Choose the best punching bag from the list mentioned above and feel good seeing your kid have fun while using it. Buying the right punching bag helps your child stay away from boredom, reduce screen time, and have great fun and entertainment.