Mini blenders are worth it since they are compact to save space, and some are portable such that you can carry and use them from other areas like outdoors.
Every kitchen needs a mini blender. Although the bigger grinding tasks are accomplished with a mixer grinder, for small purposes, a mini blender fulfills the needs. Whether you want to make a smoothie or just blend some vegetables to make a stock, a mini blender will come in handy. You don't want to use your big grinder all the time, right? Therefore getting a compactly sized mini blender will work.
Here, after carefully reviewing a large number of products in the category we have enlisted the best ones. So check them out and pick the mini blender which meets your needs the most.
What is a mini blender?
The mini blenders are the type of blenders made in a compact size for small servings. The mini blunders have small blending jars that can be converted to travel pitchers and small storage jars. The majority of the mini blenders have single button control, which is also pretty much easy for most people, even kids, to operate and control.
What can a mini blender do?
Making small servings
If you need a blender for making smoothies on the go, the mini blenders are the best choice. As mentioned, these blenders are made with blending jugs that convert to cups. So, you can mix your juice on the road and drink it from the same device.
Crushing ice
Another use for the mini blender is helping you crush the ice to serve chill drinks. You will never experience wastage as you only crush what you need to use at that time.
Making dip sauce
Another job that you can incorporate a mini blender in is when making dipping sauce for your food. The mini blenders are super quick and make various sauce consistencies for different foods. You can make from smooth to coarse dipping sauce for your family.
Mini blender vs. large blenders, which is the best?
Choosing between mini and standard-sized blenders depends on your user needs. A mini blender is a personal blender that you can carry to wherever you go to hustle-free. Some are cordless, so you can utilize them anywhere when making juice, smoothies, and other foods. However, these are personal blenders meaning; they are only ideal for single use.
On the other hand, the larger blenders are perfect for large servings since they can hold large capacities. Some have various setting intervals to use when making different drinks and foods. But the downfall is that they take up large storage space and are not portable outdoors. They require a constant power supply since they are corded.
Benefits of the mini blenders
They are portable
The number one reason why most consumers prefer the mini blenders is the portability style. The mini blenders are pretty small such that you can slip them in your backpack when going for a hike or to the office. Also, this is a blender you can comfortably carry with your hand, and no one will notice you are carrying a blender. One of the reasons it is referred to as a go blender
Easy to use
Unlike the larger blenders, which have multiple button controls, the mini blenders only have a single button for control. So, working with the blender is easy and smooth for all.
Are versatile
Regardless of the small size, the mini blenders are pretty versatile, and they can handle most jobs that the larger models can handle. These are blenders used to prepare juice, smoothies, crushing nuts, ice, and blending cooking ingredients like ginger or garlic.
Space saver
You will never complain about the mini blenders occupying an ample space of the kitchen counter or the storage cabinets. They are crafted in compact sizes to save your storage space in the kitchen.
Affordable
Even if the cost rates of the mini blenders vary depending on brands, the size, and features it has, they are super affordable compared to larger blender models.
Best Mini Blenders Review
10. Hamilton Beach Mini Blender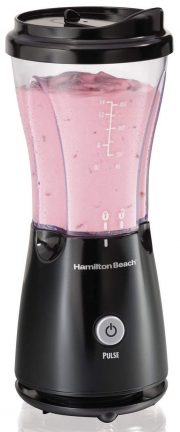 Hamilton has made a notable place in the market for its kitchen appliances. Every product from them is worth every penny. This mini blender is no exception and serves the purpose with perfection.
Key Features:
The capacity of the blender is 14 oz.
It is perfect to prepare smoothies, shakes and other icy drinks.
Due to the travel lid drinking directly from the jar becomes easy.
The size of the jar is small and compact so easy to carry anywhere.
9. SharkNinja Nutri Ninja Pro Personal Blender (BL456)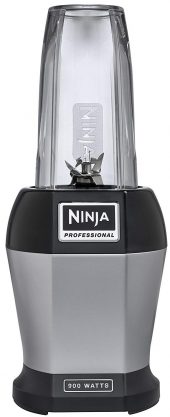 Coming from Shark Ninja this is another wonderful product in the category of mini blenders. With a powerful motor and stable base, it becomes one of the best products to splurge.
Key Features:
The mini blender comprises 900 W of a powerful motor.
There is a twist on the spout lids feature for easy pouring of the juices.
The manual pulse feature helps in easy crushing the ice, seeds, stem and other products.
It is made up of BPA free materials therefore easy to use.
8. Hamilton Beach Mini Blender (51101BA)

This is another wonderful mini blender from Hamilton that works perfectly to blend and make shakes and smoothies. Being small in size you may use it while traveling and make your own healthy drink anytime.
Key Features:
It is easy to operate and can be used by anyone.
The blender can provide smoothies, shakes, juices in little time and with fewer efforts.
One-touch processing is the most alluring feature of the device.
It works with 175 watts powerful motor.
7. NutriBullet Mini Blender NBR-1201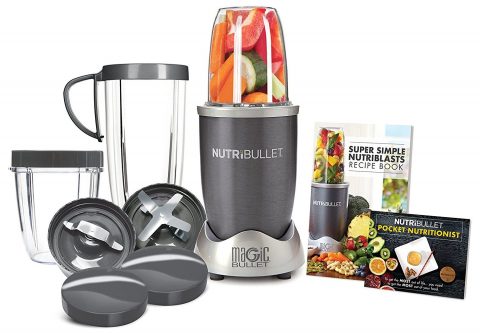 The best in the category of mini blender comes from NutriBullet. Coming in gray this is a 12 piece set and works perfectly in blending fruits and vegetables. It makes shakes, smoothies, and juices in lesser time.
Key Features:
It pulverizes the fruits and vegetables so that blending occurs smoothly.
The 600-watt motor makes blending an easy process.
It comes with additional accessories like one tall cup, flat blade, emulsifying blade and much more.
Warranty of one year backs the product making it more alluring.
6. Oster Mini Blender BLSTPB-WBL
The mini blender from Oster is equipped with all the essential features. Coming in a light powder blue color, the device looks perfect to keep in the kitchen. It has a powerful motor for high precision in blending.
Key Features:
It looks more like a sports bottle so that you may carry it while traveling.
There is 250-watt powerful motor in the blender.
It is dishwasher safe so easy to maintain.
Since it is made up of BPA-free materials, it is perfect to use.
5. Hamilton Beach Mini Blender (51102)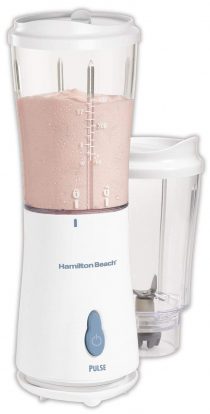 Coming in white color this is another amazing mini blender from Hamilton. The perfect size and right dimensions, all help in contributing to it as one of the best. Being sporty can be used while traveling as well.
Key Features:
There is a travel lid in the blender for easy pouring or drinking directly.
It comprises stainless steel blades for high precision in blending.
The one-touch blending is an additional perk one gets with it.
It can make a variety of shakes and smoothies in a few minutes.
4. Hamilton Beach Blender (58149)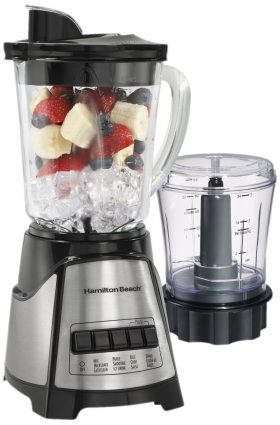 Working with a powerful motor this mini blender from Hamilton could become your ultimate choice. The right dimensions and perfect size makes it a great product to use.
Key Features:
It consists of a glass jar for shakes and smoothies.
It is multifunctional and can make a variety of shakes in lesser time and less efforts.
The 700 watts powerful motor blends everything perfectly.
The blades are made up of stainless steel and are highly durable.
3. Ninja Mini Blender (QB900B)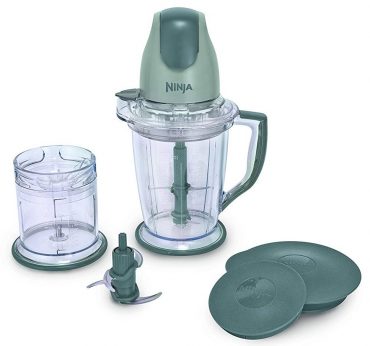 With a capacity of 16 ounces, this mini blender from Ninja is perfect for all. Whether you are traveling or using it at home, it will fulfill the needs and provide you with a perfectly blended drink.
Key Features:
The product is multi-functional and can chop as well.
There are two convenient-sized jars for bringing versatility in function.
It comprises an easy-flip pour spout and no-slip base as well.
The anti-splash design makes it unique.
2. Magic Bullet Blender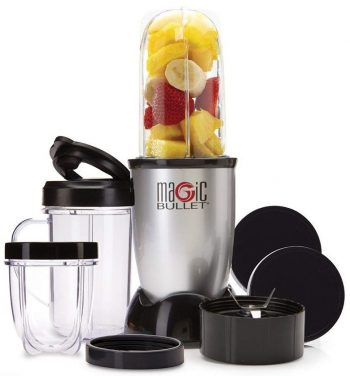 The mini blender from Magic Bullet comes in a set of 11 pieces. Small in size and compact and ergonomic in design it makes one of the best products in the category of mini blenders.
Key Features:
It can perform multiple functions including chopping, blending, whipping and much more.
It can make a variety of juices and shakes with little effort and in lesser time.
There is a 250-watt high-torque power base.
It is made up of high-grade materials, therefore, lasts forever.
1. NutriBullet Pro Mini Blender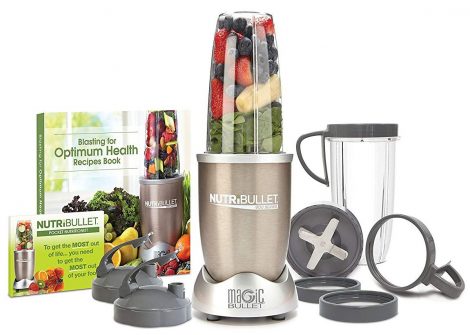 Coming from NutriBullet this is a professional-grade mini blender. The presence of a powerful motor helps in processing the blending work with high precision. It comes with many additional accessories to make blending more fun.
Key Features:
This is a 13-piece mini blender that works with a higher speed and precision.
It pulverizes the fruits and vegetables along with seeds for a perfect blending.
There are blades made with stainless steel for ideal blending work.
A warranty of one year backs it.
Guide on how to buy the best mini blender
Focus on the blender power
The blending power is the function power unit usually measured in watts. The blender power determines the kind of foods the blender can grind and even the speed at which it can work efficiently. The higher the intensity the blender has, the faster and more effective it will be and vice versa.
For example, a mini blender with a functioning power of 1500 watts can easily crush ice, blend vegetables and other foods compared to a blender with 500 watts.
The size
The size of the mini blender also matters when buying one. The mini blenders have different sizes of blending cups that determine the amount of juice, smoothie, or foods they can hold. Well, if you need a mini blender that has a large serving, you may need to check out the size of the jar or pitcher as well.
How many speeds does it have?
As you buy a blender that fits your needs, you must consider how many blending speeds it has. The rates allow you to regulate the function of the device when blending different foods. Some food may need low speed, and others need high speed to grind efficiently. So, always choose a blender that gives you a speed interval option regardless of its size.
The type of blender holder
The mini blenders either have a jar or a pitcher holder. The pitcher blenders suit people who need to use the device on the go. For example, if you want to prepare juice or a smoothie to sip while hiking or going for a walk with friends. On the other hand, a jar is recommendable for home use as you can use it for serving the blended juice to your kids.
Check out the blades
Blenders are equipped with a varying number of blades. Some blenders may have two edges, and others have 4 to 6 blades. Also, another thing you need to check out is if the blades are detachable or integrated into the blender. The detachable blades make cleaning the blender easy since you can always detach them to clean the pitcher or jar compared to the integrated ones.
In terms of the number of blades, a blender with many edges is quite reliable in blending fast and can easily crush hard foods compared to the models with fewer blades.
The materials
Your safety should come first when buying a blender. This is something that comes to contact with the foods that you eat. So, ensure the blender that you choose is BPA-free.
Frequently asked questions
Q: Are mini blenders worth it?
The mini blenders are great for people who want to sip some fresh drink on the go. These blenders are quite portable such that you carry ingredients with you to make your drink when you need it and where you want to make it.
Q: What capacity do the mini blenders hold?
Most of the mini blender has a capacity of between 1 to 3 servings.
Q: What significant features should I look for when buying a mini blender?
You should check the speed, power, control setting, capacity, and safety.
Q; How do I care for my mini blender?
Always clean the blender once the content is finished. Some blenders are compatible with dishwasher, which makes cleaning much easier
Ensure to clean below the blades if they are integrated with the blender to remove all the food residuals for health purposes
Never switch on the blender while empty, as this can damage it
Having one of these mini blenders in your kitchen means easing your day-to-day task. With them, you don't get the mess to clean the big grinders all the time for small blending purposes. So choose one product wisely and ease your kitchen work to a great extent. Small in size they are easy to store as well.
So in which product you are investing?