While having excess hair on your nostrils can't be a health issue, it's also important to keep them trimmed so you can look great and feel confident all the time. But the question remains on which products you should purchase and have in your grooming essentials? Some nose hair trimmers may be cheap but they may also cost you a lot of pain and agony as they yank out hair while you trim. Others may be too expensive to buy or don't have the features that you need.
To save you time on decision making, we listed down the top 10 nose hair trimmers that you should consider this year.
Nose Hair Trimmers – Buying Guide
But before that, let us explain the features you may need to consider when choosing the best one for you.
Ideal for Both Wet and Dry Operations:
Personal grooming generally takes place in the bathroom and nose trimming is almost always done while you're showering. Thus, it makes perfect sense to ensure your device is safe for use with water, too.
Easy Cleaning:
Your device can last a long time when maintained properly but it doesn't mean you have to spend a long time just to clean it after use.
Efficient Blade System
Make sure to choose those that feature sharp blades to avoid the painful yanks brought about by dull blades.
Safety System:
Obviously, you should consider safety a top priority especially for the sensitive skin in your nostril. Your hair trimmer should have a protective tip that makes it easy for hair to be cut without the blades having to nick your skin.
Compact and Lightweight Design:
This is an important factor especially when you're considering bringing the device in many of your travels.
Explore these top 10 nose hair trimmers this year
1. Panasonic ER-GN30-K – Best of Nose Hair Trimmers

This Panasonic nose hair trimmer offers a wide range of functions, thanks to its innovative system. In a matter of seconds, men can trim and clean their nostrils off excess hair safely and conveniently. The equipment can also be used to trim mustache, beard, and eyebrows. Women can make use of this gadget also for their body and facial hairs if any.
What makes this equipment stand out is its ergonomically designed shape and form to make it comfortable to use. It utilizes dual-edge ultra-sharp blades that are uniquely shaped to promote efficient nose hair trimming while maintaining sufficient natural filtering against dust and other external elements. The blades are hypoallergenic, too, so you won't have to worry. Additionally, the cutting system is designed to be safe, providing peace of mind whenever you want to maintain your good looks.
The Panasonic ER-GN30-K is portable enough to be carried around wherever you go, especially during travels. In addition, this device is used for both wet and dry environment, and thus, you can either have your nose hair trimmed while still under the shower or do it after your bath.
The ER-GN30-K requires 1 AA battery to run for a total of 90 minutes of trimming. It comes with a protective cap and a cleaning brush to ensure the gadget is clean and maintained.
2. Nose Hair Trimmer from ToiletTree Products

It's normal for men to do all their grooming tasks in the morning while they're still in the bathroom, and thus, it's just practical to have a nose hair trimmer that can operate efficiently in a wet setting. ToiletTree's nose hair trimmer is a great tool to have for the meticulous men. It is designed to be water resistant, and thus, cleaning it after use can be conveniently done by just rinsing it off with running water.
The trimming system is designed to provide a professional performance suitable for those who want to look good at all times. The blades of this equipment are made of high-quality stainless steel to ensure that you get smooth, clean trim without incurring any injury. The body of this gadget is also made from high-quality steel to ensure long-lasting durability. Furthermore, the gadget comes with LED that provides a bright light to let you see even the darkest, hard-to-reach areas. All these features make the ToiletTree product the most accurate precision when it comes to trimming.
What's great about this product is that it can also be used to trim beards, ear hairs and even eyebrows, thanks to the many safety features that it has.
This gadget runs on a single AA battery, which you will have to buy separately.
3. Panasonic ER430K

When it comes to Panasonic nose hair trimmers, you can be sure that it's to ensure that you get well-trimmed nostrils without hurting yourself and without making a mess around you. The ER430K is no exception! What makes this device unique from its competitors is the so-called smart micro-vacuum system that it's built in its well-designed body. In essence, this system seamlessly and effortlessly whisks away hair clippings while trimming without the arduous cleanup task afterward. So even if you're trimming your mustache, beard or ear hair, you can be sure that you won't have to spend time removing hair particles off your sink. And the best part is that this equipment can be soaked in water for convenient and quick cleaning and rinsing.
And just like any other Panasonic unit, the ER430K comes with stainless steel blades that are hypoallergenic and dual-edged to ensure a smooth, clean trim without injuries or rashes on your skin. You won't have to worry about the pain of your hairs being pulled because that will never happen when you use this equipment. Adding to the safety value of the gadget is the safety cone that conveniently guides hair to prevent the blade from damaging your skin.
One AA-sized battery is required to run this gadget.
4. Philips Norelco Series 5100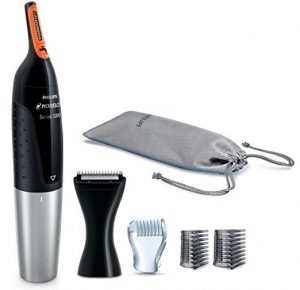 With a nose hair trimmer that surely delivers high precision and detailing without sacrificing comfort, the Philips Norelco Series 5100 is the perfect gadget to have. It comes with a ProtecTube advanced technology and an accompanying foil guard that's extra-thin to ensure the safest possible operation. The blades are guaranteed to prevent pulling the hair so that you can trim your nose hair and even ear hair as painlessly and as quickly as possible.
This Philips tool has an angled design that makes it convenient to reach more areas inside the ears and the nose. The equipment is ideal for use as an eyebrow trimmer also. In fact, your purchase of this equipment comes with two eyebrow combs in sizes of 5 millimeters and 3 millimeters. A 3-millimeter beard comb is also provided, further expanding the many uses of this Philips Norelco tool. But these accessories aren't enough! This Philips unit also comes with a detail trimmer that shapes your eyebrows and mustache without irritating your skin. The device can also be used to remove excess hair from your neck.
The Norelco 5100 is designed to last a long time even with the fact that it does not require oil or other lubrication for the blades. This tool is powered by a lithium AA battery, which comes with your purchased unit, unlike the other products in its competition.
5. Philips Norelco Series 3100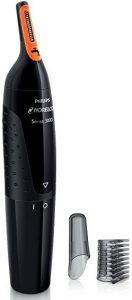 If you love the Philips Norelco 5100 but you're kind of on a shoestring budget, you can perhaps opt for the Series 3100. It's basically packed with the same innovative features available in the 5100 but the only difference is the lack of styling options available to you.
In essence, the Series 3100 only comes with the nose trimmer, eyebrow comb, and battery when you purchase the unit. It's unlike the Series 5100 wherein you can attach a wide range of accessories on the main unit such as a 3-mm or 5-mm eyebrow combs and a high precision 3-mm comb for the beard.
But the basics of what 5100 can offer are still available in the 3100. For one, the 3100 comes with the protective innovative guard that will ensure you are protected from cuts, hair pulls and nicks whether you're using the equipment in your nose or ears or styling your eyebrows or mustache. The steel blades are also designed to quickly and accurately cut hairs to prevent nicks and other injuries. In addition, the 3100 is designed in the same angled form as the 5100 so that you can be sure that all areas that need to be trimmed are accessed without much hassle. This Philips unit can also be run on water for rinsing and cleaning.
The 3100 requires an AA battery, which comes with the unit upon purchase.
6. Creation Springs Electra-Trim

The Electra-Trim from Creation Springs is another great tool to have when you want a nose and ear hair trimmer that you can use without having to worry about making a mess around you. In fact, it boasts of having a vacuum system that is triple vented that will suck and whisk away hair trimmings whether you're doing dry or wet cleaning. Yes, you heard that right. This tool can also be used in wet scenarios because it's made to be 100% waterproof so that you can do your grooming even in the steamiest, hottest bathrooms.
Like many other hair trimmers in our list, the Electra-Trim boasts of stainless steel, precision rotary blades that are dual-action and are sharp enough to provide a clean, quick trim without pulling the hair off your skin. In fact, Creation Springs takes pride in the fact that these blades are the sharpest available!
But it's not just the sharpness of the blades that Creating Springs are proud of. The motor used in the Electra-Trim is also considered to be the smoothest-running and strongest available in the market. The moment you turn the Electra-Trim on, you can feel this power from the motor. It is also said to last long.
Only one AA battery is required to run this gadget.
7. Remington NE3250

There are so many reasons why the Remington NE3250 makes it to this top 10 list. For one, it can be used in both wet and dry operations, and thus, you can conveniently do your nose hair trimming any time you want whether after a hot shower or during your bath. In addition, this Remington device also features a wash out system that makes it easy for you to clean and rinse the product while submerged or placed under running water.
The NE3250 also boasts of comfort-trim technology for easy handling while keeping your look good. In fact, the tip of this equipment is slightly angled to ensure a comfortable fit into your ears or nose. Furthermore, this Remington product uses two trimming heads, which means that aside from the comfort and ease of use, the equipment can also quickly trim hairs to save you a lot of time.
When it comes to safety, the unit comes with a rotary head attachment to ensure that the blades will not cut your skin while in use. It also allows for the perfect cut without pulling the hair out, which can be really painful. This equipment is also great for trimming eyebrows, thanks to the accompanying eyebrow comb which ensures that the cut is in perfect shape and length.
This handy device runs on AA battery.
8. Conair Nose and Ear Hair Trimmer

Are you searching for a lightweight and compact nose hair trimmer that you can conveniently carry wherever you are especially when you have to constantly travel? Then the Conair nose and ear hair trimmer is the best item to have! The item only weighs around 3.2 ounces and has dimensions of 1.2 x 8.6 x 2.9 inches, which means that it does not take much space and weight in your bag. It also comes with a protective cap for safety purposes when not in use.
But don't let the small size fool you into thinking that this item is not powerful enough to do the job. This Conair device features a powerful cutting system that effectively trims that unwanted hair that any other trimmers cannot reach. Whether it's on your eyebrows or inside your nose and ears, this gadget can definitely keep you looking great.
This compact nose and ear hair trimmer that will be loved by everyone, especially travelers, requires a single AA battery to run. The battery has to be bought separately.
9. Groom Mate Platinum XL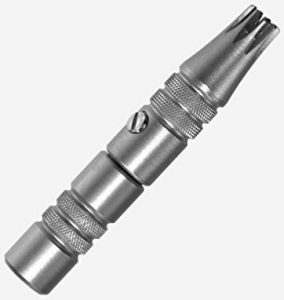 What makes the Groom Mate Platinum XL among other hair trimmers in this top 10 list is the fact that it does not need batteries to operate! No, that is not a trick statement. There's no need for electrical cord to plug into your outlet also! It is simply a compact trimmer — the finest battery-free one. Many verified owners of this device attest that they prefer using this product compared to the battery-operated ones because it is safer and can more effectively trim pesky hairs.
If you need a hair trimmer for the nose or ears, or if you're looking for one to give as a gift to a man, then this product is the best to have. Its body is made of 100% stainless steel, making it more durable and long-lasting because it will neither corrode nor rust. Such an item also makes this device looking classy and masculine, making it a perfect gift for men.
The rotary blade system in this awesome trimmer is a patented design that is meant to give you a clean, good, comfy trim without worrying about nicks and cuts. The blades are sharp, and thus, those unwanted hair do not have to be yanked out of the skin, which can be so painful to experience. It's basically hand-operated, and many users attest that they experienced no or lesser yanks compared to when they're using battery-operated ones.
10. Braun Exact Series EN 10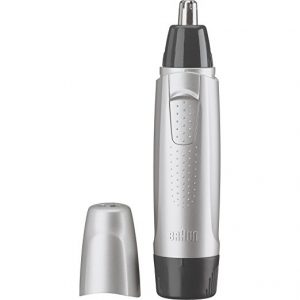 The Braun Exact Series EN 10 ear and nose hair trimmer is another great item to have if you're looking for trimmers that are compact and lightweight. Specifically, it only weighs 4.5 ounces and has a size of 3.9 x 1.3 x 7.9 inches. It is ergonomically designed for easy use and lets you accurately remove or trim those pesky hairs sticking out of your nostrils, ears and other areas that are hard to reach. It is also designed as a durable tool that will definitely last a long time, giving you great value for the money.
The EN 10 series boasts of great precision and safe operation. Specifically, it utilizes a high-performance rotary blade system that prevents tugging and pulling the hair off your sensitive skin when trimming. That can be really painful. But with the EN 10 tool, you won't have to worry about nicks and cuts.
Cleaning your hair trimmer is important to further extend its useful life. With EN 10, cleaning is quick and easy! All you need to do is place the device under running water to remove the hair trimmings.
A single AA battery is required to operate the device and could last for 120 minutes of operation. That's another reason why this Braun tool is a great investment when it comes to personal grooming.