Before electric nose trimers, the only ways to remove overgrown nose hair were either by using scissors, nose hair tweezers or by waxing. These processes can be painful, strenuous and time consuming. Technology has made the process of nose trimming a lot faster and easier, with the right electric nose trimmer, you can trim your nose hair properly in a short time.
The use of an electric nose hair trimmer is by far the safest and easiest way to remove overgrown nose hair. They save you a lot of time and are a lot less painful than tweezing or waxing. Thinking of buying an electric nose trimmer? These are the top 10 best electric nose trimmer you can consider.
Best Nose Hair Trimmers in 2023 Reviews
10. Powlaken Nose Hair trimmer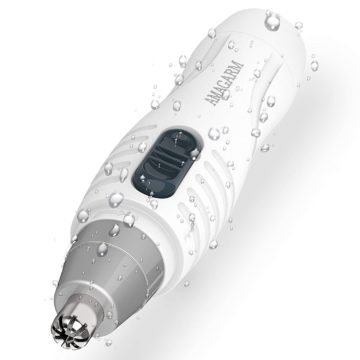 The powlaken electric nose trimmer is one of the best sellers of 2023. It comes 10th on this list and it has become a lot of people's favorite because of its design. It has a slick, beautiful and modern design which makes it fitting for both male and female. Additionally, it comes in premium packaging that makes it an excellent gift choice for friends and family.
Key Features
Multiple usages: the powlaken electric nose hair trimmer is not only used to trim nose hair, but it can also be used to remove unwanted facial hair, trim beards and eyebrows.
Waterproof and Easy Cleaning: This nose trimmer has been made waterproof, so you can use it in the shower, and soak clean it to remove residue without damaging it. The head is removable and washable.in case of clutter, you can take off the blade, clean it and replace it after.
Long Battery Life: This device conserves energy, and One AA battery, can be used for as long as 12 months if you use it for five minutes at a time.
9. Wahl Lithium Pen Detail Trimmer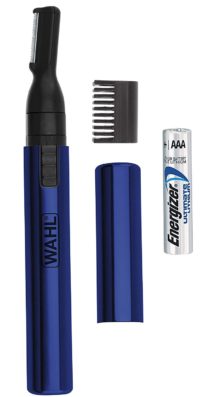 The wahl lithium pen is popular because it comes with interchangeable heads for beards, brows, ear, neck and other facial hair. It is a great choice because it gives a professional finish to a job done in your bathroom.
Key Features
Multiple Heads and Blades: This nose trimmer has different heads and blades for different body parts. Not only is it a multipurpose tool, but it also promotes hygienic grooming. You do not have to use the same blade for trimming your ears and your nose.
Cordless Design and Rechargeable Battery: you do not have to plugin your trimmer to use it. Just recharge the battery and you are free to use it at home and on the go. This feature also makes it a perfect travel companion.
8. Cleanfly Nose hair trimmer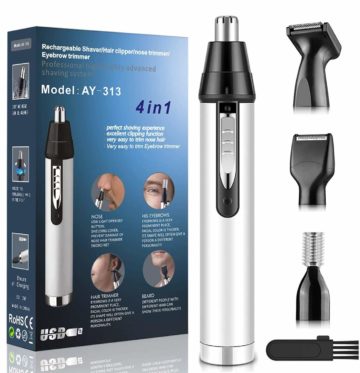 This nose trimmer is designed with a dual edge spinning blade, that has a protective cover around it. It goes in and removes hair without pulling hair or causing you any pain.
Key Features
USB Charging: with cleanfly, you do not need to buy batteries. The battery is in built and it comes with a USB charger that ensures power when ever you need a trim.
Cost effective package: it has a 4 in one economical package that includes a nose hair clipper, beard clipper, ear hair clipper and eyebrow clipper. This helps save you money while giving you high quality products.
7. Manscaped Weed Whacker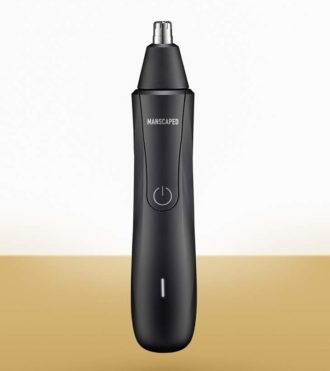 The weed whacker comes in an interesting oval design. It uses a 9000 RPM motor to power its 360-degree blade that gives you a clean trim without causing pain or injury.
Key Features
Water Resistant: it is made from water resistant materials and can be used wet or dry
Long battery Life: once fully charged, its 600mAh li-ion battery can be used for ninety minutes before it dies.
It has a register your blade function, where you register your device with the company, and they send you a new blade every quarter.
6. Micro Touch MAX Hair Trimmer

This nose trimmer comes in a sleek and compact casing, with a long German steel blade that can be used for multiple purposes.
Key Features
Inbuilt Light: you do not have to struggle to see that you are doing a good job, this trimmer comes with an inbuilt torch that lights up as it trims.
Waterproof: this is a water proof nose trimer, it is safe to use while in the shower or out of it.
5. Wahl Ear, Nose, & Brow Trimmer Clipper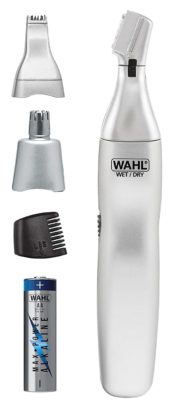 This is a painless nose and face hair trimmer. This design comes with different detachable heads for the nose, ear, eyebrow, and other facial hair. It encourages hygienic grooming as you do not need to use the same blade for different parts of your face. The heads are easily detachable and fixable, enabling seamless use of this product.
Key Features
Multiple Uses: when you buy this, you do not just get a nose trimmer, you a very versatile device, that can assist you groom your face professionally even from home.
Waterproof: it can be used in the shower and out of it, without any hazardous effect to the user.
4. Fleplow Ear and Nose Hair Trimmer Clipper 2023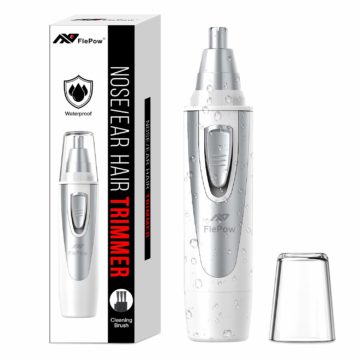 This is a very versatile yet easy to use trimming tool. It can be used to trim hair on your nose, ear, beard, eyebrow and face. It is a cordless tool, allowing you to move around while in the process of grooming. Moreover, it comes with just one button, this saves you from reading long manuals trying to figure out what different buttons do.
Key Features
Energy Saving: you get a 1 AA battery, that can last for six months if it is used for not more than five minutes at a time. You don't have to worry about battery dying and having to recharge, it is a great travel companion.
Very Quiet: the noise from the fleplow ear and nose trimmer is less than 50db, you can use it even when you have guests or company without being noticed.
3. Conair Battery-Powered Ear/Nose Trimmer

This device is best for close trimming of ear and nose. It is a very portable battery powered device, it takes away the stress of having to pack a charger with you if you take it on a trip. It has a 360-degree blade that can give you a very neat trim without pain or injury.
Key Features
It comes with three level blades in order to give you clean and detailed trim. It also comes with a detail shaver to help you carve the perfect edge or line.
When you get a Conair man nose trimmer, it comes with a storage pouch, to help you travel with it without being damaged.
2. Panasonic ER-GN30-K Nose Ear Hair Trimmer
This design is popular because it comes with dual edged blades, this type of blades go inefficiently and gives neat and painless trim to the user. You can use this trimmer for more than just your nose and ears, you can also use it to trim your eyebrows, unwanted facial hair and even trim your beards. It has curves blades that fit the contour of your nose to remove overgrown nose hair with precision.
Key Features
Water Resistant: this device is can be used while in the shower or out of it without being exposed to electric shock or damaging the tool. It also has a smart vortex cleaning system. This means it draws in water into the trimmer, spins it and expels it. Making cleaning it after use fast and easy.
Cordless: this trimmer is powered by a battery and doesn't saddle you with the responsibility of having to charge it from time to time. Just put in your battery and get going. It also comes with a cleaning brush and a protective cap for the clipper. It is considered as a useful travel companion.
1. Fleplow Ear and Nose Hair Trimmer Clipper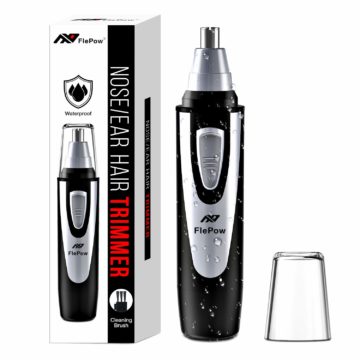 This device comes with double edged spinning blades, with a protective cover. It goes into the nose and cuts as it spins, delivering a clean and painless job. In case of clutter, the head is had been made detachable so that you can open it, clean it and return to using it effectively.
Key Features
Waterproof: this feature makes it possible to use it while in the shower or out of it. It also makes cleaning easy as you can soak clean it to remove residues
Cordless and power saving: when going on a trip, you can pack your nose trimmer without being bothered about how you are going to charge it. It works with an energy saving AA battery, that you can use for up to 6 months if you use it for five minutes at a time.
By now you should have decided to let go of nose tweezers and the pain that comes with it. Whichever electric nose trimmer you decide to buy, just know that you are sure to get inexpensive yet efficient service from it.