While it is an exciting concept to install a television set on your porch, you also have to consider the elements of nature. In case of sudden rain or glaring sun, you should conceal your screens to avoid damage. The 10 Best Outdoor Tv Covers in 2023 will help you to provide protection to your investments. As beautiful as those TV sets look, they are easily damageable and require proper care.
Best Outdoor Tv Covers in 2023 – Reviews
10. 40-42 inch Remote Control Pocket Weatherproof TV cover from Mount-it!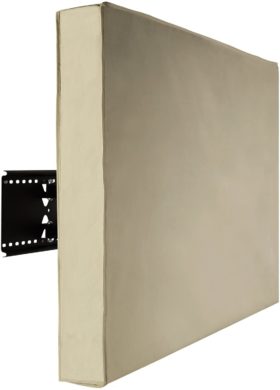 The Television sets that you place outside require year-long protection. This 4.5" thick cover is dedicated to keeping your device safe from environmental stress. The polyester fabric used in the making is tough and resilient. The PVC coating keeps the water away. There is a remote control pocket to keep your controller safe too. On the whole, it is a decent buy to protect your 40-42" Tv set.
Pros
Thick polyester fabric is resilient
Waterproof coating
Even protects the device from snow
Lightweight
Cons
Users say it requires replacement after a year.
9. Outdoor TV Cover By Garnetics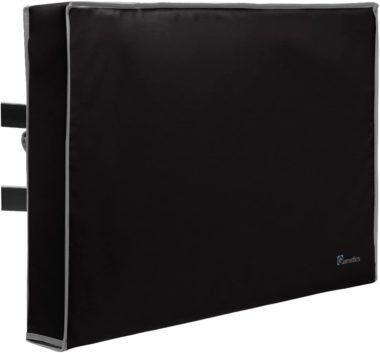 The biggest advantage of this cover is the velcros present at the corners. Even at times of heavy rains and violent winds, the cover will stay intact. Be it LCD, LED, or 4K television set, this cover suits all. It comes in 7 different sizes so you can choose the one that best fits your TV. There is a built-in pocket to accommodate your remote controls too.
Pros
Waterproof and long lasting fabric
Velcros to the ends
It fits well with various sizes of TVs and stands
Easy to wash and maintain
Cons
Because of velcros, a size mismatch will make them unsuitable for use
Customers complain of inconvenience while covering and uncovering.
8. Full Cover – Bottom Cover 60"-65" Flat screen Protection – Avion Gear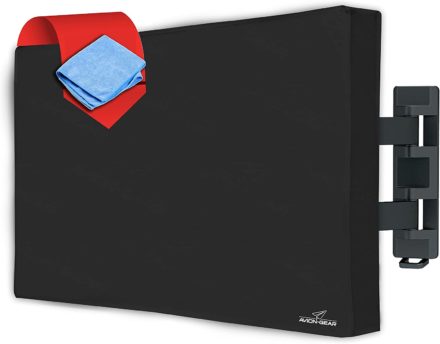 This cover works well for any wall mount and TV sets like LCD, LED flat screens and plasmas. It's designed to fit well for huge screens with 65" dimensions. It has quality double stitching to increase durability. Furthermore, it is waterproof and can endure rough wind blows too. It completely covers the bottom and the edges, so there are no chances of dust depositions. Also, any insects or bugs from the outside are kept afar.
Pros
It comes with a lifetime guarantee
Protection against dust, snow, water and bugs
It fits big TV screens and almost all stands
Double stitched
Cons
It is a little bigger than the ordered size (slightly loose)
It is not lightweight.
7. Dust and Damage Proof 40"-43" SONGMICS TV cover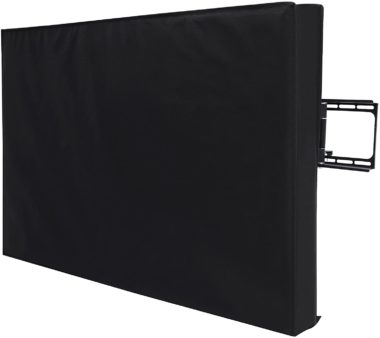 This perfect Tv cover is one of the finest on the list of 10 Best Outdoor Tv Covers in 2023. It gives 360 degree coverage from all sides. You have pockets for holding the remote controls. The fabric is thick enough to endure environmental stress. Even under harsh weather conditions, this one does its job well. The fabric is coated with waterproof material to ensure quick sliding of droplets. They never find their way in. Topping on the cake is its brilliant appearance that makes your TV set look good even when it is not in use.
Pros
360 degree coverage – top bottom and corners
It has a sleek and good appearance
Waterproof and dustproof in extreme weather conditions
Protection from tiny insects
Cons
A little long but you can easily tuck it behind.
6. 40"-43" Scratch proof Weather Protector TV Cover – KOLIFE K LIFE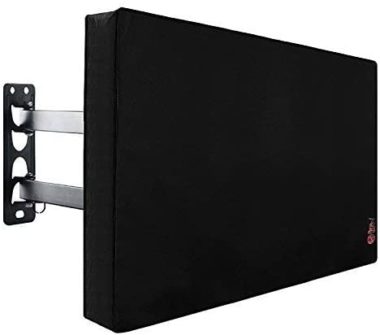 In our search for the best Tv covers, we only consider external protection. But if the inner part of your cover is rough, it might leave scratches on your Tv. That's a problem we should pay attention to. This TV cover by Kolife has a soft inner lining that keeps your screen safe. It has secure ends to cover your Tv from all sides. It is very durable and has a sleek appearance too.
Pros
2 years guarantee
Has a soft inner lining for screen protection
Has a proper bottom coverage
It fits snugly along the length
Cons
There are loose strings to the stitching
There is slight water seeping from the top seam
5. KHOMO GEAR – 46"-48" Weatherproof TV Protector cover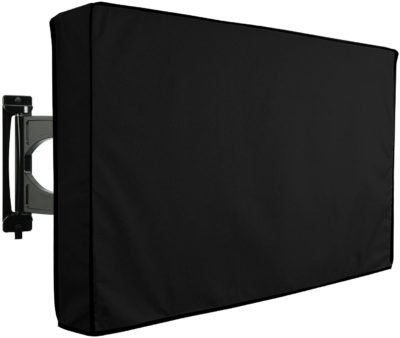 This TV cover looks high class because of the high density polymer used during its making. It has good elasticity so you can stretch it a little to accommodate it around the TV screen. It has a jet black color that looks too cool to ignore. Even in times of heavy rain, the PVS coating will prevent water seeping in. This is one of the best covers that you can get from the panther Series. The waterproof remote control socket doesn't look like an unwanted addition and serves its purpose well.
Pros
Nice elasticity
Complete coverage and no water seeping
Good corner coverage
The covering and uncovering process is convenient
Cons
The remote control socket is too long and it is hard to recover remote again
Cover is designed to be convenient for wall mounts only
4. Flat screen 50" – 52" TV Weather Protector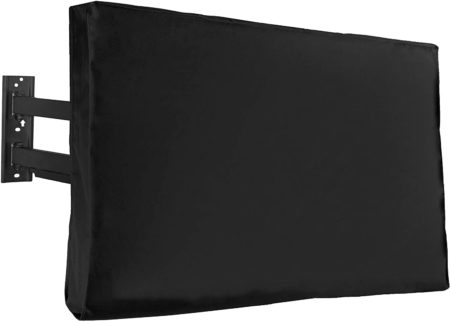 The main reason this one is famous is the high quality Oxford build that prevents fray. The superior resistant material will help to keep the moisture out. The harsh sun rays won't heat up your Tv or damage its color. There's velcro on the bottom and backside to secure the cover around your Tv. It can tolerate harsh winds as well. That's why it is on the list of 10 Best Outdoor Tv Covers in 2023.
Pros
High quality Industrial velcro secures the cover around the TV
The cover can be removed and placed back easily
High quality Oxford build to prevent fray
Good durability
Cons
The rear end can leave slight openings
3. Full 360 degree protection WeatherProof TV Cover – 40"- 42" – Stronghold Accessories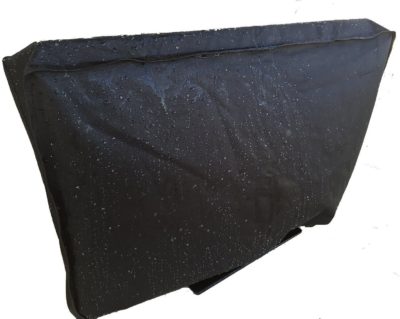 Be it from animals, snow, rain or mildew, this cover gives you year long protection. The fabric used for designing this cover is similar to the ones used to make boating equipment. That explains how resilient and strong it is. Also, the waterproof quality is splendid. There is strong stitching that's checked multiple times to ensure that the cover is durable for a long time. There are velcro straps at the bottom to give good sealing and this can be used on any wall mount.
Pros
The stitching is verified at least 3 times
There is a 2 year guarantee for the product
It is made of hard and resilient fabric
The velcros are good and seal properly
Cons
Product instructions are unclear
2. Stronghold Accessories – Beige Weatherproof Television Cover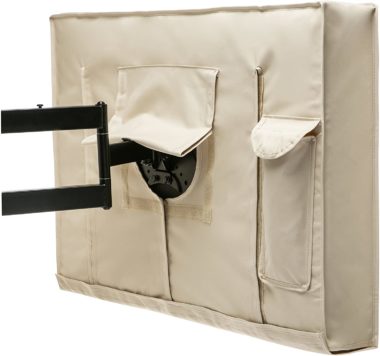 We have seen several black Tv covers on this list of 10 Best Outdoor Tv Covers in 2023. Now, it is time to see some beige in the stock! And it almost tops the list!  This one is spectacular because of its resistant quality. There is an extra flap at the bottom to completely secure your TV. The remote control socket is not too long, so getting that button device out is not a problem. The quality and durability of this cover are too good! You will see year long protection without any problems!
Pros
Very good quality
Waterproof nature is on point (Marine material used)
The extra flap at the bottom is a boon
2 years replacement guarantee in case it fails to impress
Fits securely and comes in apt size
Cons
If there are stains (oil or coal) on the cover, it's clear because of the light beige color.
1. Clicks – 52" – 55" Black weatherproof TV cover with Bottom Cover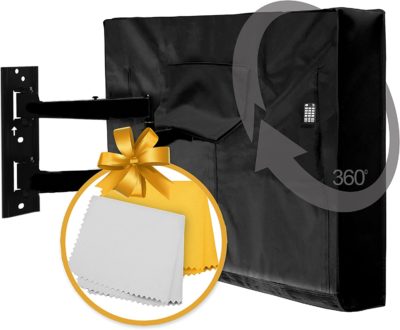 This is the hero of the 10 Best Outdoor Tv Covers in 2023 list! The best thing about this cover is the soft fabric. But don't confuse it to be an underperformer. It is resistant to water attacks, insects, bird droppings, and also harsh summer rays. You will have the needed protection all year long. The velcro straps stick perfectly and serve their purpose better than the usual zippers. It also has soft inner layering that won't leave scratches on your Tv screen. The installation is very easy and you won't sweat a drop while doing it yourself. It comes with a microfiber cloth that helps in quick clean without you pulling the entire cover off for a manual wash. With all these benefits, this one finds the top spot.
Pros
The velcro straps stick perfectly
The installation is very easy and customer support is commendable
Microfiber cloth for quick everyday cleaning
The soft inner lining prevents scratches
High durability
Cons
It only has 3 months guarantee
Conclusion
Each penny that you spend is precious. The Television sets are costly and there is nothing wrong with doing your research before getting the best ones. People love to lounge on their bean bags and enjoy their favorite shows in the open air. If you are one of them, then these 10 Best Outdoor Tv Covers in 2023 will help you spot the good ones. Try to get the cover that is of the right size. The tight ones don't fit and the loose ones invite environmental elements. Make a wise choice and enjoy the show!