For everything from books to knickknacks, from clothes to footwear, from documents to medicines, a plastic storage cabinet is a must-have for every home and office. We would even suggest that a plastic storage unit is needed for every room of the house. They are compact, easy to move, highly adaptable to the circumstances and importantly, anyone can clean them within minutes. Several brands have been playing around with storage cabinets, tweaking them to modern household demands and consumer preferences. Our 10 Best Plastic Storage Cabinets in 2023 is a collection that will come handy whether you live in a dorm, a bachelor pad, an apartment or a house in the suburbs.
Best Plastic Storage Cabinets in 2023 – Reviews
10. Kendall White Storage Cabinet from SystemBuild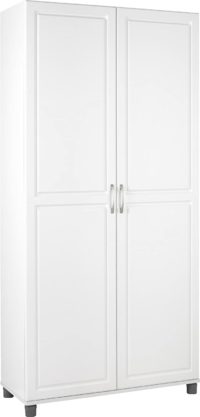 Let's start with a classic design that will smoothly gel with any residential or commercial space, irrespective of the interior decoration theme. You would have already seen the Kendall White Storage Cabinet from SystemBuild in many kitchens and offices, as it's hugely popular for its flexibility and functionality to dramatically improve the storage capacity of any space. This exquisitely designed cabinet comes with 5 shelves, with three fixed ones and the rest that you can adjust to your demands. The minimal flowy design in white gives it a welcoming and warm appearance that will seamlessly fit into any room, whether it's a laundry room or garage.
Pros
Sufficient space
Can be anchored to the wall, preventing it from falling forward
The bases can be adjusted in height, making them an excellent option for uneven surfaces
Cons
The shelves cannot carry too much weight
9. Laminate Organizer in Espresso from ClosetMaid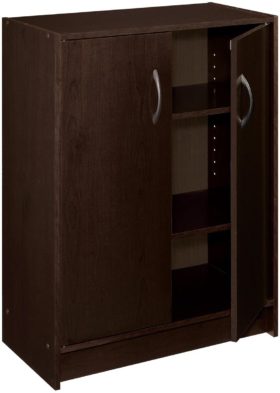 If you are looking for a compact storage unit for a relatively smaller space, this would be an ideal choice. The Laminate Organizer in Espresso from ClosetMaid is built to be used in spaces that don't have enough space for large cabinets. With 2 doors and 3 shelves, the organizer is spacious, easy to use and looks stunning in that beautiful shade of espresso. That color makes it easy to be arranged along with other pieces of furniture without worrying about a break in the design pattern. You can also use the top of the unit to store documents or display photographs.
Pros
Sturdy and compact build
Suited for smaller spaces
Beautiful color
Cons
Assembly will require some effort
8. 4-Door Pantry Storage Unit in White from South Shore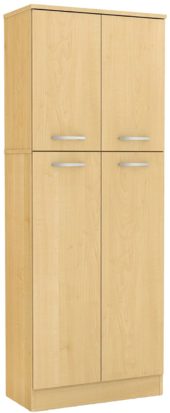 Organizers for the kitchen and pantry have to be different from those of other rooms because of the higher frequency of use. The 4-Door Pantry Storage Unit in White from South Shore fits the bill as it's manufactured with the needs of modern kitchens in mind. The tall unit provides greater space to store utensils, snacks and spices. The pantry unit has a modern and minimal design that will not contrast with the theme of most kitchens. The 4 doors make it easy to store and take out precisely what you need without wasting time and effort.
Pros
Tall unit with added space
Made of eco-friendly material
Budget-friendly price
Warranty for 5 years
Cons
Doors malfunction in some cases
7. Outdoor Organizer and Storage Unit in Beige from Rubbermaid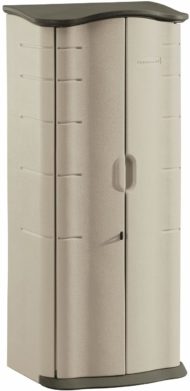 Outdoor cabinets need to be built with greater rigor and structural solidity when compared to indoor storage units. Rubbermaid knows this, as is evident from their Vertical Organizer and Storage Unit in Beige. This is where you keep your tools and accessories, to free up space indoors. Made of high-quality plastic, the unit comes with double walls for added protection. The 5-shelf cabinet is resistant to rust, water and other elements of nature and since it's an outdoor unit, you can also put a lock for safety.
Pros
Built for outdoor use
Resistant to rust and water
Easy maintenance
Cons
Shelves are not part of the standard unit
6. Garage Storage Unit in Grey from Keter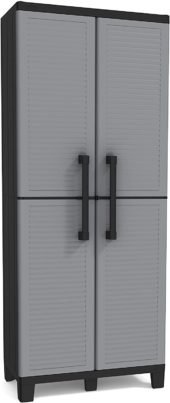 Looking for a cabinet to store all your garage tools, accessories and other equipment? Keter will get you interested in their Garage Storage Unit in Grey. It's impractical to expect large spaces in a garage for a cabinet and this storage unit has been built with that key insight. Its tall and lanky shape ensures that it doesn't take up much space. Made from top-quality resin, the unit with 4 shelves that can be adjusted, is a strong and sturdy cabinet that can carry weights of up to 44 lbs.
Pros
An excellent option for smaller spaces
Built to store heavy tools and accessories
Easy to assemble
Cons
Some customers are worried about its durability
5. 2-Door 4-Shelf Storage Cabinet from Rubbermaid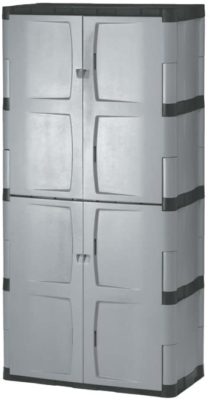 Rubbermaid continues to pleasantly surprise with their ingenuity. The 2-Door 4-Shelf Storage Cabinet is a unit that doesn't compromise on either space or durability. It's a comprehensive storage solution for your garage or basement, or if you have invested your time and efforts into a workshop. Its hallmark engineering innovation is it's snap and lock design that makes assembling this unit, a walk in the park.
Pros
An excellent option for garage or basement
Easy to assemble with its snap and lock mechanism
Resistant to rust and water
Cons
The shelves cannot be customized
4. Outdoor Storage Cabinet from Suncast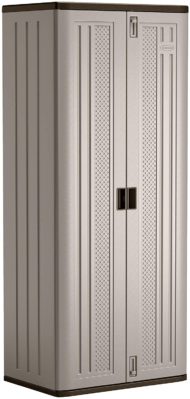 Here's good news for those with lots of tools and equipment lying around their garage or basement. The Outdoor Storage Cabinet from Suncast is made of industrial-level high-performance resin that makes it extremely strong and long-lasting. You can keep all your mechanical gear inside it without worrying about the structural integrity of the unit. What we also like is the fact that the handles can be locked and the entire unit is resistant to rust and warp. The sleek linear design is an added attraction that makes this outdoor storage unit a serious contender to house your tool kit.
Pros
Built from strong resin
The unit won't rust or warp
Beautiful design
Cons
More expensive than similar units
3. Wall Mounted Storage in Platinum from Suncast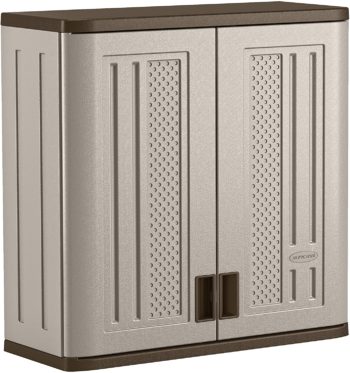 So, what if the floor is already occupied by other shelves and you don't have enough space for a big cabinet? Well, Suncast has an answer in the form of their Wall Mounted Storage in Platinum. If you don't have too many tools or equipment to store, this is a logical option. With 2 shelves, what the unit doesn't offer in space, it offers flexibility. You can fix it indoors or outdoors, in the kitchen or the laundry and with its lockable doors, you can be assured of the safety of your belongings too.
Pros
Can be fixed to a wall, to save space
Good to store small tools and children's stuff
The shelves are reinforced with metal
Cons
Some users have complained about the alignment of the doors
2. Freestanding Cabinet from Keter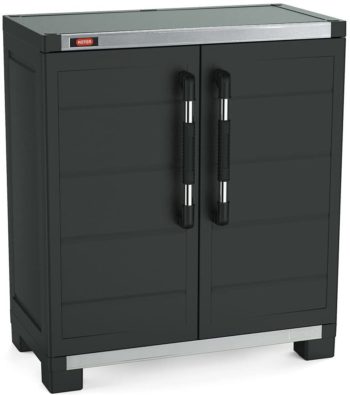 When space is a serious constraint, it's time to think of innovative options. Like the Freestanding Cabinet with Adjustable Shelves in Black and Silver from Keter. As the name implies, this gorgeously designed shelf, in an elegant contrast of black and silver, can be placed anywhere. Whether it's the garage, basement or even the kitchen, the unit will fit in comfortably. Made of top-grade and sturdy plastic, this little unit has all the strength to take care of your equipment and garage tools. As its legs can be adjusted in height, you won't ever have to worry about your cabinet wobbling on uneven surfaces. Plus, it's unbelievably easy to clean.
Pros
Ideal for small spaces
Built from strong and durable plastic
With an adjustable base, it won't be wobbly
Cons
Some find the instructions to be confusing
1. Optima Wonder Tall Cabinet in White and Grey from Keter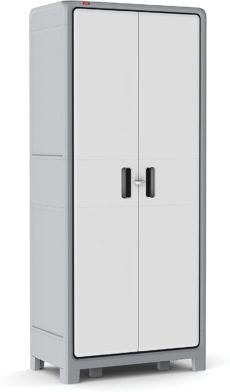 At the top of our list is a cabinet that ticks all the boxes for us. The Optima Wonder Tall Cabinet in White and Grey from Keter is a superb demonstration of the symmetry of functionality and design. Whether it's your home or office, when you want to store a lot of things in a small amount of space, this is the unit you should be looking at. Made of strong resin, it has 4 shelves and hinges made of metal for seamless opening and closing. We are particularly impressed by the unit's ability to protect its contents from humidity, which will be priceless when you store official documents inside. As an added safety measure, the unit can also be locked.
Pros
Suited for both offices and residences
Made of strong and sturdy resin
Protects contents from humidity
Cons
Could be difficult to assemble
Conclusion
Even if you believe you don't need one right now, a simple plastic storage cabinet can make a massive difference to your residence. It will optimize space and club things together for your convenience, making them easier to find later. It will also bring order by removing clutter. Go through our 10 Best Plastic Storage Cabinets in 2023 to organize not just your apartment but your daily routine as well. That's the kind of difference a good storage cabinet can make.