Washing dishes is perhaps the most boring of all the household chores. No matter how boring it is, you still need to do it to maintain the decorum and healthy ambiance around your house. However, with the help of dishwashers, you will be able to make this an easy task. The portable dishwashers are easy to use and as the name suggests are easy to carry around too. Plus, they are lightweight and do not take up much space.
You might have already decided on the model to buy but it's still necessary to make a double-check. Find if the product you plan on buying is really worth it and feel less agitated before buying.
List of Best Portable Dishwashers Review
10. SPT SD-9241SS Energy Star Portable Dishwasher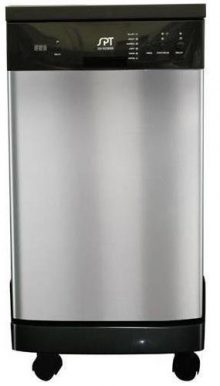 SPT presents to you a dishwasher that is easily moved from one room to another without any problems. It has high-quality materials construction and has a stainless steel door with a brushed look that raises its aesthetic value by a high margin. If you have a small apartment with limited space, then this dishwasher is perfect for you.
It has 4 wheels which let you easily glide the dishwasher from one room to another with little to no effort. Finally, it even has multiple wash programs that make it a highly versatile machine.
Key features:
The upper rack is adjusted to insert dishes that are larger in size.
Comes with a faucet adapter that lets you easily make a connection with the plumbing line.
Interior has a stainless steel construction that is highly resistant to agents of corrosion.
9. hOmeLabs Countertop Dishwasher
Homelabs always try to innovate and provide products that bring a genuine quality of life improvement for you. This dishwasher from the brand is a result of that spirit and has rich features that benefit you in multiple ways. It has a really nice minimalistic and symmetric look with fine lines going all over the machine. Leave all your dirty dishes and cookware to this machine and let it handle the filth.
As a matter of fact, its compact size allows you to rest it on your countertop and on tables. It has a simple control panel. Hence, makes using these breeze and light indicators also lets you know of the wash modes and other information. You get a total of 6 wash modes in this machine which includes, normal, heavy and even ECO mode that uses less electricity. You also get an amazing function that lets you postpone dishwashing with just the press of a button.
Key features:
Comes with most of the plumbing requirements, from faucet adaptors to drain hose.
Assembly is quick and efficient without the need for any tools.
Has a dispenser for rinse aids so that you don't have to do it manually every time.
8. Best Choice Products Kitchen Countertop Portable Compact Dishwasher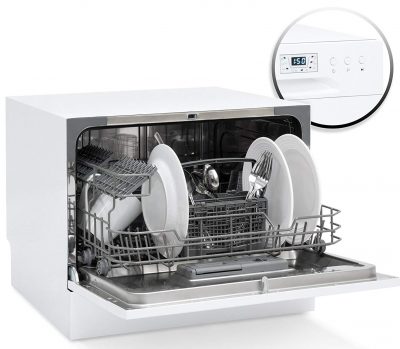 Best Choice Products has brought to you an offer that is basically a steal deal. For an incredibly low price, you get a fully functional portable dishwasher with all the latest features. It does more with less space and can fit inside your cabinetry or on your countertop with no problems.
It has a rotary selector which lets you choose between the wash cycles and buttons for controlling other features. Having preset timings, you can set it as required.
Key features:
Have immense organizing capabilities to keep your sink dish free.
It is indeed a space-saving product occupying minimum space.
Delay function lets you delay the wash program up to 24 hours.
7. Danby DDW631SDB Countertop Dishwasher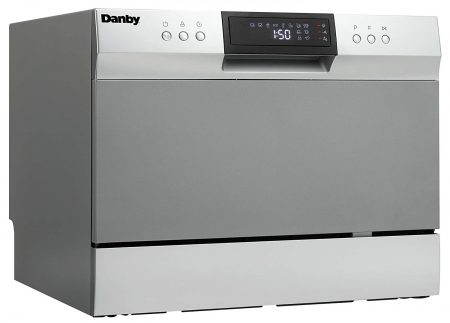 A great portable dishwasher for your countertop that requires less space! Therefore, gives you the same functionality and even more features than your old traditional dishwasher. It is compliant with standards set by Energy Star. Moreover, it consumes a small amount of water, just around 3 gallons with each wash to clean all your dishes.
It has got 6 places setting that lets you display all your dishes in cutlery in a great way. Hence, keeps your sink free for cleaning your ingredients. With 11.7l of capacity, you can delay it to a maximum of 8 hours.
Key features:
The control console is integrated into the dishwasher and the interior has a stainless steel construction.
Perfect for any sort of kitchen countertop.
Works with 120 volts and is used in most American households without an issue.
6. EdgeStar DWP62SV Energy Star Rated Countertop Dishwasher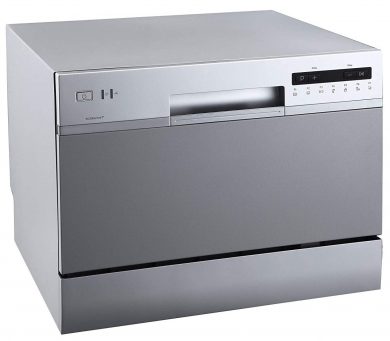 EdgeStar never fails to create products that leave competitors in the dust and leaves their customers completely satisfied. This dishwasher from the brand is one such example. The best thing about it is its portability. It has a small form factor than most but doesn't lack inefficiency. You don't need to do any permanent installation or spend on professional help for installing this device under your cabinet.
Moreover, the dishwasher has a high enough energy-saving capability that makes it eventually pay for itself. With just 200 kWh of energy, it can take care of all the dirty business. And uses around 60 percent less energy in comparison to most similar models. But the efficiency doesn't stop there either. It will also save you a lot of water and makes use of every drop in the best way possible. So you don't just save on your energy bill, but also on your water bill which is environmentally friendly as well.
Key features:
The spray arm is powerful enough to wash all your dishes and cookware thoroughly.
The interior has a stainless steel construction that looks great in every situation.
Has an integrated water heater that can heat up water to 149-degrees to kill off any bacteria or germs.
5. Magic Chef Energy Star MCSCD6W5 Countertop Dishwasher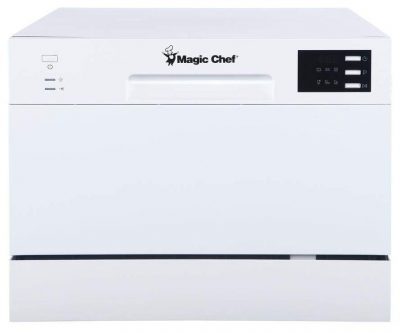 Magic Chef offers you an innovative solution for your dishwashing needs, whether you are at home or going through the countryside in your RV on a family trip. With the stainless steel, interior filth doesn't get stuck to the walls. Plus, it is kept clean and shiny for a very long time. It also boasts a delay feature that lets you schedule a wash time according to your convenience.
As a matter of fact, it certainly has a 24H delay start to make it much easier for you. Along with drying the residues, it indeed has a clear digital display for providing all the necessary details.
Key features:
Has an EZ Clean filter which is detached for quick maintenance.
Includes indicator lights for hinting whenever done.
Comes with a quick Connect Adapter that has hoses for allowing water in and discharging it out.
4. DELLA Mini Compact Countertop Dishwasher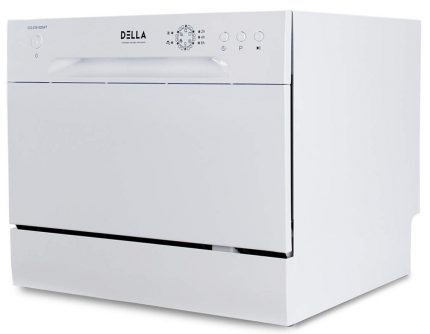 One of the greatest hassles about living in small apartments and moving homes is limited space and heavy machines that make your daily life easier. But your dishwasher doesn't need to contribute to that problem when you buy this model from Della. It is small enough to fit inside tight spaces and is even used inside your RV or mobile home.
Furthermore, it has the latest features including automatics dispensers for rinse aids and detergents. So, you can simply place the dishes inside the dishwasher rack, choose the required setting and let it clean.
Key features:
The internal water heater can raise the temperature of the water up to 148-degrees to eliminate bacteria.
It comes with a quick-connect kit that doesn't need you to do any permanent installation.
3. Danby DDW621WDB Countertop Dishwasher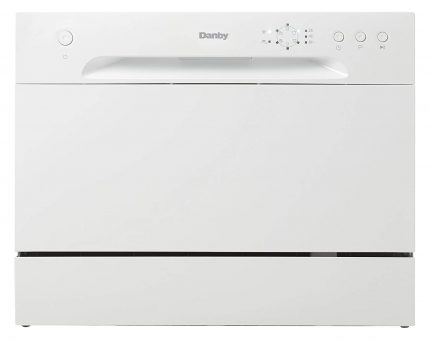 Now you can take care of the dirty dishes quickly and in style with the help of this dishwasher from Danby. It has 6 separate settings or wash-modes for cleaning your dishes and in the normal mode. Next, it uses just over 11 liters of water for leaving your dishes spotless and clean. So it saves you a lot of water which is particularly useful if you live in areas with water scarcity or get expensive water bills.
It also leaves a good impact on the environment with less water waste. Other wash modes in this washing machine include economy, rapid, intensive, soak and glass. Use the last setting for cleaning delicate glassware and wine glasses. The interior has stainless steel construction which wouldn't get corroded by all the rinse aids and water and is super easy to clean. You can maintain this dishwasher in pristine condition with minimal effort.
Key features:
The dishwasher has 6 place settings that include a silverware basket. So your sink is always clean and free from dishes.
Rinse agents and detergents are dispensed automatically.
The LED display indicates the operating modes and other useful information.
2. SPT SD-2224DS Countertop Dishwasher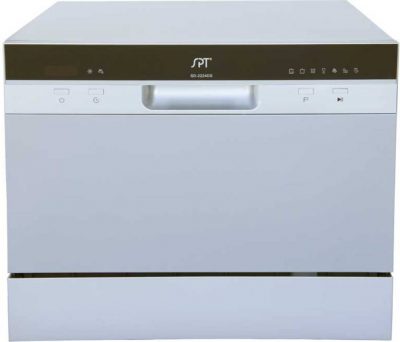 SPT has specially designed this dishwasher for versatile use and doesn't even require you to do any permanent installations. Its portability acts as a great advantage when you want to move homes. Its small size also makes it fit on countertops with limited kitchen space. You can also choose the time you want to activate the wash cycle.
You can choose between 2 hours to 8 hours with increments of 2 hours in between for the delay function. Having LED displays, it certainly has as many as 7 wash cycles that offer diversity.
Key features:
Have electronic controls that are easy to use and display shows you information like running state, remaining time and more.
Has indicator to inform you if you are running out of water or rinse aid.
 The compact design looks good.
1. BLACK+DECKER BCD6W Countertop Dishwasher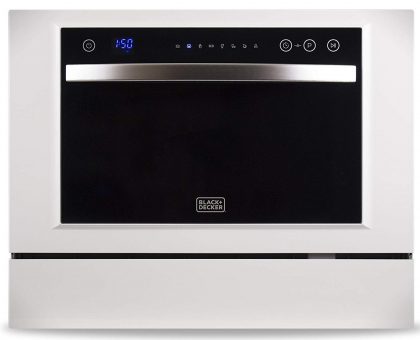 Black+Decker never fails to astonish their consumers with improving designs and innovations that make their lives easier. They dominate in the power tools market. This dishwasher may also lead them to make their own place in the market. The cube design of this dishwasher looks extremely amazing. And the black panel on the front makes a stark contrast with the overall white body.
With this dishwasher, you can choose when to start the wash cycle whenever you want. It has a delay option which lets you choose the time of wash within a 24-hour limit. So the dishes can pile up till dinner time and at the scheduled time they get washed and ready for use when you wake up.
Key features:
Child Lock feature makes it extra safe around children.
Has been certified by Energy Star and high-efficiency rating for using less power.
It has a total of 7 wash modes that include an ECO mode and even a rapid mode for your various needs.
Buying Guide For Portable Dishwashers
Type:
Portable dishwashers can come in different designs. You can find standard portable dishwashers that have slim construction. Countertop dishwashers have compact housing and allow you to use them conveniently.
Noise:
Most portable dishwashers operate at heavy noise which can be very irritating. However, you will also find the one that can operate quietly. Always select the one that can operate with a minimum of 55 decibels so that there can be quiet performance.
Power Consumption:
Consider investing in the one that delivers efficient performance. It must reduce the power consumption making it an eco-friendly model.
Efficiency:
The one that helps to reduce water consumption will be an ideal consideration. You can see if it can rinse thoroughly without wasting much water.
Materials:
The portable dishwasher must have high-quality construction so that there can be value for money. For this, you need to see if it is composed of premium quality materials. Look at the tub material carefully as you will find it in stainless steel or plastic. In addition to this, you will have to consider the design and weight so that there can be easy carrying.
Water Source:
Always go for the one that comes with built-in hosing. You will have to see if it allows you to connect it with your standard kitchen faucet. Look at the type of adapter, and it must offer you many options.
Wash and Dry Cycles:
You will have to see if a portable dishwasher comes with multiple wash cycles. The one that comes with the feature of the dry cycle will be an ideal purchase. In addition to this, some of it can also come with a water heater that can have multiple settings.
Pump:
To make sure there will be a smooth performance, you will have to see if it comes with a convenient pump. Look at the quality of the pump carefully and see if it delivers exceptional performance.
Installation and Maintenance:
The portable dishwasher must allow you to install it conveniently. You will have to go for the one that offers you multiple options. In addition to this, consider investing in the one that comes with easy maintenance.
Features:
Select the one that lets you have a hassle-free operation. You will have to go for the one that comes with the feature of delayed start so that there can be maximum convenience. For having reliable performance, it must come with safety features.
As you have all the liberty to pick anything, the portable dishwasher is a wise option to place anywhere and start doing your dishes. So, thinking about getting one?