Slide boards are the ultimate training aids for those who need some form of therapies; have some weight loss goals to meet, or need to have hockey or ice-skating practices. Either way, you need a good slide board that is risk-free, convenient to use and has great value for the money.
In this article, you'll find 10 of the best slide boards of 2023 which are currently available on the market. Each product review features the advantages and downsides of each selected slide board. Followed immediately are general features to consider when choosing the exercise slide boards. Without further ado, let's set the ball rolling!
List of Best Slide Boards Review
10. 3G Black Slide Board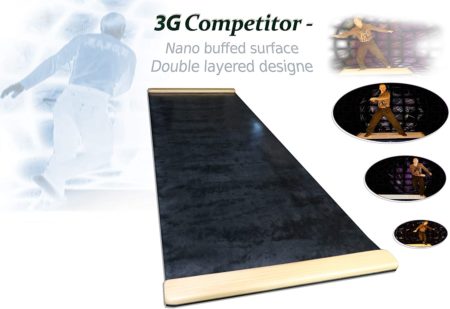 This 3G black's slide board comes with bumpers that are well constructed and made of solid pine wood. They have no bulky plates or thermoplastic materials. Rounded off and well polished, the slide board wouldn't get you injured during your workouts.
Made in the USA under compliance with high manufacturing standards, the board is constructed in two layers. The slide board comes in 5-foot and 6-foot variants.
Pros
Non-slip bottom layer adds extra grip
Free workout tutorials on DVD
Convenience of storage
Cons
9.  Hockeytrain Lateral Slide Board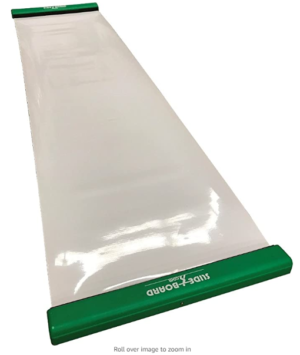 The Hockeytrain.com slide board has a 6-foot length with a width of 2 feet. Although there are slide boards with bigger and varying sizes, the model would not give beginners, teenagers, and some adults size problems.
It has a double-layer construction. While the lower layer has a surface that prevents the board from sliding or curling, the upper layer resists heat and can stand everyday uses.
Pros
It is very lightweight and easy to carry
Rolls up and unrolls faster
It resists heat and sweat
Cons
Bumpers are made of cheap plastics that could cause injuries
8. HockeyShot Pro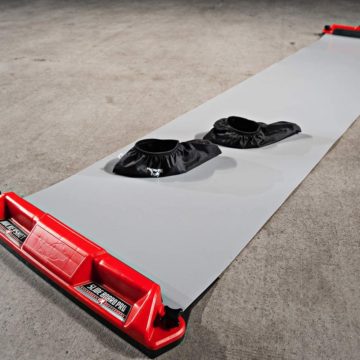 This hockey training aid from HockeyShot comes in 8 feet and 10 feet sizes. Each comes with one pair of large booties. Other features include a carry handle and carry bag for easy transportation, and a bungee cord for storage. It comes in three colors – red, grey and black. Its price tag is the only downside. Perhaps, this is to ensure it is only affordable to more serious users.
Pros
Easy to use and store
Comes in three colors
Spacious practice space
Comes in two size choices
Cons
7. 3G Ultimate Slide Board
The 3G Ultimate Slide Board has a 6 x 2 feet dimension. Made in the US, it is a premium slide board with a classic and thick design. The bumper is made of pine wood that is of premium quality. In fact, it is much more long-lasting than those made of thermoplastic by other brands. The bumpers of the slide board resist cracks, even when you push them extremely.
The board has a two-layer construction that is bonded together. This gives it great stability, making it hard to warp and form waves after long use. The uppermost layer is coated with a dry lubricant, providing a good sliding experience for users. The lower layer, however, comes coated with durable rubber. This reduces the board's tendency to skid or shift. It comes with booties, DVD tutorials, carry bags, among others.
Pros
Lightweight and easily transportable
Good for indoor practices
Wooden bumpers provide more professionalism
Doesn't slide or skid too much while on the carpet
Cons
Quality doesn't justify high-end price doesn't
6. Balance 1 Slide Board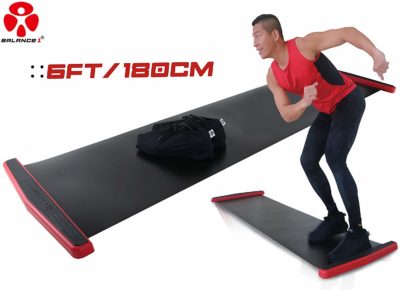 The slide board is a 6 feet (70-inch) model designed for sliding exercises in a home gym. Unusually smooth, the slide board is just perfect for leg training, core training, skating and racing training, and hockey training. It features a non-slip bottom surface that has a good grip.
Asides from the 6 feet type, it also comes in 7.5 feet. It's all suitable for teens, beginners, and professional users. It comes with an instruction manual and is available in black.
Pros
It features a non-slip bottom
Comes at an affordable price
Mesh storage bag for transportability and storage
Durable product with a smooth surface
Cons
Material not of very high quality
Not completely flat
5. Powerslide Slide Board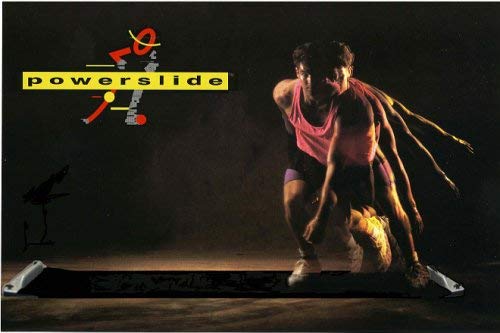 The Powerslide Slideboard is a 10-foot model for lateral exercises. It is specifically made for training athletes. It increases athletes' lateral power, endurance, agility, and strength. The model comes with specially formulated sliding surfaces as well as end stops that are heavy-duty. In addition, its large nylon booties you slip over well with shoes on, hence, providing you with comfortable but safe gliding experiences.
Featuring a storage bag, the board has a special design that lets it roll up smartly and compactly fitting into the bag. Other included/integrated accessories and features include adjustable end stop, instructional DVD, booties, ramps, and bumpers.
Pros
Available in standard black color
Comes in large and different sizes (8 and 10 feet)
Lightweight, compact and easily transportable
Comes with user guides
Cons
It is a bit too slippery
Non-cushioned bumpers which are of plastic material
4. Obsidian Exercise Slide Board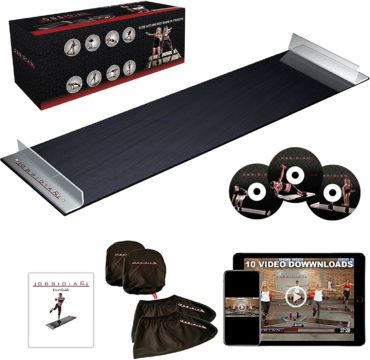 The Obsidian Slide Board is designed for users who need weight loss exercises or high-intensity interval training (HIIT). It comes in 5 and 6-foot sizes and is meant for low-impact and high-intensity exercises. However, it is only sold in black color. It comes with just one pair of gloves or mitts for users' hands. There is also a usage manual accompanied by DVDs on exercises.
What makes this slide board extraordinary and break into our list is its unusually long end stops that are made of good quality and safe plastics. It facilitates stopping during exercise. However, when practicing certain types of exercises, be careful with this feature. Ensure you don't get injured by running into it. In addition, the product's sliding ease may be oversensitive for beginners and children.
While the 5-foot variant is suitable for children or people with small stature, it is in no way recommended for adults. Remember that the standard size for slide boards is 7.5 feet. So, it all depends on the users' body features.
Pros
There is a choice of different sizes
Backed by a lifelong warranty
Comes with user manual and DVDs on exercises
Cons
The non-standard size makes it not recommendable for all adults
3. SPRI Slide Board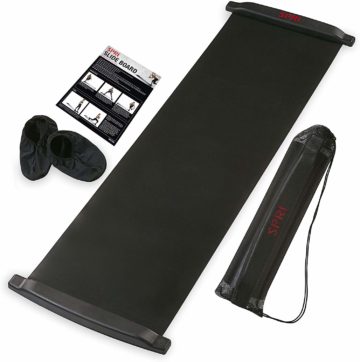 By far the best low-budget slide board, the SPRI model comes in the standard black color. Included in the package are a mesh storage/carrying bag and shoe sleeves. However, this slide board comes only in one color. In addition to this, it doesn't come in a smaller or larger size. It only comes in the non-standard 6-foot size.
However, it compensates with a simple grab exercise tutorial guide. This includes comprehensive descriptions of the steps for each exercise with picture aids. In addition, unlike many other models, the SPRI model doesn't get stuck to carpets. But it may attract the hairs of your pets, and this can be a bit uneasy to get rid of. Nonetheless, wiping the board with damp fabric will catch and get rid of these hairs. So, know that this is one of the little downsides of the board. You'll need to clean the board once before and after your exercises, at least.
Pros
It is very affordable, yet of good quality
Features a usage guide
It attracts pets' hair easily and more often
Cons
It doesn't come in standard color and size.
2. American Lifetime Slide Board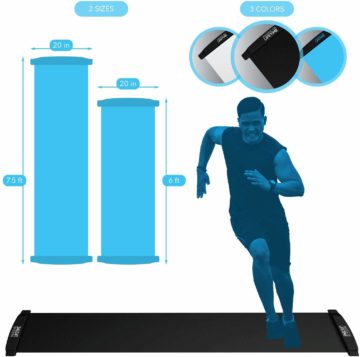 Taking the number 1 rank is the American Lifetime model. This slide board has a color differential when compared to other slide board models on the market, which most often comes in black. The slide board is available in white and blue colors. There are two different lengths – 6-foot and 7.5-foot lengths. It can be used for pushups, stair climbing, planks, split squats, plank jacks, and leg and core training.
However, for the best usage experience, we recommend choosing the 7.5 feet variant. Meanwhile, it's unfortunate to say that this type is usually unavailable in the standard color black. But you can get a blue or white variant.
The slide board has high quality in terms of the ease of making slides. However, it sticks firmly to carpets. But this can be remedied by getting your workout matting made of foam and placing it over the carpet before laying your board.
Asides from these, the slide board features two shoe sleeves which are otherwise referred to as booties. It also includes a mesh storage bag for portability ease. For assurance of quality, the model is backed by a one-year warranty.
Pros
Comes in a standard length
Features a carrying bag for transportability
30-day return possibility and one-year warranty
Con
Standard color is usually unavailable
1. Hockey Revolution Sliding Training Tiles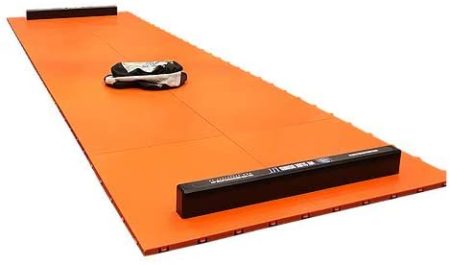 Regarded as one of the best slide boards for hockey professionals in 2023, the Hockey Revolution model is an expensive sliding board. Being a premium model for all the right reasons, it is of very high quality and only designed for professionals. It is unique because it's made of several sheets or pieces of materials that measure 13-inch by 13-inch. This means you will be able to arrange them in different ways, helping you to be able to customize your exercises.
Unlike many slide boards on the market which average 6 feet in size, this model doesn't only come in longer dimensions, but in varying types, according to the number and length of the tiles. Basically, you have the choice of three different sizes – the 12-tile type that measures about 6 feet in size, the 18-tile type that measures about 9.75 feet in size and the 20-tile type that measures about 11 feet in size. While the 18-tile type comes in a silvery-grey design, the rest come in bright orange color.
Not lacking in extra features, it comes with stoppers that are customizable for any arrangement the user wishes for his or her workout.
Finally, while the board costs far more than many models of its peers, you would expect that it will be more durable. And yes, it is! It is made of harder and high-quality materials that the board is even more slippery. What else do you need in a slide board?!
Pros
Made of high-quality material
Comes in many variants according to size
It provides for more customization
Great value for the money
Cons
It may be costly for some users
Maybe too slippery for beginners
Buyers Guide Choosing on Slide Boards
There are a few things to watch out for before spending money on any slide board. We'll see the most important features or criteria to consider in a slide board before purchasing it:
How to Choose the Best Slide Board
Quality and durable material 
To get the best from your training aid, ensure you are choosing one with high-quality material. As for the bumpers, ensure they are made of top-quality pine wood and are rounded off around the edges. First, this ensures durability and risk-free training. If not, there's a likelihood of sustaining injuries when you hit the bumpers, especially when they are made of cheap thermoplastics. Choose models with double layers, with an antislip underside that provides enough grid.
The size of a slide board will determine whether it can be used by a professional, an amateur, teenager or users of all ages and experience levels. The most popular lengths for slide boards range from 5 feet to 12 feet. If you're a professional or an adult, steer clear of 5-6 feet models. However, 7.5 to 8 feet models are considered the standard size and will be suitable for almost everyone.
Sometimes, your practice facility may not be within your living space. You may have to go out to the gym for your hockey training or weight loss workouts. Considering these, then you need a lightweight model that rolls on well, has a mesh carrying bag, and probably a carrying handle.
Final Words
We've seen some of the best slide boards of 2023 and some purchase criteria to consider. Don't forget, the lengths and options of choosing between different sizes, colors, bumper quality, non-slip properties, instruction manuals, carrying bag, to mention a few, are features that should guide your add-to-cart decisions. Never fall for cheap products with less quality assurance and high-end ones which would not justify the price. Now, go have a good deal with a slide board seller!