Everybody loves a carbonated drink or fizz water. Be it a flavored soda or sparkling water, these are must for your parties. However, it is not possible to buy these drinks every time you want. Not only these drinks are costly but they are not even healthily manufactured. Thus, you need to opt for a soda maker. With high-quality carbonators and a marvelous build, a soda maker can easily carbonate any drink. Furthermore, they are easy to use too. So, you will be able to get your favorite soda drink at your home at any time.
Here, in this list, we are taking a look at the best-selling soda makers that are perfect for household as well as commercial purposes. Hence, operate it with ease and get the best of the drinks.
What's the purpose of soda maker?
Almost everyone by choice loves sparkling fizzy water or drinks more than the regular ones. They just taste better look more attractive and gives a more refreshing feel to any drink. When you are drinking soda, it is the fizz that you enjoy most but then most often than not we go to a store and get our favorite sodas. You can change it once and for all if you get yourself a soda maker that can be used at the comfort and convenience of your home. These small machines are powerful enough to transform any drink and make it more attractive and tasty always. As these are small and compact machines, almost anyone can keep them in any space. Be it a countertop or a corner at your dinner table.
List of Best Soda Makers in 2023
10. DrinkMate Soda Maker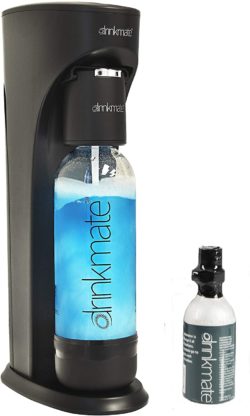 From water to cocktails, this works with all the drinks and never fails to impress you with the results. The DrinkMate machine is included along with a 1-liter bottle. This reusable carbonating bottle is BPA-free and safe to have your drinking water. The overall design promotes convenience and makes sure you can always use this without the need for electricity or battery.
Also included in the package is a 10L starter Co2 carbonator so that you can start carbonating the drinks right away. Compact and elegant design, this has a premium and small footprint to perfectly sit on the tabletop and countertop.
Key features: 
Three choices of finish and colors so that you can select the one that perfectly complements your home décor.
Clean it simply, makes iced-tea, flat soda, beer and so on.
It also comes with a special fizz infuser to add extra fizz to your drink.
9. Spärkel Beverage System Soda Maker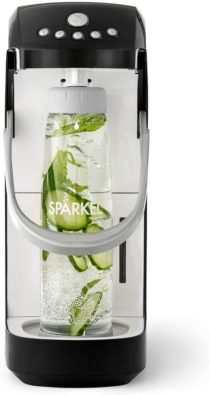 When you are looking for a modern and innovative solution, the options are very limited. This amazing soda maker is from the home of Sparkle is the latest kind. It doesn't even require a Co2 cylinder to carbonate the drink you wish to have. Very easy to operate and use, there are 5 levels of carbonation to choose from. You can easily decide how much amount of bubbles you need in your drink.
The simple button makes it extremely easy to use and navigate through the options. In the package, you will get a reusable bottle along with 10 carbonators to use. The right amount of Co2 will be produced by the carbonators each time to make the drink fizzier and tastier.
Key features:
Coming with a one-year replacement warranty and customer service, contact the brand to fix the faults.
The machine has a handle so that you can carry it around when needed.
The elegance of this machine gives it an edge.
8. SodaStream Jet Sparkling Water Maker, Kit w/60l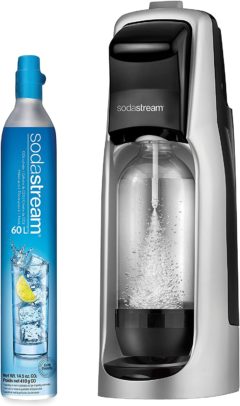 At the push of a button from your end, you can have sparkling water and carbonated drinks every time. Having something like this at your home or office makes the time more fun because now you can refresh and recharge yourself whenever you want. As it is a one-piece design with no brainer functionality, everyone can use it without any sort of hassles.
In order to make sure you can start using the machine as you get it, this comes with a 1-liter bottle. The BPA free bottle is safe for your drinking water and is totally reusable.
Key features:
Powered by CO2 cylinders, you will not have to use electricity or batteries to run this.
This one is compatible with all the flavors of soda stream easily.
Besides, it works best with 1L carbonation bottles.
7. SodaStream Fizzi Sparkling Water Maker (White)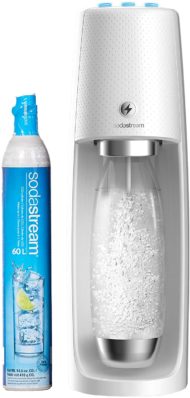 SodaStream is a very reliable name when it comes to high-quality soda makers. The Fizzi one touch is a marvelous option for anyone who likes to drink carbonated drinks full of bubbles. This is even suitable for people who drink sparkling water on a regular basis. No need to buy expensive bottles anymore because you can do it yourself at home with just the touch of a button.
You will get a 60L co2 cylinder included in the package so that you can start using it out of the box. The 1-litre BPA free bottle fits perfectly with the elegant soda maker and completes the entire set up.
Key features:
Comes with all different SodaStream carbonation bottles and flavors for you to enjoy.
Powered by electricity, you will love using it on a daily basis at your home/office.
You will get three levels of fizz to choose from so that everyone can prepare a drink of their choice.
6. AARKE – CARBONATOR II MAKER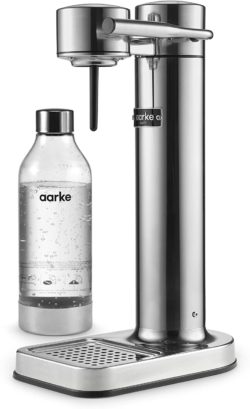 Look at this beautifully designed and elegantly finished soda maker and flaunt it with style on any tabletop or countertop. The overall shine and finish of this small machine are so impressive that it will look amazing anywhere. Quite sleek and compact, the size is small and readily adds convenience to your lifestyle without asking for a lot of space.
Moreover, as this doesn't require electricity or batteries, it is way more user friendly and suited for modern families. Finally, the stainless steel material construction is safe against rusting and corrosion damage.
Key features:
Safe and non-toxic bottle included in the package which is made of PET plastic.
For longevity as well as damage-free operation, it has two years of warranty.
You get many color options to match the aesthetic of your home.
5. iSi North America Soda Maker

Simple yet extremely useful, this contemporary product is an example of traditional construction combined with modern technology. Enjoy handcrafted sparkling soda anytime anywhere with this very easy to use soda maker. Having construction using stainless steel, the entire bottle is safe and totally reliable for all kinds of drinks.
Owing to the use of a high impact plastic head, you can be sure that this is a one-time investment. In addition to that, the cap has a charger holder, measuring tube, key for removal, and dust cap. All of these combined together aids in the process of soda making perfectly.
Key features:
Easy to wash and maintain, you can handwash this with warm water and keep it clean always.
Includes a two-year manufacturer warranty which assures risk-free buying always.
Comfortable and simple operation makes it a go-to soda maker for everyone.
4. Aarke – Carbonator III Premium Water Maker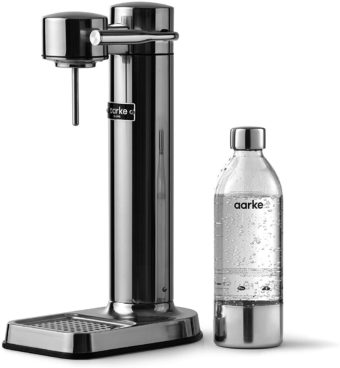 This is the latest addition in the line of outstanding soda makers from the house of Aarke. Like the previous two generations, this has amazing features that make it a fantastic choice for anyone and everyone. It gets a very compact and stylish design which allows you to keep it anywhere, on the countertop or tabletop. There is also a number of style and choices available to suit the needs of everyone.
Although you will not get any Co2 cylinder, you will get a BPA free water bottle along with the machine. Lastly, it is user-friendly and convenient, no one will face difficulty while operating it.
Key features:
More attention has been paid to the design aspect to ensure minimal environmental impacts and damage.
Get other classic finish options as well and pick one according to your preference.
It also comes with a 60L 14.5 Oz CO2 carbonator cartridge for smooth operation.
3. Drinkmate Spritzer Sparkling Water and Soda Maker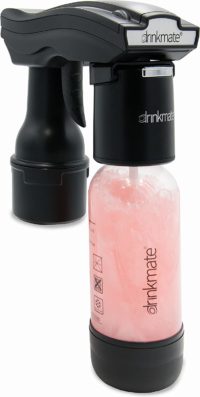 Indeed, an innovative soda maker that will travel with you. As a result, you can always have the drinks the way you like it, this is the one for you. Totally portable and easy to use, you will be able to keep it in your bag and have fresh sparkling water ready in no time. A perfect option to be taken to the barbeques and parties you have with your friends.
Simple to operate and clean, you will not have to do shell out any efforts to have the drink sparkled. Moreover, as this runs completely without batteries or electricity, using it on the road or anywhere will be easy.
Key features:
In the package, you will get 2 3oz Co2 carbonator cylinders that can make up to 64L of sparkling beverages.
Cut down on the single-use plastic, this easy to store maker is totally eco-friendly in nature.
Certainly, this can carbonate anything including tea, juice and even wine.
2. Drinkpod FIZZpod Soda Maker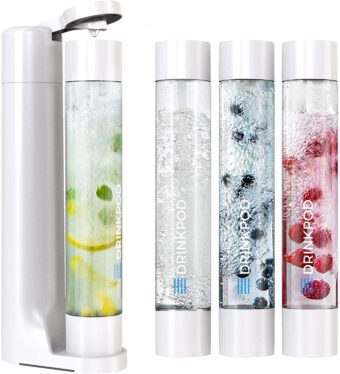 Enjoying fizzy and healthy beverages at the comfort of your home will not look challenging ever again. Embracing the latest patented technology, the kind of sparkling water you will get out of this is healthy and risk-free. It uses a 2 step gas relief along with a split injection pipe. Hence, you can use this with all kind of drinks or flavors.
You can even use fruits in the drink to make it tastier and healthier. One amazing thing about this soda maker is you will get as many as 3 PET bottles. These are safe for keeping consuming drinks of any kind.
Key features:
Extremely lightweight and easy to use, this is the soda maker that you can take anywhere and use with convenience.
Has a cylinder screw so that you can attach and take off the bottle without any effort or issues.
Comes with 2-auto relief valves so that there is never any clogging on the machine or bottle.
1. SodaStream Fizzi Sparkling Water Maker (Black)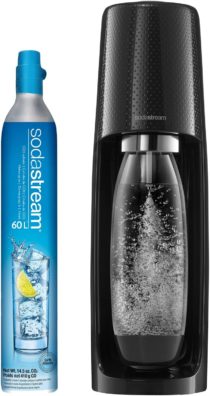 At the top of the list, this is an Amazon's choice product that has already won the trust of many consumers around the globe. Ideal to make sparkling and fizzy drinks whenever and wherever this extraordinary soda maker from SodaStream is a must-have for anyone. As it is compatible with all the flavors from SodaStream and carbonation bottles, you can enjoy the diverse taste. You can directly contact the brand specialist when you need to refill your cO2 cylinder.
As a matter of fact, you can make the tastiest and fizziest drinks with just a click of a button. Hence, you can keep enjoying every sip.
Key features:
This is an energy-efficient maker that doesn't use any electricity or batteries to work.
Includes a cylinder that can carbonate up to 60L of water.
You will get a BPA free 1-liter bottle included in the package.
Which are the qualities to check while buying a soda maker?
When you have already decided you want a soda maker in your life, the next thing you need to see is which one will you prefer the most. The world is full of options and there are almost innumerable choices everywhere. It can get really tedious to find the best one for your use. However, if you play it smart and look for the key factors, it can be really convenient for you to choose. The most important thing you need to see is the design and what kind of materials has been used for making it. A well-designed soda maker will always be more convenient and easier to use. Food safe high-quality materials are important because you will be using them with drinks. Always go for soda makers that use PET or BPA free plastic bottles to make the drink.
How to choose the best soda maker?
Finally, look for the interesting features that make one particular machine better than all the other options. Small features like ease of usage and one-touch operations add more convenience to the process. You do not want to struggle with a soda maker that takes a long time to navigate through the settings and options. One-touch of a button and your carbonated drink is ready. Some soda makers, however, gives you the option to choose between levels of carbonation. That is a useful aspect because you can decide how many bubbles you want for that specific drink.
Almost all of the options are energy efficient by nature and don't require electricity or battery. That makes a huge benefit because it lets you carry them. Lastly, if you are someone who is on the move most of the time and likes to drink carbonated or sparkling water always, you can go for a portable soda maker. The options are limited but then it is an excellent choice for all.
Final Verdict
If quick and easy carbonation of any drink is what you seek, you definitely need a high-quality soda maker machine in your life. Never give up on enjoying refreshing drinks or making a glass of it for your friends once you own one of these.