There are those times when you need a step up. Shelves and cupboards sometimes are just out of reach. Getting to those hard to reach places requires one of the top 10 best step stools in 2023. They give you the right helpful hand when you need it most.
Those hard to reach places will be easy to reach when you switch to one of the top 10 best step stools in 2023.
Our Top Best Step Stools Review
10. Delxo Folding Step Stool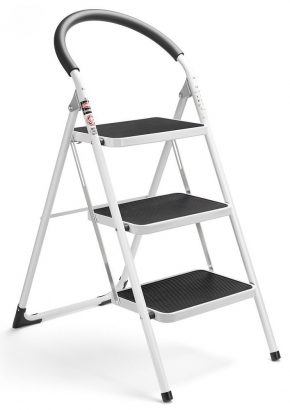 This steel step stool comes with 3 steps. That is enough to make sure you can reach any spot in your home with ease. These steps also are covered in a rubber mat. This makes them a no-slip and gives you confidence that you will not fall.
You get roughly a 40-inch boost and the hand grip helps steady when you are carrying a heavy load. The step stool is rated to hold 330 pounds and folds up small for easy storage.
9. Cosco Folding Step Stool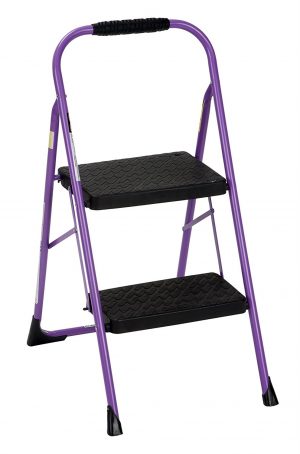 You get to brighten your house with this purple step stool while getting approx. a 30-inch boost. The handy hand grip will let you balance yourself when you are lifting an awkward load to the top shelf.
Each step is designed to help you keep from slipping and the covered feet make sure your floors are not harmed. Its full rear leg provides the extra stability you need as you climb up the two steps. It comes in a variety of bright colors.
8. Delxo 2 Step, Step Stool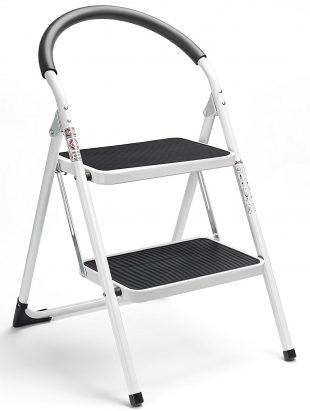 2 steps are almost as good as three. You still get a large boost when you need it. This step stool provides around 25 inches of extra lift as it holds up to 330pouds of weight. No assembly is required, and the stool folds up to about 4 inches wide when not needed.
The rubber coated feet protect your floors from scratches and the padded steps are slip resistant. You can also feel comfortable placing your feet on the extra wide steps.
7. Rubbermaid Molded Plastic Stool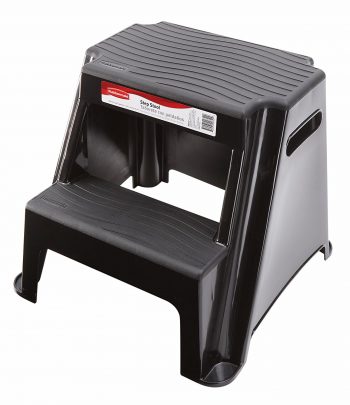 Made from molded plastic, this step stool has two slip-resistant steps to help boost you up. The black color will not clash with any room's décor and the stool has built-in handles for easy transporting.
A one-year warranty provides you with protection in case something goes wrong with the stool. Plus, the stool is rated to hold up to 300 pounds of weight. Its lightweight makes it easy to move around your house. It is tough and durable and should last you a long time.
6. Drive Medical Footstool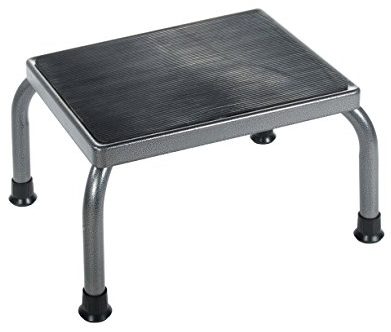 When you do not need a large lift, this stool will come to your aid. It is only one step but even that is better than no boost at all. The rubber feet make sure the stool does not slip out from underneath you.
Then the rubber step keeps you on the stool as you work. The 9-inch boost comes in handy as the step will hold up to 300 pounds. A perfect step stool for children when they are small and can't reach the sinks.
5. Handy Laundry Folding Stool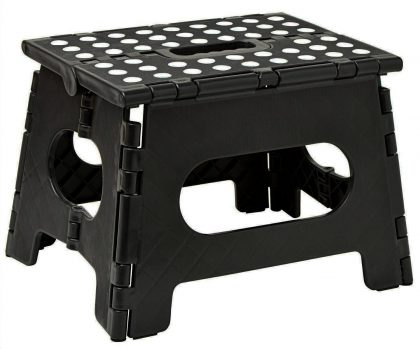 Another great step stool for small children. Its collapsible nature will let you fold it up and put it away with ease. The non-slip dots on top provide the protection all feet need when they are on the stool.
Then the foot pads protect your floors and make sure the stool stays where it is put. Plus, it is lightweight making it easy for kids to move it to where they need the helpful boost. The boost is about 9 inches high
4. California Home Goods Step Stool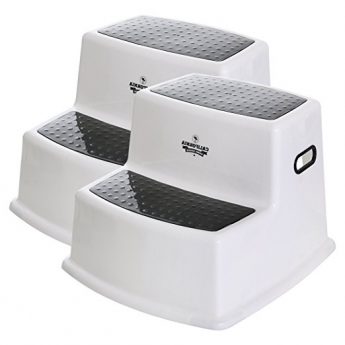 Another fine step stool designed for children to use with ease. The rubber feet make sure the stool does not slip when your child is on it. Then the step's raised surface provides non-slip protection for your child's feet.
A lifetime guarantee protects this 10-inch step stool from any poor craftsmanship. The stool is made from non-toxic and BPA free plastic for complete safety. The stool is also environmentally friendly.
3. Jeronic Folding Step Stool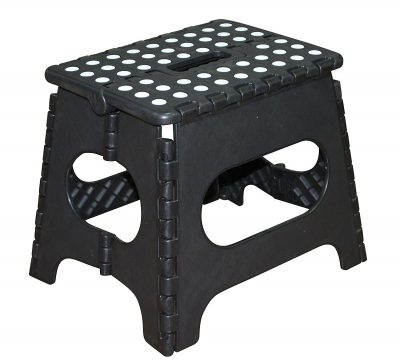 The dots o top work to keep you or your child safely on top of the step stool. Their no-slip texture provides you with confidence that you will not fall. The 11-inch boost also ensures that your child can do their teeth properly.
One hand is all it takes to unfold this folding step stool. It folds down nice and small to be out of the way when not needed. Lightweight and easy to move from place to place.
2. Ollieroo Step Stool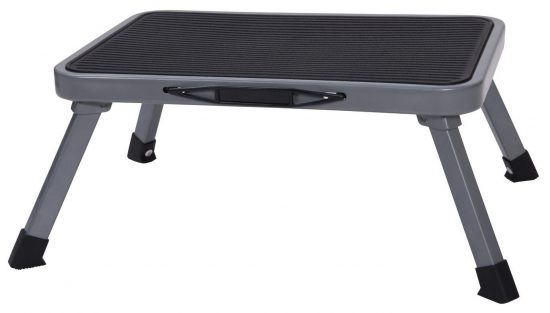 The legs fold up underneath the step making the stool flat and easy to store when not needed. Then a handle is added to help you move this stool from room to room or to the basement. It is easy to carry and lightweight.
Plus, the rubber coated feet will protect your floor from scratches. Its 330-pound weight capacity gives you enough room to lift or take down heavy boxes. Great for the bathroom as well.
1. Duro-Med Step Stool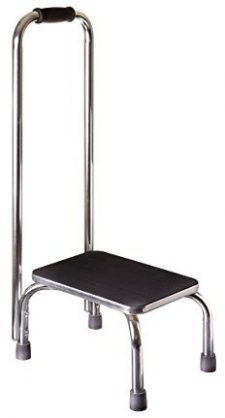 This step stool is good when you are not as spry or athletic as you used to be. It comes with a just over 8-inch boost and has an easy to reach hand grip for safety.
Plus, the rubber coated feet keep the stool in place and does not mark your floors. The 10 by 14-inch step has a non-slip coating to protect you while you are on the step stool.
Some Final Words
When you need that helping hand in getting a boost up, it pays to use the best of the best. Using one of the top 10 best step stools in 2023 is using the best stool around. It pays to be safe and secure and these stools will do both.