Delicately wrapped in a corn husk, the tamale is a steamed dish made using masa and a delicious filling. This traditional southern American and Mesoamerican dish is dated from 100AD and is still a very popular dish served during festivals and big gatherings. The preparation of this dish in the traditional way is quite time consuming and may require special skills.
Thanks to the modern tamale steamers using which, you can prepare delicious and evenly cooked tamales within less time and hassle. With the tamale steamers, you can make the tamales with the filling of your choice and get your favorite dish ready without any hassles. Apart from tamale, you can also cook various steamed foods with sweet or savory filling in the tamale steamers.
So if you are fond of steamed dishes and especially of tamale, we have summed up the 10 best tamale steamers you can try. Explore these 10 ultra-modern and best tamale steamers and treat your guests with delicious food.
List of Best Tamale Steamers Review
10. IMUSA USA MEXICANA-24 Aluminum Tamale and Steamer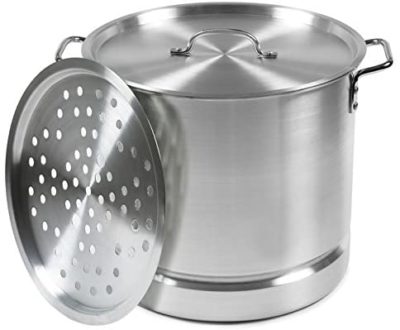 This durable steamer pot is well designed and has a solid stainless aluminum body that will not dent. The steamer also has a removable steamer insert. Apart from tamale, you can also use it for corn, cob, mussels and various steamed dishes
This large capacity steamer doubles as a stockpot without the steamer insert and can be used with or without it for steaming various foods. The heavy-duty aluminum makes it easy to use and highly durable.
Pros
Versatile and suitable for large-batch cooking
Comes with a removable steamer insert for cooking multiple dishes
Comes in 3 different sizes to suit your cooking needs
Cons
Not to be used for more than 30 minutes on a high flame
9. Farberware Covered Saucepot Insert
If you are looking for a heavy-duty steamer that comes in at a reasonable price, this classic stainless steamer set is a perfect saucepot you can try. The steamer consists of a self-basting lid and has comfortable handles for ease of use.
To steam tamale and other foods, the steamer features a full cap base on the stacking steamer. It consists of a thick aluminum core which is surrounded by a stainless steel frame for even and quick heating.
Pros
It is oven-safe for up to 350 degrees Fahrenheit
Dishwasher safe
Comes with a Stack and steam saucepot and steamer
Comes with stylish handles, lid knobs and bell-shaped lid
Cons
The steamer bottom changes color and leaves stains.
8. Hamilton Beach 37530A Digital Food Steamer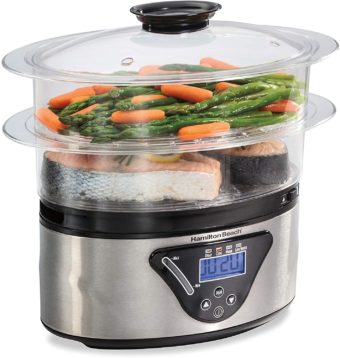 This stackable 2-tier steaming digital food steamer is modern and high-end cook wear you should install in your home. If you often cook tamale or steamed food, this 2-tiered nested storage steamer will allow you to stream multiple food items in a single batch.
You don't have to use the steamer with a stove as this digital steamer comes with a digital touchpad, countdown timer and other digital functions. With a single and easy-to-use switch, you can quickly steam the food and the warm and delicious food will be ready within minutes.
Pros
Comes with a digital touchpad for smooth functioning
Comes with 2 tiers. 1 st tier is used for small quantity foods and second rack for whole meals
The steamers turn the WARM mode and notify with a beep when the cooking time is up
Cons
Not a highly durable product and gets moldy with time
7. 8 Quart 18/10 Stainless Steel 4 Piece Multi-Cookware Set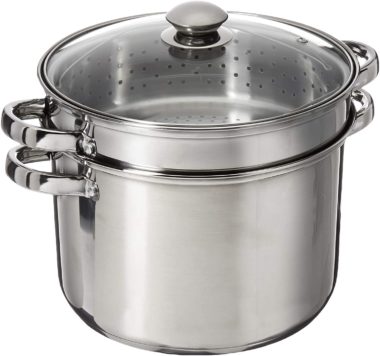 This 4-piece stainless steel steamer is surely a multi-tasker and will help you cook multiple dishes at a time. Not only does this little steamer fit easily in the cabinet, but it also is dishwasher safe and ideal for all kitchens.
This heavy-duty steel steamer comes with an encapsulated base that promotes even heat distribution in the steamer and helps you cook the food evenly. It is not complicated to use and can be used for cooking crabs, lobster, tamale, soup, pasta, sauces and plenty of other dishes.
Pros
The 8 QT stockpot can be used for cooking stocks, stews, soups, vegetables and steamed items
Rust-resistant design that also features riveted handles for better grip and handling
Encapsulated base for even heat distribution and better cooking
Cons
cannot be used with induction stoves
6. Granite Ware Tamale Pot with Steamer Insert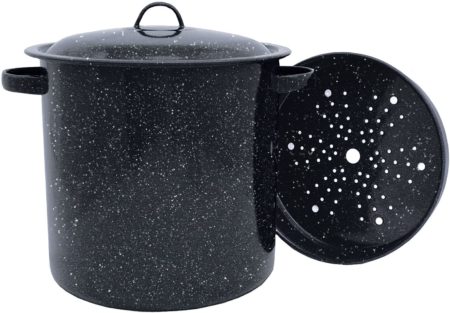 Granite steamers are highly durable and are perfect for cooking tamales. This long-lasting and chip-resistant graniteware tamale pot not only looks fantastic but also cooks the food while maintaining the authentic taste of the food.
If you are worried about your food reacting with the steamer material, this pot comes with a glass-like surface and an insert that will not react with your food so that the original taste of food is maintained. Plus, you can clean it with simple soapy water and store it without any hassles.
 Pros
Comes with an insert, perfect for cooking tamale
Does not hold the smell or odor or foods
Can be easily cleaned with soapy water
Cons
5. Cuisinart 3-Piece 3-Quart Steamer Set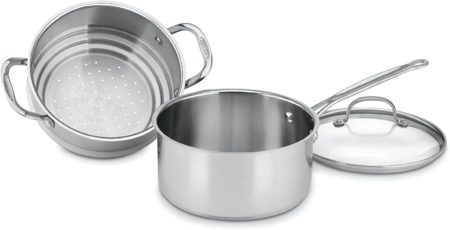 If you are looking for a small and daily use steamer, this chef's classic steamer set is a budget-friendly option to consider. The set includes 3-quart saucepan with a steamer insert and a glass lid that fits accurately.
You can place this small and compact steamer in your oven and cook various dishes. The tight-fitting lid seals the nutrients in your food while the encapsulated aluminum base distributes heat evenly in the pot for better cooking.
Pros
Portable 3-piece steamer set for sauces, vegetables, stews and tamale
Oven and dishwasher safe
Features cool grip handles for safety
Cons
The saucepan flakes and starts pitting after extended use
4. IMUSA USA MEXICANA-420 Steamer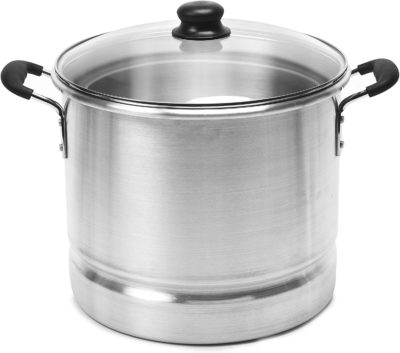 Here's another awesome steamer that comes in 6 different sizes and comes with a removable insert to keep your food moisturized and soft. You can cook plenty of tamales in a single batch with this large-sized steamer with phenolic handles that stay cool and will prevent your hands from burns.
The sleek design makes it a perfect addition to your kitchen cabinet while its tight-fitting glass lid will seal nutrients in your food. Available at a reasonable price, this steamer can be used for cooking plenty of dishes from soups to solid foods.
Pros
The lid is made of shatterproof glass
Phenolic handles for safe use
Lightweight and versatile steamer to cook multiple dishes
Cons
The material used for construction is not highly durable, and the base is thin
3. 32 Qt Tamale Steamer Vaporera Stock Pot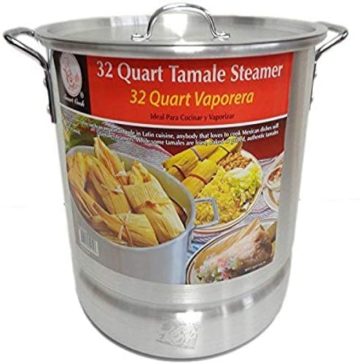 If you cook tamale for festivals and special occasions, this large-sized authentic aluminum steamer is a perfect option. This tamale and seafood steamer comes with a 32-quart aluminum pot, a lid and a rack.
The riveted lid and pot handles will allow you to hold the container while cooking and will prevent burns. On the other hand, it has a large aluminum body and features a sturdy design, so it is an ideal pick for extended use.
Pros
Holds plenty of water beneath the rack for better steaming
Super easy to clean and store
Offers excellent value for the price
Cons
Riveted handles are very small and not ideal for big hands.
2. ExcelSteel Pasta Cooker with Encapsulated Base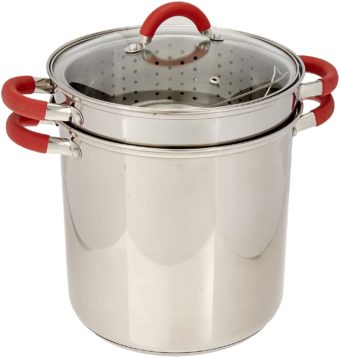 If you are looking for a highly versatile steamer in which you can cook pasta and whole meals, this 12 tq multi-tasker is worth exploring. It is constructed using 18/10 stainless steel and thus, is ideal for the induction stovetop.
The steamer now features silicone-covered handles and knobs so you can comfortably grip the handles while transporting the food. It also features an encapsulated base for even distribution of heat and proper cooking.
Pros
Multi-function cooker for a cooking tamale, vegetables and whole meals
Made using heavy-duty 18/10 stainless steel
Features silicone covered handles and knob
Cons
Prone to odor and discoloration
1. Oster Sangerfield Stainless Steel Cookware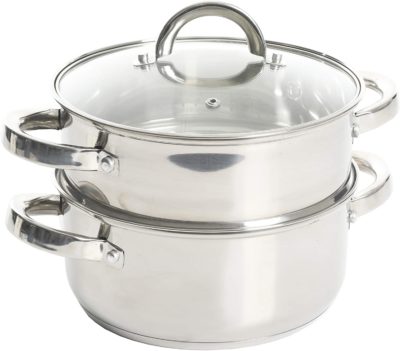 This lightweight and 2-tiered steamer are great if you are cooking multiple dishes. This steamer features a top part for vegetables and tamales and the bottom part for water. You can also use it for cooking rice, pasta and such solid foods.
The steamer features a 2-tiered design with a classic tight-fitting glass lid. The lid is made using tempered glass and thus is shatterproof and lasting. Plus, the handles are roomy so you can comfortably hold the pot.
Pros
Lightweight and easy to store
Steams food within 15-30 minutes
Solid and sturdy design
Cons
Handles may get hot while cooking.
Conclusion
The best thing about tamale steamers is that these steamers are versatile and can be used to cook a variety of foods. Before investing in a steamer, make sure that the steamer is made using durable material and is designed for prolonged use. These are the best tamale steamers, and each one has something exceptional to offer and thus, narrow down your choices and choose the one that caters to all your cooking needs.