Health is not a commodity that could be sold, but multiple products could be of aid for those with health-related issues, especially older adults. Numerous individuals suffer from knee problems, back pain, or hip-related issues, all of which limit mobility. Such individuals need help doing their daily chores.
Generally, toilet designs are not very helpful for individuals who have been right out of the hospital or those with mobility issues. Toilet seat risers can solve this problem, reducing the gap between the toilet seat and the person using it. Coming in different shapes and varying heights, we need to choose the right toilet seat riser to make it easier for individuals. The buying guide below discusses the top 10 best toilet seat risers in 2023 that could be of help to the user.
Best Toilet Seat RisersA Complete Guide:
10. DMI Bedside Commode & Toilet Riser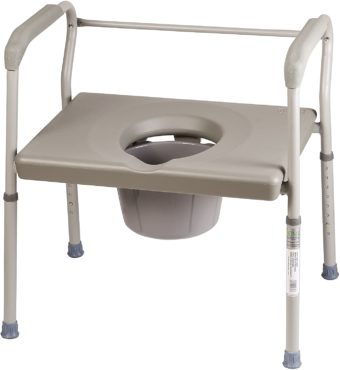 Use the DMI bedside commode if you cannot imaging walking to the bathroom. If you can visit the bathroom but need an elevated toilet seat to offer support for your knee/hip problems and surgery recoveries, you could simply fit it over your toilet seat as a toilet seat riser. If you plan to use this product by the bedside, the pail easily slips out from underneath, helping you empty the contents and clean it.
Key Features
Ability to support greater weights-as much as 500 pounds of user weight
Adjustable legs with slip-resistant rubber tips
The heavy-duty steel frame makes the product durable
7-quart pail capacity accompanied by a lid
Toilet safety frame with backrest
9. Medline Armless Toilet Seat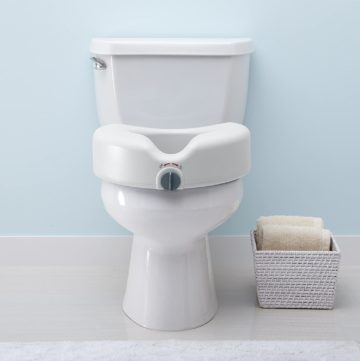 Stop worrying about your toilet seat riser coming loose or moving during use if you choose to buy the Medline toilet seat riser as the product comes with a front clamping mechanism that locks the seat tightly in its place. The design is such that it can fit most toilet bowls and raise seat height by as much as 5 inches.
Key Features
Supports a maximum user weight of 300 lbs.
3-year warranty
Made of good-quality plastic and has a wide contour surface design for maximum comfort
Microban protection helps in safeguarding the user from dangerous microbes
8. PCP Two-in-one Toilet Seat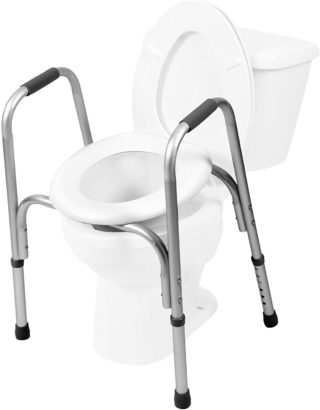 It is preferable to purchase a unit that has not one but two features, and the perfect example is the PCP toilet seat. It works as a safety frame as well as a raised toilet seat, helping those who need assistance with moving around and suffering from knee/hip/back pain problems.
The manufacturer proudly boasts of making the product from medical-grade material that comprises of molded plastic seat designed with a bottomless splash guard that ensures direct delivery of waste into the toilet. The unit can withstand up to 275 pounds of weight but smartly designed to fit into narrow bathrooms and over most kinds of toilet bowls.
Key Features
Easy to clean making the process simple for caregivers
Adjustable seat height with 1-inch intervals
Handgrip comes with vinyl covering
Lightweight making it easily portable and usable only when needed storing it out of sight during other times
7. Medline Drop-Arm Commode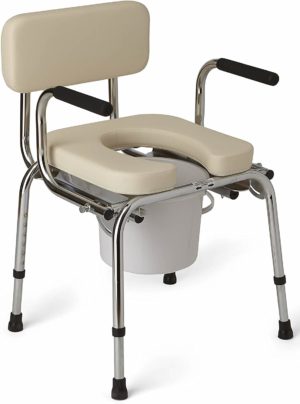 If you are looking for a product that could simplify the job done by caregivers who assist individuals who are bedridden or need wheelchair support, don't hesitate to buy the Medline commode that excels in making lateral transfers simple with its robust design. The arms provide support but could be swung down with a simple press of a button to help caregivers transfer patients onto the commode and off from it.
The drop-arm commode even has a comfortable backrest (this could be removed too to place the unit over the toilet seat) and thickly padded seats for increased comfort of the user.
Key Features
Support up to 300 pounds of user weight
The product comes with additional accessories such as pail, lid, and splashguard
Heavy-duty frame, padded foam seats, and comfortable design makes the product durable and convenient
Non-slip handgrips
6. HealthSmart Portable Raised Toilet Seat Riser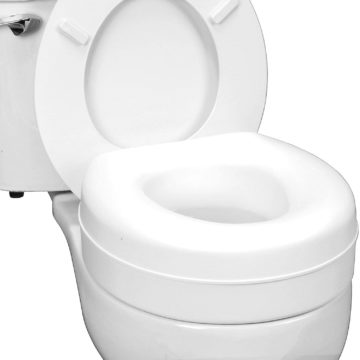 Whoa! Here is a sufficiently raised toilet seat riser that adds 5 inches to your existing overall toiler seat height providing utmost comfort and ease of use to older adults, individuals with knee/hip pain, and those recovering from surgery. The product is 100% made in the USA from high-quality unbreakable polyethylene that's long-lasting and easy to clean.
The product comes in a universal size that suits most toilet seat designs and is easily portable, helping transport it anywhere required.
Key Features
Can support up to 250 pounds of user weight
The seat riser fixes to the toilet seat with the help of 4 slip-resistant pads that offer a non-slip and safe surface
The extra 5-inch height added by the toilet seat riser makes it extremely comfortable for users to sit and stand.
5. NOVA Toilet Seat Riser for Elongated Toilet Seats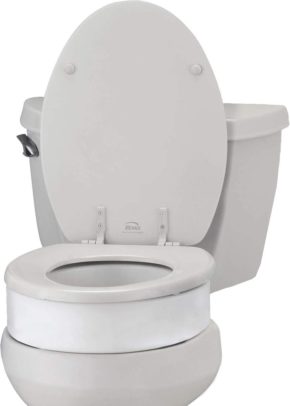 The NOVA toilet seat riser could be one of the safest buys as the seat riser bolts directly to the toilet seat for maximal safety and security. Users can experience exceptional comfort levels while sitting down or getting off as the seat riser raises the toilet seat by 3.75 inches. NOVA is a well-known brand known for its products, and this product lives up to the company's standards being made of sturdy molded plastic that's durable.
Key Features
Supports maximum user weight up to 300 pounds
Easy to clean and maintain as the product is made of high-quality plastic
The toilet seat riser comes with all necessary hardware needed for installation that's simple and quick to complete
4. Carex Toilet Seat Riser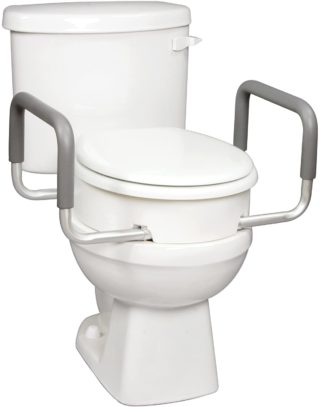 Any elderly, disabled or disabled person can comfortably sit down and get up from toilet seats using the Carex toilet seat riser that adds 3.5 inches height to your toilet seat. You can fit and remove this toilet seat riser in a jiffy, and there is no need to use any installation tools to install the product.
Carex has taken great care in designing the seats ergonomically using heavy-duty plastic that's lightweight but supports up to 250 pounds of user weight. The toilet seat riser comes with padded, adjustable arms that provide the user with optimal safety, support, and height to use the toilet bowl without hindrance.
Key Features
Suitable for standard round toilets
Removable non-slip foam padded handles for ease of use
Easy to clean with regular disinfectants and sanitizers
Hardware kit provided helps in easy installation of the toilet seat riser
3. Vive Medical Toilet Seat Riser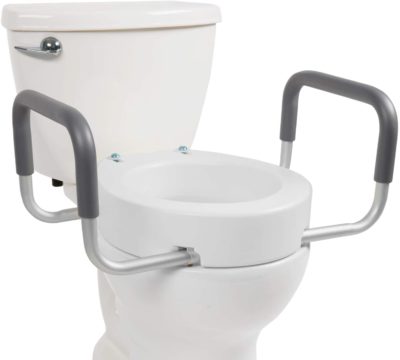 Returning home after a surgery at the hospital? Choose the Vive medical toilet seat riser to assist you while sitting/standing if you have limited mobility and recovering from hip, back, or knee injury. The product is provided with removable handles and comes padded with soft foam cushion grips that increase comfort and ease while holding it. Though cushioned, the handles are sturdy, made with corrosion-resistant aluminum, non-slippery, and secure preventing any mishaps.
The product is easy to install without the need for any screws using the screws and washers provided with the package.
Key Features
Supports up to 300 pounds of user weight and could be easily cleaned using conventional sanitizers and disinfectants
The product comes in two different sizes accommodating the needs of your toilet size-standard or elongated
It offers ample height up to 3.5 inches that make it very comfortable for the user. An interior lip on the bottom with non-slip strips makes the unit safe to use
2. Essential Medical Supply with Comfortable Toilet Seat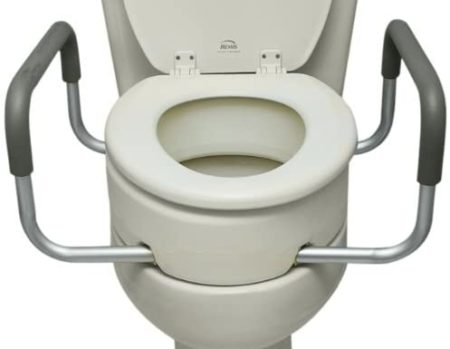 Get it now on Amazon.com
The elevated toilet seat riser could be easily installed under the toilet seat, and it also has sturdy arms on the sides that make it comfortable and easy to sit down and get off. The best part here is that the arms here are removable and also provide additional support to sit down or get up.
The Essential Medical Supply toilet seat designed in such a way that it could be used on any toilet. But, to be safe and to ensure that the purchased product doesn't disappoint you by not fitting correctly, it is always recommended to measure the toilet before making a purchase.
Key Features
The product comes with an easy instruction manual and requires only a screwdriver and pliers to set it up
Arms provided with the toilet seat come with padding and could be easily detached too
Available in two different sizes-standard and elongated and can withstand up to 300 pounds of user weight
1. Drive Medical Bedside Commode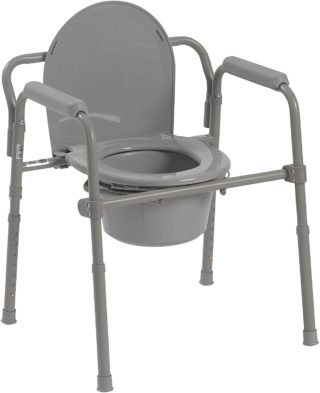 If you have someone at home who cannot walk up to the toilet, the Drive Medical bedside commode should be a good pick as the unit comes with a commode bucket provided with carrying handles, cover, and splash shield.
People with hip, knee, or back problems rely on a hard surface or sturdy handle for support. They apply double pressure on their hands, compensating for lack of knee/hip support. Hence, the toilet riser should be able to withstand the pressure applied over its handles and the entire surface while sitting or getting up. The product is designed with welded steel with grey powder coating that maximizes strength and durability.
Key Features
Legs of the commode are adjustable and folded up for smallest folded commode
The seat is made of high-quality plastic, and the seat along with the lid could be installed without pushing a button
Easy to fold, store and transport as the legs could be folded easily with the help of an elastic cord
Conclusion
If you suffer from any injuries or health issues that make it problematic for you to sit comfortably on a regular toilet bowl, it becomes mandatory to buy the right toilet seat riser to avoid strains. Every toilet is built on a different height, and hence, you must consider seat risers depending on this measure. There are risers between 2 and 6 inches from which you could choose your preferred one, depending on your toilet bowl style.
Before finalizing on a seat riser, you need to ensure that the chosen product offers stability without which you are risking the user's life as well as his/her well-being as the person is at an increased risk of falls. Go for those products that come with non-slip rubber grips, seat locking clamps, or Velcro straps that attach to the toilet.
Maximum weight must also be considered for ease of use and to ensure that the purchased product supports the user's weight without fail. The buying guide above could help you finalize on a good-quality toilet seat riser that could be of immense help.