Trampoline is already a very popular product amongst kids as well as adults. We love to jump and have the most fun in it. However, the kids love it more for all the activities it helps them to do. One such activity is setting up a trampoline tent. These tents are designed to fit any standard trampoline available in the wide market and you can assemble it right above the trampoline. Well, they will get full privacy inside it and they can have the time of their life.
To ensure that your child is at the receiving end of all the protection, we list the popular trampoline tents that everybody loves. So, decide on the style, design and size and then pick one.
Best Trampoline Tents – A Complete Guide:
10. Propel Trampolines Trampoline Club House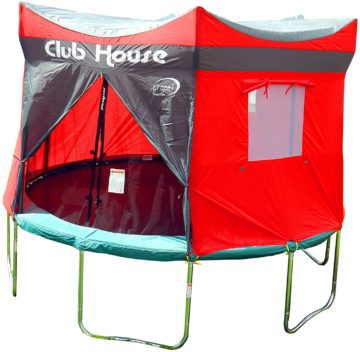 If you have a trampoline, you can make the experience even more fun with this product. The trampoline turns into a fun clubhouse with this tent. When it comes to compatibility, you do not have to worry. The tent fits a number of different trampolines which are equipped with 6 enclosure poles.
Moreover, the design of the product has a trough-like shape. This helps to channel any little moisture accumulating for drainage. Interestingly, the walls are weather-proof and will not harm your kids in any way.
Key Features: 
This trampoline tent has been given zippered ties. With this, the entrance can be blocked for more privacy.
Since the product is a one-piece assembly, it hardly takes any time to set this product up.
With the help of as many as 3 screen windows, proper ventilation can be maintained as your children play.
9. Jumpking Jumppod Trampoline Circus Enclosure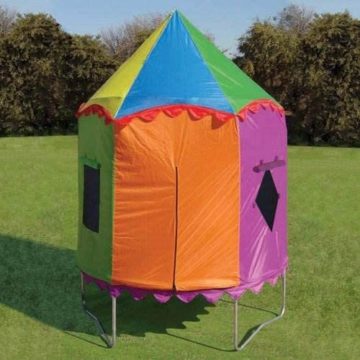 With this product, you do not have to worry about the safety of your child. They will be free from any unwanted critters, while they can play outside in a safe enclosure. If functionality is not enough, this tent will surely catch your child's attention with the appearance. Having bright colors all over it, this product lets your child imagine they are inside a circus tent.
Furthermore, the windows of the product have a mesh covering. This protects your child from all those crawlers moving outside. Besides, the mesh windows also ensure that enough fresh air is circulated inside the tent so that your child can play for a long time without any trouble.
Key Features:
This ensures your child can play in the cool of the shade of the tent on those hot sunny days.
To make the tent easily accessible, the product comes with a side zipper.
It is ideal for 7.5-ft trampoline enclosures that are pretty big.
8. JumpSport Trampoline Tent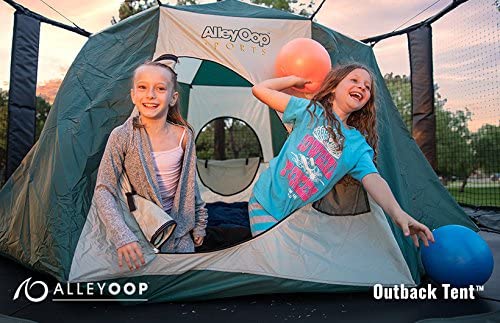 Innovation has a new name with JumpSport. Unlike most other trampoline tents, this product is not dependent on any pole for set up. Thus, it is much safer for your children to use. Further, the product promises complete installation in less than 3 minutes, saving a great deal of your time.
Besides, this trampoline tent makes use of stretchy bungee cords to hold the tent in place over your trampoline. The structure is fully collapsible, which makes it really suitable for places with a space crunch.
Key Features: 
The windows have been provided with screens so that, your child can play without needing to worry about bugs.
The product also comes with one large door, so that moving in and out becomes really easy.
All the tent accessories required for the product is included with the product itself.
7. Bazoongi 10 Pod Enclosure Cover Tree House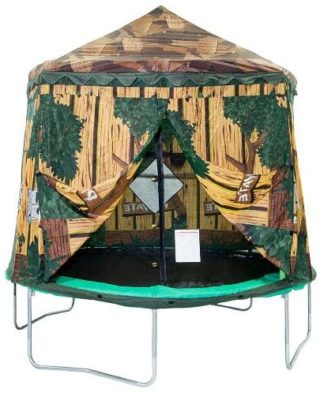 This brand has created a long line of successful trampoline tents, and this is one of their best products. The trampoline tent is designed to cater to trampolines. In order to set this product up, you simply need to tie the tent to the trampoline, so the assembly is really simple and you do not require any tools for it. No two persons are alike. For that reason, it comes with a beautiful nature-inspired design. This entices the kids and gives adventurous feels
Besides, the entrance of the product comes with zippers to provide your children with the privacy they need.
Key Features: 
Having a 10 pod enclosure design, this will be your kid's treehouse.
Designed to last, this trampoline tent has weather-resistant walls, so that your children can play inside without any worries.
6. Propel Trampolines Propel Shade Cover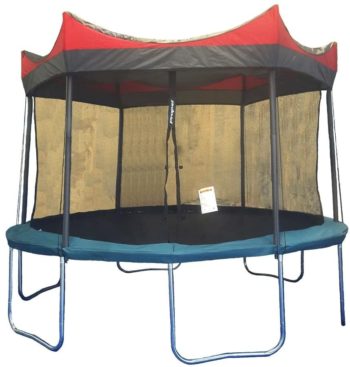 If you are looking for quality, you need to look no further. This top-grade imported product promises to have 100% polyester as its material. Needless to say, when it comes to durability, you can rely on this product to easily last you for ages. The roof of the cover has been thoughtfully given trough-like design. This helps to get rid of the little moisture which would have otherwise accumulated without any outlet for drainage.
Since the entire product has netting, there is cable to flow of air in the tent. Your kid will not feel suffocated inside this beautiful creation.
Key Features
This product has a see-through body so that you can keep an eye on your little ones from a distance.
One really helpful feature of this product is that the mat, netting, enclosure and labels are all UV protected, to keep your child safe.
The product will fit any Kinetic of Propel trampolines as long as they are 12 foot and have 6 enclosure poles.
5. Bazoongi Tree House Trampoline Tent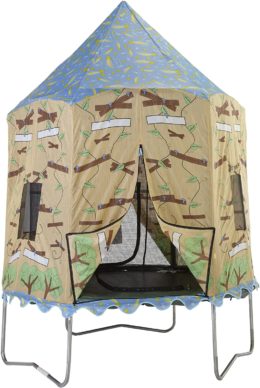 When it comes to quality, Bazoongi tries to provide you with the very best of what they can offer. The product makes use of special polyester which meets the CPAI standard. Therefore, you can let your child play on this without requiring to worry about any toxins. Moreover, the polyester helps to extend the life of the product to a long stretch.
The poles of the product are not just of any metal, they have patented G3 fiberglass. Hence, you will not have one issue when it comes to durability.
Key Features: 
To make the design even more appealing, the entire tent has a treehouse pattern with frills at the bottom.
Not only does the product come as a cover tent, but it also gives you the inner frame in the package.
The tent goes perfectly with BazoongiJumppod unit.
4. Jump Zone My First Trampoline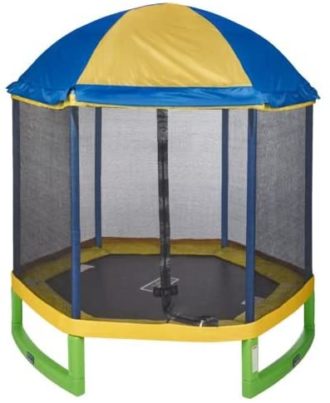 This product is truly one of it's kind. Unlike most tents, this product actually comes with its very own trampoline. Thus, it would make an amazing gift for any girl or boy. Moreover, even though the product is meant for children, it is quite sturdy. The product is able to hold a good 100 pounds without any damage. Therefore, you do not have to worry no matter how heavy your child is.
The entire product has a mesh enclosure. Hence, the interior of this product remains well ventilated no matter how long your child is playing inside the tent.
Key Features: 
The entrance to the trampoline tent is designed to be sufficiently wide, so that going in and out is completely hassle-free.
Indeed a suitable choice for a 7-ft trampoline.
The mesh set-up is ideal for keeping the annoying bugs away.
3. Acon Trampoline Tent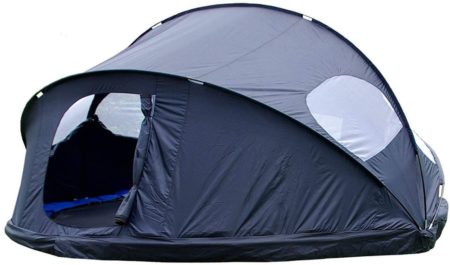 This product designed with a lot of thought. The trampoline tent does not only provide you with a cover but comes as a complete tent. Therefore, it is self-sufficient and does not require any enclosure structure in order to hold it up. Moreover, with this product, you can say goodbye to the trouble of compatibility. The tent goes with any round trampoline of 15 foot without any adjustments issues.
An ample number of windows are provided in the tent so that your child can enjoy the outside without requiring moving out.
Key Features: 
The metal brackets provided with the product are strong and heavy, so that, they can hold your tent in place without any issues.
The trampoline tent is fairly easy to assemble, hardly requiring any time or effort.
The entrance to the trampoline tent comes with adjustable covers in order to provide you with more privacy when required.
2. Propel Trampolines Propel Tent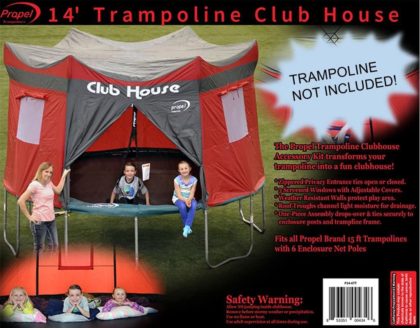 Turning a simple trampoline into a clubhouse, this tent will offer your child fun hours on an end. The product takes care of every practical need. The material of the product is water-resistant. Therefore, even if there is a sudden downpour, your child will not get wet in the rain and catch a fever. Moreover, the product is also UV resistant protecting your young one from the harmful rays.
The tent has 100% polyester all over the body. Polyester provides a tent with the required amount of sturdiness. Besides, it also makes the tent last much longer without any problem.
Key Features: 
To assure its quality, the product is imported.
The trampoline tent fits a number of different models you can choose from.
It has a convenient one-piece assembly. Therefore, all you need to do is tie the tent snugly on the trampoline to set it up.
1. Bazoongi Circus Trampoline Tent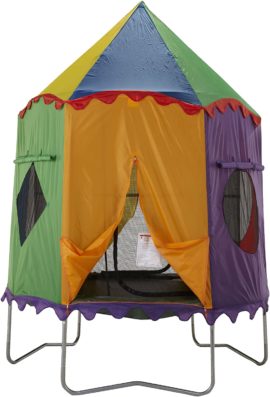 With this trampoline tent, you can bring the circus excitement home for your child. Designed in the fashion of a true circus tent with a multitude of different stripes of colors, this will immediately win the heart of any child. Next, it leaves no stones unturned when it comes to quality. The tent has special G3 fiberglass poles which are patented, assuring you of its superior grade.
Besides, the windows have a mesh layer. This allows the air to be well circulated without needing to worry about unwanted bugs creeping inside the tent. Lastly, it goes well with Bazoongi Jump Pod Units.
Key Features: 
Nothing is more important than your child's safety. For that reason, this product has special polyester which meets CPAI standards.
Even the enclosure system of the trampoline tent has the G3 patent.
Apart from the front door, even the windows come with their adjustable cover to suit your child's needs.
Help your child to build their fantasy land and let them live in the fantasy. Once you buy a trampoline tent, it becomes easier to give them an adventurous or magical feel just in the way they want.