Even though a truck bed is mostly to carry heavy and large objects, there are various other uses it can be put into. If you are going camping or adventurous activities, you can set up a truck bed tent and sleep inside it. Moreover, you can carry all the different items and protect from the rain, snowfall, and sun. There is no more need for sleeping on the ground which is always dangerous, and all the objects will stay weatherproof. Check out the top 10 best truck bed tents in 2023.
List of Best Truck Bed Tents Review
10. Napier Enterprises Truck Tent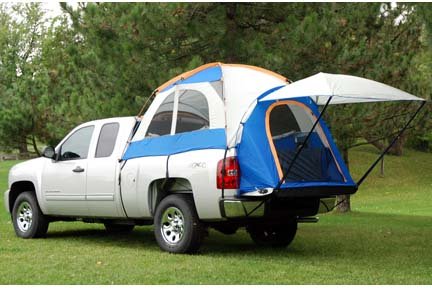 This truck tent comes with a patented sewn in the floor to keep your truck bed free of dirt and grime. The larger interior of this tent also comes with over 5.6-feet of headspace. Moreover, the two side vents and two large windows with middle divider offer enough ventilation. The rear access door of this shelter allows you to access the truck's cab for additional storage.
The color-coated poles and sleeve system also allow you to have stress-free installation every time. Furthermore, the full rainfly keeps you protected from heavy rain or any wet condition. This tent comes in an expandable carrying bag for storage. Two people can easily sleep inside this shelter.
Reasons To Buy:
Color-coated poles, sleeve system for easy installation.
Full rainfly to resist rain.
Large interior with enough headspace.
9. Kodiak Canvas Truck Bed Tent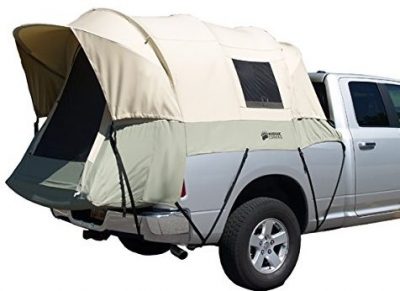 The tunnel-shape design of this truck tent allows you to have extra interior space with additional headroom. With sturdy ¾-inch steel tube frame, this tent also makes the installation secured and long-lasting. Moreover, you get the maximum headspace up to 5-feet. The design of this shelter includes five windows to offer excellent ventilation and openness.
This tent also has a cab access window. Furthermore, the clamp on rails of this tent easily mounts on the truck bed for a tight grip. The tent helps you to keep high and dry and away from the critters. This tent has enough room for two people. The premium quality canvas with nylon straps makes the construction of this shelter for car sturdier.
Reasons To Buy:
Spacious tunnel-shape design.
Sturdy steel frame for durability.
Enough large headroom.
8. Napier Outdoor Truck Tent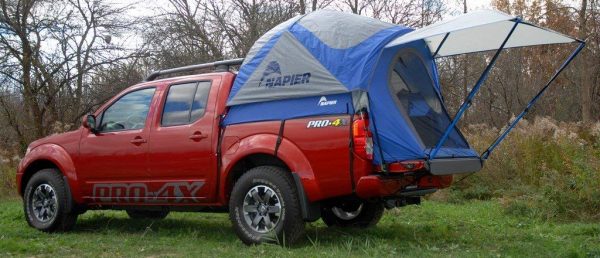 Made from high-quality polyester taffeta material, this truck tent is extremely durable. This tent is also ideal for the truck bed with 5-feet length. Moreover, this shelter perfectly works with sprayed or prefabricated liners. The large interior is suitable for two people in the resting condition. This tent is very easy to install and take down.
This truck also perfectly fits most of the pick-up trucks. Furthermore, the taffeta fabric of this tent is extremely resistant to water and weather. The covered entry of this tent easily keeps you dry during the heavy rain or in any wet condition. Even, this shelter comes with its own option rainfly to protect you from the rain.
Reasons To Buy:
Extremely durable taffeta construction.
Works with sprayed, prefabricated liners.
Optional rainfly for rain resistance.
7. Napier Outdoors Avalanche Truck Tent
Over 5.5-feet, headroom of this truck tent allows two people to sleep inside of this tent without any hassle. The shelter for the truck also has a sewn-in floor. Moreover, the color-coated and shock-corded fiberglass poles let you have a stress-free and faster installation. This shelter comes with a large entrance door to store all your necessary items.
The rear access door of this tent also allows you to enter the truck's cab through it. Furthermore, the 6X6-feet awning extends off the tailgate to provide enough shade. The item comes along with two interior pockets and gear loft. The truck tent comes in a carry bag for easy storage and transportability.
Reasons To Buy:
Sewn floor for easy cleaning.
Two interior pockets, gear loft.
Large entrance and rear access doors.
6. DAC Full-Size Truck Tent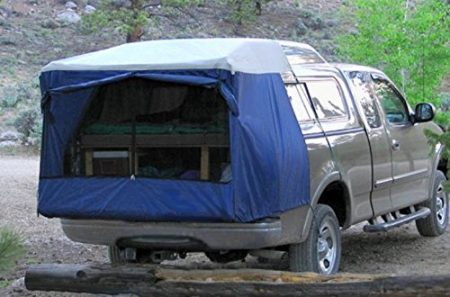 This tent for truck comes with a rear window that raises up and out. The shelter for the truck is also ideal for the full-sized vehicles or SUVs with a tailgate. Moreover, the tent is compatible with high back and flat back camper tops. The item fits over carrier rack or airfoil. The elastic shock-cords with plastic-coated hooks snugly attach to the wheel and hold the tent tightly with the truck.
The two-way zippers of this tent also allow easy entry to the rear of the vehicle. Furthermore, the mesh screens on the windows let you sleep in peace. The roof and wall of this shelter have a polyester coating. This tent comes with tan-proof and fire-retardant material construction.
Reasons To Buy:
Tan-proof and fire-retardant material construction.
Up/Out system rear window.
Two-way zippers for easy entry.
5. Milliard Truck Tent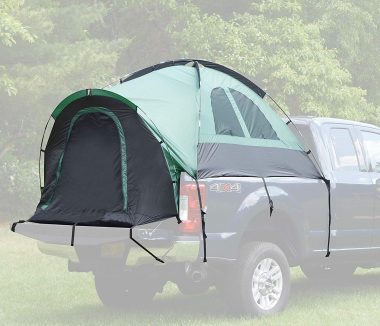 The truck tent comes with large interior space to accommodate 6.5-feet large truck bed. This item also comes in a convenient carry case for easy storage and transportation. Moreover, the sewn floor of this shelter protects your bed from getting dirty. It comes along with a rainfly to handle heavy rain or other wet conditions.
The mesh door and windows not only keep your shelter ventilated but also provide enough privacy to have a peaceful sleep. Furthermore, the rip-stop-grade material construction of this tent makes it extremely durable and wear and tear resistant. The shelter has a lantern hook and inside storage-pocket to stay safe at night out camping.
Reasons To Buy:
Lantern-hook, inside storage-pocket for safety.
Durable material construction.
Mesh door, windows for breathability.
4. SportZ Truck Tent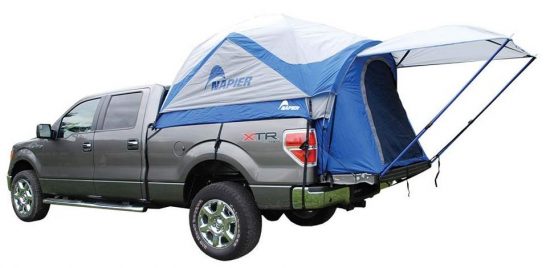 With over 5.6-feet of headspace, this truck tent has enough space to accommodate two sleeping people easily. This item also comes with a sturdy sewn floor. Moreover, the large rear access panel of this tent supports easy access to the truck's cab. Therefore, you can store all of your necessary items by using the large entrance door.
The two mesh windows and side vents also keep your tent properly ventilated. Furthermore, the color-coated poles and sleeve system make your installation job much more convenient. This shelter for the truck has its own expandable carrying bag for easy storage. The large rainfly of this item keeps you dry during the heavy rain.
Reasons To Buy:
Ideal for two people.
Stress-free installation with colored poles.
Sewn flooring for easy cleaning.
3. Rightline Gear Truck Bed Tent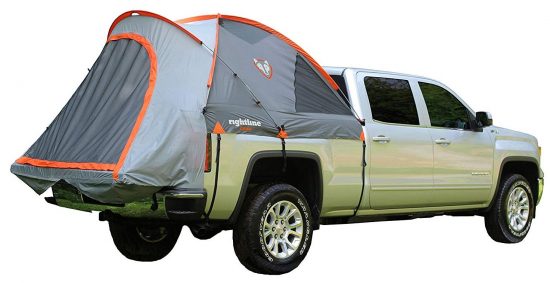 This truck tent comes with the floorless design to help you to easily install or remove the tent without removing the gear from the bed. The design of this shelter also prevents the tent from collecting dirt and grime on the truck bed. Moreover, the soft yet sturdy polypropylene straps and plastic buckles do not cause any damage or scratches to the truck's finishing.
The color-coated dome poles of this item also have their own matching pole pockets for swift and simple installation. Furthermore, this tent comes with an optional rainfly to keep you dry in heavy rain. This tent comes in a weatherproof storage bag. The 6.5-feet shelter for truck comes with enough large interior and headroom.
Reasons To Buy:
Floorless tent design.
Color-coated poles and pole pockets.
Optional heavy rain-resistant rainfly.
2. Guide Gear Full-Size Truck Tent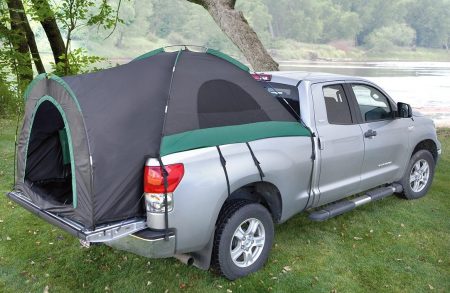 This full-size truck tent accommodates up to two people in sleeping and four people in sitting conditions. The shelter also comes with the truck bed with sturdy sewn-in polyethylene flooring. Moreover, made from high-quality material, this tent provides excellent breathability and comes with mesh windows to keep you protected from annoying bugs. The item is suitable for most of the pick-up trucks.
This shelter for also has shock-corded fiberglass poles and tension straps anchor for secured and quick installation. Furthermore, the polyester outer-layer has 1500mm water and weather-resistant coating and rainfly to withstand heavy rain. This item has a large interior with 5.25-feet headroom. Even, this tent comes in a weather-resistant polyester carrying bag.
Reasons To Buy:
Extremely weather and water-resistant.
Truck bed with sew-in polyethylene flooring.
Accommodates up to four people.
1. Napier Backroadz Truck Tent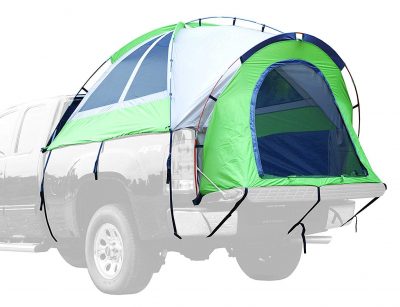 This truck tent offers an entire floor to keep you clean and tidy from your truck and other elements. The item is also suitable for most of the pick-up trucks. Moreover, this tent is compatible with the trucks equipped with a toolbox or bed liner. The shelter for trucks is extremely resistant to water and weather and has rainfly to resist heavy rain.
The color-coated pole and sleeve assembly also make the installation procedure easier and lee time-consuming. Furthermore, this tent comes with a large interior, where you can get over 5.6-feet of headspace. This tent is perfect for the sudden adventure trips, like camping, fishing, tailgating or lounging at the beach. Even, this well-made shelter is resistant to rough handling.
Reasons To Buy:
Mostly fits the pick-up trucks.
Large interior with proper headspace.
Robust, reliable construction.
Conclusion
There are a lot of factors to keep in mind while buying a truck bed tent. The material of the tent is the most important as it is going to protect you and your belongings during bad weather. Besides, the shape and size of the tent are important. The construction has to be durable, and the setting up and taking down should also be easy. Moreover, it has to be breathable, and the percolation of light is equally important. We have taken all these points into consideration while listing the best truck bed tents above.