All those who feel guilty about waking up their partner every time they set an early morning alarm clock, Vibrating Alarm Clocks is your answer. Your and your partner's sleep and wake time might not match due to a lot of reasons such as different working hours and so on.
Improper sleep might cause a lot of issues, both mentally and physically, making you feel exhausted. Sleeping like a baby is a distant dream for us millennials, and most of us hardly get 8 hours of sleep. On top of that, if frequent alarms disturb our sleep, it is going to be a bad start to the entire day.
To solve this issue, Vibrating alarm clocks are the best option that can be used to wake you up on a specific time without disturbing your partner.
We are not just limited to giving advice but take a step ahead and research the best products for you. Here, take a look at some of the vibrating alarm clocks that we suggest you consider for buying.
The Best Vibrating Alarm Clocks in 2023
10. Anjank Wireless Bed Shaker Heavy Sleepers Alarm Clock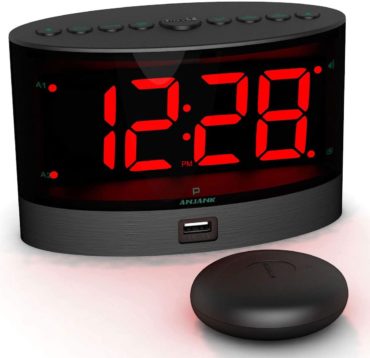 This alarm clock takes over a commonly neglected but an utmost important issue – a short cable of the wireless clocks. Anjank is offering a wireless solution, removing the hassle leaving just a smart clock for you. The alarm clock covers up to 32 feet without any bother and wakes you up within that radius.
If you miss the alarm every time, then this vibrating alarm clock is for you as it is specifically built for the heavy sleepers. Further, you can get two-volume modes: loud or normal beep sound. The match mode button can be used to match the shaker with the alarm clock.
Key Features
Volume slider on the clock has High, Medium and Low Mode
USB port to charge the devices such as smartphone or smartwatch
Vibration intensity can be control with a three-mode button
Easy to read Red Fonts on the digital clock make it easy for everyone to see the time even from a distance.
9. Compact Pocket Size Vibration Clock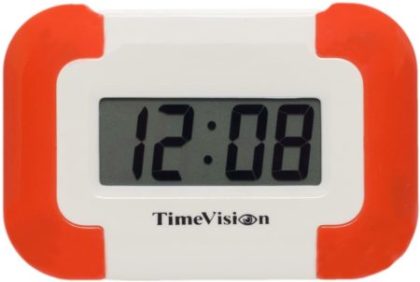 Well, there might be a lot of compelling vibration alarm clocks in the market, but what if you want to carry them along. This vibration clock from ShakeAwake gives you precisely that option so that you can set alarms for medication, etc. on the go.
At home, you need not worry about your partner or the rest of the house getting disturbed by daily alarm, either. Between the two modes, you can either select the vibrating alarm or a beep sound alarm. Further, there is a back-light for viewing at night.
Key Features
The pocket-size alarm clock is easy to carry in the pocket ensuring you never miss on anything important
Back-light helps in seeing the time even in the dark
Battery operated with most common AAA battery used
8. Lielongren Extra Loud Full Range Dimmer Alarm Clock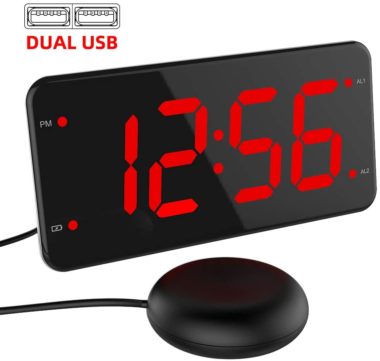 This extra-loud and vibrating alarm clock will ensure that you never miss an alarm. Its dual alarm mode can even wake up the heavy sleeper and those who are hard of hearing. Huge display and LED lights for the time guarantee the visibility of definite time even from far off.
Lielongren dimmer alarm clock would be your go-to product if you were looking for a smart clock that gives you a smartphone alarm clock like features. You can set two alarms for two different times and also correctly canceling the alarm for the weekends. Other functions like snooze and one-time alarm are also great to have features.
Key Features
Dual USB charging ports that can charge any Android or iOS Device
7-inch display with brightness dimmer ensuring a dimmable yet bright display
Bed shaker only mode allows you to set the alarm without sound guaranteeing no disturbance to the others.
7. PPLEE Store USB Phone Charger Vibrating Alarm Clock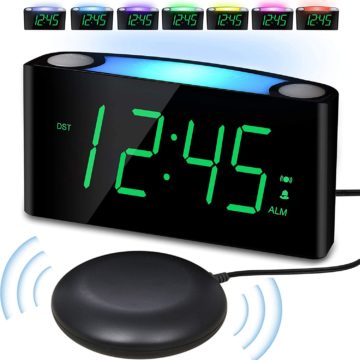 For those who are hard of hearing or frequently miss the alarm, clocks should consider this very top-notch alarm clock. The powerful vibration of the bed shaker ensures that you never miss an alarm again but without disturbing others sleeping beside you.
Available in beautiful colors, this alarm clock comes with three wake modes: shaker, buzzer, and both. You can simply connect the shaker buzzer to the clock and put on your bed. Be assured that once the alarm sets off, the bed shaker will start buzzing and shaking near you.
Key Features
Digital Bedroom desk clock with a seven-colored night light and snooze button
Large LED screen making seeing the time even from far possible
3 level alarm volume and full range brightness display that can be adjusted as per your choice
Long press hour button to choose between 24 hours and 12-hour format
Long press Set time on the back to turn of daylight saving time function
6. Lielongren Dual Full Range Dimmer Alarm Clock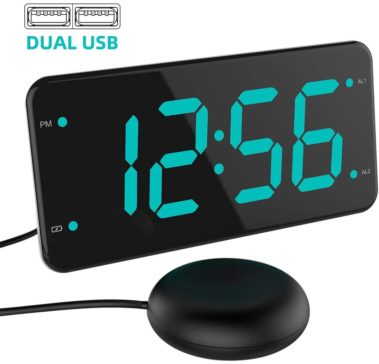 It is more than a clock that comes with a bed shaker and does the mundane job of waking you up. The alarm clock comes with dual ports for charging both Android and iOS devices. Moreover, you can set the alarm for two different times daily with this alarm clock.
Buzzer volume can be adjusted to three different levels from 65dB minimum to 90dB highest from Level 1 to Level 3, respectively. You can also utilize the unique alarm-test mode in this clock just by long-pressing the 'UP' button for 3 seconds. Once, in the test mode, you can adjust the buzzer volume and intensity of the vibration. Pressing the "UP" button one more time will let you save and exit the test mode.
Key Features
Select from the three levels adjustable variation intensity according to how hard of a sleeper you are
Use Test Mode to set the buzzer level and vibration intensity
Dual Smart alarm lets you set the alarm for two different times along with the snooze feature.
5. LBell FM Radio & Natural Sound Vibration Alarm Clock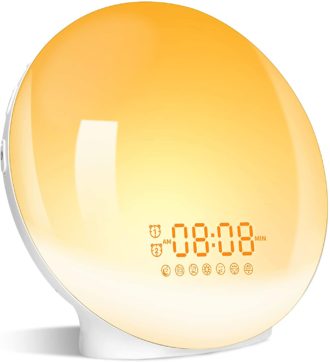 A perfect set of an alarm clock and bed shaker for the adults as well as the kids, this clock from LBell lets you select from seven natural sounds. Your search for a perfect alarm clock for the kids ends here as the sunrise simulation during the alarm ringing is something that they would not want to miss.
The excitement does not end here as the clock radio will tell you all the latest news from a maximum of 40 channels. All you need to do is long-pressing the FM button for 2 seconds to let the station scanning start. LBell has not compromised on the useful features while making the clock beautiful and adding unique features.
Key Features
Seven different night light colors along with 20 levels of warm light
Sunrise simulation as the screen gradually changes the color from dark red to bright yellow once the alarm is set on
The dual alarm clock can be used for setting the alarm for two different times thus serving everyone's purpose
4. HeimVisionSunset Simulation Sleep Aid Alarm Clock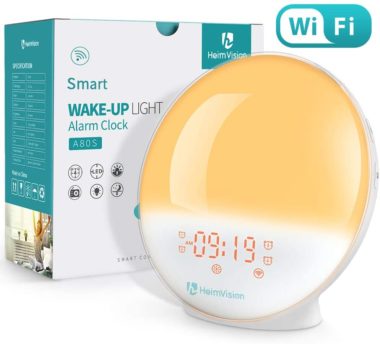 One of the smartest choices in alarm clocks to let you set your routine time of waking up and going to bed. The sunrise simulation adds to the aesthetics gradually increasing before the set wake up time, filling the room with bright yellow color.
We were not kidding when we said that it would be one of the smartest choices as the lights can be controlled with your mobile device. All you need is to download the Smart Life app and add the wake-up light to your device. Once you connect with wifi, the app will let you control the wake-up light via the app.
Key Features
Compatible with Amazon Alexa Echo and Google Home Assistant once you download the SmartLife App.
Preloaded with seven unique sound of streams, Hawaii Wave, Win Dells, Ringtone, Piano, etc
FM radio function lets the user add the VOA as a new alarm sound
Snooze button delays the alarm clock for another 15 minutes allowing you enjoy your sleep
3. RCA Repeating Snooze AC Powered Digital Alarm Clock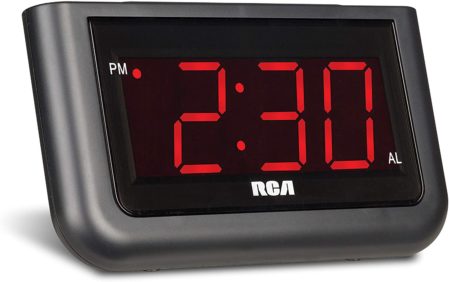 Looking for easy to use and the smart Alarm clock will not feel like desiring for unicorn anymore. The digital alarm clock from RCA comes with useful features such as repeating snooze functionality, extensive and full-width in case you want to sleep for a few more minutes.
Further, you can control the brightness display from high to the low level depending on the level of brightness you want. Moreover, in case of power loss, all the settings will be saved, and an alarm clock with still set off.
Key Features
The control button is large enough to spot easily and simple to use
Brightness can be controlled from high to low
LED Display ensures significant digits that can be seen from far
Alarm settings are retained even in the case of power off
2. Philips SmartSleep Night Therapy Sunlight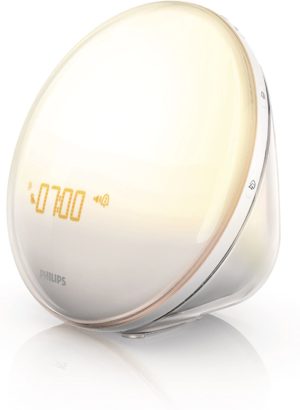 This one is from the brand, which is a leader in electronics for decades now. The alarm clock comes packed with various smart and useful features such as a light therapy lamp and natural sunrise alarm clock.
Moreover, you do not have to worry about the loss of power all of a sudden because all your alarm clock settings are retained. Decide to wake up with one of the soothing five alarm tones or the FM radio every morning.
Key Features
Light therapy lamp and sunrise simulation screen is known for enhancing the sleep quality
Philips claims that its wake-up lights are clinically proven to help the user wake up feeling more refreshed
All user settings are saved and retained even without the power back up
1. Sonic Alert Extra Loud Bed Shaker Alarm Clock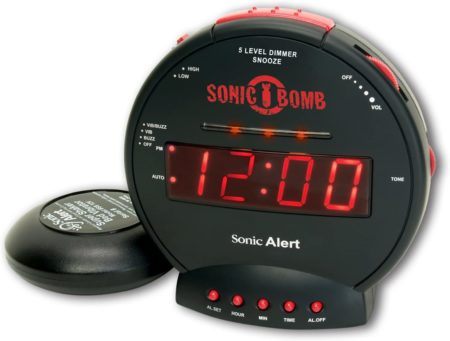 The legacy of this sonic alert alarm clock dates back to the 1980s and has never been replaced when it comes to the most potent and extra loud alarm clock.  The super loud alarm clock has not only strong flashing lights but also an excellent battery backup.
Apart from that, you also get easy switches and knobs to control the volume, as well as the tone of the alarm tone. The clock has been famous in the market for around 40 days now and been the first choice of hard to wake, hard to hear, and older adults.
Key Features
The dual Alarm clock has one of the loudest alarm sounds to wake up anyone
Strong bed shocker is yet another feature for those who want an excellent nudge without disturbing their partners
Pulsating alert light work as a catalyst in waking hard to wake sleepers who can outdo an alarm
Alarm clocks have become a necessity in our lives, but there is no point in buying one which does not do its job well. Choose from the range of vibrating alarm clocks that we have curated for you and never miss an alarm again.