A desk lamp is an essential component that every desk user must have. Not only does it make the desk appear complete, but also it is highly useful to focus light and highlight certain section when it is dark around. Whether you are a student or an office worker, you need to buy LED desk lamp instead of the normal ones because you will be able to save electricity and the longevity of the lamp will be great. A desk lamp cast concentrated bright light in a given surface area and hence, you can concentrate on the task at hand without any distraction. The following are the best LED desk lamps in 2019 that you should consider for buying.
List of Top 10 Best LED Desk Lamps in 2019
10. HaMi 5W 18LED Desk Lamp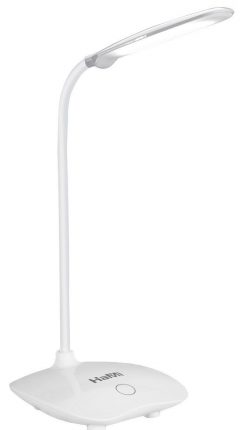 It is a very flexible Led desk lamp with the ability to rotate 360 degrees from the base. The gooseneck lamp can turn up to 180 degrees. There are 3 levels of brightness to match any need and it comes with 18 LED lamps that can last up to 50,000 hours. It is flicker-free, does not emit any harmful rays, and the lighting is natural so that it is pleasant for the eyes. Currently, it offers 30 days money back guarantee.
9. SunLabz Energy-Saving LED Desk Lamp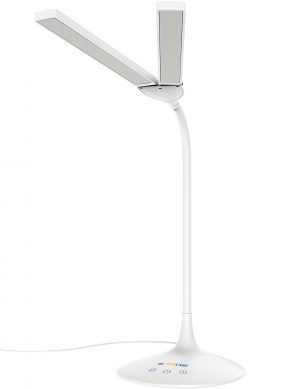 It is one of the most economical LED desk lamps on the list. It is very stylish in design and unique in look. There are 48 bright LED lamps, and there are two flexible heads. It offers 3 lighting modes which are white, yellow and natural. The touch control makes it easy to switch between different modes and make the required changes. You can make the lights dim and bright as per your task.
8. iXCC 360 Degree Rotatable Eye-caring Table Lamp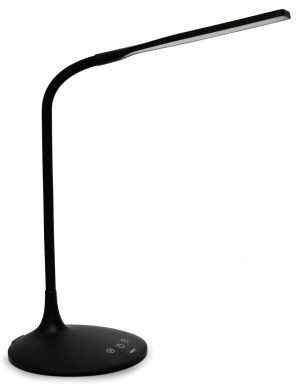 It is a 5W Led desk lamp with 20 LED bulbs. It is great for working, reading and relaxing. Furthermore, it comes with a sensitivity control panel, and there are 3 different levels of brightness. It is quite sturdy and it fully flexible to adjust to any position. The cord is long enough and it has a 2-year warranty.
7. TaoTronics 7W Flexible LED Desk Lamp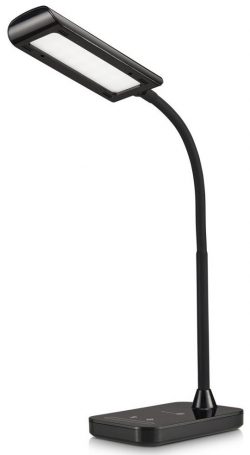 It provides unique natural light and you will never feel strains in your eyes after hours of its use for normal work, study or even drawing and writing. Moreover, it offers 5 lighting modes for different purposes, and along with that, you will get 7 levels of brightness adjustments. It is very energy efficient and the design is elegant. The best feature is that it is fully flexible, and you can project light at any angle. It has a gooseneck design for better lighting projects in any focused area.
6. Lightblade 1500S by Lumiy (Series 2) LED Desk Lamp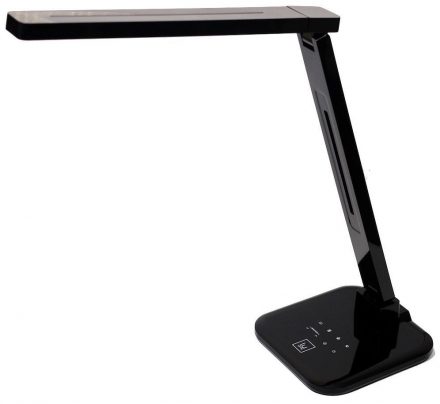 This is a high budget Led desk lamp with 1500 lux of illumination which is why it is considered to be one of the brightest LED desk lamps available in the market. It has the perfect natural light which is soothing to the eyes. Moreover. it has color rendering options to change from cool white to warm white color of lighting. It is cost saving, ultra bright, and omnidirectional.
5. LE Dimmable LED Desk Lamp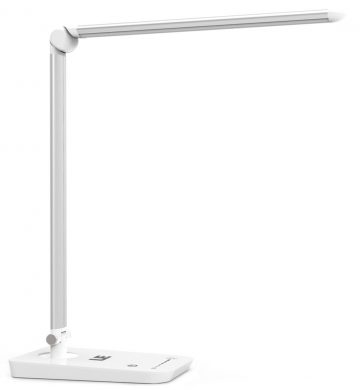 It offers a touch-sensitive panel where you can adjust light up to 7 different levels. There is memory function through which it can resume the old settings automatically the next time you switch it on. It comes with 270 degrees rotatable lamp head, 150 degrees adjustable arm and nearly 360 degrees revolving base. The design looks great, and the build material is of premium quality to dissipate heat and increase the longevity of all the components.
4. Etekcity Dimmable LED Desk Lamp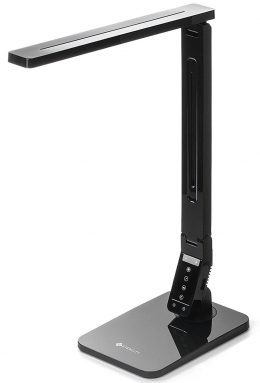 This is one of the best looking LED desk lamps that will increase the beauty of your desk. It provides natural lighting so that light never strains your eyes. It does not even cause glare on the computer screen. Furthermore, it comes with 4 lighting modes for reading studying, working and relaxing or sleeping. You can even control the brightness level as per your wish. It has a wide angle of adjustment like the arm can reach 55 degrees while and the base can revolve 180 degrees and vertically it can turn up to 140 degrees. The build quality is great and it is likely to survive when it falls from the table accidentally.
3. TaoTronics 14W LED Desk Lamp with USB Charging Port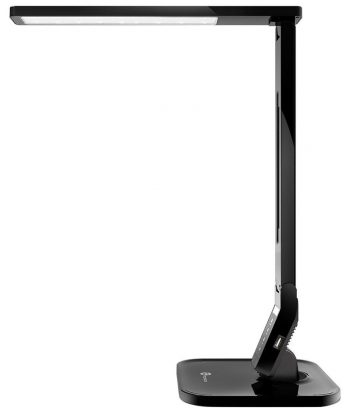 It is the bestselling LED desk lamp under the category of USB reading lamps. It comes with 4 lighting modes and 5 brightness mode to suit any requirement during work, study, reading, and casual relaxation. You can charge it easily with USB and hence, it is perfect for computer desks. You can adjust the angle of the top and bottom part. It has an auto-off timer and touches controls with memory functions.
2. TaoTronics 12W Dimmable LED Desk Lamp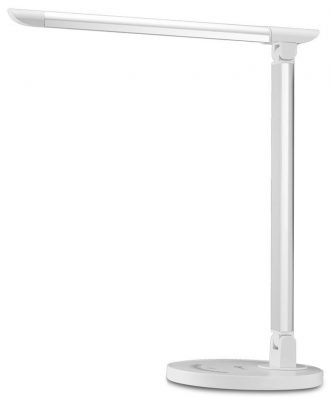 It is the bestselling LED desk lamp under Desk Lamps category on Amazon. It helps to save over 75% of power consumption in comparison to any normal desk lamp available in the market. Moreover, this led desk lamp provides 7 levels of brightness control which is highest in any LED desk lamp and hence, this desk lamp can afford to have the useful dimmable property. Also, fully flicker-free and designed to fit any space. You can also charge your USB device when it is on.
1. LED Desk Lamp Fugetek FT-L798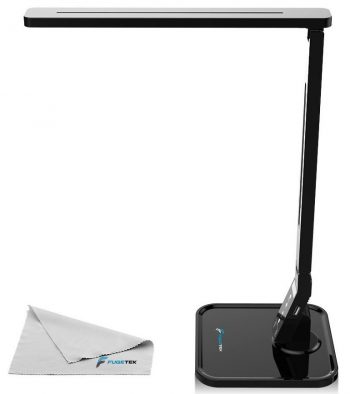 This LED is the best on the list because it has specially designed low profile recessed LEDs which does not affect or strain your eyes even in pitch dark condition. Furthermore, these LEDs have the longest life, and each one of them can easily last up to 25 years. They are also power efficient and economical. The adapter comes with UL certification and hence, it is fully reliable.
There are multiple brightness and lighting modes, and you can adjust them according to your requirements and sensitivity. You can set auto-timer to turn it off automatically. The design is sleek and fits in any short space easily.