There are several instances when our workout regime gets agitated, and the laziness kicks in. And during the lockdown, it became more conspicuous as everything was shut down. With the hassle, also came an obstruction to access to all the gyms. People, especially fitness freaks, have been affected a lot. But that shouldn't be the case, right? So, we have devised a list of top 10 best adjustable dumbbells in 2023. You'd need an alternative to continue your journey and keep space and budget into consideration. So, choose the one which you like and get started.
Best Adjustable Dumbbells – 10 Reviews:
10. Weider Select-A-Weight Adjustable 50 Pound Dumbbell Weights Pair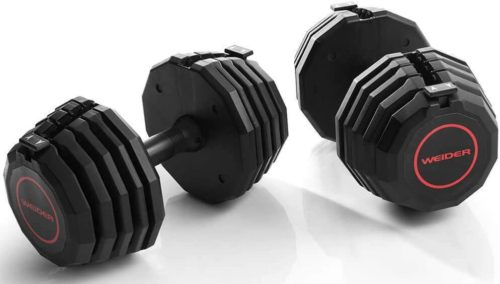 Since heading to the gym isn't much of an option, we should instead focus on the adjustable dumbbells for the time being. Several reasons are instrumental as to why adjustable dumbbells would be the best alternative for your gym workouts.
Firstly, you can change the resistance from 10 lbs (4.5 kg) to 50 lbs (22.67 kg) just by pressing the selector, so you won't feel any misery while changing weights. Also, it has durable molding around the metal plates to make your workout session smooth and quieter. Plus, it comes with a storage rack to help you keep your dumbbells at its proper place.
Pros
Replaces regular dumbbells so that you can save the space
Has resistance ranging from 10lbs to 50lbs
Comes with a storage rack
Durable molding
Cons
9. CAP Barbell RSWB-CS040T Adjustable Dumbbell Set (40 lbs)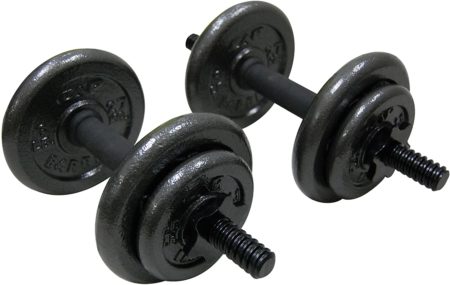 While looking for the best adjustable dumbbells in 2023, you can go with this one if you're more habituated with the old-skool type. With different options available, you can go utmost at 40 lbs. It comes with varying plates of weight to help you make different combinations.
Basically, it comprises four 6 lbs plates and also four 2.5 lbs weight plates made of cast iron, two threaded solid handles along with lock collars. The set replaces your hassle for most of the workouts and can be a good option for the regime. Be it lunges or shrugs; you can do them all.
Pros
Better weight plates
Reasonable price
Has a rubber grip
Weighs exactly the same as mentioned
Cons
Loosens up constantly
Some users complained about the plastic smell
8. Bowflex SelectTech 552 – Two Adjustable Dumbbells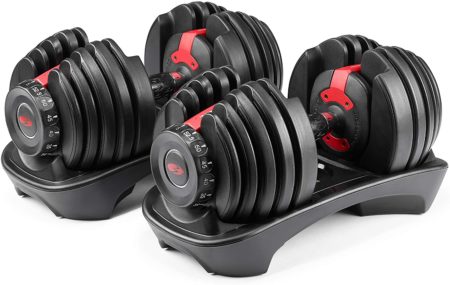 Adjustable dumbbells are better in several aspects. From saving space to the misery of manual adjustment, they replace all of it. Above all, Bowflex SelectTech 552 comes with 15 different sets intact in the same place with a dial system. You can change the resistance from 5 – 52.5 lbs by steps of 2.5 lbs each.
Moreover, the dumbbells come handy with a compatible app for Android and iOS platforms so that you can follow up the workout routines of the leading trainers. It's quite enough from a home-workout perspective.
Pros
Sturdy build quality
Smooth transition
Easy to store
Cons
7. Marcy 40 Pound Vinyl Dumbbell Set with Adjustable Weights
We also have another suggestion for a manually adjusting dumbbell set. The reason it makes it to this list comes home with a medley of plausible explanations.
The dumbbells have a vinyl coating on the surface to prevent it from rusting. The textures on the handle provide more grip while performing workouts. It includes four 2.5 lbs weight plates, four 7.5 lbs plates, and also two 14-inch handles. For those who had problems with loose plates, this set comes with spring-clip collars to prevent any sort of disturbances. Moreover, it also has a 2-year warranty.
Pros
Sturdy and can be easily used
Reasonable price
No trouble with the loose plates due to Spring slip collars
2-years warranty
Cons
Bigger plates can be a bit of a problem for some users
6. Gold's Gym 40 Pound LB Vinyl Cement Dumbbell Weight Set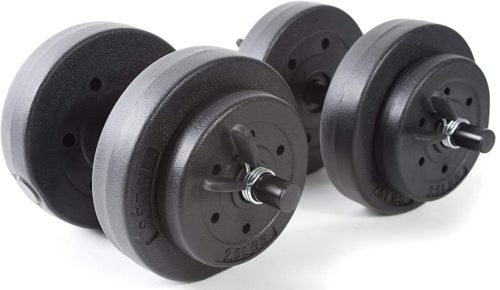 Looking for dumbbells with solid quality and the one that's easy on your pocket? This product is the one to go with. The set includes four 7.5 lbs and four 2.5 lbs weight plates. The best part is that you can use these dumbbells to make a barbell with a connector. Moreover, it doesn't even require much space and is also comfortable to use.
Pros
Suitable for the price range
Can be easily used and stored
Cons
5. Sunny Health & Fitness Exercise Vinyl 40 Lb. Dumbbell Set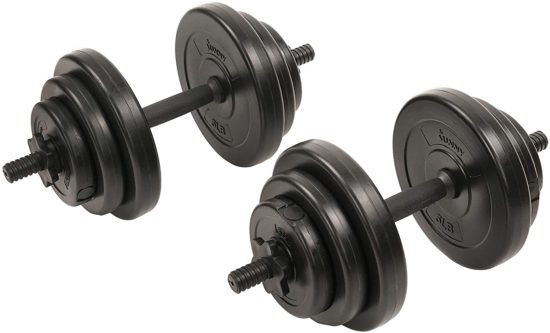 It can fit most of your requirements while searching for the best adjustable dumbbells in 2023. The steel bar and weight plates are available with a vinyl coating, so it provides protection against the hard steel. Star lock collars made of polypropylene helps to keep the weights fixed at their position. The set contains two steel bars, four-star lock collars, four 1.5 lbs weights, four 2.5 lbs weights, and four 5 lbs weights. It replaces the need for dumbbells and a storage rack to get you the best of both worlds.
Pros
No clanking problem
Provides better grip
Easy to keep
Cons
Larger weights; could be more compact
4. shanchar Adjustable Weights Dumbbells Set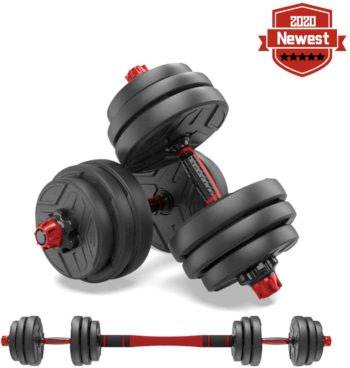 Adjustable dumbbells should be the one with a better range of varying weights. With shanchar Adjustable Weights, you can be assured to do your workouts with ease. Furthermore, it also has an anti-rolling design and can also be connected to make a barbell using a connector. The connecting rod is also covered with a thick rubber coating to provide more grip. They are available in varying ranges. Choose the one that's suitable for you.
Pros
Dial System enables fast transition between sets
Good for overall workouts
Cons
3. PAPABABE Adjustable Dumbbell Sets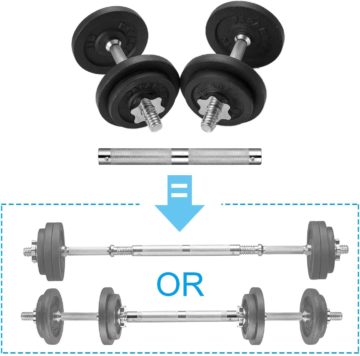 In this list of best adjustable dumbbells in 2023, the best replacement for your gym workout can be done by turning two dumbbells to form a single barbell. With the help of a chromed steel dumbbell connector, you can do that too. And what else do you need when you're getting 200 lbs. of weight at your home. This is ultimately the best way to tone your body. Plus, it saves more space as you don't need any dumbbell rack as such. Be it any compact place; you'll be able to perform all your workouts.
Pros
Sturdy build quality
Easy assemblage
Easy to store
Cons
Some users find it hard to perform some exercises (e.g. bench press)
2. YAHEETECH 66 LB Weight Dumbbell Set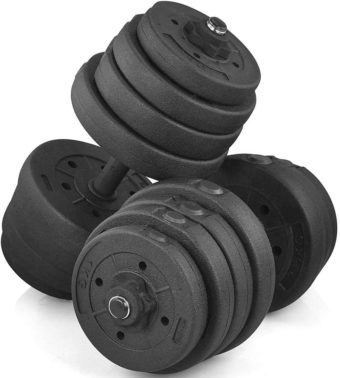 This is ultimately the one with top-notch quality. Made of concrete and having a chrome finish bar, it also comes in an assortment of ranges. Plus, you get a set of lock collars and a non-slip grip to help you perform your workouts with ease.
The finishing has been done following increasing the durability of the dumbbell set. Summing up all, you are getting the best deal here. Apart from being a better alternative, it is also easy to store.
Pros
Highly durable
Has anti-chrome finishing
Cons
1. Yes4All Adjustable Dumbbells with Connectors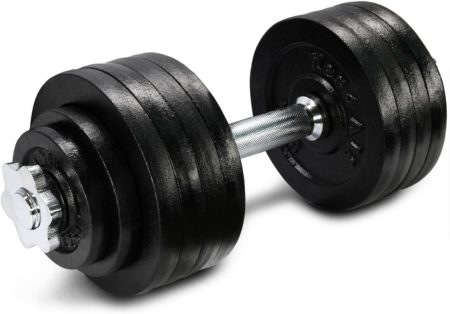 Of all the best adjustable dumbbells in 2023, Yes4All stands apart in every aspect. Be it quality or the finishing; the product just perfectly fits a T. The set includes cast iron weight plates, a 14-inch diamond knurled chrome handle, and also two star-lock collars.
Besides, it doesn't even require much space and is easy to clean as well. This product comes in several ranges starting from 40 lbs to over 200 lbs. And don't worry about its life, the quality of steel would do its job for a long time. With that being said, it is one of the exquisite things you can have at your home.
Pros
Can be quickly assembled
Space efficient
Comes at an affordable price
Cons
While buying anyone from the list, make sure you look for aspects like more increments you can make in your weight set. Also, most of them out there have some additional assets like storage racks. Stability during the workout session is of utmost importance. Also, it's even better if it comes with a carrying case. The baseline is to expound yourself with all the details given in their description.
The Final Verdict
The online market is inundated with several adjustable dumbbells, but not all are fair enough to buy. It's always better to go with the ratings. Perhaps, you'll have to make adjustments with most of the available items, but if seen from a home-workout perspective, these best adjustable dumbbells in 2023 are the way to go. Do some research before you select one. The slightest of the inkling will also give you an idea. The main motto here is to keep your health at the pinnacle, as we realized its immense importance during this challenging time.