Whether you are a student or illustrator, tracing can really help you out in different ways. While there are several other options, they usually take a lot of time and are not that efficient either. That's the reason, it is very important to opt for the tracing light pads. These pads are easy to use and help you to practice your art in almost no time. With a flood of options available at your disposal, it is really tricky to choose the right one.
Hence, we are rounding up the best ones for you. So, find out which one is perfect for you by taking a look at our reviews of tracing pads.
Best Tracing Light Pads – A Complete Guide:
10. Tikteck A4 Ultra-thin LED Light Box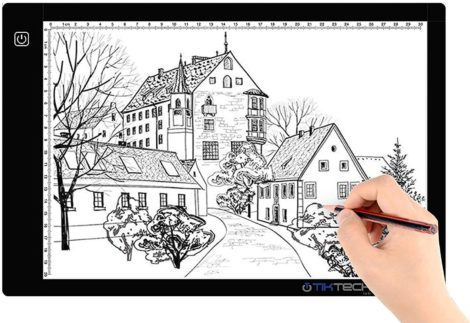 A tracing light pad is an innovative tool that is used for a number of purposes. In this regard, the Tikteck LED Light Box is a powerful companion to help you trace different artistic patterns for all kinds of purposes. It is a very thin device at only 5mm thickness and is very light. This ensures that you can easily carry the device anywhere you want without any hassle.
Besides, the brightness of the light is adjusted as per your requirements easily. The feather touch buttons are very sensitive and work very well for you.
Key Features:
This tracing light pad is powered by a voltage of 5 volts of direct current.
The illuminating surface generates an appreciable power output of 3.2 watts to give smooth, unanimous, non-flickering light.
Comes with a USB cable such that you can easily connect it to any power source such as laptops, computers, and so on.
9. Huion LB4 Light Box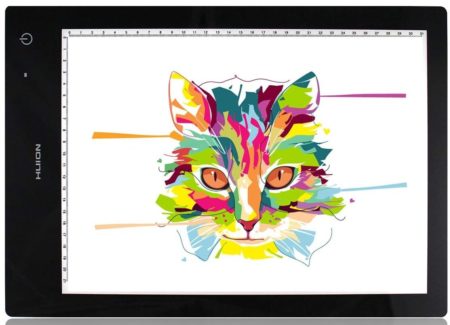 If you are looking for a highly portable light pad design, then you should surely go for the Huion LB4 Light Box. It is thin at only 8mm and features a rechargeable battery. The battery takes 1 hour to fully charge and is used anywhere for up to 3.5 hours after that. It produces an illumination which is about 88% uniform and has a brightness of up to 1500 LUX.
You may not require the full brightness of this device at all times and will be delighted to know that it features Stepless brightness adjustment. Finally, you can set the brightness from among 3 preset modes according to your convenience.
Key Features:
The fascinating unit features a dimension of 12.6-inches x 9-inches that is good enough for most ordinary purposes.
It just about 1 kg and thus is an impressive tool to carry around to different places.
This is certainly a wireless choice for letting you explore your creativity anytime and anywhere.
8. US ART Supply Lightmaster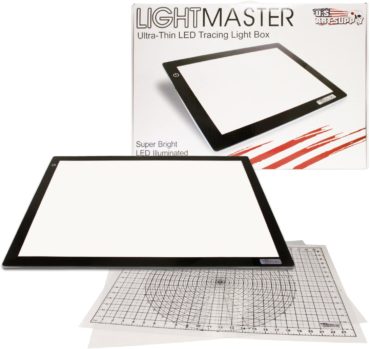 If you are looking for an even light source that makes such artistic endeavors as stenciling, sewing, tracing, etc easier, go for the Lightmaster crafted by US ART SUPPLY. This tool features a gigantic surface that can support up to A2 surfaces without much ado. The 17-inches x 24-inches surface has a unanimously bright light source which is adjusted to your requirement. The LED lights are very durable and are going to serve you for up to 50,000 hours.
As a matter of fact, it also features an ultra-thin body which is only 3/8-inches thick. Hence, enabling you to easily carry it anywhere.
Key Features:
When you buy the Lightmaster crafted by US ART SUPPLY, you can claim a full replacement within 1 year if anything goes wrong.
The helpful package comprises different elements that will come in handy such as a measuring grid and a circle template.
Powered by 110V adapter that will give it the efficiency.
7. Crayola Light Up Tracing Pad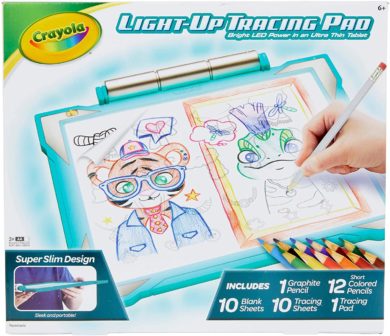 The Crayola Light Tracing Pad is an innovative tool that is crafted to help kids to learn drawing and painting. It is an intimidating art form and requires much practice and skill. However, the act of tracing enables better flexibility with a pencil and this tool is intended for just that. The smooth surface enables kids to use this device anywhere, be it in the home, in a car, or in a plane.
The set comes with other necessary artilleries that aids in drawing such as tracing sheets, colored pencils, graphite pencils, and so on. Finally, the device is powered through 3 AA batteries and thus requires no other power source.
Key Features:
This is a high utility tool that is used by both kids and adults easily and without any difficulty.
It comes loaded with a paper-locking frame. Hence, allows you to hold the sheets in place for the perfect tracing experience.
Weighing just 1.9-pounds, you can hold it by your hands and draw on it.
6. Honesorn A4 LED Light Box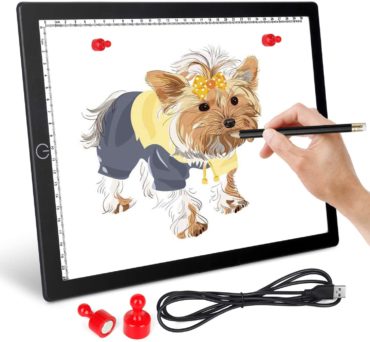 The Honesorn A4 LED Light Box is crafted with an exceptional design keeping travel on the mind. It features an A4 work surface and has a minimum thickness of just 0.2-inches. As a result, allows you to pack it up in a bag and carry anywhere you like. The LED light is evenly distributed throughout the surface and does not produce a flicker that is harmful to the eyes. The brightness level of the LED light may also be set according to your requirements.
It features 3 modes of brightness to help you with different settings. Hence, it will not stop you from spending sometime on drawing on the screen. The touch buttons are easy to operate and works very smoothly.
Key Features:
The A4 Light Box is backed by Honesorn's trusted 3-year warranty to take care of anything that goes wrong.
It uses magnetic pins that allow you to always hold the sheet in position for seamless tracing experience.
Having an ultra-thin body, this promotes a very travel-friendly concept.
5. GAOMON B4 LED Light Box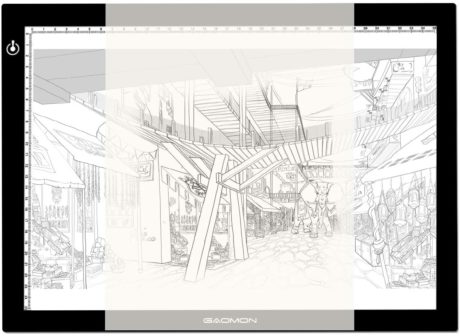 The GAOMON B4 LED light Box is an appreciable tool to have in your arsenal if you are an artist. Be it tattoos or fabric designs, the unanimous light source enable you to trace without any inhibition. It features a surface that is bigger than the standard A4 size such that you never have any problem with fitting a sheet on the surface. The device is very easy to operate- all you need to do is click on the ON/OFF switch to power it.
Moreover, the switch also functions to maintain brightness. But on long-pressing, it changes the brightness of the lights gradually. Above all, the memory feature helps in remembering the brightness level and will be set automatically whenever you are using it.
Key Features:
This device is powered via a 2m long micro USB cable. It helps to be connected to any power source such as power banks, laptops and desktops. Hence, allows you versatile applications
The device is equipped with an acrylic surface which has a glass-like appearance.
It is, however, stronger than glass and is resistant to scratches and rough use.
4. AGPTEK A3 Light Box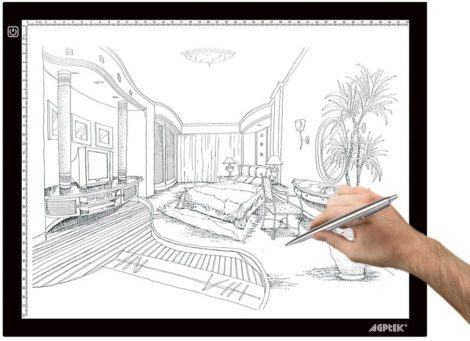 The AGPTEK Light Box features a big surface to help you with your tracing requirements. Its A3 surface allows you a number of applications such as tracing different designs and tattoos, sewing, and so on. It is powered through a USB cable that is attached to an adapter or such devices as power banks, computers etc. The switch ingrained in the device is very sensitive and works with the minimum touch.
Long pressing the switch enables you to adjust the brightness gradually to suit your requirements. You can put this in your bag and carry it about without feeling a thing.  And all thanks to its quite lightweight at only 1.4 pounds.
Key Features:
This is very easy to handle a device that has a minimum thickness of only 0.24-inches.
For making things more genuine, it gained the certification from PSE.
It comes with a manual that will guide you through the process of using.
3. AGPTEK Magnetic A4 Lightbox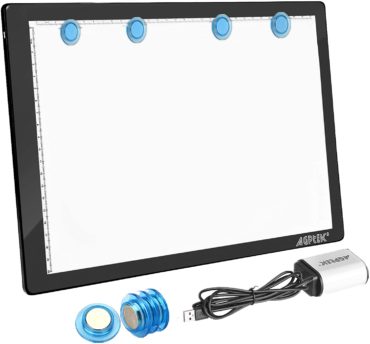 The AGPTEK Magnetic A4 Lightbox is a powerful tool for an artist. It is a source of background light that makes tracing various designs an easy endeavor. The light source features an A4 surface, implying that it can easily hold A4 sheets. Besides, the light source is USB powered- you just need to connect the USB to a power source. So just put it to the plug point or to computers, power banks, and other such devices. The brightness may also be adjusted at the click of a button.
Furthermore, the gradual change from 0 to 100% ensures that you get the perfect setting always. Lastly, the powerful LED light has the potential to serve you for up to 50,000 hours without going bad.
Key Features:
The LED light is so constructed that it causes no flickers or radiations and is good to the eyes.
Apart from being extremely bright, it has an innovative design.
This is certainly an eco-friendly choice on which you can work easily.
2. Magicfly Diamond Painting A4 Light Pad
Are you in a job such as graphic designing, tattooing, and so on? If you are in need of tracing from time to time, use the Magicfly Diamond painting Light Pad. This A4 light pad allows you to place an A4 sheet. Plus, illuminate it from the rear making tracing such an easy job. The board is just 0.14-inches thick thus not taking up much space at all. It is very lightweight and is easily carried around in a bag anywhere.
This has an acrylic panel that has the benefit of eyesight protected technology that is not a risk to your eyesight.  Above all, the LED source is powered by USB connections and you can connect it to any USB device.
Key Features:
The 2m long USB cable allows you the most versatile applications with this device.
When you buy this LED lightbox, you get an additional 4 clips. Plus, it has a stand to aid you in your tracing endeavors.
A portable choice that will not flick when you are working on it.
1. CO-Z A2 LED Light Box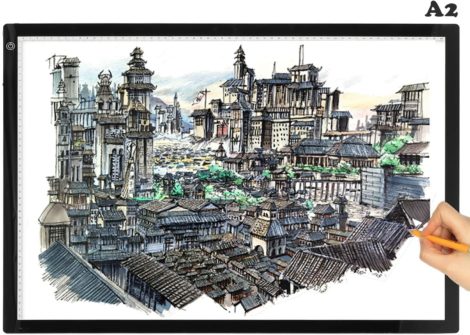 The CO-Z LED Light Box is an amazing and very helpful device for artists. Be it sewing or tracing a pattern. A background light source eases the affair to a great extent. This device features that unanimous, even light source! The brightness of the LED light is sufficient for different applications and is dimmed to suit your needs. Furthermore, the LED lights used are also top-notch and have a service life of at least 30,000 hours.
The color temperature allowed in this device is 4000K which is just perfect for an 80g watercolor paper.
Key Features:
The work surface featured is 23.2-inches x 16.5-inches or an A2 surface, allowing you varied applications.
This will not emit heat or harmful light and make it difficult for you to use.
Do not limit yourselves and your creativity. The trace pad light box will let you practice your calligraphies, stencil works, 2D animations and so much more. You will have a plethora of options to explore.