If you are always in a rush, it is recommended to keep your vehicle's battery charged. Especially if you have vehicles that aren't used regularly, you will need battery maintainers to keep the batteries ready to go. Using a battery maintainer will help you in case of any emergency or crisis.
The task of a battery maintainer is to keep the battery fully charged when the battery drops. These devices supply a small amount of electric current to the battery for an extended period. These streams of current will not overcharge the batteries but will make your vehicles ready to go.
These devices help maintain the charging capacity the battery had when used last. There are plenty of battery maintainers available online these days and here are the 10 best battery maintainers you can consider if you are looking for a safe and reliable battery maintainer.
The Best Battery Maintainers in 2023
10. Battery Tender Battery Charger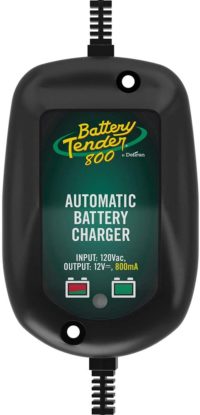 It is always good to have a battery backup, especially if you are planning to go on a long journey. This super-smart battery charger and maintainer will continuously monitor your battery. This spark-proof and fully automatic maintainer also offers reverse polarity and short circuit protection.
This is one of the best battery maintainers and chargers that is no bigger than a computer mouse and offers 800 milliamps of constant current and charging power to keep your vehicle ready to go. The interior is protected from vibrations, shock or moisture.
Pros
Protected from flame retardants, thermally conductive or electrically insulating compounds
Size is similar to a computer mouse
Offers constant 800 milliamps current
Cons
Not completely waterproof
9. MOTOPOWER Fully Automatic Battery Charger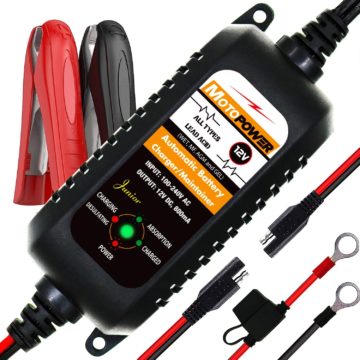 The best thing about this battery maintainer is that it has a maintenance mode of 13.5-13.6 volts and when the battery charges fully, the maintainer holds the voltage and keeps it charged for long.
If you are wondering if the battery maintainer is safe to use, it offers protection from short circuits, overcharging and reverse polarity. Plus, it also has an LED light and IC chip for smart and protected charging.
Pros
Microprocessor controlled program monitors and stops the charging process when needed
Features spark-free technology
LED indicator that reflects the charging status
Cons
The indicator does not show accurate readings
8. Schumacher Automatic Battery Maintainer

This fully automatic battery maintainer is reliable, and you don't have to worry about overcharging. The maintainer works with most of the battery chargers and lets the battery fall below 12.6 volts before recharging.
For added precision, extended battery life, and safety purposes, this maintainer features multi-staged charging. It's auto voltage detection mechanism detects 6 or 12 volts batteries quickly.
Pros
Comes with ring connector and battery clamps
If the clamps are reversed the battery will not work due to reverse hook-up safety and protection
Great for power sport, boats, and motorcycles
Cons
Many customers report receiving defective product
7. OptiMate 4 DUAL PROGRAM Battery Saving Charger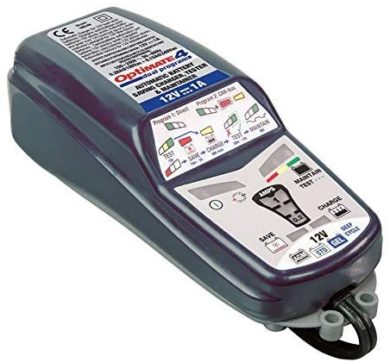 Dual program maintainers are the best battery maintainers, and this 4-in-1 dual program battery is a budget pick if you are looking for a device that can charge, save, maintain, and test battery. The device also offers a program for direct charging and another program for safe and unsupervised charging for when you are not free.
The dual program battery maintainer is automated and is easy to use and hook up. Plus, it also comes with a manual that will guide you to use the device effectively and how the indicators and other functions work.
Pros
Offers direct charging as well as supervised charging
Automated and key-less activation
Continues maintaining the battery until the charger is disconnected
Cons
Diagnostic functions are not entirely reliable
6. Clore Automotive Battery Charger/Maintainer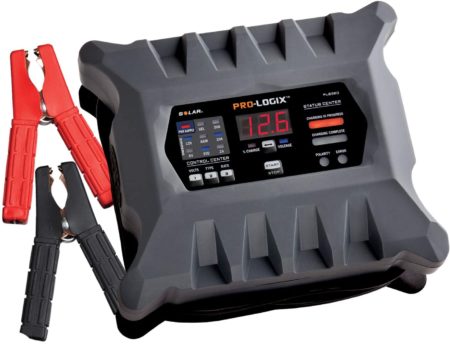 This battery maintainer can be used to charge and maintain batteries of 6 and 12 volts. While the primary purpose of the battery maintainer is to avoid overcharging, this maintainer features a multi-charging process that will prevent overcharging.
The power supply offers steady and slow power to maintain the system voltage using various system applications. It combines the fully automatic function and ability to charge different types of batteries and thus, makes a power pact battery maintainer and charger.
Pros
Offers 6 and 12-volt charging
Features soft start mode especially for depleted batteries
Provides battery fault detection and protection from reverse polarity
Cons
LED doesn't give accurate readings
5. BMK 12V Portable Battery Maintainer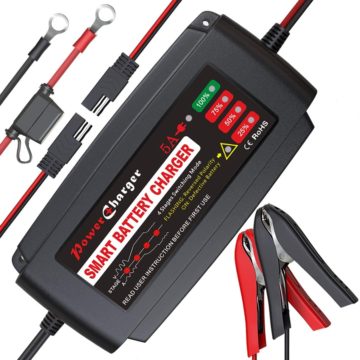 The reason why people choose battery maintainers over battery chargers is that the battery chargers can overcharge the batteries while a maintainer will stop when the battery is full. This is one of the best battery maintainers that boost the life of your vehicle's battery.
The device is updated with 72 hours of safety measures that will function when the battery is full and starts overcharging. It is also waterproof, short circuit resistant, reverse polarity resistant, and safe.
Pros
Offers 4 stages of battery charging indicator 25%, 50%, 75%, and 100%
Automatically stops when the battery is fully charged
Comes with battery condition diagnosing feature to identify defects in the battery
Suitable for batteries of 15-100Ah
Cons
Not a long-lasting and durable product
4. NOCO Genius Battery Charger and Maintainer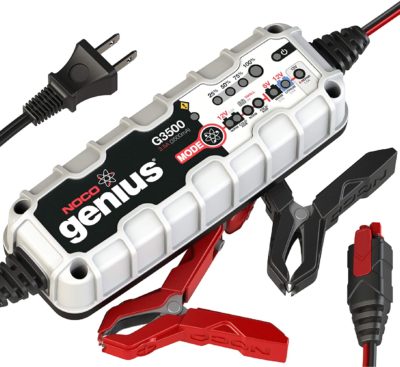 With this battery maintainer, you will always be sure that your vehicle's battery is fully charged and is ready to go even when the battery has not been used for weeks and was in storage. NOCO is one of the oldest, and leading manufacturers of best battery maintainers and this one is an ideal pick if you are looking for a good bargain.
The device works for multiple vehicles such as cars, boats, tractors, trucks, ATV's, etc. and thus is versatile. It also works with small 6 or 10 volts batteries, deep cycle, maintenance-free, or even marine batteries.
Pros
Advanced technology automatically maintains and monitors charging
Reverses the damaging effects and improves battery performance
Offers customized charge for 12 volts lithium-ion batteries
Cons
The device may get exhausted after prolonged use
3. DieHard Shelf Smart Battery Charger

This smart battery charger and maintainer is fully microprocessor controlled and features a 5-stage charging process for closely monitoring the batteries and also for precise charging. It also features an LED indicator that will flash if the clamps are reversed and will stop operating.
The battery charger and maintainer does exactly what it is designed to do. It closely monitors the battery and stops charging if the battery has fully charged. It prevents overcharging and starts charging again when the battery is discharged a little.
Pros
Comes with quick-connect harnesses with 50A clamps
Also comes with 12v accessories and ring connectors
Gives a built-in alert of clamps are reversed
Cons
Does not work as an efficient charger
2. Battery Tender 4 Amp Battery Charger and Maintainer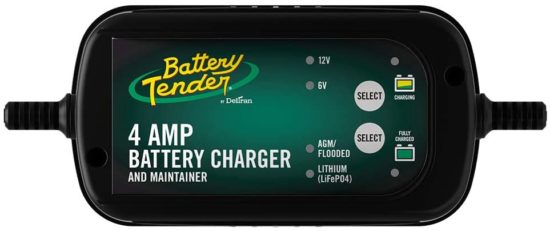 This 4amp charger offers a full charge to your vehicle's battery before switching to the float mode in which it will maintain needed voltages for your battery while preventing overcharging.
With a push of a single button, you can switch from the AGM to flooded batteries to offer and maintain accurate charge levels.  It also delivers a powerful charge to boost the performance of your vehicle.
Pros
Spark proof construction during lead connection
Protection from reverse polarity
4 amp switchable charger and maintainer
Cons
Customers report poor functioning after more than 10 uses
1. Schumacher Solar Battery Charger and Maintainer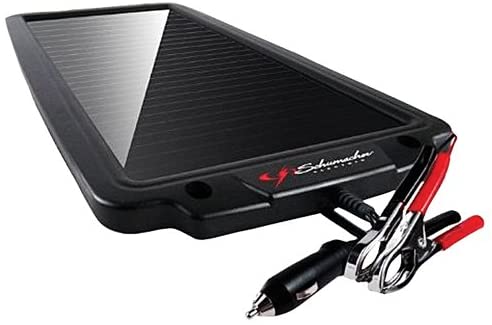 If you are looking for moisture and fog-resistant battery charger and maintainer, this is the right product to choose from. The maintainer works during cloudy conditions and is water-resistant. Plus, it also has extended battery life.
You don't need any electricity for using this maintainer. This water-resistant solar panel uses solar technology and works for most of the boats, motorcycles, trucks, and other vehicles. Not only will you save money on your electric bills, but you will also be able to keep your vehicles ready to go.
Pros
Maintains lead acid 12v batteries with 2.4W
Water-resistant and durable maintainer
Comes with extended battery life and saves on electricity bills
Cons
It charges the battery at a very low speed
Conclusion
The right battery maintainer can identify the defects in your battery, can sense how much charge the battery needs, prevents overcharging, and maintains the charge whenever the battery discharges a little. The above given are the 10 best battery maintainers and offer all the mentioned features. Simply go through your requirements and pick the best one that is ideal for your vehicle.