You hate being stranded but there are those times when your car's battery loses its charge and you are stuck. There is some good news, though. The top 10 best car battery chargers in 2023 will come to your rescue.
Keep one in your trunk and you can avoid being stranded. You can avoid trying to get help from strangers also. To find your next charge, simply continue down our list of the top 10 best car battery chargers in 2017.
List of Top Best Car Battery Chargers Review
10. NOCO Genius UltraSafe Smart Battery Charger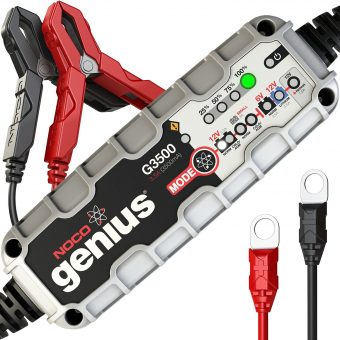 Versatile and flexible. This smart charger will charge lead-acid batteries, as well as Lithium-ion ones. You also can charge 6 or 12-volt batteries with this unit.
It will provide up to 120ah power. Indicator lights let you know where you are in the process. You may have to wait 12 hours for a complete charge on a dead battery
What we liked:
Charges 6 or 12-volt batteries
Charges lead-acid or lithium-ion batteries
What we didn't like:
Needs some charge in the battery to work
12-hour charge time
9. Schumacher 1.5 Amp Speed Charge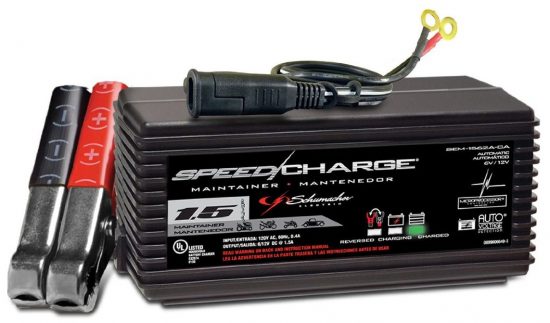 Built with tough plastic materials, this 6-volt & 12-volt battery charger has an overcharging safety function. Depending on the size and type of battery, the charger will recharge your battery between 2 ½ to 44 hours.
It comes with jumper cables, ring connection, and a 1-year warranty.
What we liked:
Charges many different batteries
Accessories
What we didn't like:
Not really a speed charger
Sometimes it did not function
8. GOOLOO Peak Car Jump Starter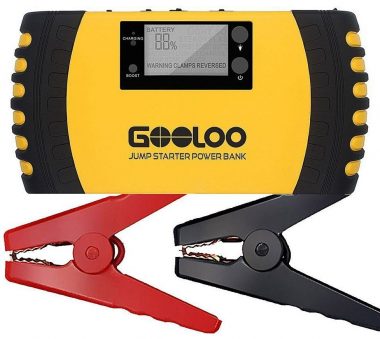 With 10000mAh capacity, this speed charger powers more than car batteries. You can do phones, snowmobiles, mower and more with it 450-amp power. Besides jump-starting, it can double as a flashlight and triple as an SOS emergency signal.
It also features an over-charge and a short-circuit function.
What we liked:
SOS and flashlight special features
Overload and short-circuit functions
What we didn't like:
Ships uncharged
Doesn't ship everywhere
7. DBPOWER Portable Car Jump Starter
Its 600A and 18000mAh power will jump start most vehicles up to 6.5 gas and 5.2-liter diesel engines. Using your car's identification circuit, this charger will recharge at the fastest level possible.
It has USB ports, 12V-16V-19V DC output flashlight, compass, emergency light, LED indicator screen and much more.
What we liked:
It's versatility
It's accessories
What we didn't like:
Self-discharges
Some connection issues
6. Clore Automotive Jump-N-Carry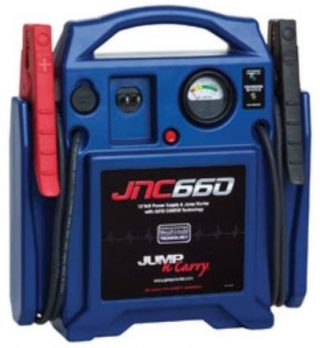 If you want power, this unit has power- 1,700 Peak Amps; 425 Cranking Amps. It also has heavy-duty jumper cables, voltmeter, and DC output. It also has to charge status indicator lights.
The 46-inch cables ensure you reach the right battery connections with ease.
What we liked:
Long jumper cables
Heavy-duty power
What we didn't like:
Plastic tips over the clamps
Clamps made for large battery terminals
5. Battery Tender Plus 021-0128, 1.25 Amp Battery Charger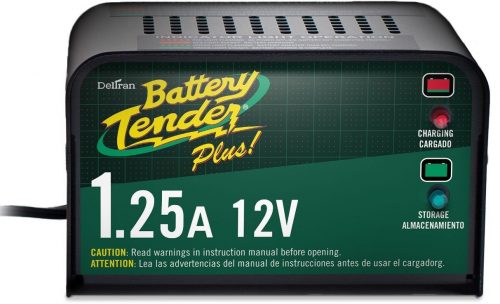 This unit can switch between full charger mode and floating charge mode at the click of a button. The 1.25A charger handles most 12v batteries and has a reverse polarity protection system.
It may take up to 80 hours to recharge your battery. It will maintain those batteries that are rarely used.
What we liked:
Reverse polarity protection
2 function charger
What we didn't like:
Short cables
Will not charge a dead battery
4. STANLEY FATMAX Jump Starter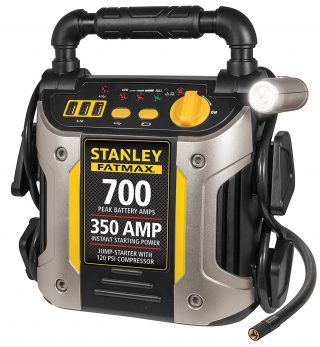 You get 300 instant amps for jump-starting and 700 for peak charging. But it is the unique feature that sets this charger apart. It doubles as an air compressor. Have a flat tire, you can inflate and go with this unit.
Also included are USB ports, 270-degree pivoting LED light, indicator lights and reverse polarity protection.
What we liked:
Air compressor
Pivoting LED light
What we didn't like:
Some problems holding a charge
Some compressor quality control issues
3. BLACK+DECKER Bench Battery Charger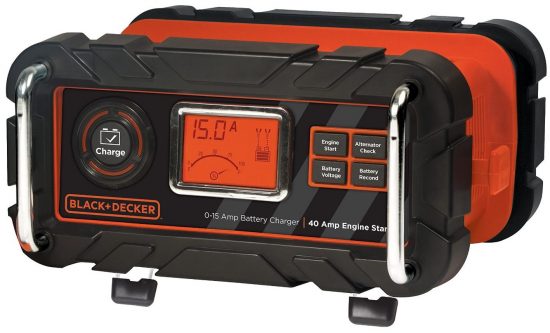 This 15amp battery charger will charge the 12-volt car and marine batteries. It will also provide 40 amps of power for a quick jump start. It can automatically switch between fast, to top off to trickle charge.
The LCD screen provides you with charge information and an alternator check will make sure your alternator is working properly.
What we liked:
Alternator check
3 levels of charging
What we didn't like:
Charge meter may not function correctly
Charger must be plugged in first for polarity protection works
2. BLACK+DECKER 6V and 12V Automatic Battery Charger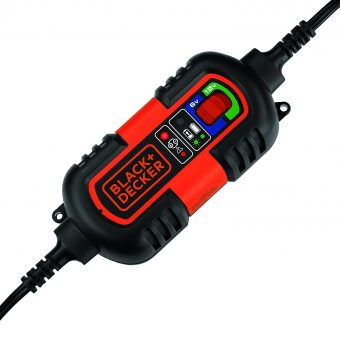 Another B & D battery jump start/battery charger. It will handle both 6 and 12-volt batteries (AGM, GEL and WET batteries). To charge your batteries, you can use the cables, the O ring connectors or the DC outlet.
It will automatically switch between full charge and floating mode systems. Attaches to your wall for easy plug-n access to power source.
What we liked:
3 ways to charge your battery
Versatility
What we didn't like:
Weak 6v to 12v switch
Quality control issues
1. Schumacher Manual Starter/Charger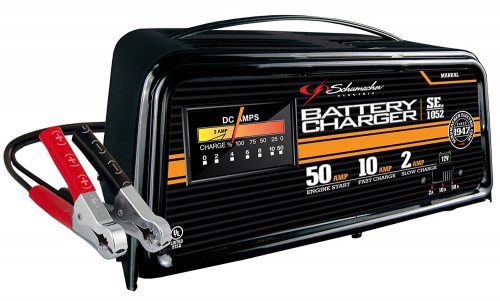 This doesn't have all the bells and whistles like other chargers, but it will get the job done. 50-amp power for jump starts; 10 amps for fast charge and 2 amps for a trickle charge
It has a charge meter and a 3-function switch. Also, it will charge a small 12-volt battery in roughly 2-12 hours.
What we liked:
50-amp jump start
Simple and basic
What we didn't like:
Not compatible with all connections
Needs to be monitored
Some Final Words
Getting your car started or battery charged has become a lot easier. With one of these top 10 best car battery chargers in 2023, you will not be stranded. You can get a quick jump or a take your time charge They are all good for maintaining rarely used batteries.
The good thing about some of these units are the special features. The flashlights, emergency lights and alternator check will protect you day or night. The top 10 best car battery chargers are doing their part to keep you safe when you need it.