What makes a regular mattress extra-ordinary? It is how comfortable and premium it feels when you are sleeping on it on a daily basis. Picking a mattress for yourself or your partner is easier but when it comes to baby mattresses, the job is quite difficult. You can always rely on a crib mattress but not all products are genuine. There are multiple different factors to consider and the more you research the better you will choose.
In order to make things easier for you, we have found out the top 10 crib mattresses that your baby and you will love. Very practical and easy to use, each and every mattress here is a great example of good quality products.
List of Best Crib Mattresses Review
10. NapYou Dual Comfort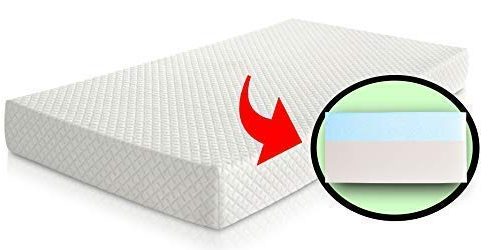 If you could just get a multi-function mattress for your baby, it is going to temporarily solve all your problems. The NapYou dual comfort crib mattress is one such mattress with two sides. The soft and cozy side is to help infants go to sleep. The memory foam is great as it takes the baby's shape as he sleeps peacefully. The firmer side becomes a good base for a toddler's body.
Next, this has a protective cover is from fabric material with a lining of 100% waterproof material. However, if a spilling accident occurs, you can remove the cover and run it through a cycle of machine wash.
Key Features:
This mattress will fit a standard-sized crib. It has dimensions of 52-inches length x 27½-inches width x 5.5-inches thickness.
It is CertiPUR-US certified marking it safe from toxic entities such as lead, phthalates, VOCs, mercury and so on.
This certainly has a cotton construction for your baby's comfort.
9. Dourxi Crib Mattress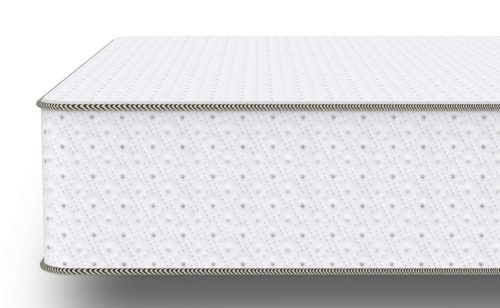 The mattress that you buy for your kid is not going to last a long time because the baby will soon outgrow it. However, if you bought the Dourxi Crib Mattress, you will be bringing together the benefit of two worlds. This mattress is suitable for a baby on one side and for a toddler on the other side. The baby side of the mattress has a memory foam layer with rigid sides. As a result, gives the baby the right ambiance to aid in muscle growth.
A waterproof overprotects this mattress from all sorts of nightly accidents. The foam in this mattress is breathable. Therefore, makes way for a comfortable sleeping experience even when the baby rolls over in his sleep.
Key Features:
The cover on this mattress is lined with a zipper for easy removal and washing of this mattress.
You can easily machine wash the cover to keep it safe and clean at all times.
The mattress is safe from any toxic chemical ingredients and makes way for the safest sleeping experience for your child.
8. Big Oshi Foam Crib Mattress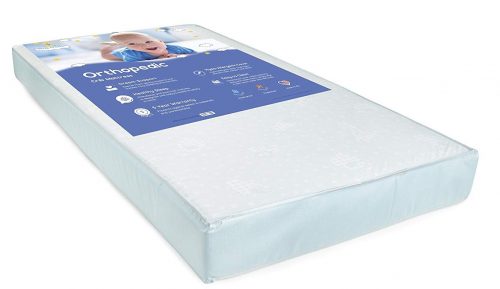 If you are looking for a good quality foam mattress for your infant child, you have come to the right place. The Big Oshi Foam Crib mattress is an extraordinary addition to your baby's crib. It is from a soft and durable foam material that gives your baby the utmost comfort. You just need to roll out the mattress for 24 to 36 hours after purchase in an open room to allow it to expand fully.
This is a standard-sized mattress and can easily fit into any normal crib. As a matter of fact, it will stay resistant to sudden liquid spills.
Key Features:
The mattress cover is very easy to clean using soap water or by just running it through machine washing.
All materials that have gone into the production are free of any toxic elements that are harmful to the baby.
This is pretty thick so that your child can enjoy a relaxing sleep.
7. Milliard Crib Mattress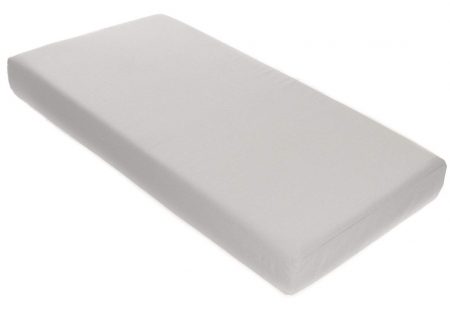 Buying a mattress for your baby is a big deal because it will ensure a comfortable sleep- or not! However, with the Milliard Crib Mattress at your disposal, you can stay sure of a cozy mattress for your baby. This mattress is composed of polyurethane foam and hence makes for a light and comfy mattress. Moreover, it also has memory foam technology such that the mattress takes up the contours of a baby's body.
All materials in this mattress are hypoallergenic thus making it free of attack from micro-organisms. The cover is water-resistant to prevent a night's mishap from destroying the mattress.
Key Features:
If you were looking for a spring-less mattress this is the chance- grab a Milliard Crib Mattress today.
The mattress has dimensions of 52-inches x 27½-inches x 5.5-inches and is just the right fit for standard sized cribs.
It has a CertiPUR-US certification that will help you have confidence in this product.
6. Graco Premium Foam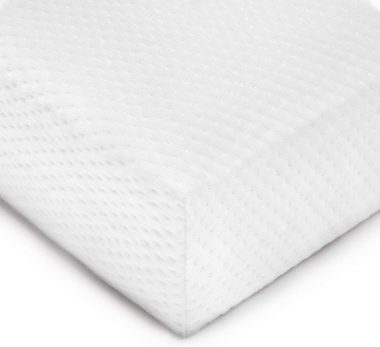 If you are looking for a safe and sound, comfortable mattress for your infant child, then you can check out the Graco Premium Foam Crib Mattress. True to its name, this mattress is indeed a premium one. It spans over an area of 52-inches x 27.6-inches and covers a thickness of 5-inches. The mattress is composed of very durable and ultra-soft polyurethane foam.
The outer cover encompassing the foam is made from waterproof material for added efficiency. This mattress water-resistant due to its liner and is full of cotton.
Key Features:
The outer cover of this exclusive crib mattress is removable. So, one can put through a washing cycle to keep neat and clean.
All toxic components such as mercury, lead, phthalates, VOCs are absent from the constituent materials. Therefore, making it ultra-safe for the baby.
The specialty of this product is that it is free of spring yet fully comfortable.
5. Beautyrest KIDS Mini Crib Mattress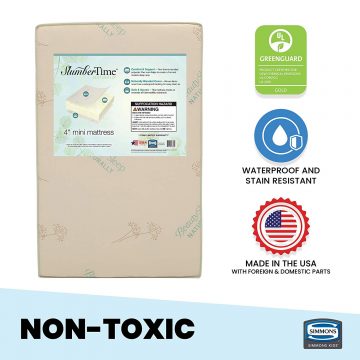 Want a mini mattress that you can pair with that portable crib? Then you may try the Beautyrest KIDS Mini Crib Mattress. It features an appreciable dimension at 38-inches L x 24-inches W x 4-inches H that easily fits into portable cribs. The core is made of hypoallergenic materials ensuring that no toxic organic elements such as fungus, bed bugs. As a result, these can never bother your child.
The mattress is certified by GREENGUARD Gold as it is free of any toxic chemical units. Thus, it is very safe for the baby. The cover is of cotton and has waterproofing properties for the utmost comfort of your kid.
Key Features:
This is an eco-friendly mattress. Its parts are from recycled material while the rest of it is organic in nature.
Will not catch fire as it is free of fire retardants.
When you buy the Beautyrest KIDS mattress, you get a 1 year limited warranty period.
4. Newton Baby Crib Mattress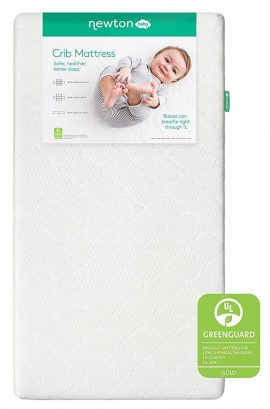 Newton Baby is a renowned maker if kid's products and this Crib Mattress is no exception. It has construction using very innovative technologies. This mattress is from very breathable materials such that the baby does not suffocate even when rolling over. Well, it is possible due to Breathe-Thru technology that helps in smooth air circulation. It also ensures that there are no chances of coming in contact with CO2 gases. The materials are also devoid of lead, VOCs, phthalate and other such chemical components.
It is comfortable and very easy to keep clean through regular washing. Finally, it is the choice of the pediatricians and hence, they recommend it.
Key Features:
Will fit any standard sized cribs and gives the baby a spacious and comfortable place to sleep.
This is an eco-friendly mattress from materials all of which are recyclable.
It is from high-grade materials such that it is hypoallergenic and does not cause any irritation in the baby.
3. Moonlight Slumber
When you get a mattress you wish that it lasted longer. With babies, this situation arrives even earlier because they grow at an exponential rate. However, if you were to bring home the crib mattress, you will get a chance to use it for a long time. You can use it for infants as well as toddlers.
The mattress is from fabric material used in medical setups to ensure maximum safety for your child. It is low in toxic chemicals like phthalates and VOCs and even leads. The fabric covering is from waterproof materials to protect the foam of the mattress.
Key Features:
To ensure that your baby or toddler gets the perfect place to sleep, all are tested for their performance.
The materials make it resistant to attacks from bed bugs and mites thus giving your baby a worry-free time.
It won't catch fire or flames as no such chemicals are included in it.
2. Milliard Hypoallergenic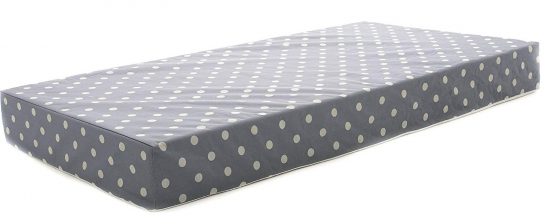 It is recommended that too soft a mattress is not fit for a baby's use while too soft a mattress is also troublesome. Thus you need to have that perfect blend of hardness and softness that Milliard has managed to attain. The mattress is also from high-grade materials such that it is just the right degree of comfort for your baby.
Next, the casing upon the foam is from waterproof material which ensures that the mattress will have a long life. Finally, flame retardant materials are also used in its construction to ensure heightened safety at all times.
Key Features:
The foam is from high-density foam material which will not lose its shape over time.
This mattress covers 52-inches length x 27.5-inches width to give a spacious area to the baby.
It packs in a comfortable thickness of 4.75-inches to ensure that the baby is always comfortable.
1. Dream On Me Playard Mattress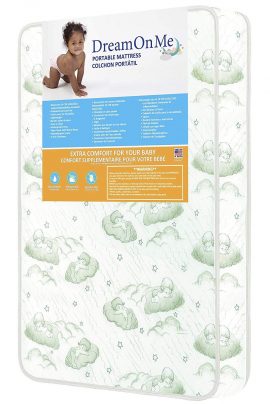 Getting a mattress for your infant child is a big deal. The mattress you buy has to be comfortable to the delicate baby otherwise it will not be serving its purpose. You can rely on the NapYou dual comfort mattress in such cases. It packs in an area of 37.5-inches length and 25.5-inches width with a suitable thickness of 3-inches. The mattress is not constructed from toxic chemical substances such as lead, phthalate, VOCs, and so on.
Your child can peacefully sleep upon this antibacterial mattress. The covering is also proof to prevent damage to the mattress.
Key Features:
This soft and comfortable mattress is made from 10% vinyl material and 90% foam material.
Fire retardants are used in the construction of this mattress to make it safe against accidental fires.
When you buy this mattress you get a 30 warranty for a hassle-free solution.
Your baby will have peace of mind. Choosing a crib mattress will become easy as only the top-rated products are mentioned-above.