There is a massive difference between a regular laptop and a gaming laptop. Gaming laptops are designed with numerous features that are not present in regular laptops. Gaming laptops come with a lot of specialized gaming accessories and consoles. They are also expensive. These laptops require functional backpacks, especially if you plan to carry them around as they are heavier than regular backpacks. Specialized backpacks also come with multiple pockets to accommodate and organize your accessories. These are the top ten gaming backpacks in 2023;
Best Gaming Backpacks in 2023 Reviews
10. Lenovo Legion Armoured 17 Inch Gaming Backpack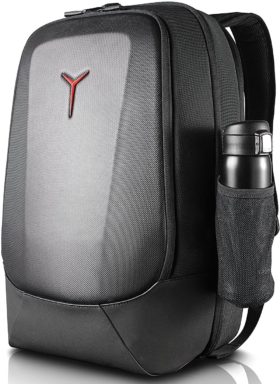 Are you looking for the gaming backpack with just the convenient size that wouldn't weigh down your shoulders? This is the right backpack for you. It weighs 3.02lbs and a dimension of 7.1 x 19.9 x 14.2 inches. This gaming backpack has three compartments and sixteen pockets. It can carry up to 17.3″ laptop and all other gaming essentials. It is designed with an inside latch to keep your headset. This Lenovo Legion Armoured gaming backpack has a bubble foam made with high quality which acts as a form of protection from the outside world. It also has a vinyl exoskeleton and hard front shell that is modified to withstand all kinds of weather.
The Lenovo legion backpack provides you with the needed comfort as well. It has a molded back panel compressed to aid the flow of air and breathability, making the back very easy to carry on the back. It has a cushioned shoulder straps that are easily adjustable, and it is also combined with a supporting chest buckle that makes it easy to carry the gaming backpack anywhere.
Features
Maximum protection with a hard and weatherproof exoskeleton.
Limitless storage capacity with three compartments and sixteen pockets.
Comfortability with a compression-molded backpack that provides ventilation.
9. Mobile Edge Core Gaming Laptop Backpack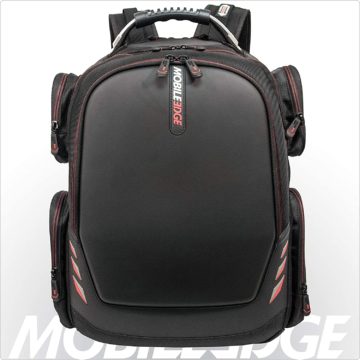 This backpack is designed for gamers. It can hold all of the popular models of gaming laptops or consoles such as Xbox One and Nintendo Switch. It has three large storage sections that are pre-wired for an external battery or power bank. It has a molded front panel that helps to protect the laptop from external forces.
The backpack is designed with a durable ballistic nylon, padded air-mesh back panel and shoulder straps, trolley strap to stack on to other luggage, and a padded handle to make it easy to lift.
Features
An external USB 3.0 and a built-in charging cable
A checkpoint-friendly design for speeding through TSA checkpoints
It comes with three separate sections for storing your laptop, tablet, files, keyboard and other accessories.
8. Razer Rogue V1 15.6" Gaming Laptop Backpack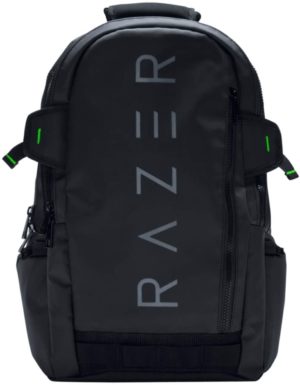 This backpack is suitable for you if you want to do away with the gaming look and blend into society. It is made up of minimalist design, and it is not suitable for a more extensive gaming system. It is very sleek, sturdy and weatherproof. It is designed with innovative engineering to spread weight evenly. It has a contemporary design, and it is made of leather.
Features
It comes with a protective inner lining made of TPU to keep the laptop safe.
The shoulder pads are heavily padded for comfort and ease.
They are designed with a chest strap to lessen fatigue.
It is designed with the most durable and resilient materials to fit a mobile lifestyle.
Resistant to water and damage from outside. 
7. FreeBiz 18.4 Inches Laptop Backpack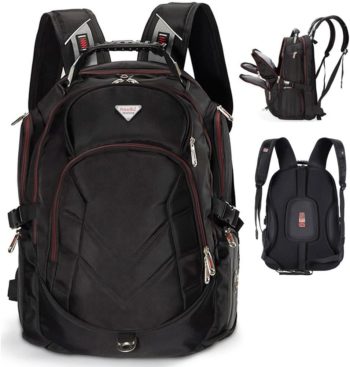 The FreeBiz gaming backpack is very affordable, and it can contain a wide range of devices. It is suitable for travelling around because of its large capacity, and it has a built-in charging cable for charging your mobile devices. It is designed with 1680D ballistic nylon which makes the bag to be resistant to tear, water, and scratch.
The laptop bag has a good organization. It is divided into three main compartments with a lot of interior and exterior pockets. There is a section for a headphone jack, a laptop compartment. It also offers a one year manufacturer's warranty.
Features
It comes with an external USB charging port that has a built-in charging cable for easy charging of mobile devices and another el
A headphone jack to listen to music with ease while walking.
It is suitable for airplane travel with the TSA-friendly feature.
A strap and airflow back design to give you comfort.
Sturdy and adjustable shoulder straps for ease.
6. Everki Business 120 Travel-Friendly Laptop Backpack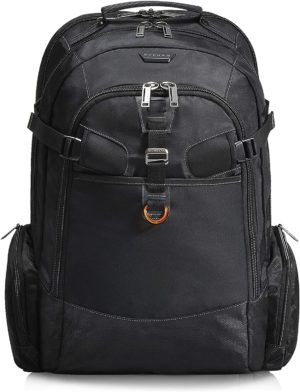 This backpack is suitable for you if you are looking for a gaming backpack with good security and protection. It is designed with multiple layers of padded protection and a security strap that helps to put your devices in place. It has a tablet pocket that is also properly sized to contain kindle, iPad or other tablets. Because it is properly sized, it would minimize any damage that could occur due to sliding and slipping. The backpack overs maximum protection to your gears and devices from external elements because of its water-resistant features. It comes with large metal zippers.
Features
Pouch for accessories. The pouch is used to keep other accessories that you may have, and it helps to separate your accessories such as your mouse, cables, power supplies, chargers, and other important items.
A media player slot at the shoulder level to keep cables at the required length to prevent annoying tangling of cables around your backpack straps.
It opens up to 180 degrees for easy access.
The laptop slot is spacious enough for an 18.4-inch laptop.
Even weight distribution.
5. Targus Steelseries Gaming Backpack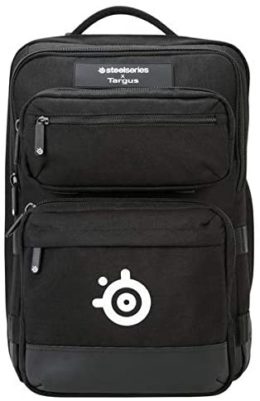 This backpack is actually designed by gamers and is suitable for gamers. It is for gamers who want high-class protection and space for their extra-large gaming laptops and perfect organization for all their accessories.
The Targus Steelseries Gaming Backpack has a pocket in the back panel, which helps to protect your valuables like your keys and wallets. It comes with a unique design that makes it possible for you to unzip the gaming backpack completely so that it opens flat.
Features
A suspended safe port sling that protects the laptop from dropping.
It comes with a tethered rain cover.
Hidden pocket in the back panel to protect your valuables.
The backpack comes with a one-of-a-kind design that allows it to be unzipped to lay flat.
It comes with sternum straps.
Padded shoulder strap for weight distribution.
Protective and durable exterior.
4. Mobile Edge Razer Tactical Pro 17 Inch Laptop Gaming Backpack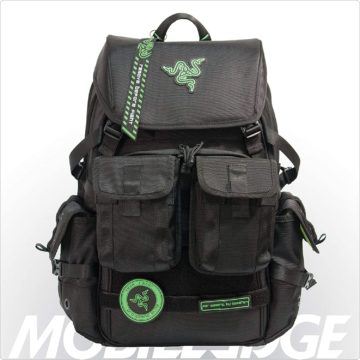 This backpack can contain up to 17 inches laptops. It comes with a good looking and great performing cases. This backpack comes with a more rugged style, and it is branded with bright green accents. The mobile edge razer backpack is designed with the materials used to make military flak jackets which are thick and woven with robust ballistic nylon. It is resistant to water and tear. It comes with an additional pouch lined with MicroFiber for a tablet.
Features
Numerous interior pockets that make it convenient for quick access to items.
The laptop compartment is padded for protection.
Durable and protective exterior made with ballistic nylon.
Removable storage pouch for headphones.
Workstation for keys, USB, cards, pens etc.
Compact computer dimensions.
3. ASUS Republic of Gamers Nomad Backpack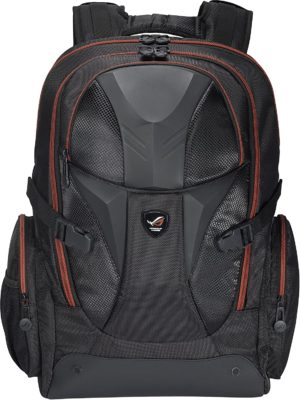 It is a very good gaming backpack, just like the rest on this list. It has a large slot that can fit up to a 17-inch laptop with numerous compartments for other gaming accessories and consoles. It comes with pockets that are designed specifically for adapters, keyboards, cables, headphones, cameras, and mouse. The pockets are also labeled for easy identification of uses.
Its interior and exterior are generously padded. It comes with an internal suspension that ensures optimum protection of all your gaming gadgets. The external padding is for comfort. It comes with a light mesh design at the back that keeps you cool.
Features
The backpack will fit G750 and G751 but not G752.
It has a ventilated back paddling that will make you very comfortable and cool all day.
It is designed with a 1680D ballistic nylon which makes it very durable, water-resistant and lightweight.
2. Acer Predator M-Utility 1680D Ballistic Laptop Backpack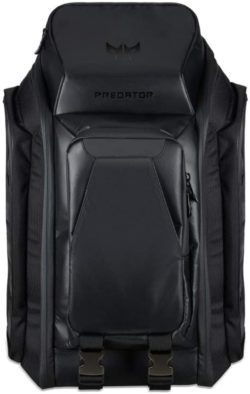 It comes with top-notch gaming hardware. It is designed to transport your gaming hardware securely. It is hardcore and can carry up to a 17-inch laptop. Its slots and compartments are customizable and can accommodate all kinds of gaming hardware and consoles. It is TSA friendly and offers good organization. It comes with a removable organization diver box.
Features
Metal buckles to accommodate heavy gears.
Extra attachment points and straps to carry extra stuff outside the pack.
Numerous pockets.
Waterproof zippers.
900D heavy-duty fabrics that aid resistance to water.
V-shaped air channel design to keep you comfortable.
Deployable rain cover.
1. Dell 50KD6 Gaming Backpack 15
This backpack comes in different sizes, 15 and 17 inches. They designed with materials that are durable and resistant to water and tear. It has a 1680D coated base material and 900D heavy-duty body fabrics. It is designed for professional gamers. Also, has a V-shaped air channel to aid comfortability. Moreover, it comes with a rain cover kept at the bottom of the backpack. It is designed with reflective accents for low-light.
Features
Water-resistant with a 900D heavy-duty body fabric.
Very comfortable to wear
Lightweight
The front shield is EVA molded.
Dedicated laptop sleeve for protecting gaming hardware
1680D coated base material.
There are other gaming backpacks, but these gaming backpacks listed here are top-notch designed to be durable, lightweight and effective.