As mentioned, hearing amplifiers have risen in demand due to their affordability and convenience in boosting hearing volume. But they differ hugely from hearing aids.
For a long time now, hearing aids have been the first thought on the minds of people with hearing loss. While this is good, it always costs more than hearing amplifiers. Regardless of your hearing disability, you should be able to get something that you can afford.
This is why we have researched the market to come up with the top 10 Best hearing amplifiers in 2023. These 10 are not just the best in the market, but also help you work within a reasonable budget. Without stressing any further, let us dive into the best 10 hearing amplifiers in 2023.
First, let's get to know what hearing amplifiers are
These are hearing gadgets worn around the ears to help one have a better and louder hearing mode and people around the environment. If you have a problem hearing people speak from a distance, the hearing amplifiers will work for you. However, hearing amplifiers are not meant for people with hearing loss.
What is the main difference between hearing amplifiers and hearing aids?
Professional doctors mainly prescribe hearing aids after one takes few tests. They can do a lot, including; clearing voices, hear and distinguish between noise and authentic sound. On the other hand, the hearing amplifiers can be bought over the counter and are mainly recommendable for increasing the volume of the sound.
Other differences
The hearing amplifiers are pretty cheap compared to hearing aids. Since a doctor does not necessarily prescribe the amplifiers, you can still get an affordable pair from a shop. However, hearing aids require one to get a prescription from a doctor and sometimes they may be pretty expensive.
Hearing amplifiers are mainly used for increasing or improving one's audibility. It does not aid with other hearing problems like noise cancellation or hearing loss. The hearing aids improve hearing loss, are customizable and can separate noise and speech by canceling noises in the background.
Do hearing amplifiers work?
As long you don't suffer from hearing loss or any other severe issue, then the hearing amplifiers will work for you. The gadgets are meant to magnify sound on the surroundings to ensure you have louder hearing power.
Best Hearing Amplifiers
10. Laiwen Digital Hearing Amplifier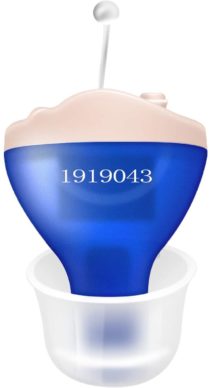 This hearing amplifier offers a 40-decibel peak sound gain which makes it the best option for individuals with mild hearing challenges. If you find yourself in a crowded environment often, this is the best for you as it amplifies human voices better and cancels out the noise. For this amplifier, there are three different listening modes to choose from. You can also adjust the functionality of this device to suit the environment that you are in
Key Features
Comes as a complete package with six ear domes, wax guards, and a brush.
The batteries are capable of running non-stop from between five to seven days
9. Banglijian Hearing Amplifier BLJ-109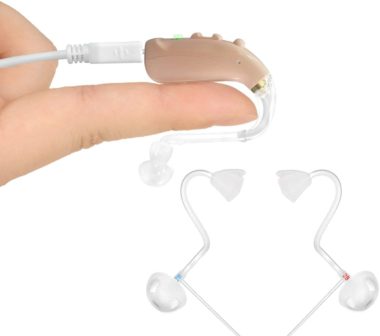 Banglijian is a well-known brand and one of the most respected when it comes to hearing amplifiers. Virtually every hearing amplifier made by this brand tops the market list and one of them is the BLJ-109 hearing amplifier. This amplifier is a carefully designed one with digital noise cancellation. There are several reasons why you should pick this amplifier and some of those include comfort, durability, and affordability. This stylish-looking product offers one of the best price-quality ratios in the amplifier market. It is easy to wear and comes with a rechargeable lithium-ion battery. It also comes with different sizes of tubes and domes giving you options to pick from.
Key Features
It comes with a power adapter and a comprehensive user manual
Lightweight but yet powerful in sound production and noise cancellation.
Comes with additional hearing accessories including ear domes, a shockproof case, a cleaning brush, and a USB cable.
8. Pocketalker 2.0 Platinum Hearing Amplifier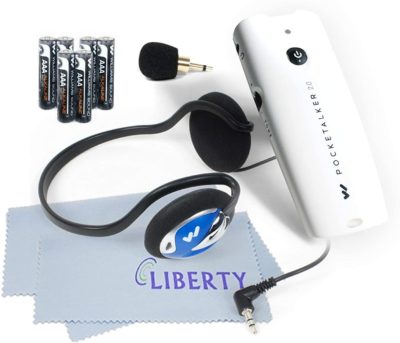 Pocketalker is a personal amplifier that comes with a microphone and earpiece. This microphone can be positioned near any sound or attached to your body. This amplifier is different from the many others listed here in that it can be used with hearing aids or without them. This amplifier is best for individuals working on their hearing abilities because it helps you to enhance your signal-to-noise ratio. The microphone makes it possible for conversations to be a lot clearer than background noise. Asides from this, it also comes with a tone wheel that can be used to adjust sounds timbre. Remember this amplifier is a personal one and a very affordable one as well.
Key Features
Comes with an independent microphone that can be placed anywhere to enhance sound production.
A neck loop that can be used with hearing aids is also provided
Has one of the best amplification especially for individuals with severe hearing losses.
7. Banglijian Hearing Amplifier Ziv-201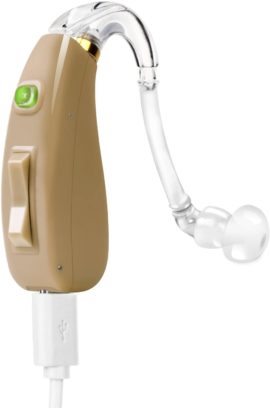 Making it to this list is another Banglijian product and this time, it is the Ziv-201 model. The simplicity of this hearing amplifier, comfortable fit in the ears, and affordability are three main reasons why people like it. This amplifier, unlike many others, offers full digital voice quality to avoid distortion, making sounds you should hear a lot clearer. This hearing amplifier comes in a stylish case which includes the amplifier, ear domes, USB charger, tubes and cleaning brush. It is well rated amongst customers and one of the best in the market now.
Key Features
It has a discreet size that allows it to fit comfortably behind the ears.
It is rechargeable so you don't have to worry about buying or changing batteries.
A case is provided to contain all the necessary accessories for this amplifier.
6. BLJ Digital Hearing Amplifier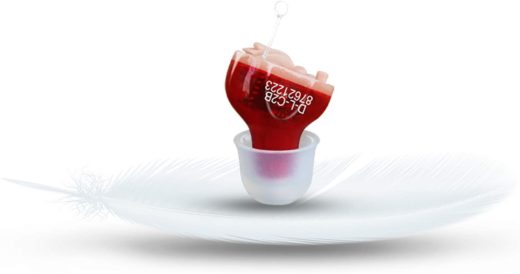 This digital hearing amplifier comes as a 6 channel sound amplifier with noise reduction and feedback cancellation feature. This device is so small that it is almost invisible, but this makes it a lot more comfortable and easy to wear. Despite its size, this amplifier is very powerful and effective. With the noise cancellation feature of this device, sounds are clearer. It comes with three different programs and eight volume levels any of which you can choose from. To ensure customer satisfaction, the company provides for 45-day return policy. With this policy, you can make a return on this product if you experience any difficulty. There is also a one-year warranty plan that covers technical default or performance errors.
Key Features
Well-designed to appear simple and fit the ears perfectly
Comprehensive return policy and warranty plan provided for customers.
Impressive price to quality ratio as this is one of the most affordable hearing amplifiers in the market.
5. Sound World Solutions CS50 Sound Amplifier
The Sound World Solution hearing amplifier is best for tech-savvy individuals. It connects perfectly with your mobile devices for better and personalized amplification. The stand-out feature of this hearing amplifier from others is the Bluetooth feature that is provided. This feature makes it not only an amplifier but also a hands-free device. With this, you can use this device to make and receive calls, watch movies, listen to music, and do other things. There are different listening settings provided for this amplifier and they include baseline, restaurant, and entertainment modes. Also, it comes with rechargeable batteries that can take you for as long as 15 hours when fully charged.
Key Features
Has frequency-specific programming which enhances quality amplification.
This product has better speech audibility due to its directionality
User-friendly Bluetooth option makes it easy to adjust sounds
4. Banglijian Hearing Rechargeable Amplifier Ziv-206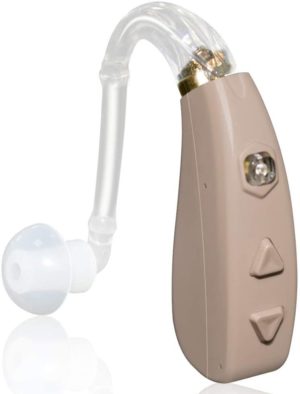 This amplifier is well designed and recommended by doctors for individuals who need optimized sound amplification. It is a digital amplifier that is popular for its sleek design and amazing processor. Unlike many other amplifiers in the market, this amplifier is selective and can pick speech sounds over background noise. It comes with ten different volume settings and four listening programs. One reason why you will like this hearing amplifier is that it can be recharged for later use. Being a comprehensive hearing amplifier, it has noise reduction, dynamic compression, and microphone features
Key Features
It comes with a simple and easy-to-use sound adjustment
Very comfortable and almost invisible, fitting perfectly into the ears
Has flat hearing losses which enhances fluent conversations.
3. Coniler Smart Hearing Amplifier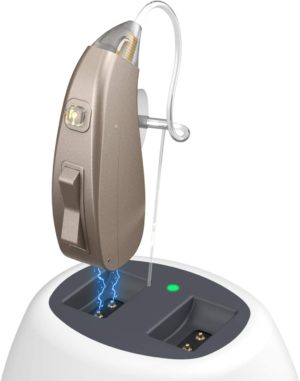 The Coniler smart hearing amplifier is popular for its integrated DSP intelligent sound chip. This sound chip helps to reduce background noise through its dynamic compression. This amplifier provides for six ear domes all of which come in different sizes that you can choose from. It also comes with rechargeable batteries that can last for about 18 long hours when fully charged.
Key Features
Comes with a magnetic charger base
Has a smart language processing technology
2. Otofonix Encore Hearing Amplifier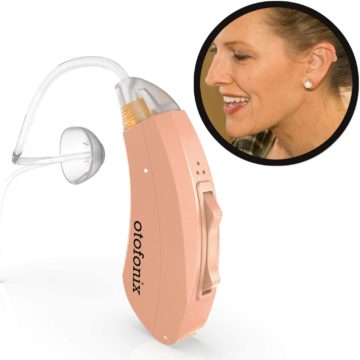 This hearing amplifier is regarded as the best in the market because it comes from a reputable brand with specific features. The features of these hearing amplifiers make it a versatile and durable hearing option. It comes with ten different volume levels and four listening programs all of which can be modified to suit you. This amplifier allows you to control background noise and provides for a feedback canceller. The Otofonix hearing amplifier comes with a tube and some domes that fit perfectly well into your ears. To ensure that this hearing amplifier is in perfect working condition, it has to be maintained regularly. The tubes should be cleaned from time to time to take away wax and dirt from them.
Key Features
Volume can be easily adjusted while in your ears
Comprehensive customer care service that can be reached for complaints and information on use.
Provides optimized sound quality that can be moderated for different environments.
1. Britzgo Digital Hearing Amplifier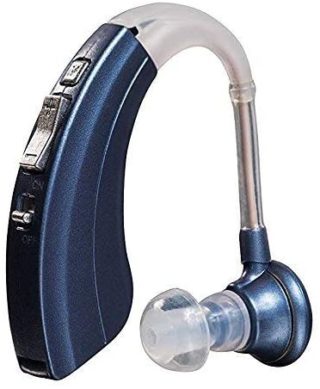 When you think of style, effectiveness, and simplicity, then look no further than the digital hearing amplifier provided by Britzgo. This device is similar to a Bluetooth device but is much more powerful. It comes in an excellent design with various colors for you to choose from. The Britzgo Digital Hearing Amplifier comes with a digital chip and two extra batteries with each battery capable of lasting up to 500 hours
Key Features
Comes with all the necessary features at a handy price
Lightweight, comfortable and fits in well for both ears
Guarantees a better upscale feel and clearer sound production.
When to use hearing amplifier
When watching TV
If you have a problem hearing the TV's sound on the set volume, you may use an amplifier to increase the volume. This is mainly crucial if you are watching TV with other people and you don't want to disturb them by increasing the volume.
In a meeting
You can't keep on telling your boss to raise his/her voice when discussing matters of the office. So, to ensure you don't miss out on any agenda of the meeting, get a hearing amplifier.
Walking in the streets
Can't probably hear well when cars hoot from a distance? It is safe to get a hearing amplifier to amplify the sounds of your surroundings, mainly from oncoming vehicles that you cannot see.
Buying guide for the best hearing amplifier
Get a doctor's opinion first
Although hearing amplifiers can be bought over the counter, it is always advisable that you get a doctor's advice before buying. The issue could be more than what you are anticipating. Also, the doctor can guide you to whether you need a hearing aid or an amplifier.
The style
Hearing amplifiers are made in different wearing styles. Some are worn behind the ears, while others are worn on the ear canal. The choice may depend on one's preference. For example, if you don't want people to notice you are wearing something on your ears, choose the models worn on the back of the ear as you can cover with your hair.
Other factors that determine the style choice of the hearing amplifier is one's comfort and safety. Imagine wearing your earphones for an entire day! Some people may find the amplifiers worn inside the ear canal a bit uncomfortable to wear for long.
The design
The design of the hearing amplifiers is another factor that people look into when buying one. Some hearing amplifiers are made in multiple colours, while others are clear such no one can quickly determine you are wearing hearing devices in your ears.
So, if you are a beginner who doesn't want to show off the hearing amplifiers or don't want people noticing you have them on, the transparent amplifiers are an excellent choice for you. However, if you are okay showing some colors around your ears, I believe the colored ones will work perfectly.
The power source
The hearing amplifiers are either powered with a rechargeable battery or disposable batteries. Needs determine the choice between the two styles. For example, if you need an amplifier that you can wear for an entire day, a model with a rechargeable battery may work for you since you need to recharge the battery and start using it again.
On the other side, the models powered by disposable batteries are expensive since you have to buy new batteries every time the power runs out. Therefore, they fit occasional use.
The noise control modes
Although the hearing amplifiers cannot wholly filter noise and vice from the background, some models are equipped with this feature that minimizes the noises. This helps you to get a good moderation of the sound and noise coming from the background.
Sound adjustment
As much as you need an amplifier that increases your audibility, it is good to get a model that you can easily control the amount of sound that goes to your ears to prevent further damages. Also, you may need to increase the volume when you wear the amplifier in noisy areas.
Comfortable piece
The best hearing amplifier should be light in weight to the extent you feel like you are not wearing anything on your ears. Still, it should be well-fitting, not too tight or too loose, regardless of the wearing style of the hearing amplifier.
The price
How much do you plan to buy the hearing amplifier? Although these hearing gadgets are sold at affordable prices, the prices vary according to the brand, design, style, and features. So, consider all these points when buying a pair to make sure you buy a helpful gadget that suits you without overspending.
Frequently asked questions
Q: Are hearing amplifiers harmful?
As long you use the hearing amplifier for the right course, which is to boost the sound, they are not harmful. However, the danger comes in when you use hearing aids without the doctor's authorization to damage your hearing system further.
Q; How long should I wear my hearing amplifiers?
This mainly depends on where and when you need them. It is good to allow your ears to catch a breather once in a while. So, remove amplifies in between the day to enable this. Also, it is advisable that you only wear them when you need to
Q: Can I use a hearing amplifier without diagnoses?
Yes, although it is good to get a diagnosis from a doctor. The hearing amplifiers can be worn without a doctor's prescription as long you don't have any other hearing problems.
Q: How do I know the best hearing amplifier for me?
You must get a medical test first to determine which amplifier will work for you and which ones to avoid. The doctor can also recommend the right brand to buy your amplifier from.
Final Verdict
There are a lot of hearing amplifiers in the market that you can choose from. However, to be sure you are choosing the right hearing amplifier for you, you have to make sure you exercise care while buying. First, you should know what you want with regards to specifications and features.
Also, you have to plan a budget you want to work with for the hearing amplifier of your choice. With these two, you can pick from any of the top 10 Best hearing amplifiers in 2023 provided above.
With regard to our best pick, we recommend the Britzgo Digital Hearing Amplifier because of its quality and versatility. It is not just the best in the market right now, it is one of the most reliable offering amazing features.