Fishing is an exciting activity that you can perform with your love or just alone. It requires a lot of patience and the right gear. Are we forgetting to mention something important? Yes, you need a fishing boat. In your mind, you think of owning a fishing boat but it is not practical in case you do not have your own personal lake. Sometimes you wish to go out camping and want to go fishing. The good news is that you can carry your fishing boat along with you! How? You would need to buy an inflatable fishing boat which is light-weight and it needs a little air to get inflated. You do not have to buy a wooden boat and a land with a lake. You could be living in the city and own your personal boat as well! The inflatable boats are available online and we have listed the Top 10 Inflatable fishing boats in 2018 for you.
These are the best and they have been rated on the basis of reviews and ratings by real customers.
Before we go through the Top 10 Best Inflatable Fishing Boats, let us take a look at the advantages.
Advantages of Owning an Inflatable Fishing Boat –
 Increases the sense of adventure in your life because you can take your own personal boat along with you to any place in the world.
 Fishing is a relaxing activity.
 The inflatable boat is lightweight and some can easily fit into your carry bag!
 It is easy to deflate and inflate. The process is fairly simple.
 The boats are multi-purpose. You can take it for fishing or just a sail.
 Easily available online at an attractive price.
List of  Top 10 Best Inflatable Fishing Boats in 2018
1. Classic Accessories Cumberland inflatable float tube fishing boat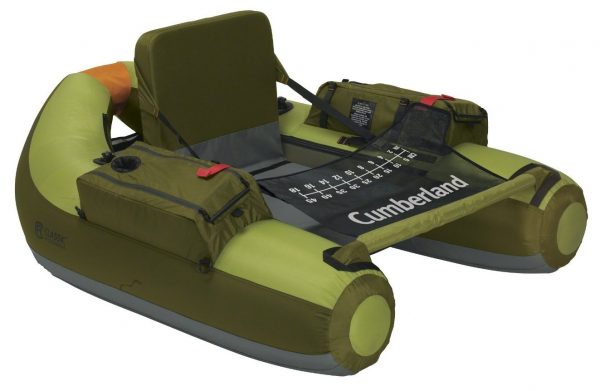 If you are serious about fishing then you can buy the Cumberland Inflatable float tube which provides you comfort and the performance of water are on point. The brand is Classic Accessories and it has some really good products to offer. They have kept the sport in mind and have manufactured this product with care. The seat is high which keeps you dry and gives you easy visibility. The seat is padded and it is comfortable for the fisherman. The backrest is adjustable and gives you comfort for the rest of the day. Fishing is an activity which may take the entire day and so, you need a comfortable seat. There are two drink holders in the inflatable boat and you can carry this around as a backpack. The capacity of this boat is 350 pounds!
2. Classic Accessories Teton Inflatable Fishing Float Tube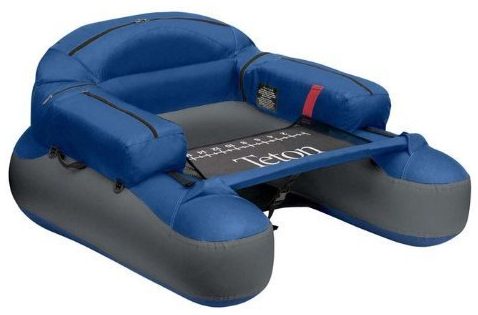 This is another product by Classic Accessories and it gives you the ease of fishing with an amazing and comfortable backrest. It comes at a very attractive price and the design is unmatched. The brand claims that when you buy their float tube, you are actually buying peace of mind. The boat has a hull shape which is ideal for steering and tracking. The rod holder is horizontal and the weight capacity of this boat is 250 pounds. There are a safety flag pocket and the stripping apron which releases quickly. You get one year warranty on this product.
3. Intex Excursion 5, 5-Person Inflatable Boat Set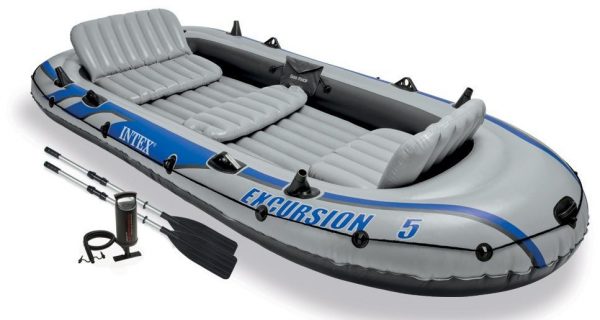 The Intex Excursion can take the weight of 5 people and it has three air chambers. This is a great product because it allows you to go on a family excursion and your entire family can enjoy the fishing experience. It has extra safety features which make your fishing experience enjoyable and secure. Deflating and filling is quick and it is very lightweight as well. It is a good buy!
4. Intex Seahawk 4, 4-Person Inflatable Boat Set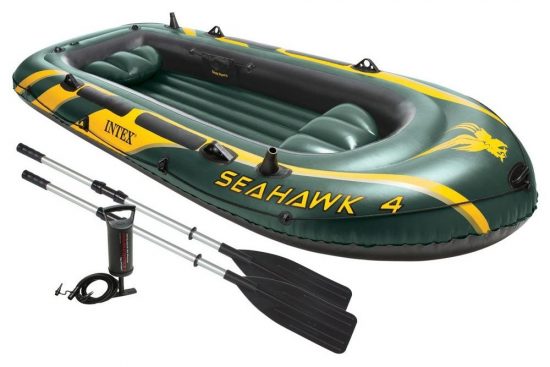 The Intex Seahawk can seat 4 people and it is tailor-made for fishing on the beautiful lakes. The body is super tough and it is abrasion resistant as well. There are two chambers for security and safety. There are two-rod holders at the rear side and it also comes with an inflation pump. You can do fishing on this boat on calm lakes and rivers. It can be used for boating purpose as well. The PVC vinyl is tough and it is very durable. You can boat with full confidence without worrying too much about the safety of your loved ones. It can hold up to 814 pounds of weight.
5. Ancheer Inflatable Boat 2-Person, Blow Up Boat with Oars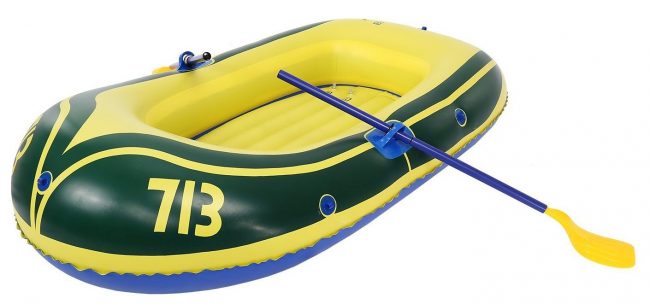 The Ancheer Inflatable Boat is ideal for two people. It has an oar holders and it can be locked as well. You can take your kid along for a boat ride or teach him how to catch a fish! It is perfect for recreational activities like rowing, fishing or relaxing on a river, pool or lake. The boat has three air chambers and it is leak proof as well. The Boston valves enable you to fill it and deflate it quickly. The boat can carry 220 pounds of weight and it is made with environment-friendly PVC. The boat is portable and easy to fold. It will last for many years and you do not have to worry about any damage because it is so tough that will bear heat, freeze, corrosion, and abrasion like a pro!
6. Intex Explorer 300, 3-Person Inflatable Boat Set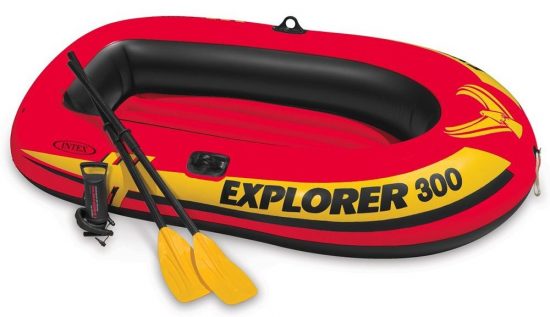 The Intex Explorer is perfect for three people and you can take this baby out on a lake or a pool. It is ideal for families and it is super compact. You can relax, cruise around or do fishing on this boat. Your family will love you for investing in this boat! The boat is tailor-made for comfort and it is tough and can be easily deflated and inflated. There is a grab rope and the welded oar locks are especially there for your safety and convenience. You will also get 2 French Oars. What else do you need?
7. Sea Eagle PF7K PackFish Inflatable Boat Pro Fishing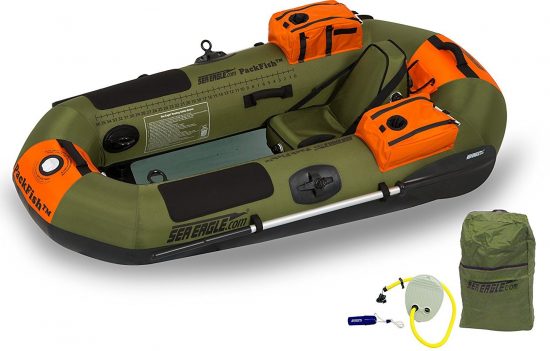 The Sea Eagle PackFish is an ultra light and portable fishing boat that can be used in two ways. You can sit on this boat for hours, waiting for a big catch or you can stand on a wooden board which will give you stability and area to stand. You can go sightseeing on this or catch a fish for dinner. The hull of this boat weighs a mere 21 pounds and it gets set up in just 5 minutes. You can carry it like a backpack! The Sea Eagle brand proudly calls this product a grab and goes fishing boat. The product includes a floorboard, hull, the oar set, foot pump, bag, repair kit and manual for instructions.
8. Pinty Premium PVC Recreational Fishing Inflatable Boat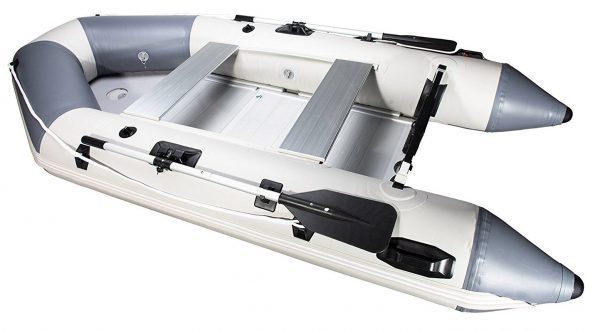 Pinty Premium is made of PVC! This is not the usual PVC as it is premium quality. The boat is reliable and sturdy. You do not have to worry about spending too much time to inflate this one. It is 9.8 feet long and it will give you an excellent boating experience. Your family can go kayaking on this and it is perfect for fishing. It has an oar holder as well. You can take it along with for a camping trip. Your family will be happy to be on this!
9. Sevylor Tahiti Hunt and Fish Kayak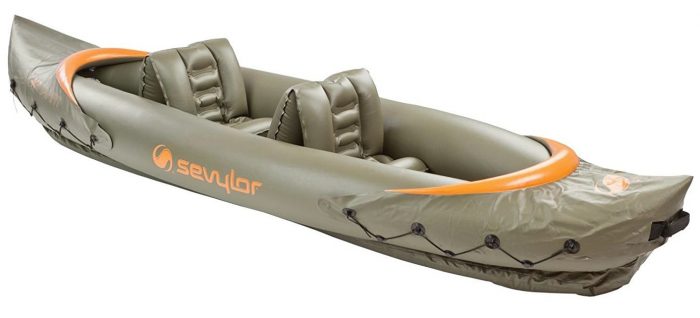 The Sevylor fishing kayak has adjustable seats and the backrest allows you to enjoy the ride. The fishing kayak is ideal for two people and the airtight system of the boat guarantees that it will not leak. The boat is constructed of PVC which means that it is rugged and perfect for lake use. There are multiple air chambers in the boat and the boat also has spray covers which will keep your boat dry. The boat is ideal for 350 lb weight.
10. AIRHEAD AHIBF-06 Angler Bay 6 Person Inflatable Fishing Boats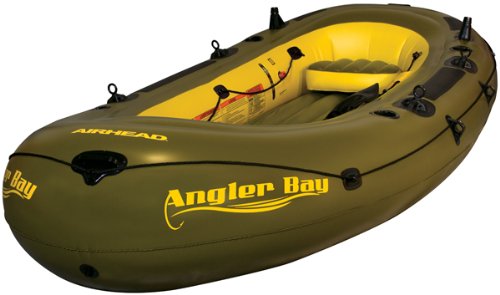 The AIRHEAD AHIBF is a 6 person inflatable boat which has a movable seat. It is made of PVC vinyl and there are multiple drink holders and two-rod holders. The boat is good for lakes and rivers. If you want to have a fishing adventure, you should get this inflatable boat. The product comes with one year warranty and it has been factory tested for maintaining quality.
All the above mentioned inflatable fishing boats are reviewed on the basis of customer reviews and ratings. Investing in an inflatable boat will be a wise idea. You can carry it anywhere and everywhere! The boat can be easily bought online and you will get the warranty as well. Get yourself a boat for all your adventures! Fishing is an exciting and relaxing sport. There is no need for getting your personal lake because you can get a portable fishing boat which you can keep inside your apartment.