A sunny sky, the sound of clinking glasses and the aroma of a palatable platter is what you will picture when you say picnic. Well, who doesn't love a relaxing day? A picnic is what you need during the holidays. And to help you carry the essentials to the destination, a picnic backpack is ideal. Interestingly, these backpacks are ideal for storing food, wine and every other edible. You even get napkins and cutleries all in this compact backpack.
So, if you need to have this for your picnic sessions, have full knowledge about the picnic backpack brands. Study what they have to offer and make the days more fun.
List of Best Picnic Backpacks Review
10. VonShef Premium Picnic Backpack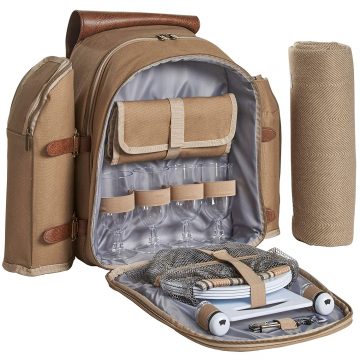 VonChef's picnic backpack not only accommodates all your picnic necessities but also serves as a backpack for an overnight stay. Use it as per your requirement. It has a construction of durable canvas and leather, it is meant to last a long time.
Keep your food items intact for an extended period by storing them in the bag's cooling compartment. This space is bordered with insulated materials like aluminum foil. As a result, maintains the quality of food for a maximum time period. In case you do not need to use this cooling area, it is always removable to fit in other stuff like clothes, etc.  To help you have a comfortable space to sit, the blanket is water-resistant.
Key Features:
You have a bag. You have food. But do not have a picnic blanket to sit on? VonShef has got you covered over here with a big, cozy blanket that comes absolutely free with the bag.
Too many complimentary goodies to miss out on! This bag brings with it- cutlery, wine glasses, tissue paper, salt/pepper shaker, a handy bottle opener, a chopping board along with a cheese cutter.
When you have loaded it with all the yummy edibles, the cushion on the bag's shoulder pads will help you to carry. You can even hold it with the additional handle on top.
9. INNO STAGE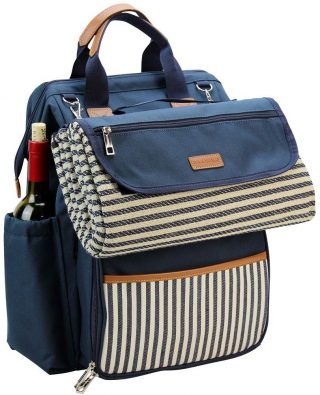 One of the soberest and utilitarian picnic backpacks in the market, INNO STAGE has manufactured a must-have product. This picnic backpack comes with forks, spoons, plates and glasses that are of course, devoid of any toxins like BPA. INNO STAGE has been taking an environmentally conscious approach to producing this product. The insulated cooler compartment is the exact section where you can keep your beverages. For a perfect grip, it comes with two D-handles.
Not only the backpack but even the cutting board is included with the backpack. Interestingly, it has a construction from naturally procured wood. Last but not least, you will get free napkins too!
Key Features:
A complimentary water-resistant blanket that is supposedly a lot bigger than its rivals. Plus, you can even take it with you without the bag as it has got a handle of its own.
Thanks to its huge, temperature retaining the main compartment, food items will remain hot or cold as per the requirement.
You get a two-way zipper for easy access from every side.
8. ALLCAMP Picnic Backpack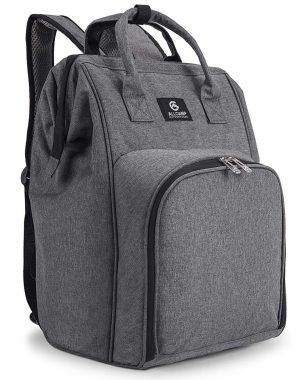 ALLCAMP's picnic backpack is all that you can possibly need for a fun day outside. Having tough built, roomy spaces that are insulated, now keep the food fresh throughout the day. Plus, free food-grade cutlery, chopping board, knife, bottle opener and napkins. In order to keep your drinks and wine in a safe section, you get a removable bottle holder.
For carrying it throughout the journey, you get two shoulder straps for convenience. Plus, you even get a top-handle for quick grabbing. All that is left to do is grab the food and have fun in the sun!
Key Features:
For providing strength during the opening, the iron coil is carefully sewn in the bag.
A 100% water-resistant, cozy blanket, comprising of fleece comes with it, absolutely free of cost.
ALLCAMP cares about how content you are with their picnic backpack. Facilitating a warranty for 185 days, they will even change it if asked within 50 days time-frame.
7. Picnic at Ascot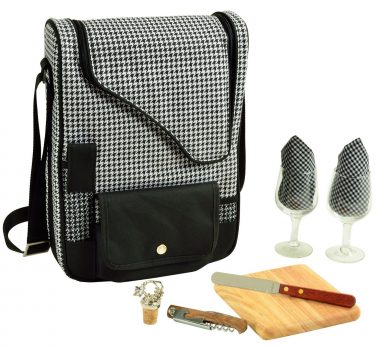 If you are planning a sunny outing on the beach or in the countryside with your loved one, then this backpack should be your preference. It is specially made to store wine bottles in its chilling compartment. The cherry on the cake, you get all the basic accessories associated with wine bottles like corkscrew and bottle stopper. Additionally, there are also complimentary napkins, a knife to slice cheese and a chopping board.
Having a construction of 600D canvas, it doesn't have the risks of sudden wears or tears. For easy handling and transportation, the shoulder straps are adjusted as needed. Finally, your prepared food will not lose its essence or freshness; it has thermal protection of high-density.
Key Features:
It has a special cushioned interior that prevents damage to any glassware.
This tote design of this backpack is very trendy and chic.
Your wine essentials will not break due to clanking as it has padded dividers.
6. Sunflora Picnic Backpack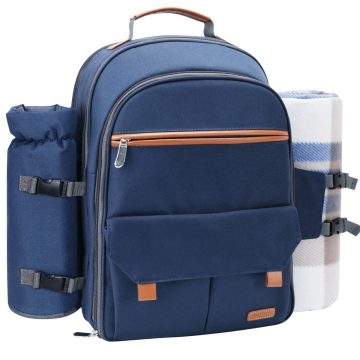 This picnic backpack from Sunflora has a huge insulated space to accommodate food for at least 4 people. Plus, there is an extra water-resistant pocket in which wetter items like ice to keep the rest of the bag dry. This pouch is removable from the bag altogether and attached back if the need arises.
Additionally, the cushioned straps are soft on the shoulders while travelling. On the other hand, the cutlery straps ensure that every single piece of cutlery stays in place with zero breakage. Not to mention that the complimentary cutlery is excellent-grade stainless-steel.
Key Features:
The wine glasses are of TPE that provides unquestionable durability.
A free of charge fleece blanket to spread on the beach/lawn and relax on.
A separate insulated bag that keeps the wine/champagne chilled till you drink it.
5. Ferlin Picnic Backpack
A picnic backpack that will last you for years. Construction of top-notch materials, it has quite a big partition with temperature retention quality. This partition keeps the food at a suitable temperature until you are ready to eat it. A set of stainless-steel cutlery, wine glasses, salt/pepper shaker among other things are complimentary with this picnic backpack.
For keeping helping you clean yourself, you also get cotton napkins. It has a waterproof backing so that even swears do not bother your fun times.
Key Features:
A removable section that is insulated to maintain the chilled temperature of an alcohol bottle.
A free blanket of fleece comes with the picnic backpack.
Perfect for a picnic involving 4 individuals.
4. Imperial Home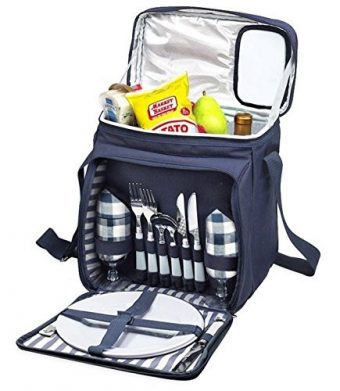 Construction of the best quality of materials, this backpack is extremely handy and portable at the same time. The inner pocket is layered with insulated fabric that keeps food items fresh for a prolonged period. Also, straps have strong stitching from inside to hold the cutlery in place. It is certainly for the PEVA insulated lining that the temperature remains constant.
It has a poly-canvas construction for enduring all the rough usages. Next, for an easy opening and closure, the top panel has Velcro closure. Finally, the contrasting trims complement the tote bag perfectly.
 Key Features:
A free of cost knife to slice cheese and a bottle opener also comes with this picnic backpack.
A set of tableware for a couple is complimentary with it.
The shoulder straps have webbing for proper air circulation and providing comfort.
3. Apollo walker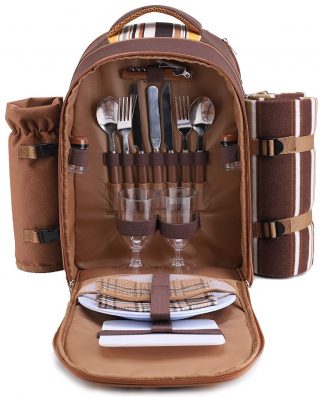 Apollo walker has brought for you a picnic backpack that is guaranteed to fulfill all your requirements. It has a number of pockets that can hold a variety of knick-knacks along with food items. The main pocket itself is arguably more spacious than other products of its category.
Apart from being spacious, it is also insulated to retain the initial temperature of food items. There is also a separate pouch for stacking wet stuff as well as a compartment for keeping chilled alcohol. Last but not least, it comes with a large, water-resistant blanket of fleece.
Key Features:
Complimentary stainless-steel tableware, cutting board, knife, salt and pepper shakers, wine glasses among other things.
Customer satisfaction is one of the main concerns for Apollo walker. Hence, they have provisioned for exchanging the product within 50 days if any problem crops up. Plus, you get a warranty for 185 days.
The straps for carrying the backpack are of foam for greater convenience in travelling with it.
2. Plush Picnic – Picnic Backpack
First of all, a fleece blanket that is waterproof is included so that you can enjoy the sun. A complete set of stainless-steel tableware, napkins, corkscrews; you name it- every picnic necessity is complimentary with this. Plus, the main compartment is huge to house the maximum quantity of food that is carried. Not to mention that it is insulated too!
This backpack has a canvas construction that is 600d quality so that you can enjoy it time and again.
Key Features:
It is available in two sizes of storage capacity- one for 2 people and the bigger one for 4 persons.
No matter how messy and dusty your day out of doors has been, tidying up this picnic backpack is super easy.
An additional cooling compartment at the back for stacking those extra bottles of your favorite drink.
1. Nature Gear XL Picnic Backpack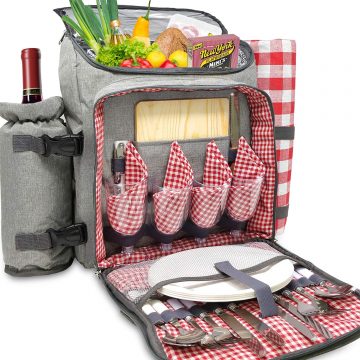 One of the best-reviewed and most-loved picnic backpacks from Amazon, Nature Gear XL is the most sought-after backpack. With the maximum space possible, it can contain a considerable quantity of food, right from appetizers to desserts. The temperature of this space is maintained to keep food fresh.
Moreover, it has a separate section that keeps the wine or other drinks chilled until you are ready to consume. What is more? You get a bottle opener and wine glasses with it. So, what are you thinking? Buy this backpack and set the date for your next picnic today!
Key Features:
Indeed a complete set of stainless-steel cutlery, chopping board and napkins come with this.
A cost-free blanket that is super cozy due to its fleece material and at the same time, is resistant to water.
A complete refund of money if you are not happy with your purchase. Yes, that is how much Nature Gear cares about you.
Take this spacious picnic backpacks for your fun times and enjoy a luxurious set-up. Watch the sun setting, sip on the wine and after you are done, pack these back for the next trip.