Sometimes all we want is to lie on our bed and watch our favorites in a comfortable position. Well, that's not possible with a laptop or desktop. As a result, we need something handy and what is handier than a mobile or tablet? Well, nothing more. However, in order to fix these in a position and enjoy movie time, you need to own a tablet floor stand. It has a supreme grip and will help in viewing from multiple directions.
Here in the table floor stands review, we offer you the best choices. Study the features to have a better insight into the products and then buy.
Best Tablet Floor Stands in 2023
10. CTA Digital Gooseneck Stand

Now you can easily create an adjustable and stable workstation with this tablet floor stand from CTA Digital. This stand lets you adjust the height so that you can have it at the perfect elevation for the most comfortable viewing angle. The stand has amazing adjustability features that aren't just limited to height. It has a gooseneck which is flexible enough to allow bending at multiple angles.
But it is also powerful enough to stay stable at any angle even with heavy tablets. It allows you to set up the stand and your tablet in innumerable angles for best working or presentation setting. The headpiece can tilt and even be rotated for up to 300 degrees. No need to take out the tablet each time for switching between portrait and landscape modes.
The holder securely grabs your tablet by the corners and can be extended to accommodate tablets of various sizes from 7-inches to 13-inches. So, you can use several models from different manufacturers for this tablet floor stand.
Key features:
Supports iPads and even Surface tablets from Microsoft.
The metal base is weighted and has a stable footing on the floor.
The telescopic pole allows height adjustment between 22-inches and 38-inches.
9. Viozon Tablet Floor Stand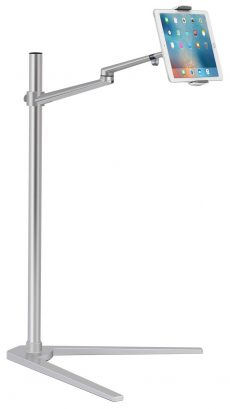 Viozon's new floor tablet stand really brings a great quality of life improvement at both your home and your office. It can hold your tablet securely and doesn't loosen its grip even under slight bumps or shakes. You can adjust the angle so that you get the best view and accurate colors no matter where you are sitting or lying down.
If you just finished watching a movie in landscape and would like to read up on some current events, you can easily change the orientation without any tools or unmounting. As a matter of fact, it has an aluminum alloy die-cast construction for promising long-term usage. And the metal fasteners help to have a firm grip.
Key features:
Has open-pore to allow you to insert a charging cable.
Having a V base structure, there is hardly any chance of falling down.
Sleek polished design that looks premium and goes well with any room decor.
8. abithid Floor Tripod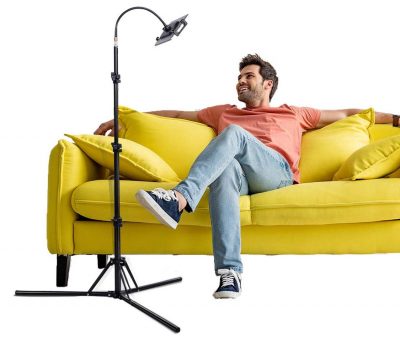 Abithid brings to you a floor stand that is extremely versatile and can do a lot more than just holding your laptop. It has universal mounting screws which enable you to mount the neck for holding your tablet or your circle or square LED light. The neck that comes with this stand is flexible and stays in position for as long as you intend to use it.
The mounting clip can extend from 4.7-inches to 9-inches to accommodate your tablets. With a 360-degrees clamp, your hands will always remain free to do your work while you are enjoying watching your favorite series.
Key features:
The clip has rubber cover that makes soft contact with your tablet and doesn't leave scratches.
It is capable of providing angle changes at any point in time.
Tripod feet have caps to protect your floor from scratches.
7. PEYOU Compatible Tripod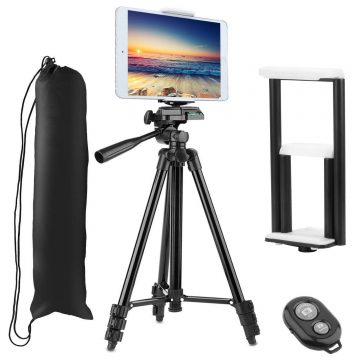 Peyou offers you a fabulous floor stand for both your tablet and your phone at an affordable price. This stand gives you a great bang for the buck since it is essentially two great products in one. The holder is really versatile and can fit in both your phone as long as it has a width of 2.2 to 3.3 inches and tablet with a width of 4.3 to 7.3-inches at the same time.
The tripod features aluminum legs which are lightweight and easy to adjust. Due to aluminum construction, you don't have to worry about rusting due to exposure to moisture. The legs have height clips which are locked and unlocked with ease. You just need to twist and extend the legs and lock them in position.
Key features:
Carrying it is pretty easy since it is very light and has a small form factor.
The center column features a lock knob that can be adjusted for the perfect height.
The mount is tilted to switch between landscape and portrait orientation with minimal effort.
6. echosari Tablet Tripod Stand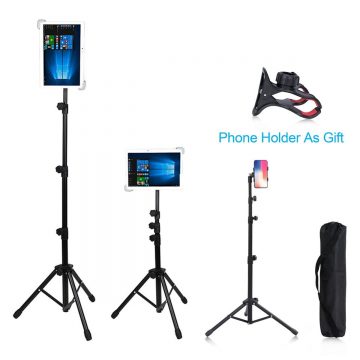 Echosari has brought to you a tablet stand that is foldable and can be used on any flat floor. It has lockable clips that help you to adjust the height with ease and lock the stand in position with a quick snap. No need for tools or any extra hardware. The solid iron ball at the top lets you rotate it to a full 360-degrees and change orientation as you please.
Moreover, you can get a maximum height of around 5-feet with this stand, way more than the industry standard.
Key features:
Comes with a complimentary phone holder.
Rubber feet are tough, resilient and make a great grip on the floor without leaving any marks.
Phone holder has rubber pads and a strong spring for a secure grip.
5. LetsRunTripod Stand

This tripod floor stands from LetsRun offers tremendous stability compared to most other products from competing manufacturers. Instead of legs that make a small area of coverage, this one occupies more floor space and has a wide so that it can have a better foundation and anchoring to the floor. You can use this stand for mounting your tablet for productivity and even practice your music lessons. The holder has a wide range that goes from 8 inches to 12 inches. This makes it highly compatible with makes from various manufacturers including Sony, Apple, Microsoft, Google and more.
It also features 360-degree rotation that allows you to quickly adjust between portrait mode and landscape mode without having to unmount your tablet. The stand has a telescopic pole with height-adjustable clips that allows you to have different height configurations for different needs. You can use it just for freeing up your hands and having the tablet at lounge height for reading or watching a movie.
Key features:
Wide range of height adjustment that goes from 15.5-inches to 56.7-inches.
Ball joint facilitates configurable angle adjustment.
Aluminum construction is responsible for its lightweight design.
4. Spessn Adjustable Floor Stand

Spessn believes in quality and wants you to get the most out of your investment. So, they have made a product that is highly durable and superior to most other cheap alternatives that currently flood the market. Instead of cheap plastic, Spessn has brought to you a floor stand with metal construction from the holder to the base. The all-metal design makes it highly stable and rugged enough to handle multiple situations.
To protect the metal from corrosion the stand has been painted with a thick coat. So, water and dirt won't be able to easily damage your stand and you can use it for a very long time. It can bend at various points so that you can have a fully customizable setup for adjusting the height and reach for your tablet. Each of these points also has extremely well-balanced fulcrums and load-bearing mechanisms that make the structure stable.
Key features:
It is compatible with phones and tablets as long as they are within the size range of 3.5-inches to 10.6-inches.
Certainly, assembled in 3 easy steps and now use it freely.
It is rotated to 360-degrees for angle adjustment.
3. T-SIGN IPad Tripod Stand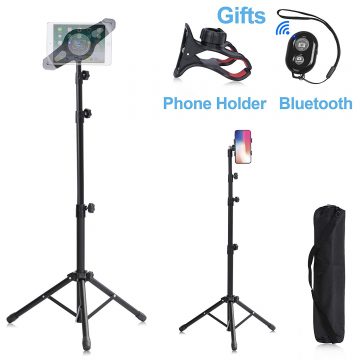 The greatest feature of this tablet stand is its compact size and adjustability. When not in use, you can compress it into a really small size that is great for both storage and travel. But when you need to use it, you can simply extend the legs to the required height. Use it for presentations, watching movies, reading e-books and a lot more. It is certainly fully height adjustable and one can set it as needed. Including a 4-way head, you can have different orientations and have the perfect view.
Moreover, unlike other manufacturers, T-Sign also covers this product with a 24 month warranty period so that you can buy it without any worries.
Key features:
Comes with a travel bag that has a shoulder strap for carrying convenience.
It certainly has a 360-degrees swiveling for viewing it from every possible angle.
It comes with a Bluetooth switch for controlling the camera shutter of your iPad or Android tablet.
2. Mount-It! Anti-Theft Floor Stand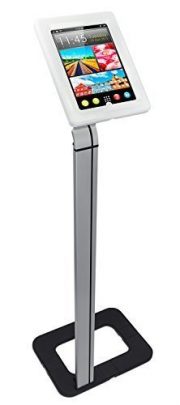 Mount-It brings to you a unique tablet stand that can be used both for domestic and professional purposes. It has anti-theft features that prevent suspicious individuals from stealing your investment. You get anchoring openings that let you screw this stand to the floor and also cover them up with caps.
It has cushioning pads for securing your iPad and a durable ABS shell that is only unlocked with a key. Having a modern design, it is silver in color and looks gorgeous.
Key features:
Has space for efficient cable management of the charging wire.
The heavy-duty product totally looks professional and matches with any set-up.
Weighs just around 7 pounds and perfect for use even in public settings.
1. idée Floor Stand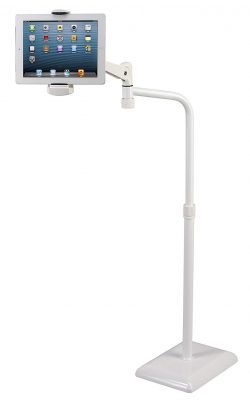 No matter the kind of tablet computer you use, this floor stand is designed to accommodate all of them without any issues. It has a mounting bracket that is adjusted to fit in tablet with the size of 7-inches to 13-inches. So, all versions of the iPad, Surface Pro from Microsoft and even the Galaxy Tabs from Samsung would fit in without a hitch.
Having a weight of 9.6 lbs, you never have to frown whenever asked to carry to places. Along with multi-direction adjustment, you have the guarantee of the sturdiness of this product.
Key features:
The base is wide and has a large footprint for enhanced sturdiness.
Gooseneck can swivel around to full 360-degrees, great for a gathering of a small group.
The aluminum column keeps the overall weight low without compromising strength.
Buying Guide For Tablet Floor Stands
Materials:
Tablet floor stands are composed of different types of materials, and you will have to see if it allows you to use it for a long time. Aluminum can be an ideal consideration as it has lightweight construction so that there can be easy portability. There are also other materials, and you can see if it suits your purpose.
Construction:
To make sure there will be value for money, you need to see if it has high-quality construction. It must not break easily and offer long-lasting use. Go for the one that comes in a folding design so that you can have easy storage.
Stability:
Select the one that helps to prevent wobbling. It must have a stable base so that there can be better stability.
Setup:
You can see if the product allows you to have a hassle-free setup. It must eliminate the need for having professional help and come with all the necessary hardware.
Adjustability:
If the tablet floor stand comes in an adjustable design, then you can use it according to your requirements. Some will also allow you to adjust the height and rotate it at multiple angles. This is a vital consideration and offers you maximum flexibility. It offers you many options and can be great for different purposes. It must come with a telescopic pole and let you make a multi-directional adjustment.
Strength:
It must have good strength so that there can be reliable performance. Select the one that has a high weight capacity. Apart from this, it must come in an attractive design so that you can use it anywhere you want.
Usage:
You will have to know your usage and then make your purchase. The tablet floor stand must come in a multifunctional design so that you can have a better advantage.
Easy to Use:
Select the one that lets you use it conveniently. It must not come with any complication, and you will have to go for the one that is ideal for everyday purposes. Some of it can come with a convenient storage case allowing you to have better convenience.
Compatibility:
Compatibility is one of the most important factors that you will have to see while buying a tablet floor stand. You will have to see if it can hold the tablet conveniently so that there can be safe performance. Some of it can come with universal compatibility allowing you to make the maximum out of it.
Now enjoy movie nights or watch the game lying on your couch. The tablet floor stands will help to keep your devices in place without causing any harm.